Disclosure: This post is sponsored by Perdue Farms. All opinions are 100% my own.
Buy Bulk Meat Online – Perdue Farms Delivers High Quality Premium Meats To Your Door!
Looking for deals to buy bulk meat online? Here is a super sale on high quality products, you will not want to miss.
When you think of Perdue, you might think Perdue Chicken, but they have expanded into so much more. They just launched their new website for consumers too, the Perdue Farm website. You can now not only order the Perdue Chicken they are famous for, right online, but there are tons of meat options you can select from, and have it delivered right to your front door.
You can get meats that need to be cooked (like chicken breasts) as well as meats that are prepared and ready to warm and serve. There are so many options to choose from now. The best part is that they are using high quality premium meats (hormone free, organic and even vegan options) from trusted brands, including Niman Ranch, Coleman Natural, Perdue Chicken, Perdue Harvestland, Panorama Meats, Spot Farms, Full Moon and more.
If you are looking for a place online where you can get high quality protein products, you will want to check out the new Perdue Farms website! Over the last 10 years, Perdue Farms has transitioned from conventional chicken & turkey production to becoming the #1 supplier in the U.S. for Organic Chicken. They are also a leader in premium Beef, Pork, Lamb, Pasture Raised, Grass-fed, Heritage Breed, Antibiotic Free (No Antibiotics Ever), Non-GMO, Ever, Certified Humane, GAP & more. Perdue Farms works directly with small family farmers to raise animals with care and deliver premium proteins directly to your door. They will be celebrating 100 years of business in 2020, and this is an exciting new expansion for them. 
We have shared a few opportunities over the years on where to  buy your meat in bulk and skip the grocery store, and this is one of my new favorites. I love the Perdue Farms option, not only because of the quality of the products, but also because of the convenience of it. I don't have to do any extra work when it arrives, but put it in the freezer and start my meal planning for the week. No need to repackage anything, it all comes ready to use. They use recycled cardboard for the boxes, and their packaging is eco-friendly packaging and is biodegradable, compostable, and made from high-grade non-GMO cornstarch that is dissolvable in water.  I can order an assortment of meats, all in one box. Plus, it is practical, your food comes packed with dry ice, and will still be frozen when it arrives on your doorstep. 
The thing I love most about these products, is that I could have a meal on the table that I feel good about feeding my family in very little time. It kept me from making trips through fast food spots when I was tired, knowing I could come home and have a meal ready-made with real food in under 30 minutes by using some of these options below.
What's on Sale – Current Promotions Available:
Right now there are a number of promotions that you can stack, for a super deal ordering your meat online. They include –
Get a FREE bonus product with EVERY order!
Shipping is a flat rate $19.99 or free on orders of $159+
Get 10% off your first order when you sign up for emails (sign up for this offer in the pop up box on their site)

$4.99 Sale Items:
Find all of the meat items on sale for just $4.99 right now here.
Niman Ranch All Natural Applewood Smoked Bacon, 12 oz, $4.99 (reg. $12.99)
Perdue Harvestland Organic Bone-In Chicken Thighs, 2.7-3.3 lb, $4.99 (reg. $24.99)
Perdue Harvestland Organic Whole Chicken, 3.9-4.6 lb, $4.99 (reg. $28.99)
Niman Fat Tire Beer Brats, 12 oz, $4.99 (reg. $11.99)
You will also find ground beef for $4.99 (reg. $13.99), grass fed beef stew meat (reg. $17.99), chicken breasts, breakfast sausage, and many more items on sale here.
More great deals include:
$29.99 Bundles: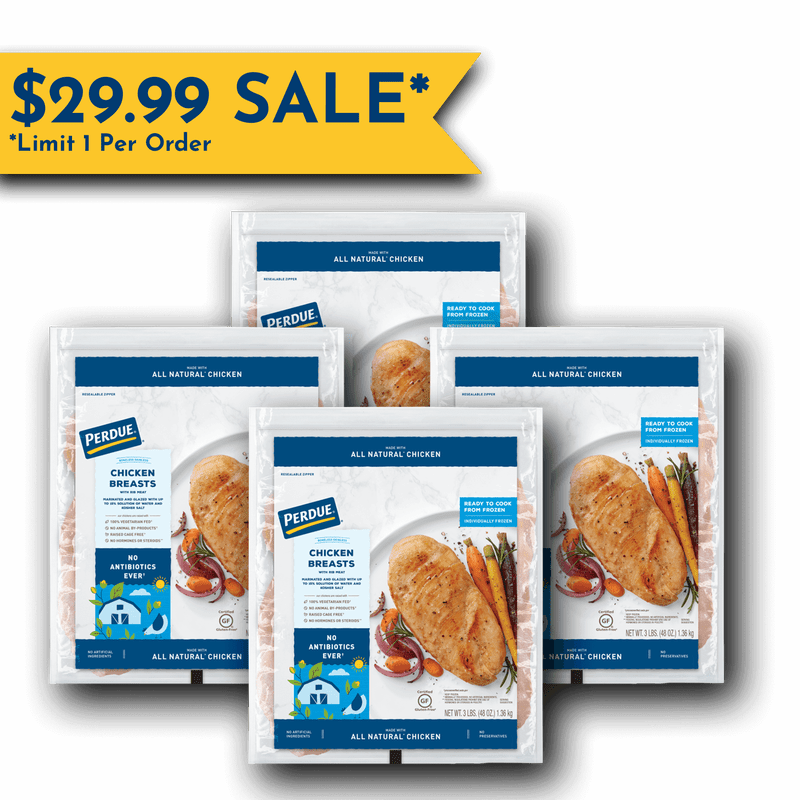 There are several different bundles that you can get for just $29.99 (the price will drop in checkout) when you add it to your order. You can only get 1 of these bundles & you must order a regular priced item in order to get one of these bundles at this lower price! These are premium products with meat from Niman Ranch & chicken from Perdue.
(Note – shipping is pricey, so it makes the most sense to add these bundle deals to orders of $119+ to get free shipping. I order once a month generally so I can get the great bundle deals, but also save on shipping. We put together a great scenario here, on how to save on chicken orders to give you an idea).
Niman Ranch 80/20 Ground Beef Value Bundle – $29.99 with purchase of a regular priced item. – Sixteen servings of Niman Ranch's 80/20 ground beef for only $1.87 per serving!
Niman Ranch Pork & Beef Franks Value Bundle – $14.99 (reg. $53.99) with purchase of regular priced item. – Niman Ranch's smooth, mild heritage pork and 100% Angus beef franks in a bundle that's priced at less than $1 per serving.
Niman Ranch 80/20 Burger Patties Value Bundle – $29.99 with purchase of regular priced item – Over 10 servings of Niman Ranch's 100% Angus ground beef patties for only $2.84 per serving!
Perdue Boneless Skinless Chicken Breasts Value Bundle – $29.99 with purchase of regular priced item  – Enjoy 12 pounds of boneless, skinless chicken breasts packaged in a resealable bag and ready to cook from frozen!
Fine Print: 
Perdue Farms $29.99 value bundles are limited to one per order and can only be added to a cart that contains a regular-priced product. More than one $29.99 bundle added to a cart will appear at the regular price. Additionally, deeply discounted bundle offers cannot be combined with any other offer or discount. Note: All Offers Valid While Supplies Last.
THUS: % off orders will not apply to these bundles but will to the rest of the order.
10% off Discount:
Right now, get 10% Off + free Perdue Harvestland Diced Chicken Breasts on your first order from Perdue Farms. 
Just use promo code WELCOME10 or FARMER10 at checkout to get the extra savings. Just insert the code by clicking "View Cart" once products are added to the cart, and you should be able to add it there. 
More Savings:
If you buy one of their bundled boxes, you can save even more. For example the "Gatherings (Medium)" box, is currently priced at $82.99 on the site. This is an 11% bundle discount vs. purchasing all products individually. Plus, if it is your first order, you will get another 10% off of that, and the free diced chicken breast too!
Customers will receive free shipping on orders over $119
Be sure to check out their Sales & Coupon page here for current promotions available!
You can see some nice savings on natural and organic meats, which are harder to come by, by shopping the Perdue Farms website here, and using these promotions.
Highlights of Products Available From Perdue Farms:
I recently got the Medium Size Gatherings Box, and so far I have loved everything I have tried from this box. The meat products really are of a great quality, and taste has been wonderful. Overall the convenience has been the most amazing though. Everything comes packaged in dry ice, so it is still frozen when it arrives on your porch. There is no extra repackaging needed, just put it in your freezer until you are ready to use it. This had made things so much easier at my household, especially in a busy month like December.
Here are some examples of products you will find in the Gatherings Box: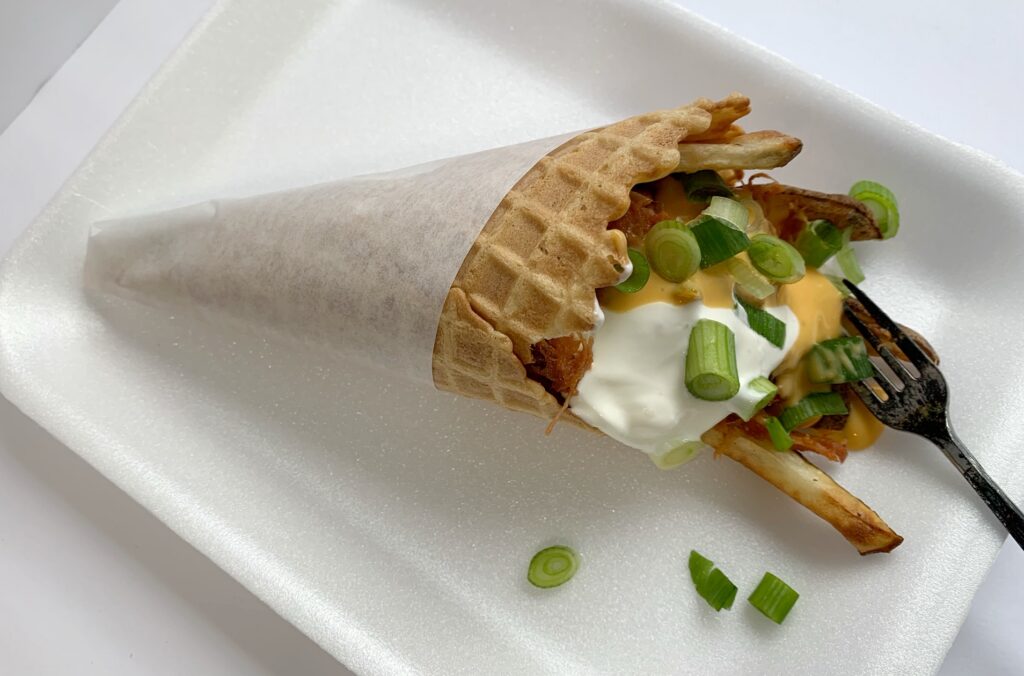 Pulled Pork Spicy Smothered Fries in a Cone using Niman Ranch Pulled Pork
Gluten-Free | Fully Cooked – Heat & Serve | #393800-55
Pulled pork with smoky chipotle barbecue sauce starts with whole muscle. Chipotle pepper adds a little smokiness to our traditional Memphis-style barbecue sauce without taking away from the flavor. Each pack comes with a reusable microwavable container, making this easy to heat and serve atop a bun or nachos. 
We used ours to make these Pulled Pork Spicy Smothered Fries in a Cone (Food Truck Style – shown above), and not only where they super easy to make by starting with this product – but they were delicious! Find our recipe here.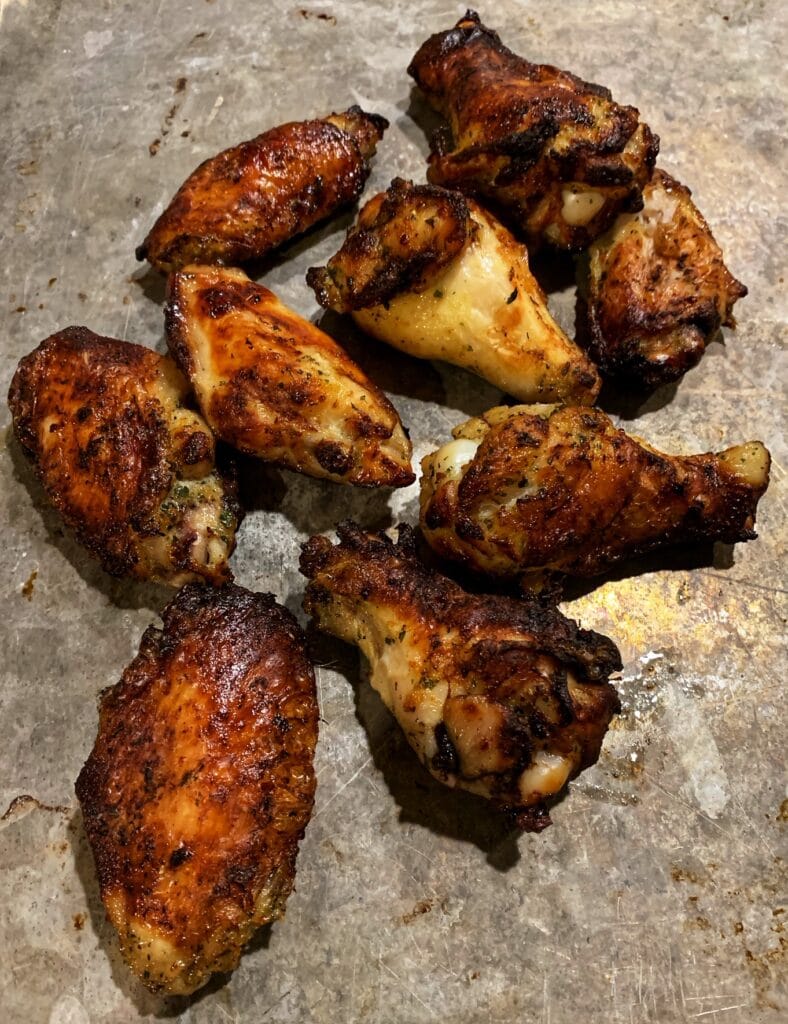 PERDUE® Herbed Olive Oil Seasoned Wings
No Thawing Necessary | Raised Cage-Free | #82986
Saving you time, the chicken wings are tumbled in a roasted garlic and sea salt-infused olive oil before being frozen and packaged in a 2.5-pound resealable bag. And no thawing necessary! You can bake directly from frozen. To give the flavor profile a kick, add your own sauces, spices and seasonings.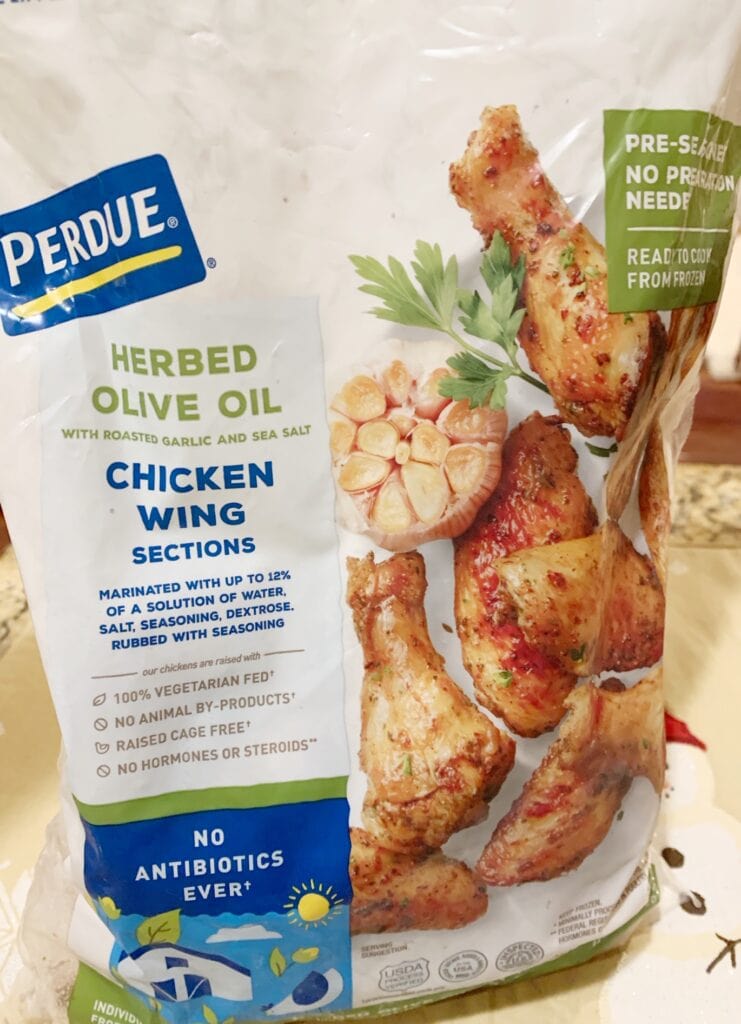 These were another favorite of mine. They come packaged in a resealable bag (so you can make as few or as many chicken wings at a time as you want). You can bake them in the oven or on a grill, but I threw mine in the air fryer for 20 minutes and ended up with these beautiful crispy chicken wings you see above. They were packed full of flavor too.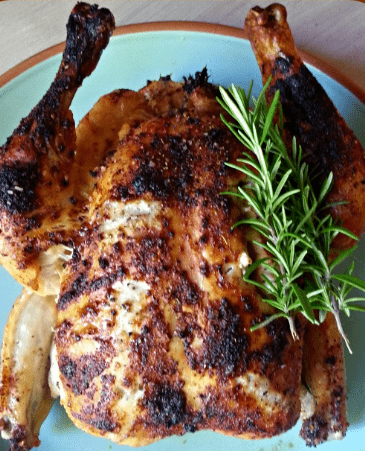 SONOMA RED® Organic Pasture Raised Whole Chicken With Giblets
No Antibiotics Ever | No Hormones or Steroids Added | #30911
Our pasture-raised and Certified USDA Organic Sonoma Red chickens are raised in the lush countryside of Sonoma County, California – free to roam, roast and feed as they wish. Whole birds are air chilled to preserve the chicken's natural flavor. A healthy choice for you and your family!
Find our favorite recipe on how to cook up a whole chicken in the slow cooker here.
 Vacuum-Sealed & Frozen | Fully Cooked | #399371-52
Pork sausage is combined with a special blend of spices and slow smoked over real applewood to produce the distinct flavor you look for in a Kielbasa. This sausage, like all our other sausages, is made with our heritage pork and finished without a casing.
Niman Ranch Fat Tire Ribs
Vacuum-Sealed & Frozen | Certified Humane | #393503-52
Combining the highest quality all-natural meats with New Belgium Brewing's award-winning Fat Tire Amber Ale was bound to create something delicious! The gentle sweetness and fresh hop bitterness of the beer enhances a tangy tomato-based BBQ sauce and pairs perfectly with applewood smoked ribs.
We enjoyed these the other night, and it was one of the simplest meals I have made in awhile. The ribs took very little time to cook (and where delicious), and I served with a salad kit, a jar of homemade apple sauce we had canned, and a loaf of french bread. We had a full meal on the table, and it took less effort from me than it would have required to drive through the fast food line (and I felt so much better about what I was feeding my family).
Coleman® Organic Breaded Chicken Breast Tenders
Frozen & Packed in 8oz Carton | Free Range | #30626
Enjoy as a snack with dipping sauce or pair with fresh fruit or veggies and make it a meal! Our certified organic chicken breast tenders are lightly breaded and oven-baked to a golden delicious crispiness.
These are next on my list to cook up. Besides cooking them up and serving with dipping sauces, two of my favorite recipes to use these chicken strips for are: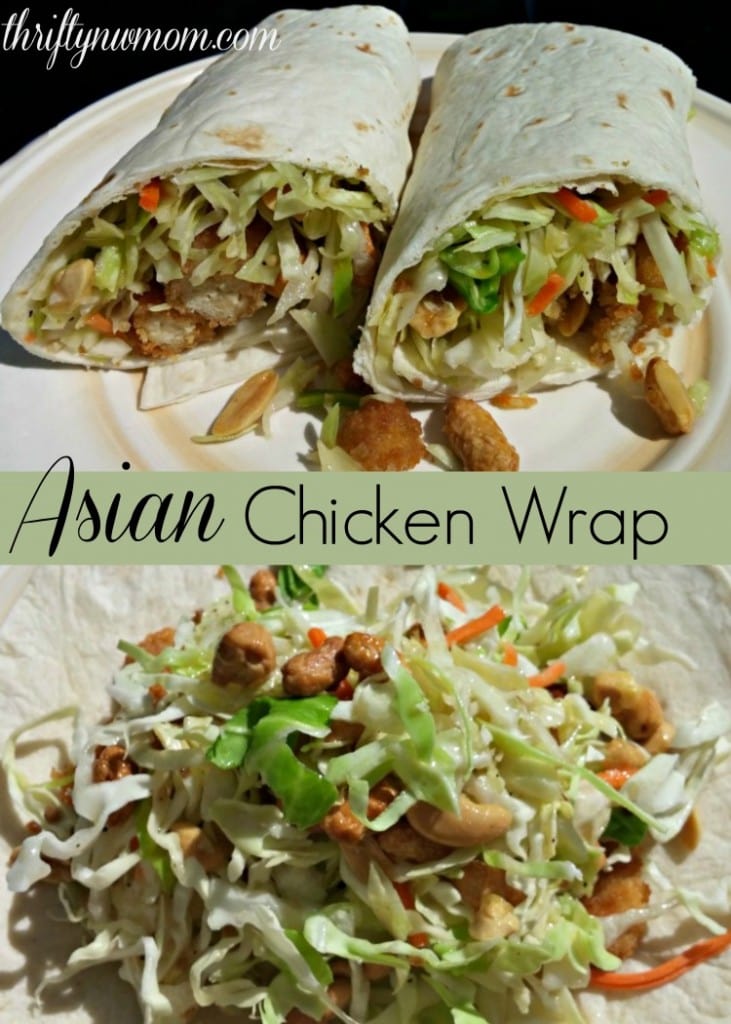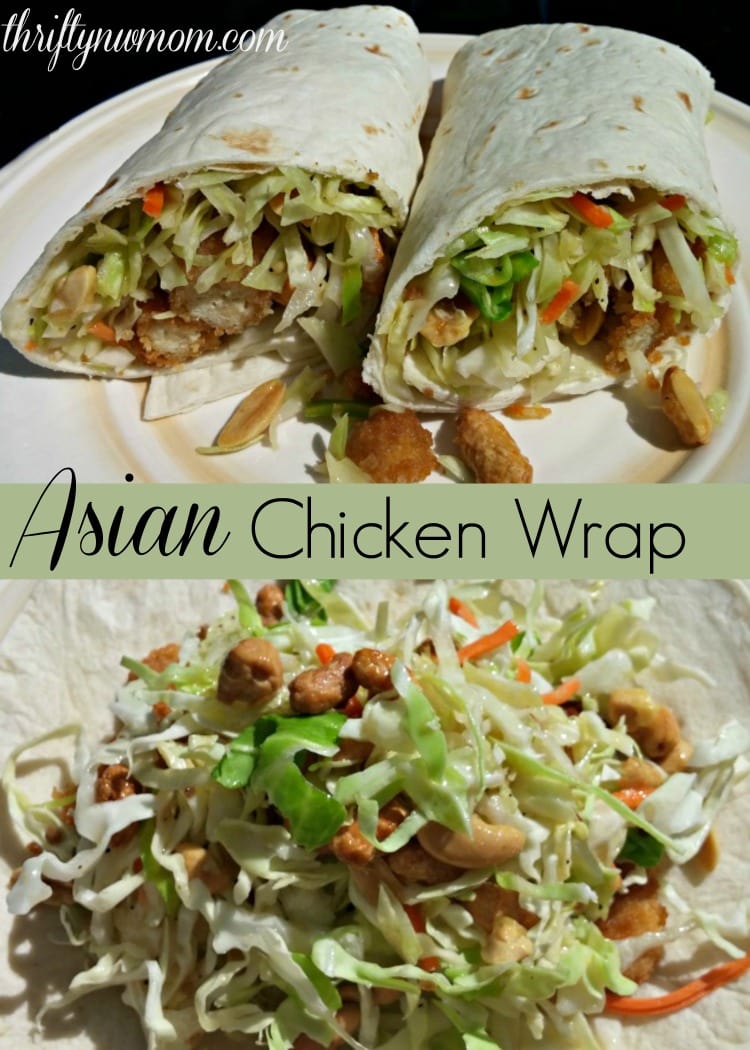 Asian Chicken Wraps (so easy, and so tasty) (shown above)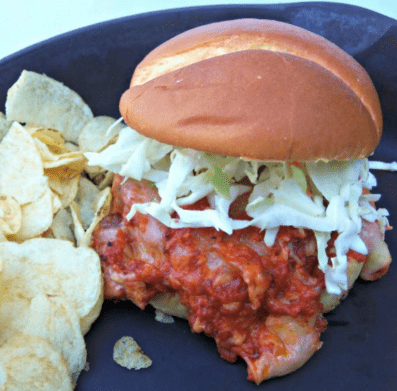 And these Simple Parmesan chicken sandwiches
How Is Perdue Farms Different?
They have been in business for 100 years this coming 2020

The company boasts a full line of premium protein products and brands, including Niman Ranch, Coleman Natural, Perdue Chicken, Perdue Harvestland, Panorama Meats, Spot Farms, Full Moon and more.

Over the last 10 years, Perdue Farms has transitioned from conventional chicken & turkey production to becoming the #1 supplier in the U.S. for Organic Chicken as well as a leader in premium Beef, Pork, Lamb, Pasture Raised, Grass-fed, Heritage Breed, Antibiotic Free (No Antibiotics Ever), Non-GMO, Ever, Certified Humane, GAP & more
Find all of the products you can get from Perdue Farms, to have delivered direct to your door, here!
Let us know what questions you may have about this new company & we can help explain more about it! I got my first boxes recently, and had a great experience!