Apple, Feta & Walnut Pastry Braid with Honey Drizzle Recipe
This post may contain affiliate links and I may be compensated for this post. Please read our disclosure policy here.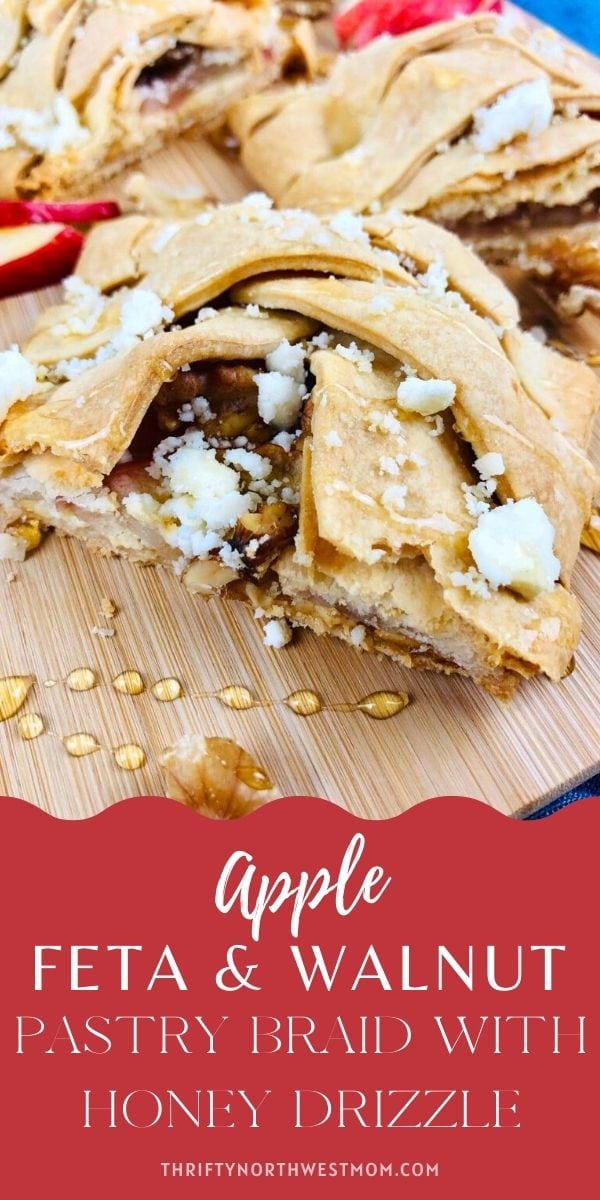 Apple, Feta & Walnut Pastry Braid with Honey Drizzle Recipe
Looking for a recipe that will feel special this holiday season, without it requiring too much prep time. This Apple, Feta & Walnut Braided Bread with Honey Drizzle Recipe is delicious, presents beautifully, and is pretty simple to put together. No one will know how easy it is to make though, by the look of it.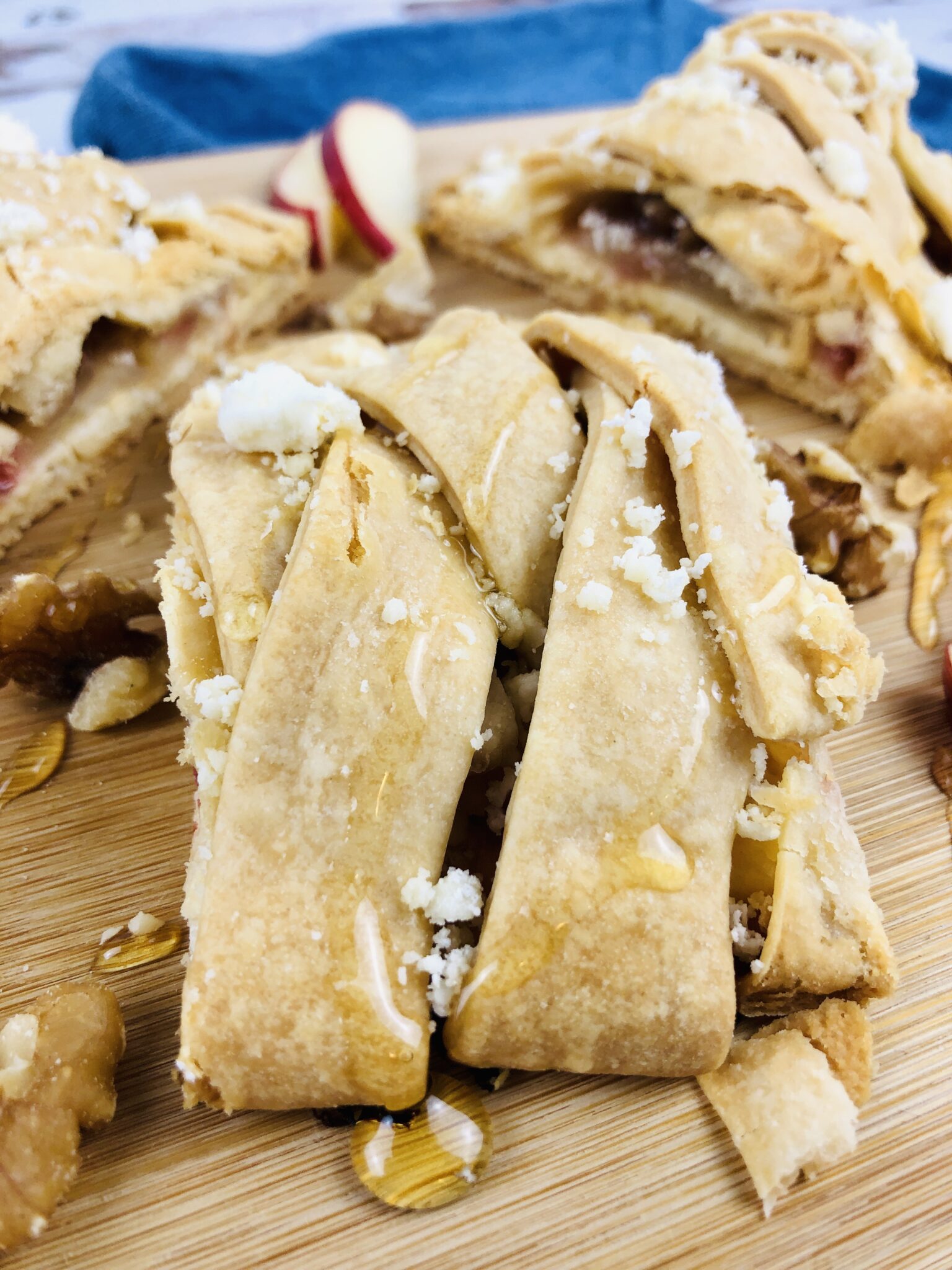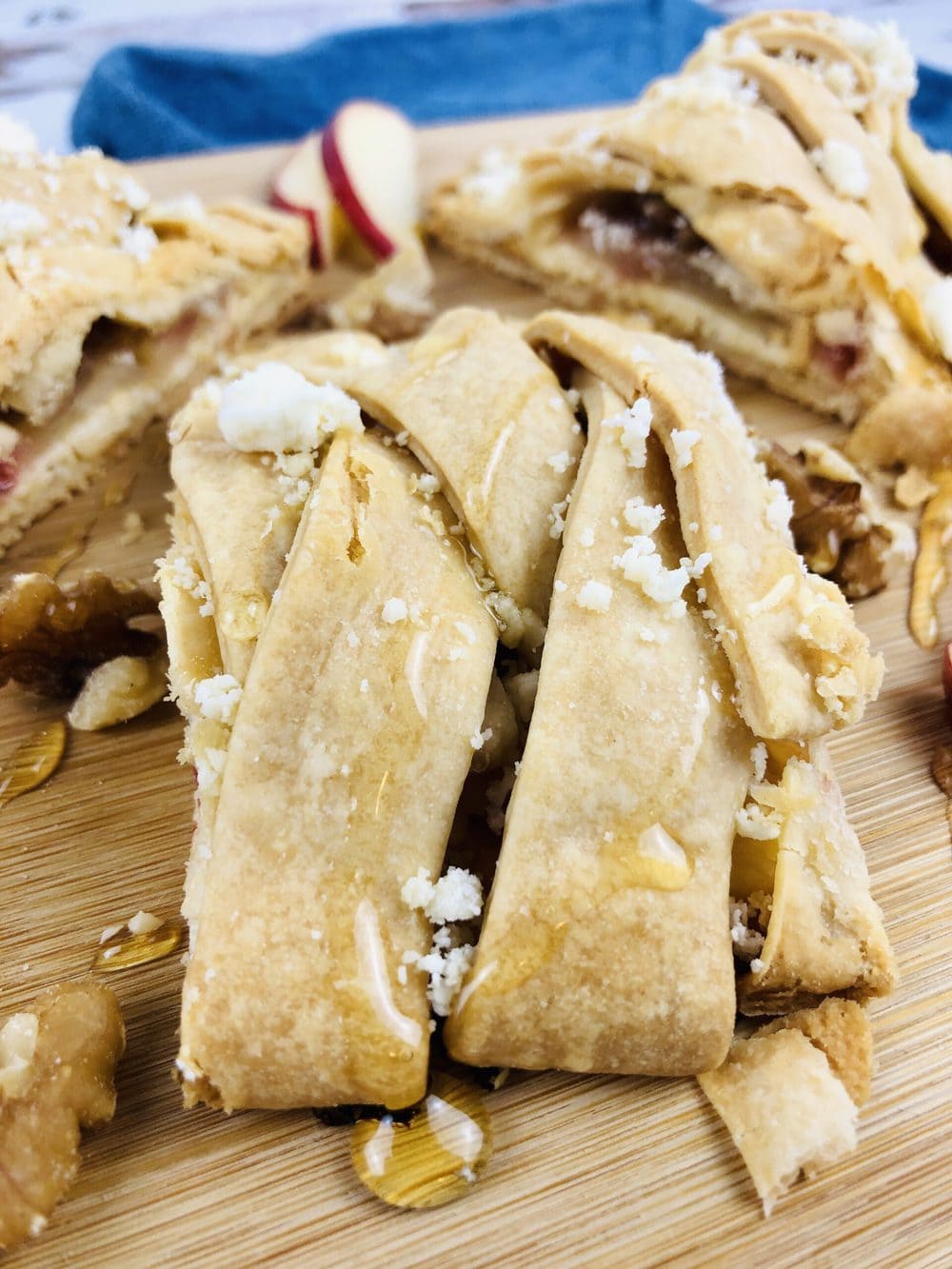 It blends the tangy taste of feta cheese, with the sweetness of baked apples and honey drizzle, and the crunch of walnuts, all wrapped up in a beautifully braided pie crust. It is perfect for special occasions, or just because you are craving it. It would also go nicely with a great game day spread of appetizers too.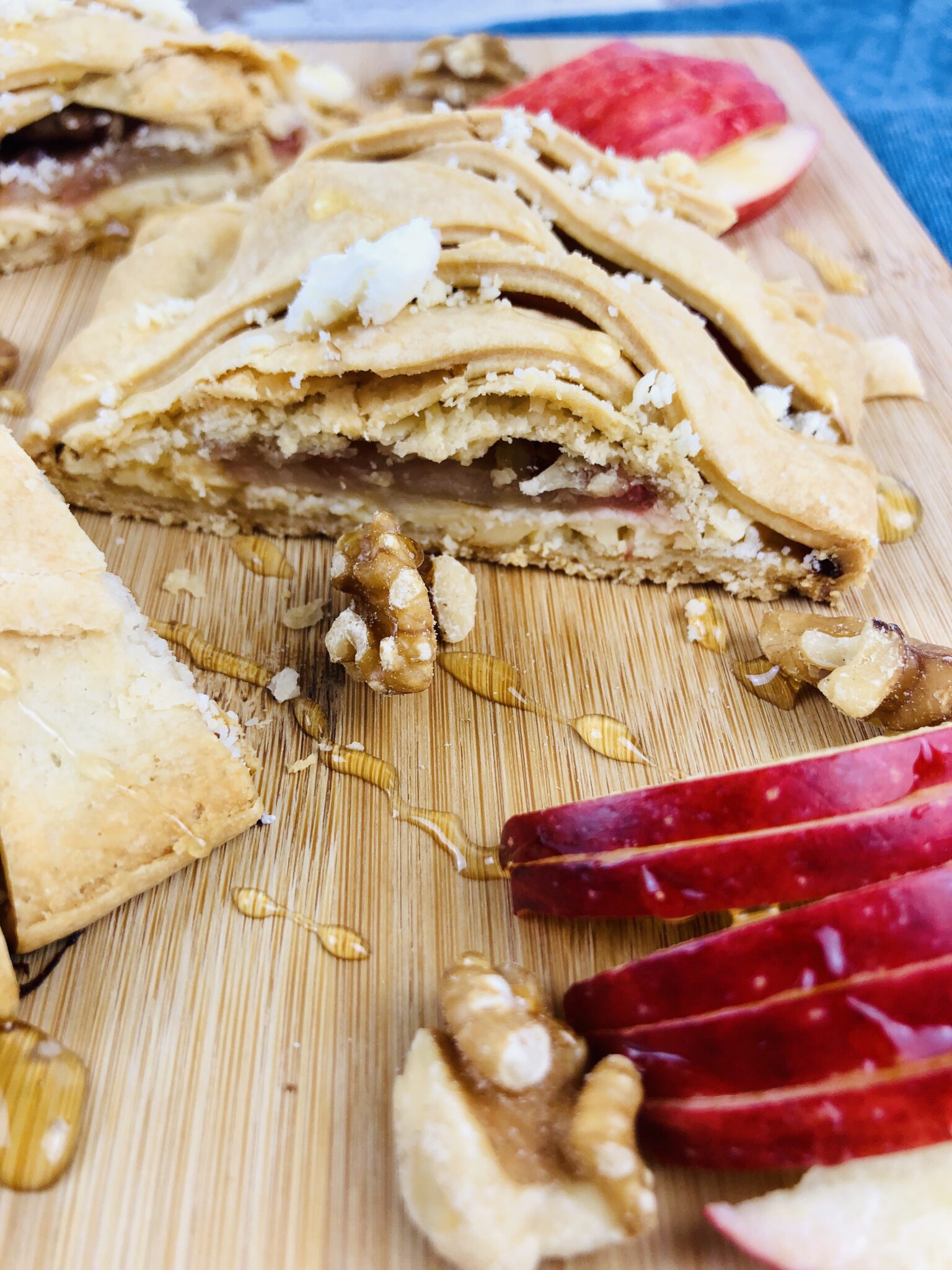 You can use any kind of apple with this, but it pairs especially nicely with semi-tart versions. Fuji apples are a nice pick for this one, or pink ladies and honey crisp are good options too, as well as green apples.
Another idea is to try the recipe below with pears, in place of the apples. Play around with it a bit to find your favorite version.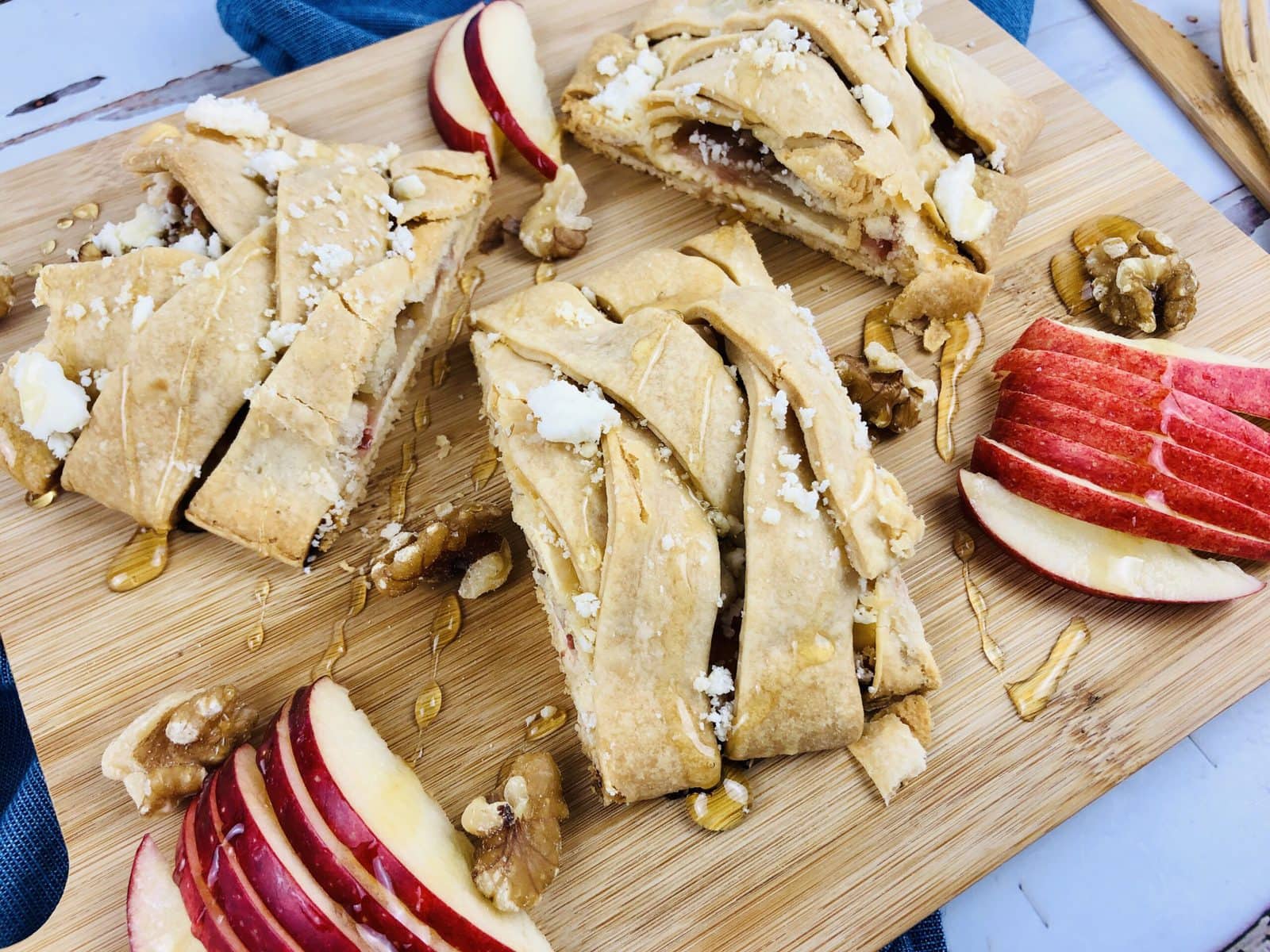 In addition to the ideas above, you could serve this as a sweet and savory breakfast option (with some maple bacon or sausage on the side) too. You could also use puff pastry, instead of a pie crust, if you want that lighter, flakier texture as well. Or make it part of a charcuterie board with more cheese, meat, nut and fruit options. That is one thing I love about this recipe, is that there are so many ways you can use it.
Braiding the pastry is what gives it the really beautiful presentation (and makes it look like you worked harder on it than you really had to)! We show you how to do that below, but you might be surprised at how easy it is.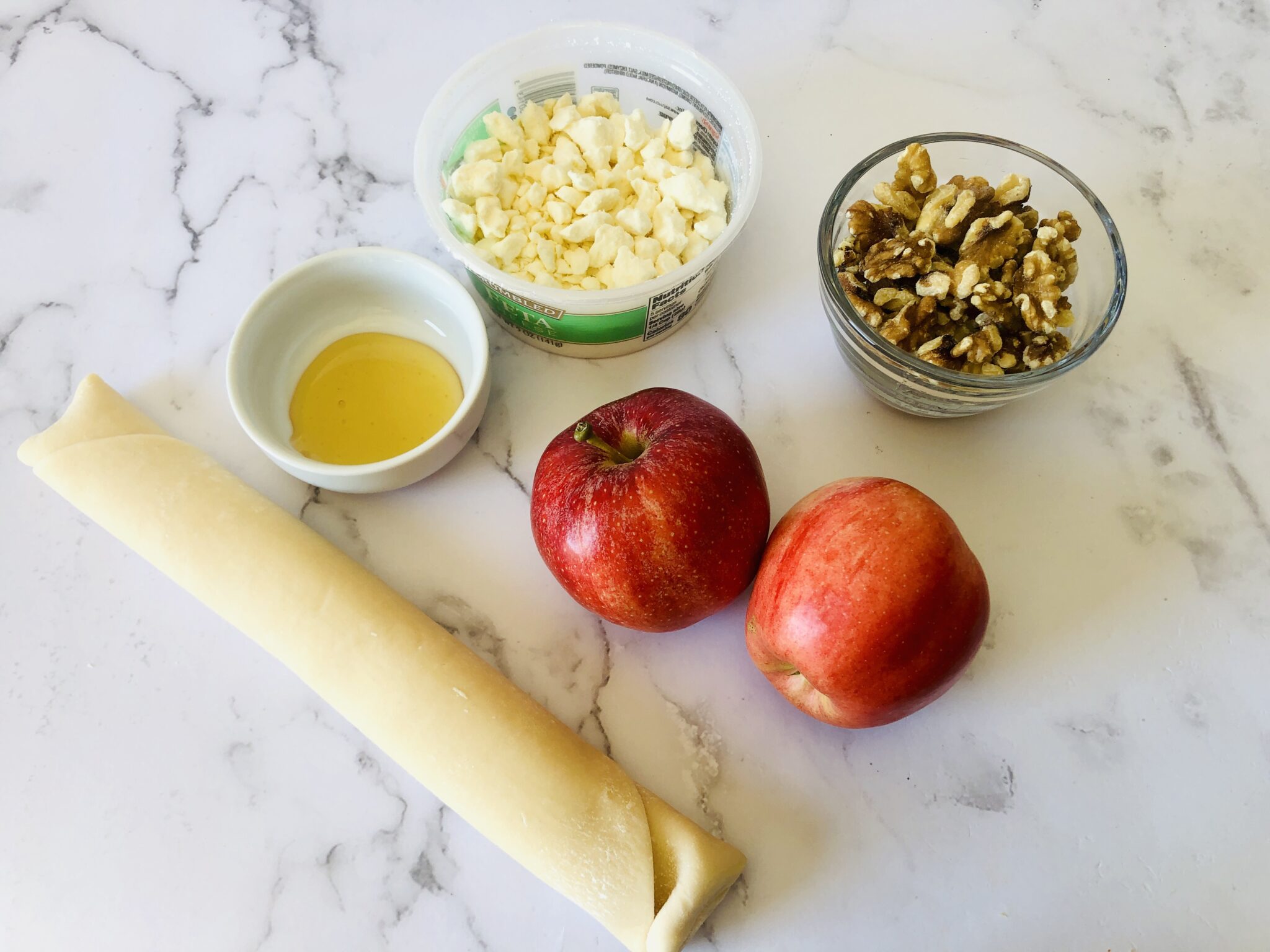 Ingredients needed to make this Apple, Feta & Walnut Braided Bread with Honey Drizzle Recipe
1 pie crust, homemade or store bought 
1 apple, sliced very thin 
½ cup feta cheese crumbles 
¼ cup walnuts, chopped 
Honey – for drizzle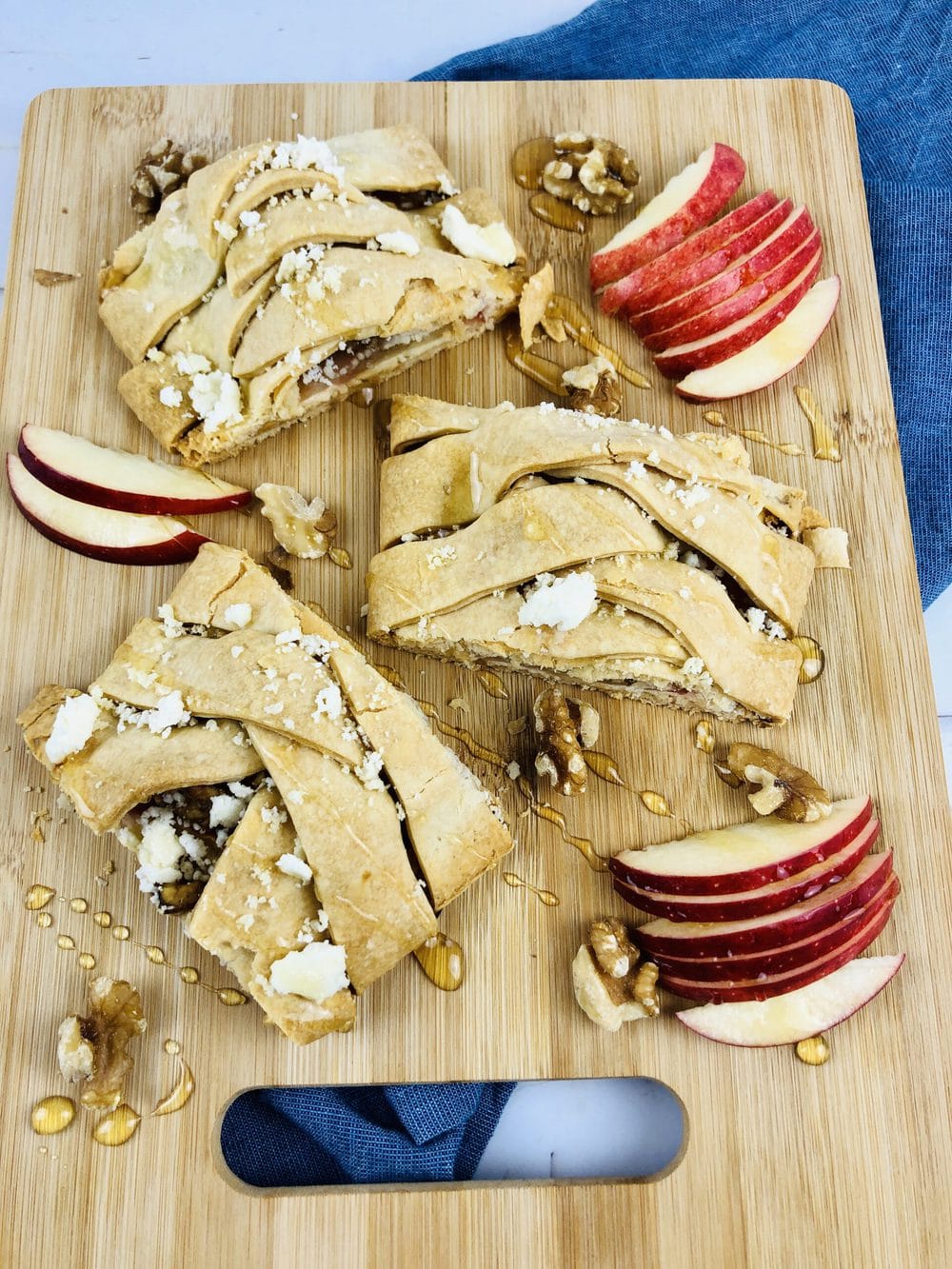 One of the things I love most about this recipe, is how forgiving it is. You can really substitute so many of these ingredients, depending on what you love or have on hand. We have included many ideas here too.
How to make this Apple, Feta & Walnut Braided Bread with Honey Drizzle Recipe
Preheat oven to 350 degrees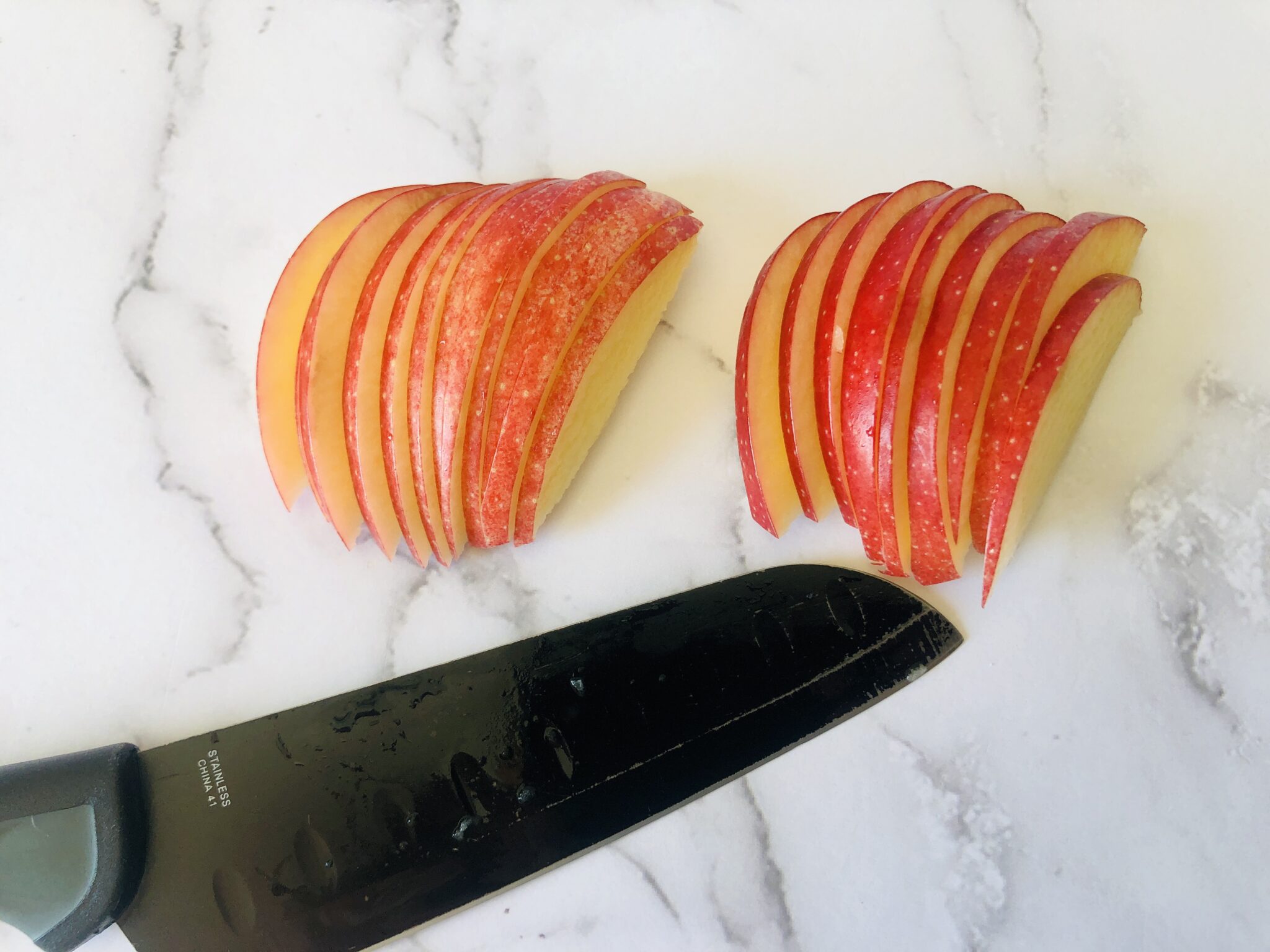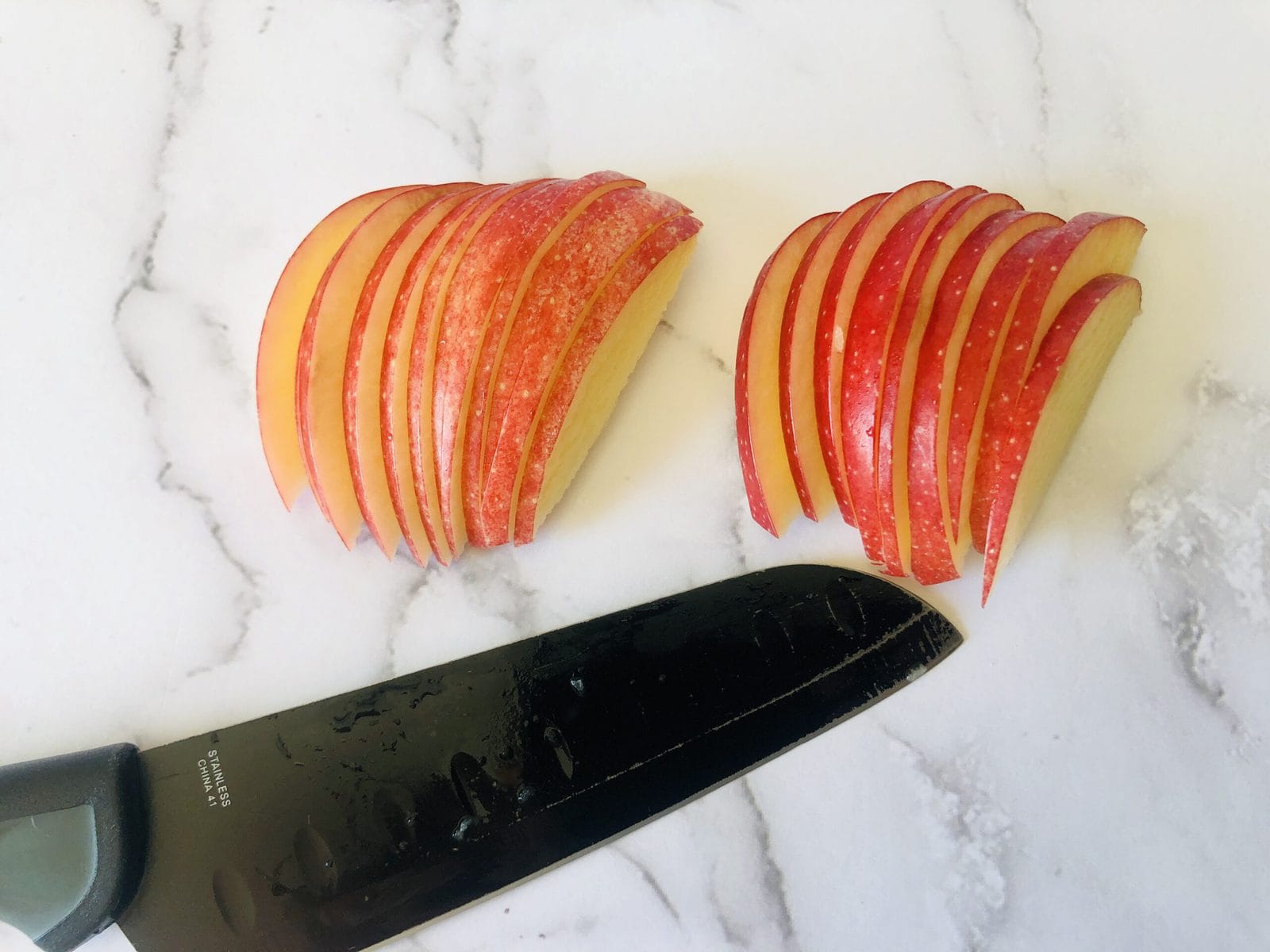 Slice up apples in thin slices as shown above
Place rolled dough on a parchment paper lined baking sheet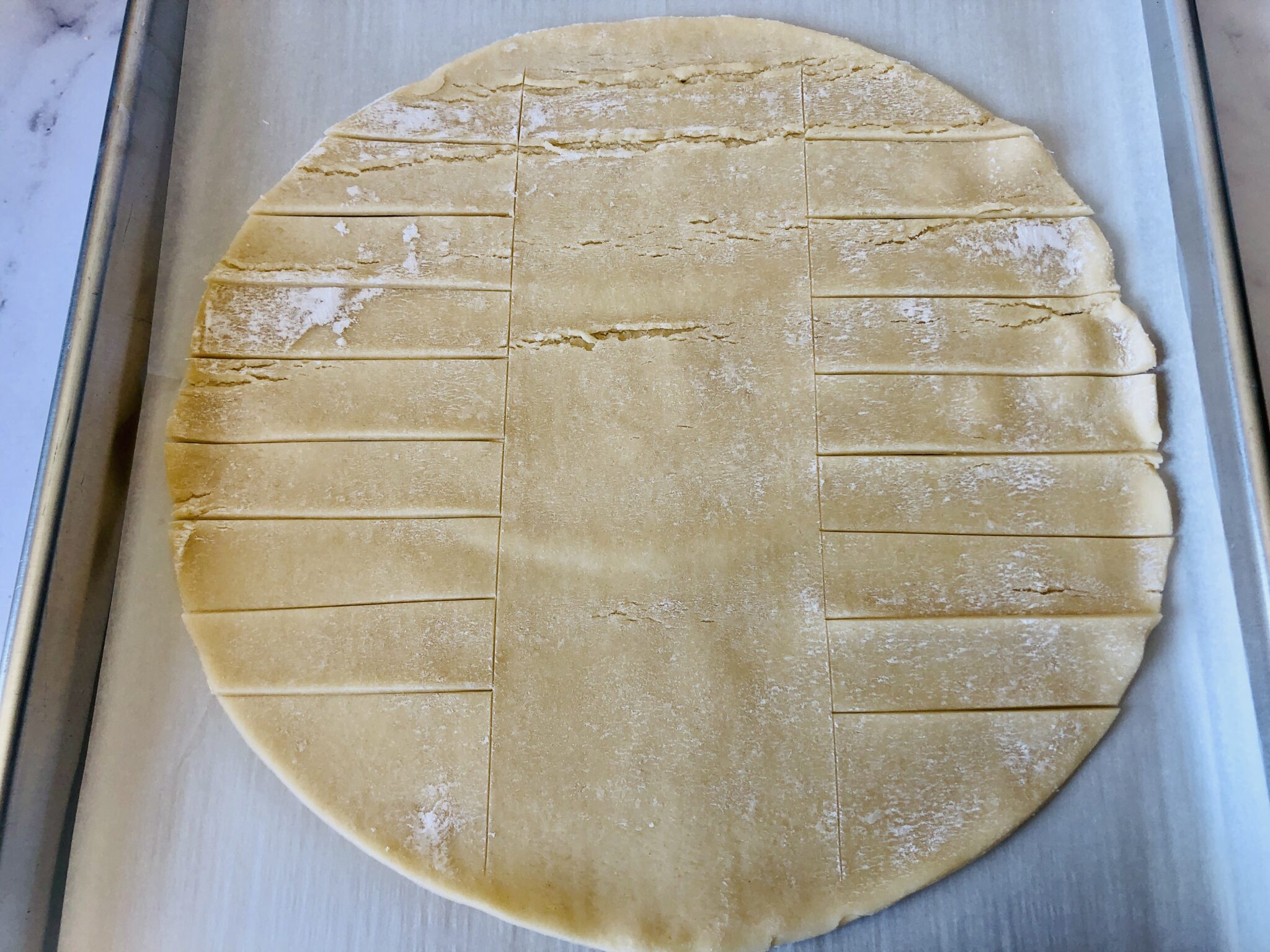 Let your pie crust warm at room temperature, until it is at the point that it is pliable (able to score and bend).
Score the dough as shown above (note you are not cutting all the way through the dough, but just scoring it, so you know where to start folding to create the braided look). I like to use a ruler or a straight edge when doing this to make getting a straight line easier, but it is not necessary – you can just eye ball it if you prefer). 
If you decide to use puff pastry instead, you can do the same thing (only your dough will be in a square shape when you start, but it should work the same).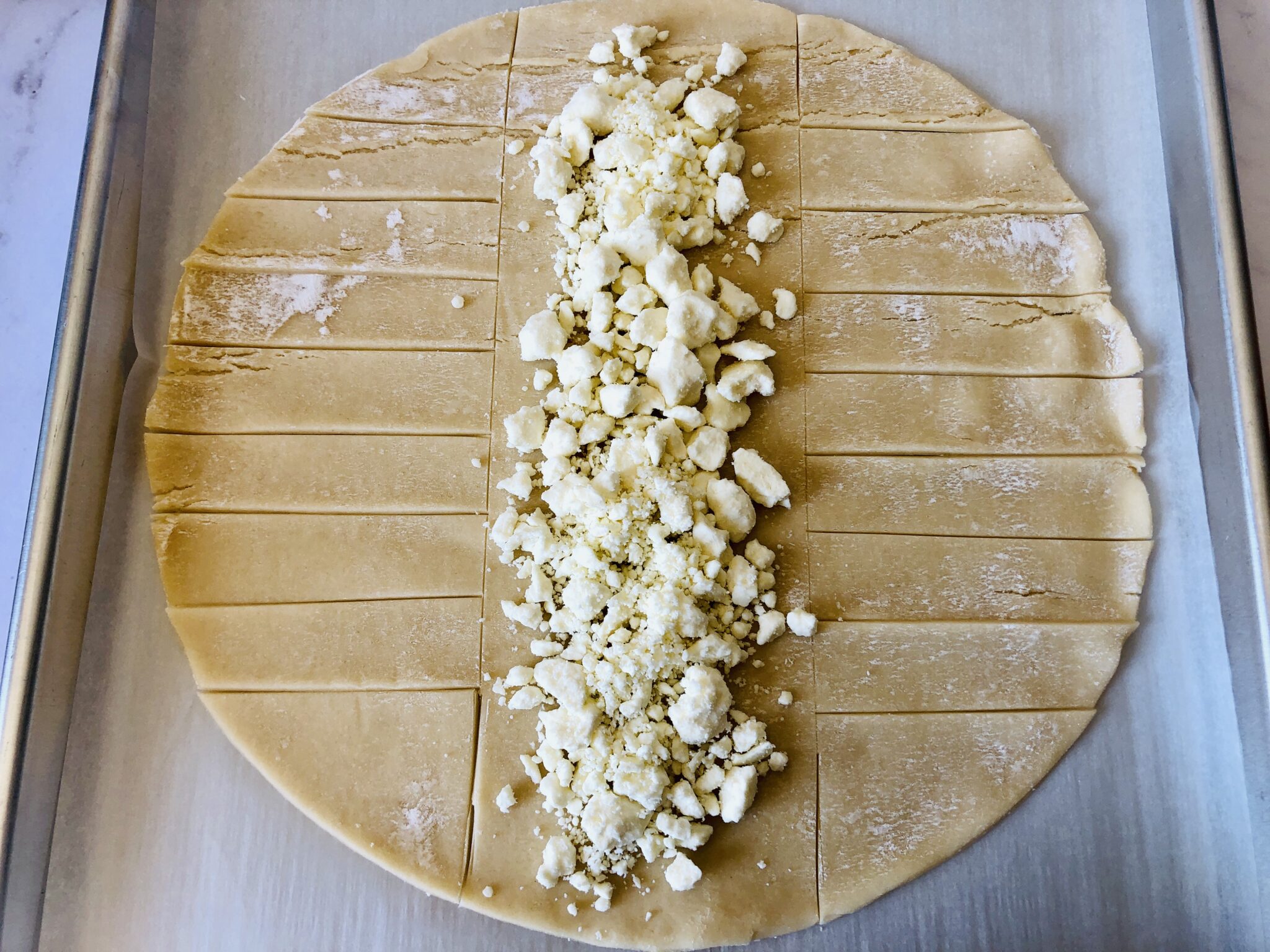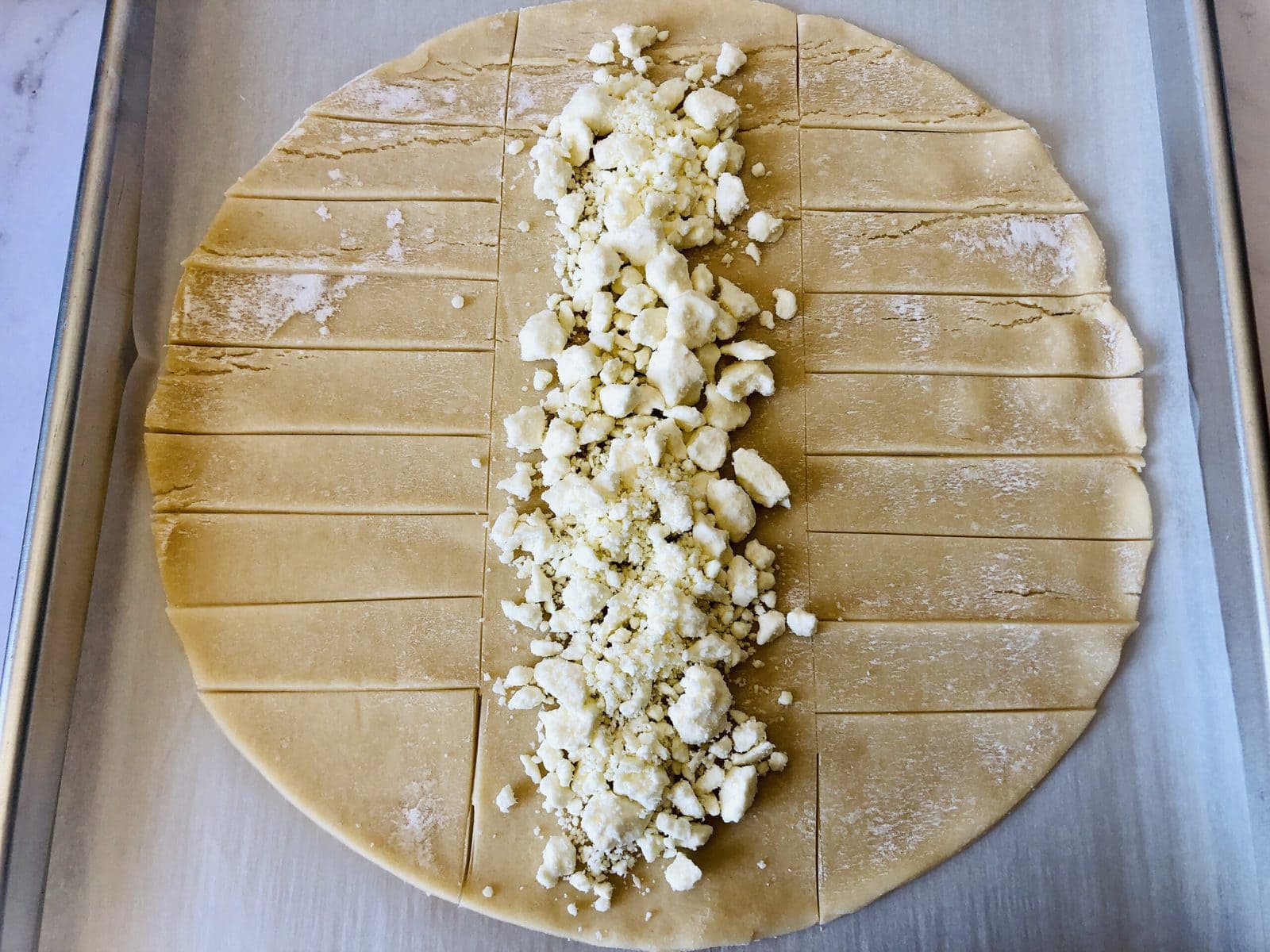 Place even layer of feta on middle portion of crust. If you have large pieces of feta, crumble them until they are all similarly uniform in size (easy to melt down evenly once you add the other ingredients). 
Feta cheese is one of my favorites, but if you want a bit of a more mild taste you could use goat cheese, or even brie cheese sliced up.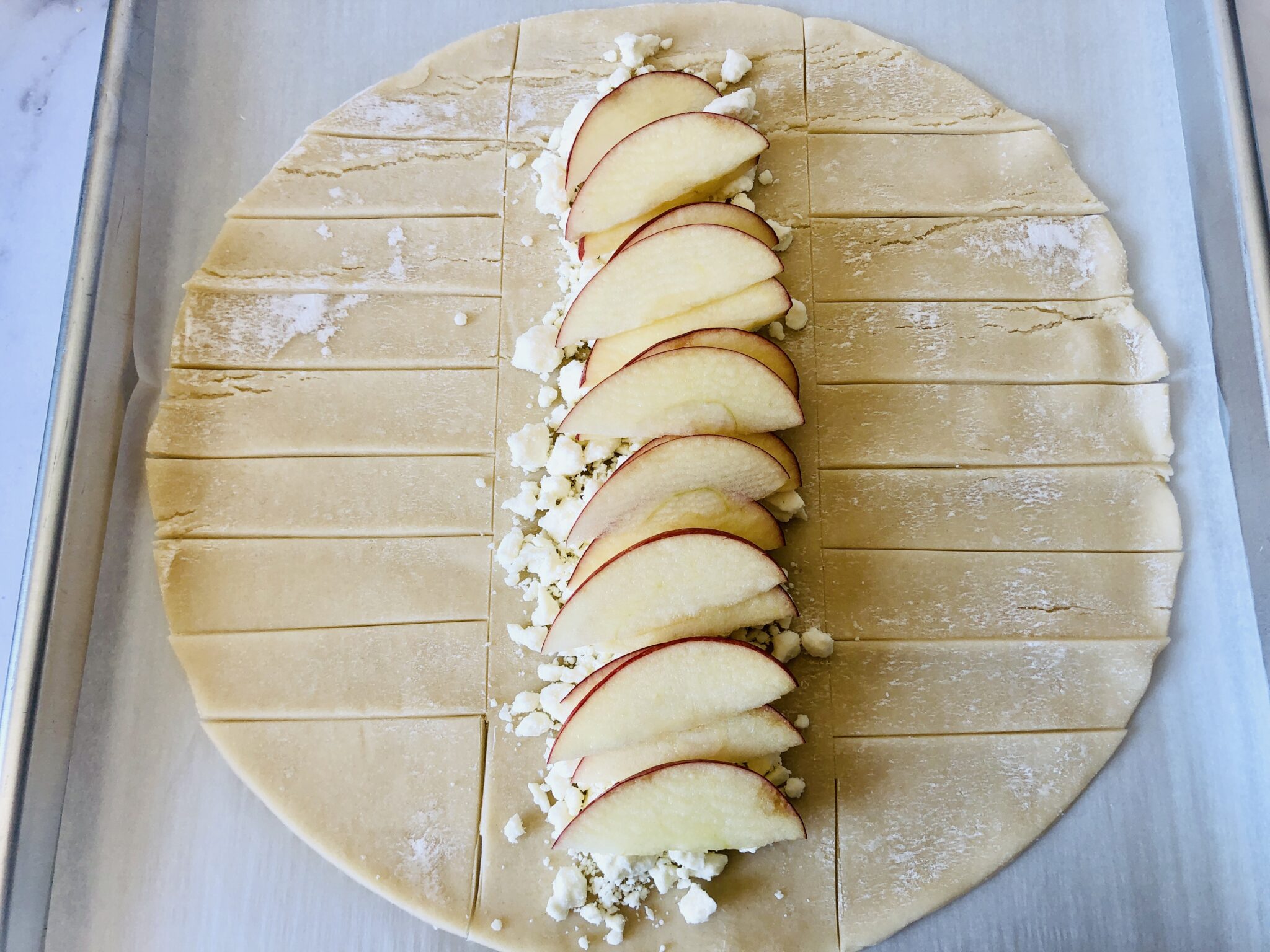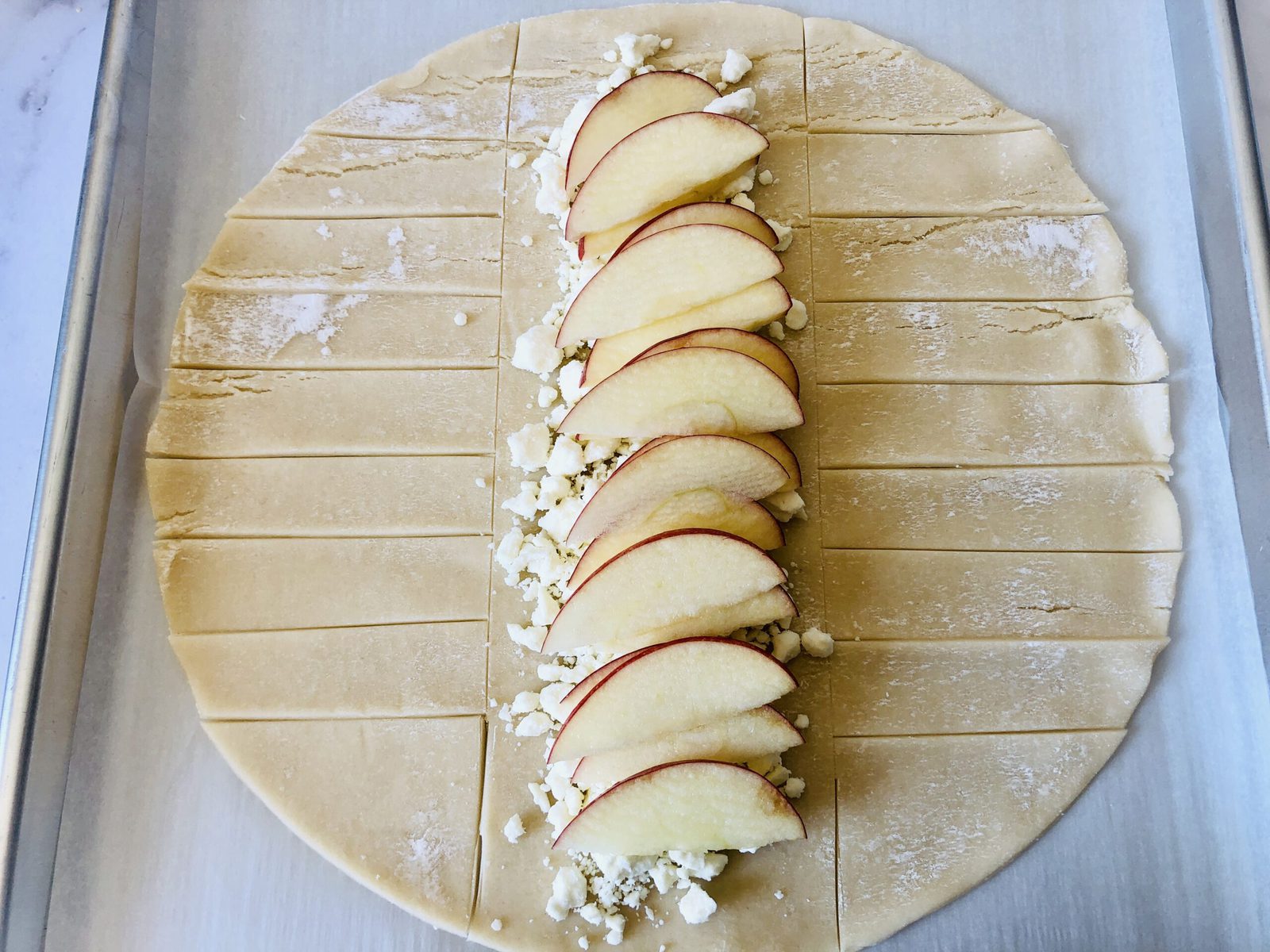 Next, layer your sliced apples on top of feta cheese layer.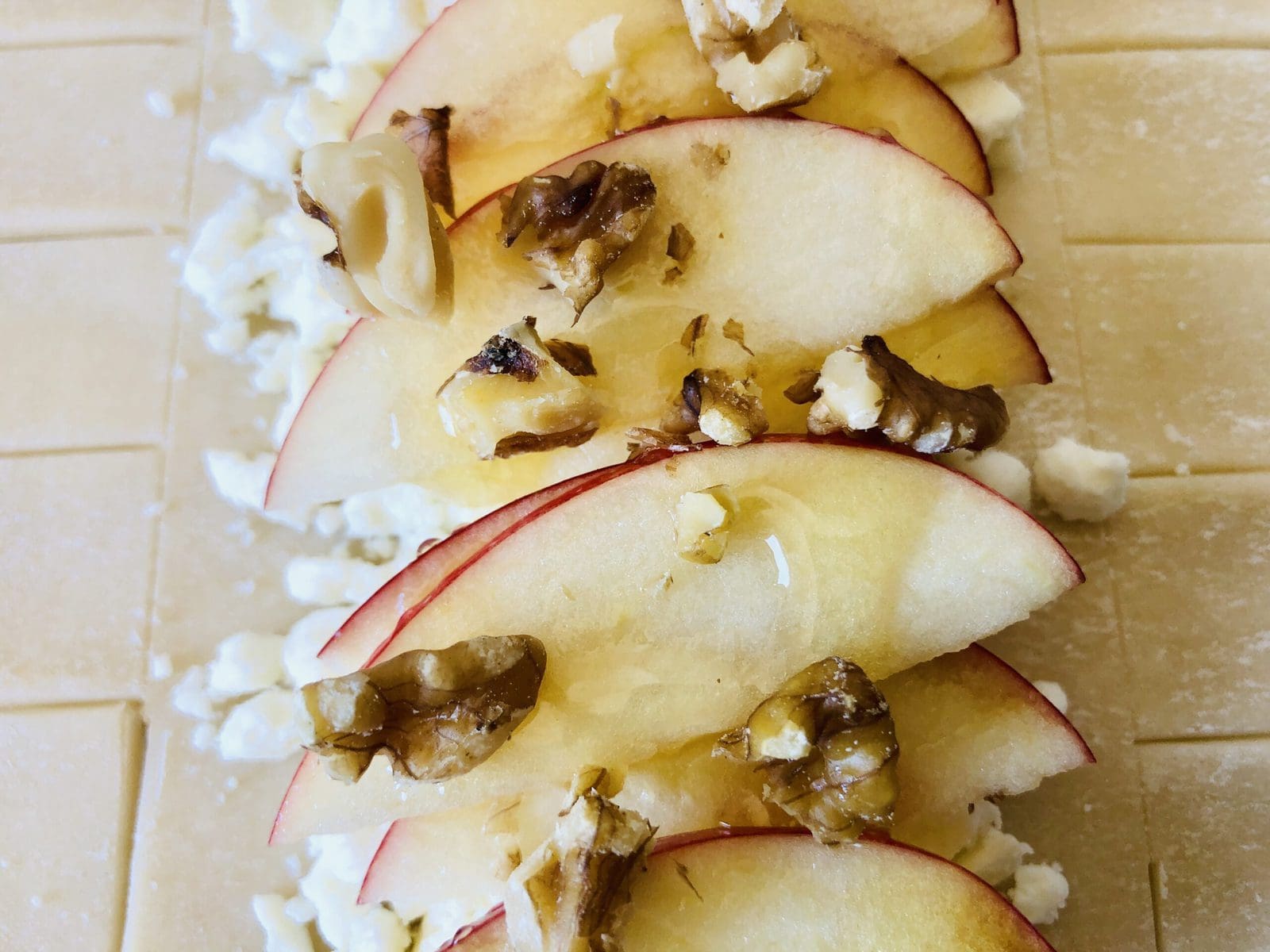 Then sprinkle on you walnut layer on top of the apples. If your walnuts are not already cut up well, you can coarsely chop them before adding this layer. Like the cheese, you want them to be spread out and as uniform in size as possible.
Drizzle on some honey on top of this last layer. I like to use a local raw honey, but you can use whatever you prefer here. This is a drizzle and not a pouring, so use a light hand on this layer.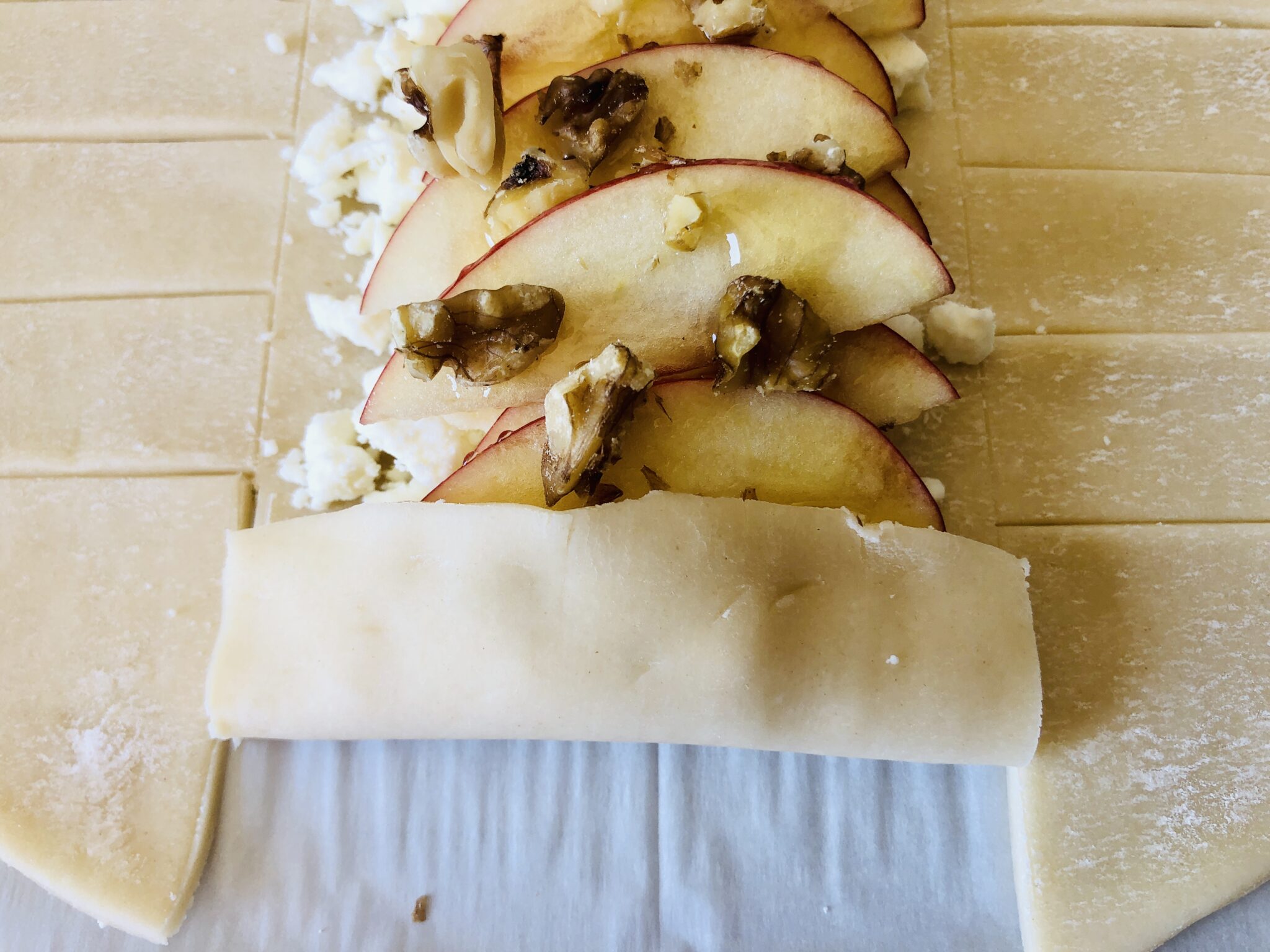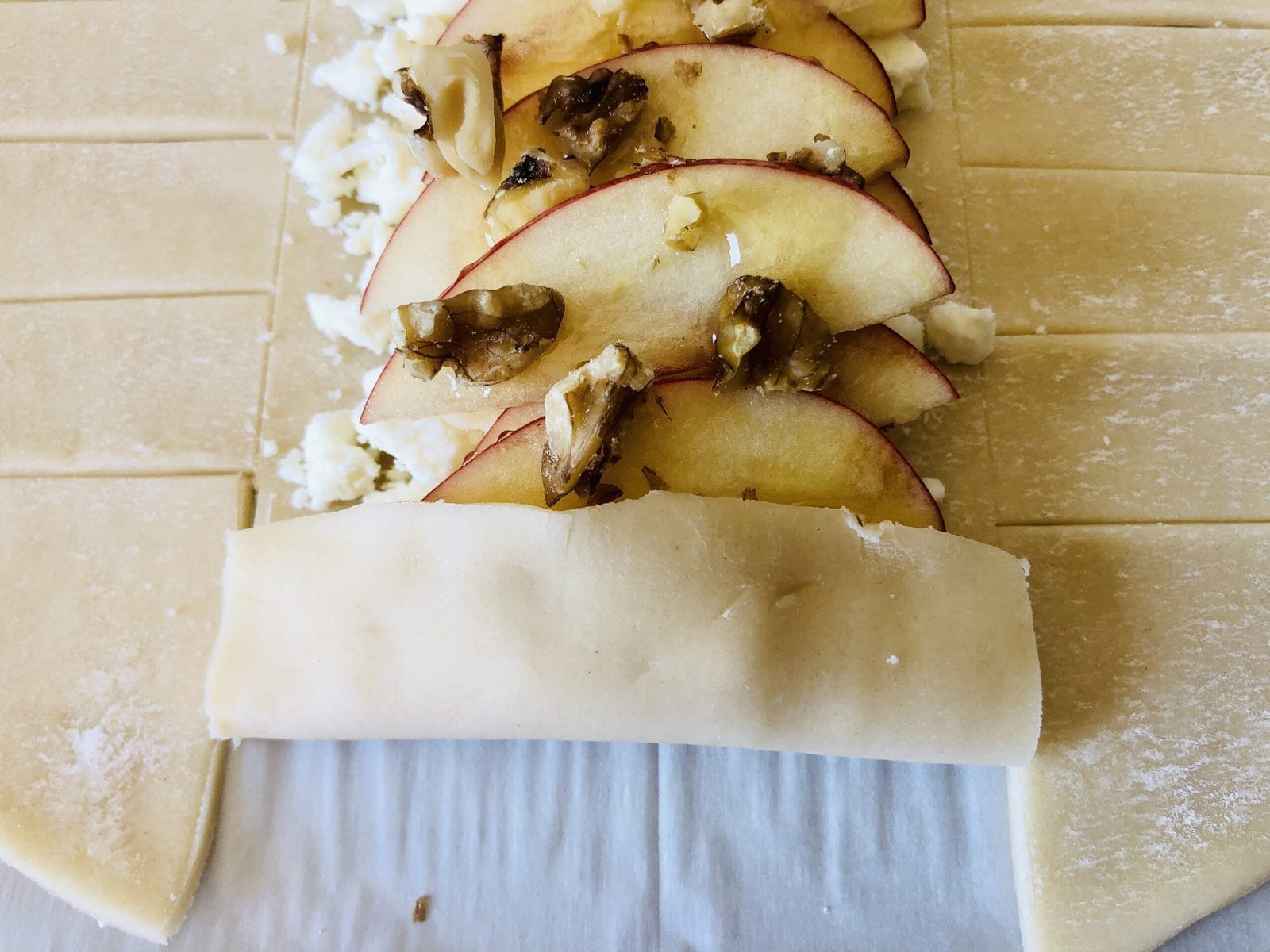 Now you are going to start the braiding process by folding the end piece over the layer of fruit, nuts and cheese.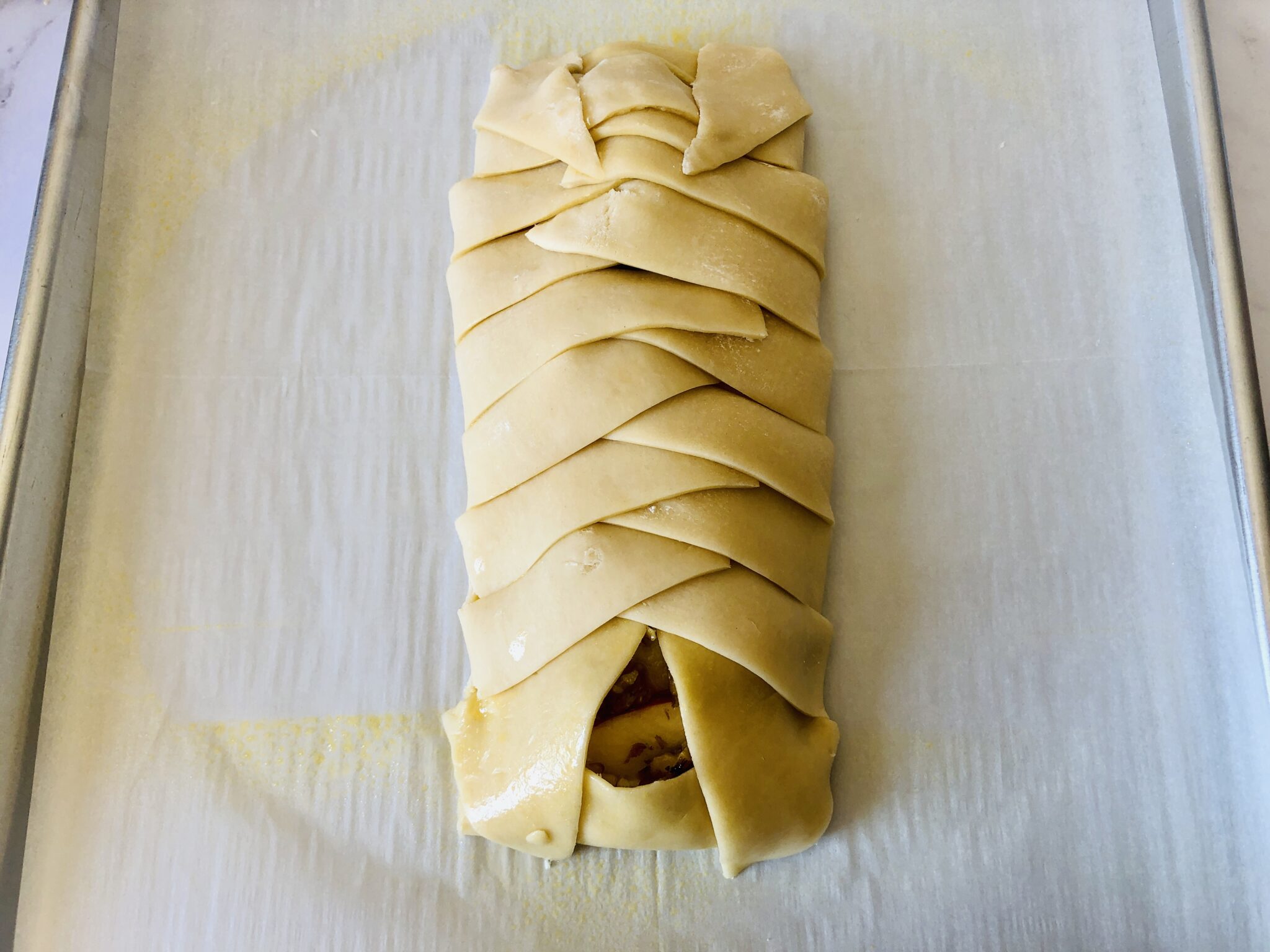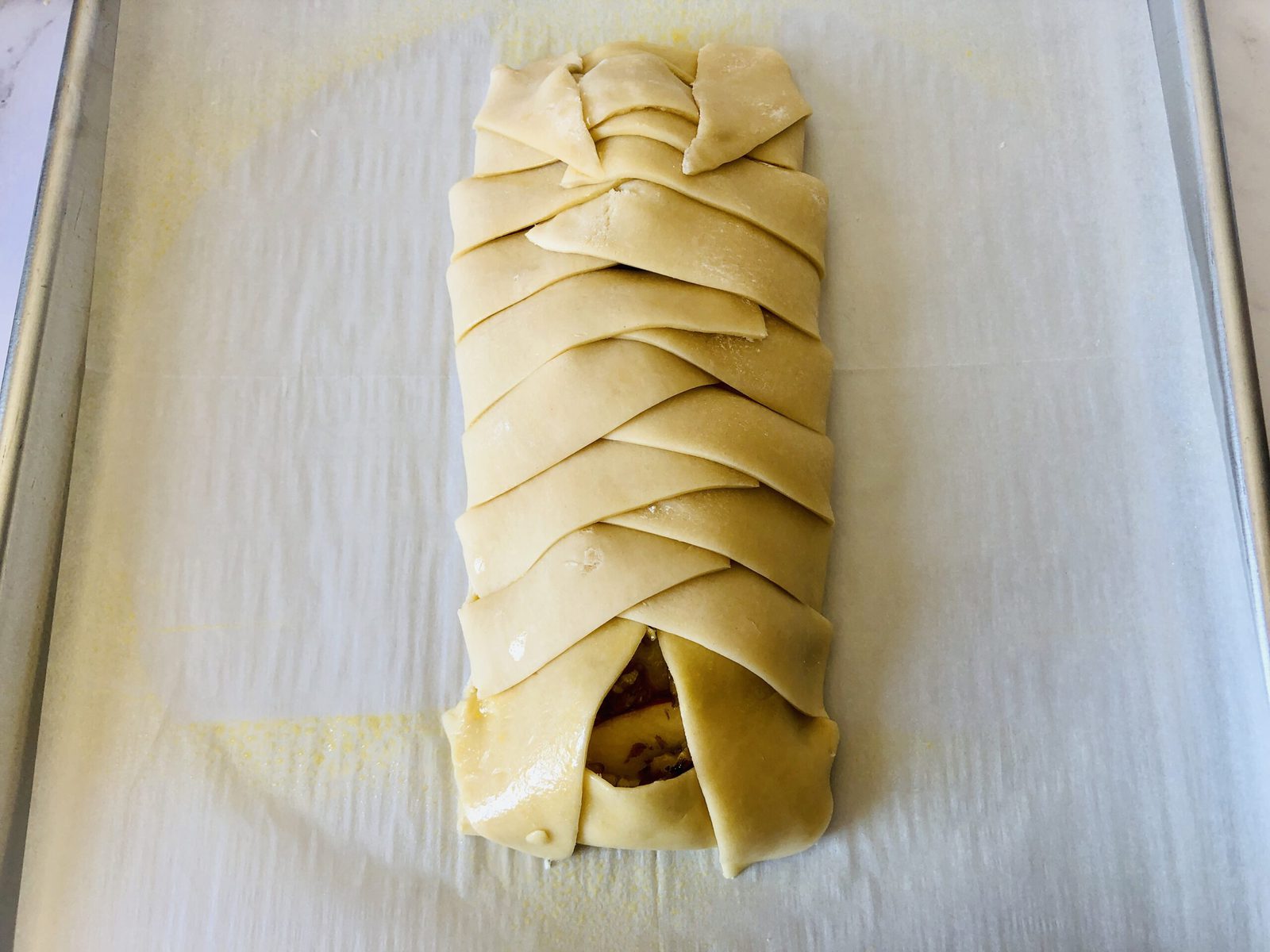 Once you have folded the ends of pastry over first, then start braiding starting on one end by simply alternating folding one side of the the dough over, and then the other side, alternating each side over the other (ie left then right) until you get to the end.
Once you have the braid created, you are ready to bake your pastry.  
Bake until golden brown, about 20 minutes, in your oven that was preheated to 350 degrees (if using puff pastry, follow instructions on that box).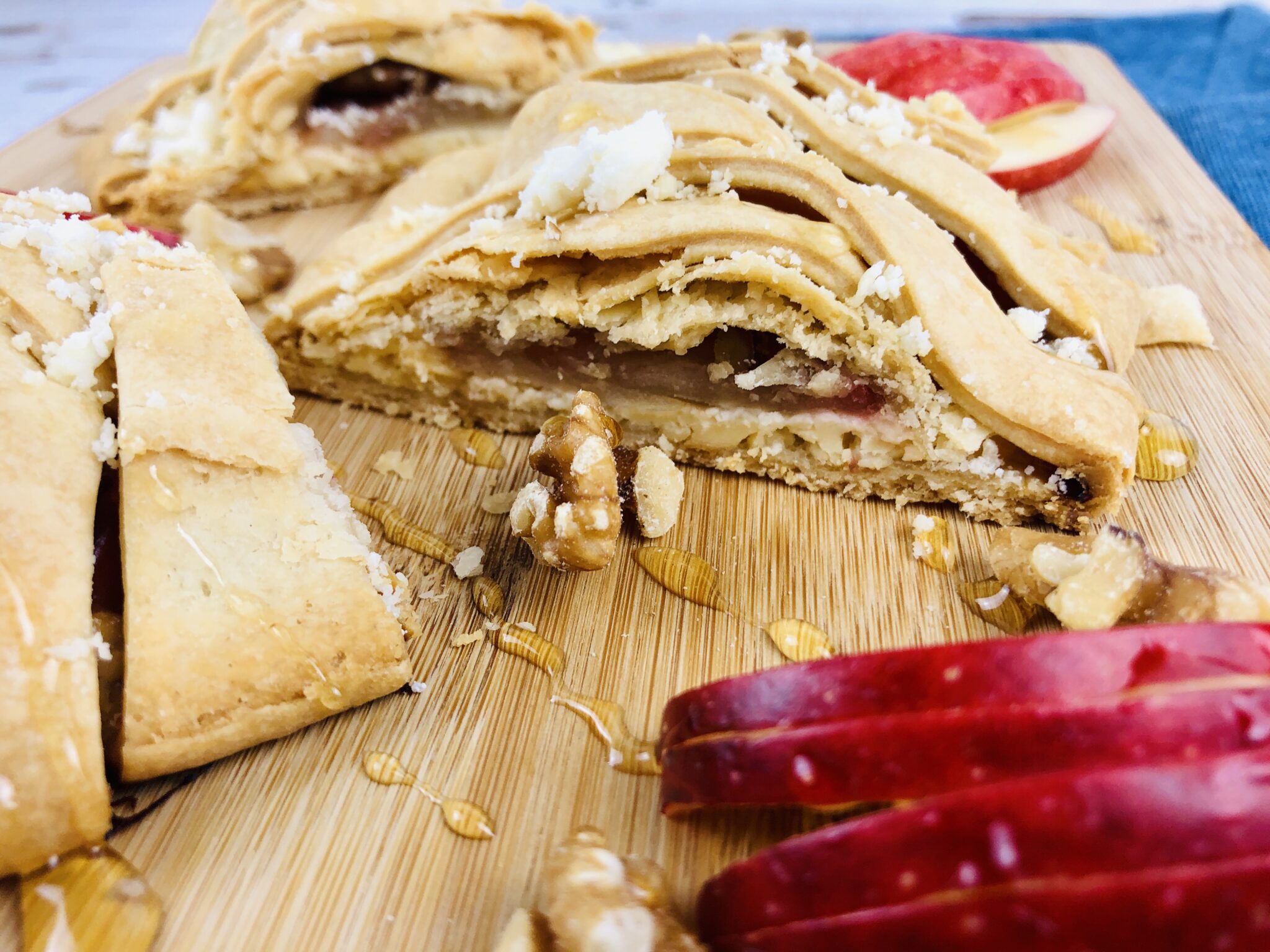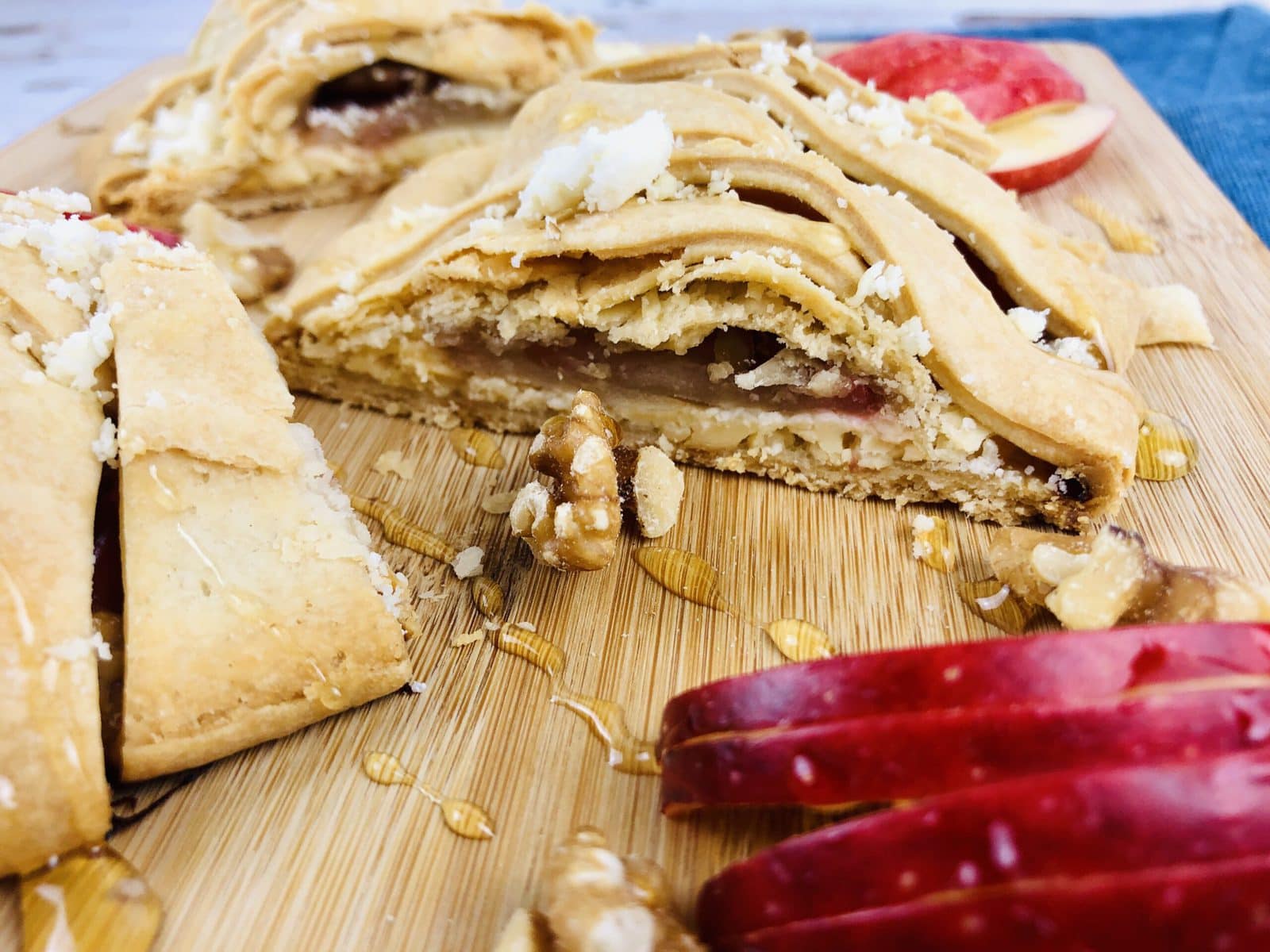 Let rest for a few minutes, slice, and serve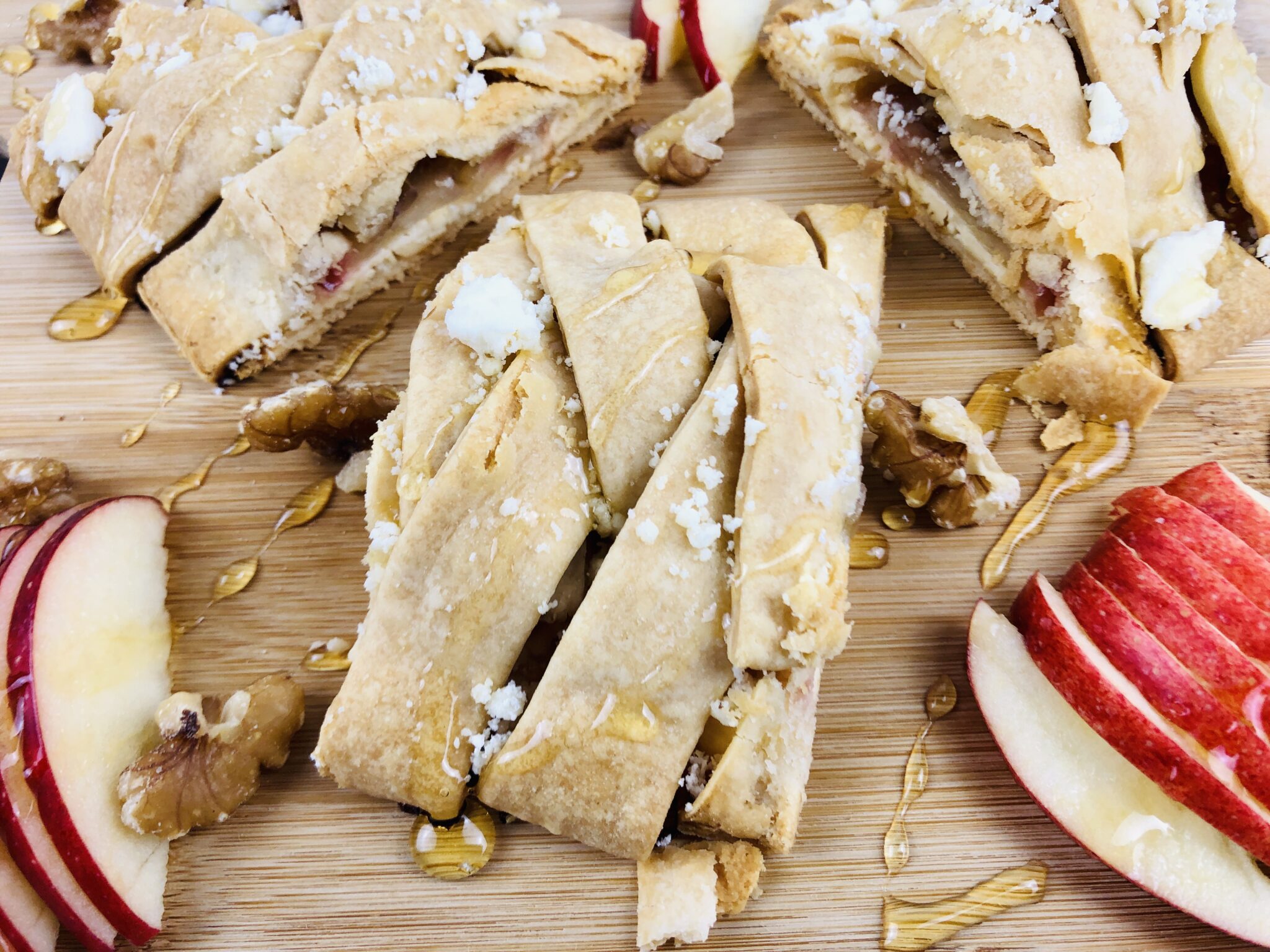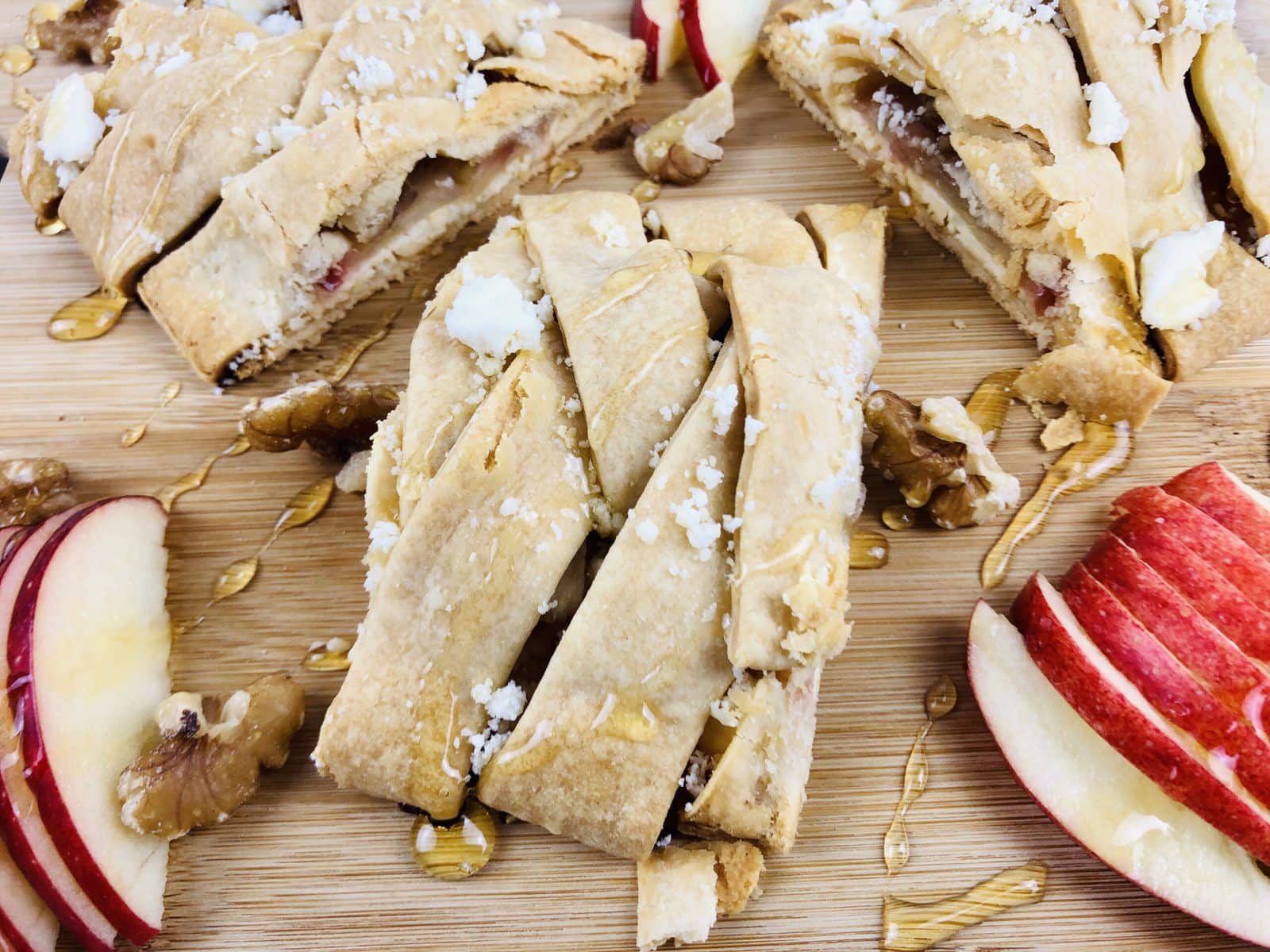 Once you have sliced it, you can drizzle a tiny bit more honey on top if you prefer. Another idea is to include a bowl of honey that people can use to drizzle their own, depending on the level of sweetness they want.
A couple of appetizers that pair nicely with this one are: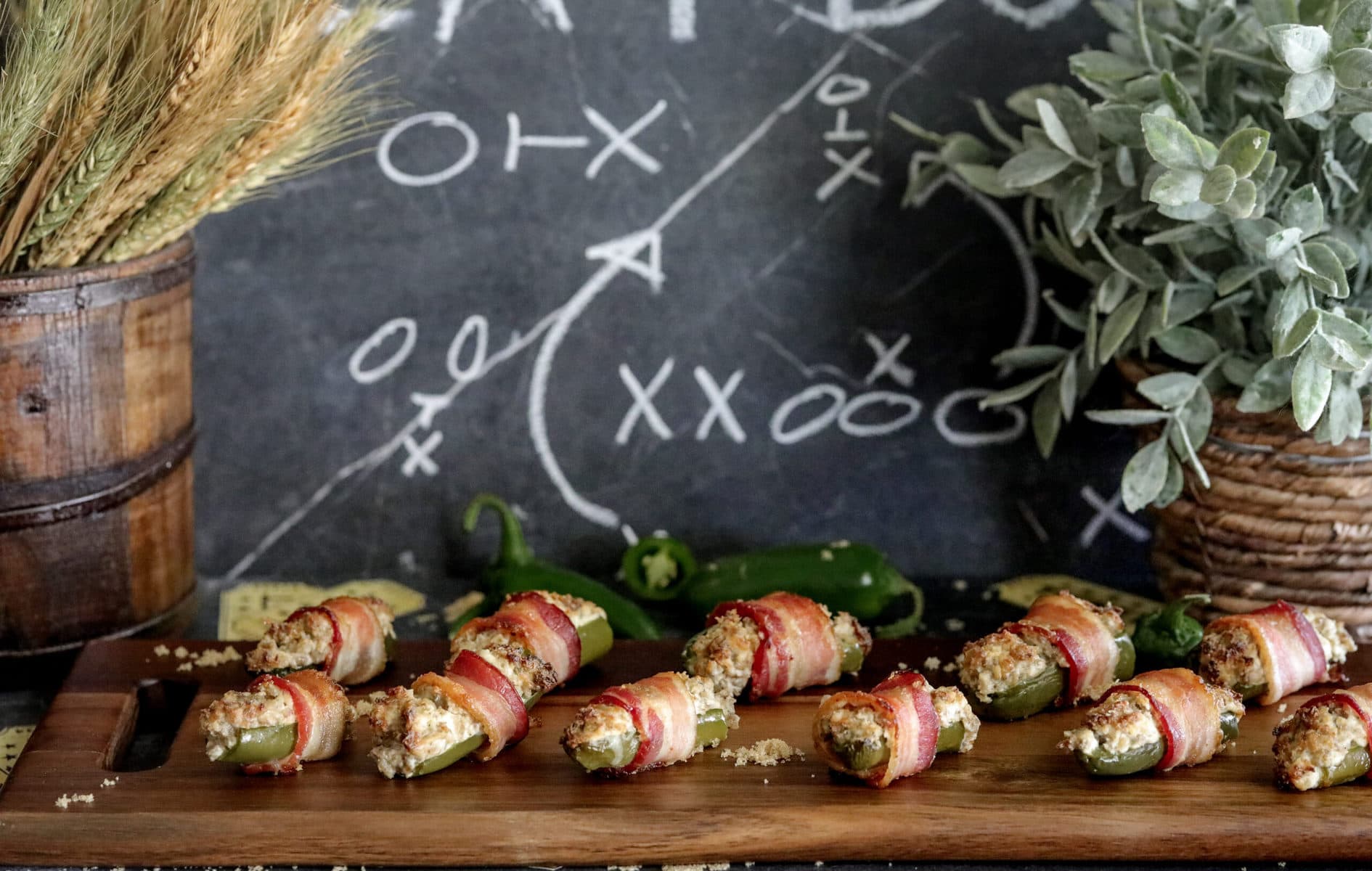 Bacon Wrapped Jalapeno Poppers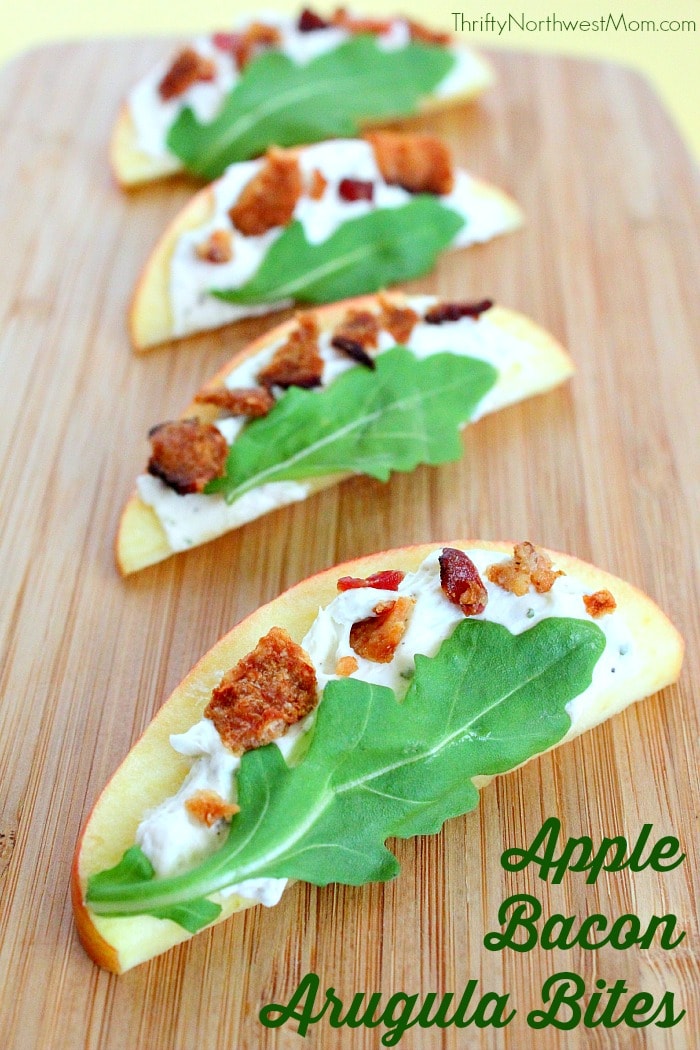 Print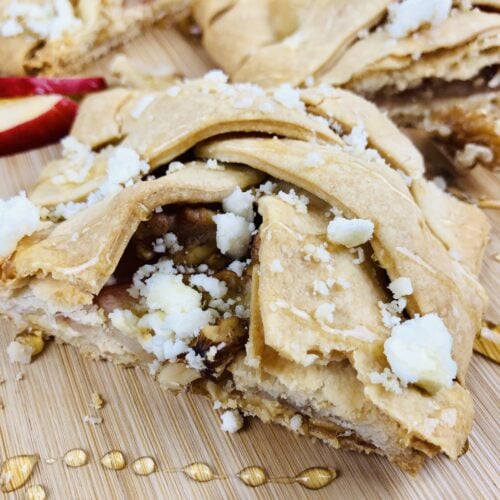 Pastry Braid w/ Feta, Apple, Walnut, Honey 
---
1 pie crust, homemade or store bought 
1 apple, sliced very thin 
½ cup feta cheese crumbles 
¼ cup walnuts, chopped 
Honey – for drizzle 
---
Instructions
Preheat oven to 350 degrees 
Place rolled dough on a parchment paper lined baking sheet 
Cut dough as shown 
Place even layer of feta on middle portion of crust 
Layer apples on top of feta 
Sprinkle on walnuts
Drizzle on honey 
Fold ends of pastry over first then start braiding on one end by simply alternating the dough over each other, left then right 
Bake until golden brown, about 20 minutes 
Let rest for a few minutes, slice, and serve