Wyze Security System – Pay as low as $40 for Starter Kit + $4.99/mo monitoring!
Disclosure: This post was sponsored by Wyze and all opinions expressed in my post are my own. 

Wyze Security System 
If you have been thinking about a new security system for your home, those can get quite pricey when you are looking at installation fees & then the monthly service plan. I think so many of us think they are out of reach with the pricing overall that we haven't really investigated it further. We have been thinking on & off for years about whether to get more of a security plan for our home especially with tween & teens at home.
The other reason we have considered security upgrades for our home is that I have a severe hearing loss, which has gotten significantly worse in the last 3-4 years & I now have a cochlear implant. But this means that when I'm home alone, it is not as easy for me to hear when people are at the door and especially not at night as i take my cochlear implant off at night to sleep, so my hearing is extremely limited at night (I am totally deaf in one ear & just have a little hearing in the other ear).  Being home alone during the night or with my girls (who are both super sound sleepers) is a big concern for me and the times that my husband has been out of town have been stressful for me, worrying that I won't be able to hear in the case of an emergency or a security situation.
We have been looking at a variety of different ways to keep our family more secure considering this hearing disability that I have and the impact it has on keeping our family safe. We have had security companies come out & talk with us about their programs  (including looking at a special fire alarm with lights activated,  so I'm not relying on just sound), but the costs have been very high for full home monitoring systems & different security packages, so we had not decided on anything yet and kept researching.
So, I was excited to check out the Wyze Security System as it's such an affordable option for families, so this sounded like a great option to check out & share with you all. Wyze is a local Pacific Northwest company that was created to provide more affordable smart home & tech products. They just recently launched their DIY Home Monitoring system and it's surprising how affordable it is for all that comes with it and it's a super easy installation so you don't have to pay high prices for installation from a security company! And the monitoring service is only $4.99/month?! I couldn't believe it was that low to provide security for your home! A system that the whole family can easily use, even the kids can arm & disarm the system easily from the keypad or App.
With schools back in session & many parents back at work in the offices, your homes may be unoccupied during the day again & if teens are getting home before parents from their school day, it definitely is nice to have an affordable option like the Wyze security system to give you peace of mind. Especially with it utilizing the app, so you can easily check when you are gone and keep an eye on things. They have different aspects to it, but you can just install & use what is the best fit for your family.
We partnered with
Wyze
to show you a review of how the Home Monitoring system works & all that is included, so you can see if this might be a good fit for your family & your needs for home security. Love that they received the Editor's Choice award from PC Magazine as an affordable smart home security option. See the
Wyze home monitoring system in action here
!
What's Included in the Core Starter Kit: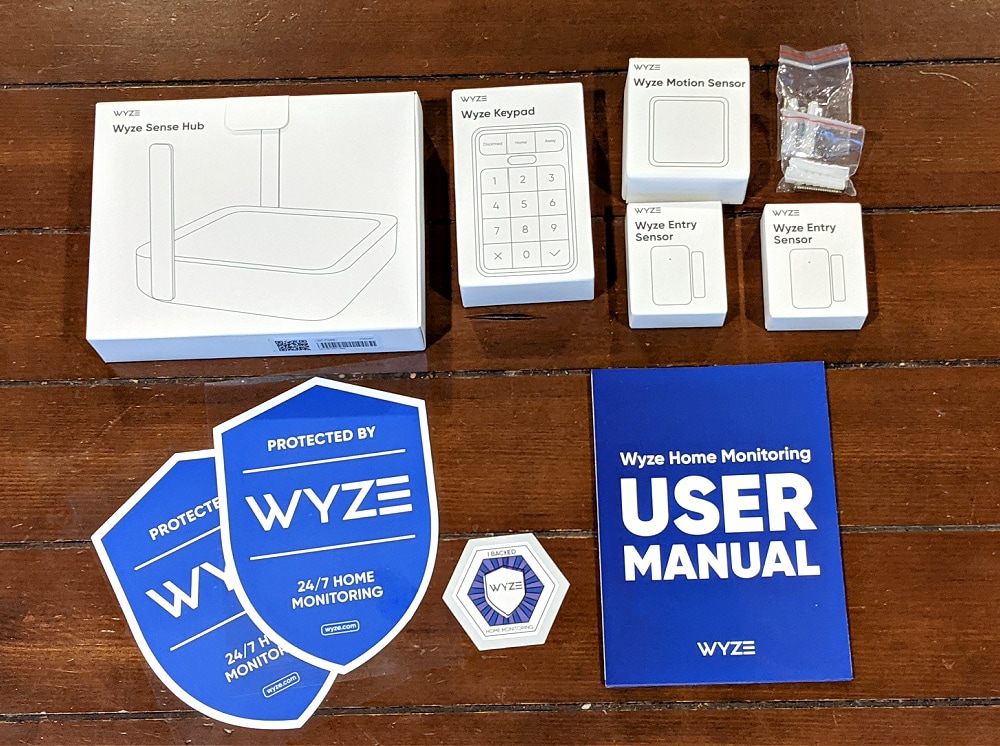 We received the Core Starter Kit from Wyze which has everything you need to get started with the home monitoring for your home. And we also received the Wyze Cam v3, which is an outdoor camera (this is an add-on to the starter kit). The Core Starter Kit itself is $70 + the $4.99/mo monitoring service, but if you purchase an annual plan for the monitoring service, you will get a $30 discount on the starter kit, making it just $40 for the system.
Here's what is included in the Core Starter Kit:
Wyze Sense Hub (this is like the brains of the monitoring system)
Wyze Sense Keypad
Wyze Sense Entry Sensors x2
Wyze Sense Motion Sensor
Window Decals x2
These are the basics that you need, but there are additional products you can choose to purchase as well if you'd like even more coverage for your security plan.
Additional Products for the Home Monitoring:
Wyze Cam v3 – $29.99 – this is just $30, but it is a durable camera for outdoor monitoring. You can take it outside with an IP65 rating + color night vision, a wider field of view, built in siren & more. This does need to be plugged in, it's wired, so make sure you have a long extension cord. We plugged ours in through the garage door with a long extension cord. This camera gets rave reviews on Amazon – with over 20,000 4 1/2 star reviews.
Wyze Cam Outdoor Starter Bundle + Add-On Camera – $59.99 – The Wyze Cam Outdoor Starter Bundle includes both the base station (which can support up to 4 outdoor cameras) & one Wyze Cam Outdoors.  This camera is wireless & is IP65 rated to withstand the elements and has a 3-6 month battery & 1080p video livestream & recording. This is your best option when you don't have easy access to plug in the camera, to get the wireless option with a long-lasting battery.
Cam Plus – You can get unlimited recording from your motion cameras when you sign up for Cam Plus, which is $1.99/mo per camera or $15/yr. This activates features like person, package & pet detection, along with fire alarm & CO sensor.
Leak Sensor – you can place this under a dishwasher or in a basement. This will alert you to potential leaks before it gets too large.
Climate Sensor – senses temperature and humidity changes – works well if you need to keep a space a certain temperature or keep humidity levels normal
Wyze Cam App: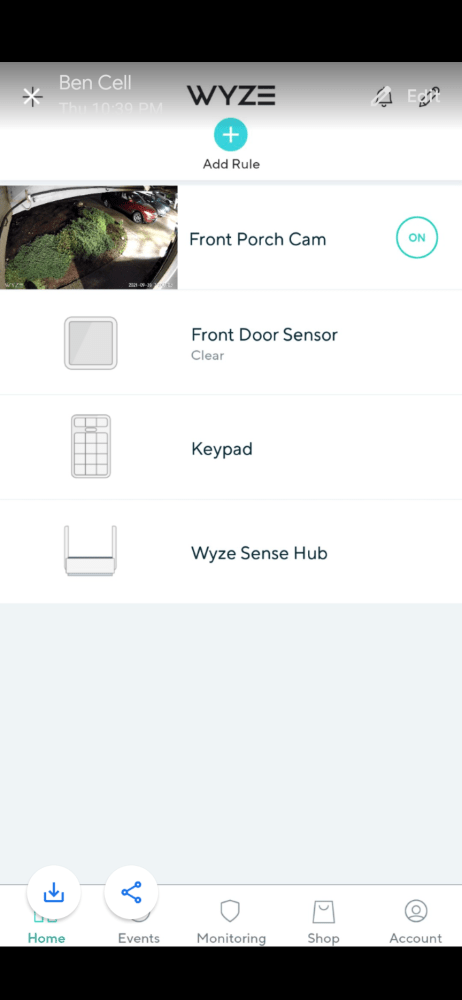 This is a look at the app when we just had the motion camera outside set up
You'll find the Wyze monitoring app on Google Play or iTunes. Just download the app to your phone, sign up for the home monitoring service thru Wyze & you're all set. The app / monitoring service is set up to notify you any time there is movement on the camera or one of the motion/door sensors.
You can change the notifications based on the sensitivity level you want (especially if you have animals so you're not getting notified every time they move around the house – ha!). You'll get real-time notifications when a sensor is triggered + you'll be able to see the camera feeds to check on things, too.
You can also arm & disarm the Wyze security system with the keypad or manage it all through the app. The beauty of this is that you could be relaxing on vacation by the pool and be able to arm your alarm.
The app also allows you to create automation with other Wyze products such as when the entry sensor opens, your Wyze light bulb will turn on & turn the lights on. Or when your Entry sensor closes (door closes), the Wyze lock locks the door. The sensors also work with smart speakers like Alexa & Google.
Monitoring Service:
Wyze has partnered with Noonlight for their monitoring service. Noonlight are the creators of the #1 safety app. When a sensor on the alarm is triggered, you will get a text from Noonlight within 5 seconds. If you don't respond within 30 seconds, they will then call you to check in. And if you don't respond to the call, they will contact 911.
This service is just $4.99/mo or $59.88/year! That's a pretty awesome service to be alerted immediately when there are any security problems for just $4.99/mo. You are getting high level service for a fraction of the price of other home monitoring programs.
There is also no long-term contracts as part of this monitoring system – you can either choose the monthly rate or if you want to save money on the Starter kit, then choose the annual price. But this way you're not locked into a long service program and can try it out & see what you think!
Wyze Discount Code & Pricing:
You can pay in 2 ways for the Wyze Home Monitoring system – monthly or annually. If you pay annually, all at once, you will get a big discount on the Core Starter Kit.
The Core Starter Kit is $69.99 & you will pay $4.99/mo for the home monitoring service. But, when you purchase this with an annual plan, you will pay just $39.98 for the Starter Kit & then you'll pay $59.88 at once for the year of monitoring service. So, you'll save $30 off the Core Starter Kit by purchasing the annual plan versus the monthly plan.
This means that you can monitor your house with the core kit and a year of service for under $100. Most alarm companies charge around $40/mo (not including the pricey installation fees).
Our review of Wyze Security System: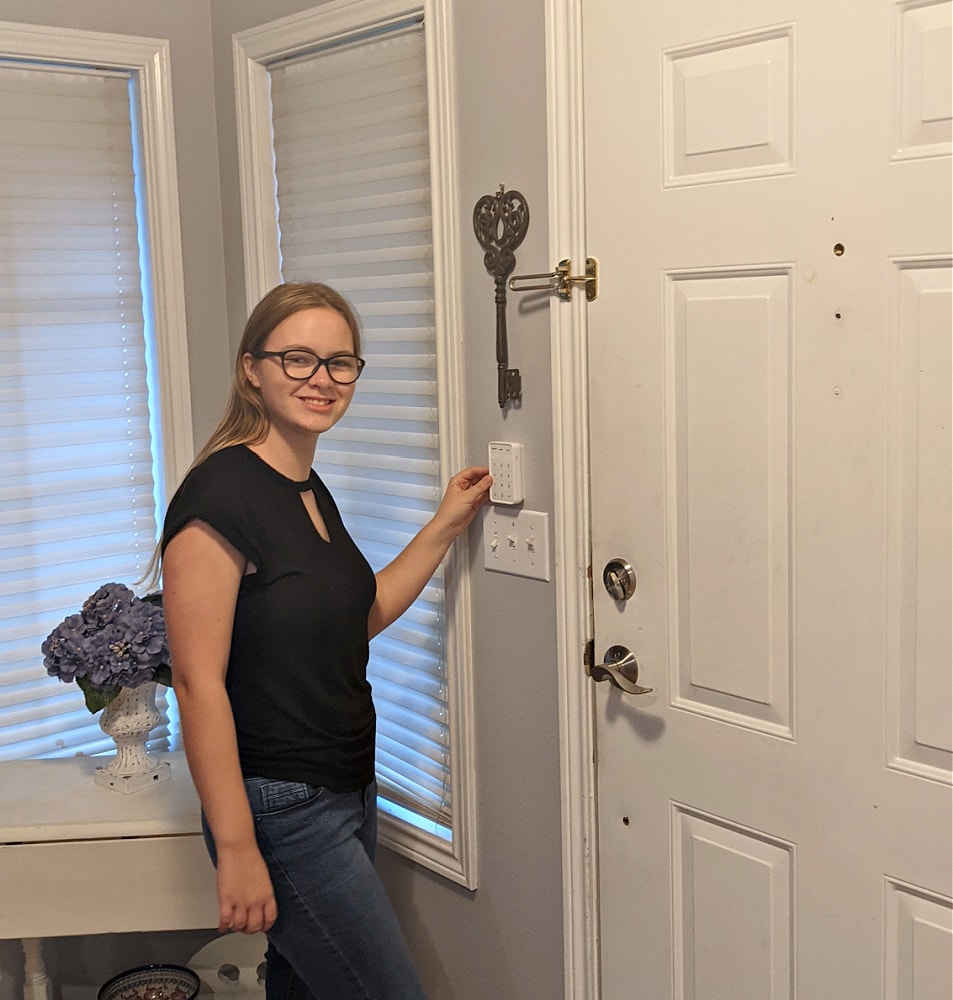 We just set this up this week, but so far we are loving this Wyze DIY home monitoring system for two big reasons! #1 is the price – this is absolutely the best price we have seen on a system like this which provides everything we are looking for and there are no large installation fees or contracts we have to sign with a home security company. It's very affordable to purchase this & try it out & see how it fits our needs!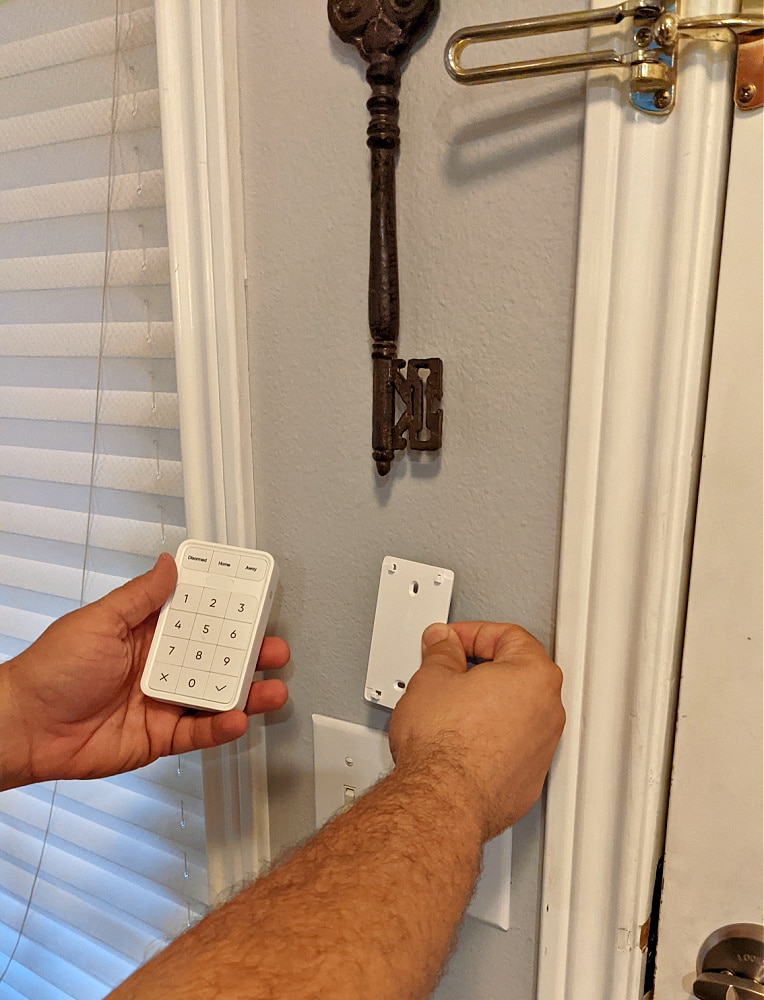 The other big reason we are loving this program is how easy it is to set up – it's about a 30-40 minute installation to get it all set up. They have an installation booklet that is very easy to follow & just use regular tools to get it set up! My husband easily set this up one evening this week, but I could have totally set this up, too, so it's a great option for single parents to provide more security & peace of mind.
Here are some other things we liked about the Wyze system:
Ease of Use with App
This is so easy to set up & start using right away with the app you download to your phone. Sign up for the monitoring service & you will start getting notifications on your phone.  We set this up & my husband texted me after school one day to tell me our dog had been picked up on the motion camera out front & it sent him an alert. Thankfully we knew she had run out when we opened the door for a package and we were calling her back in, but it was nice to know it picked her up & notified us, as there have been a few occasions where the gate got left open to our fence & she was out running around having a grand time on our street. So this is such a relief to have it notify us right away.
Clarity of Picture from Motion Camera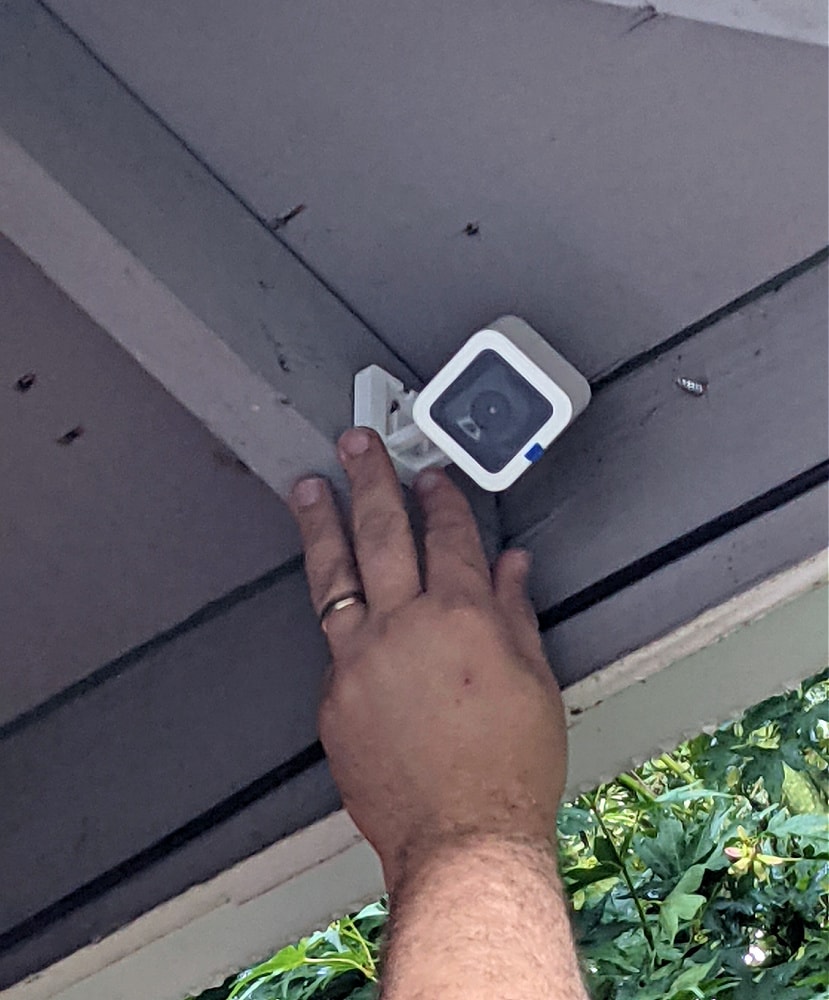 We put the Wyze Cam v3 outside for monitoring on our sidewalk/driveway leading up to our house & we have been impressed with the clarity of the image.  The camera offers 1080p high definition resolution in color at night, so it's much clearer than what you'd expect from a budget-friendly camera.  The Wyze Cam v3 camera is the best selling camera on Amazon with over 20,000 4 1/2 star reviews! And it's easy to see why it gets such rave reviews!
(This is not as clear of an image as we were trying to take a screenshot of the video which was much clearer, but we were able to see the raccoons exploring around our bushes & car)
The camera is just $30, but that resolution is so clear & it has been quite interesting seeing what goes on in our front yard at night! We knew there are possums & raccoons in the ditches that come down to our street, but we did not realize they come into our yard. But the camera picks them up so we can see them walking all along our front sidewalk! 🙄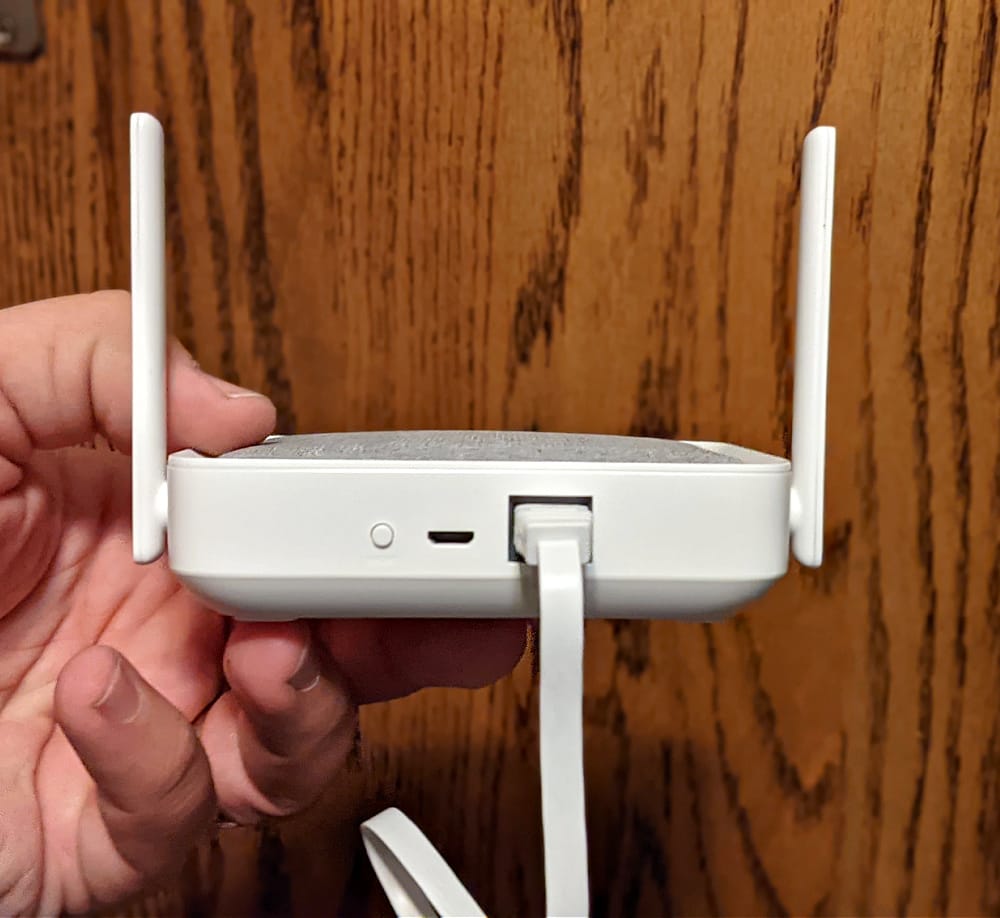 Intruder Alarm
There is a main "hub" which is the brains of your security system. This hub connects to the sensors in your Wyze app & it also has a built-in siren that would go off to alert would-be intruders. We put this in our office which is right next to the front door, so if the siren goes off, it will be heard very well by someone entering the house or in front of the house.
The other important part of the alarm/sensor going off is that you will be texted by the monitoring service within 5 seconds (you can change this timing in settings if you'd like) and if you don't respond within 30 seconds, they will then call you. If there is still no response from you, they will call 911. So this is great peace of mind for just $4.99/mo that you can feel safe knowing that this monitoring system will alert you right away & it's being checked out right away!
More Wyze Products:
Wyze Robot Vac – let the vacuum do all the work for you! Set it up to clean at any time of day – whether you're away at work or it's the middle of the night, you'll be thankful for great technology.
Wyze Ear Buds & Headphones – great price + quality for both the earbuds & noise cancelling headphones. These headphones have 4 noise-cancelling microphones & an ultra-fast processor, so everyone/everything should be more of a whisper. Great option for kids!
Giveaway – Wyze Security System
Head on over to our
Instagram page
to enter to win this Wyze Security System giveaway! Giveaway ends on Monday October 11, 2021 at 9pm pst!