5 Unique Baby Shower Gifts – Fun To Make & Gift!
This post may contain affiliate links and I may be compensated for this post. Please read our disclosure policy here.

5 Unique Baby Shower Gifts – Fun To Make & Gift!
If you know someone who is expecting, that means you will likely be attending a baby shower soon. We share 5 unique baby shower gifts, to provide you some inspiration on how to make your gift extra special, and stand out in a crowd. I always have some much fun using these different baby shower gift ideas, and they have always been a hit for me.
The thing I really like about all of these ideas is that they are a starting point meant to inspire you. You can customize them to make them your own from there. Personalize them with the recipients favorite colors, the babies name, plus items they need or will love.
Another great things about these baby shower gift ideas, is that they can easily be used to gift items that may have been requested on a registry, or choose your own items to gift. It is really just a way to put a baby gift together, so that the presentation of of your gift really wows. Plus, it is fun for parents to open these special gifts. It shows how much thought and love you put into their gift (but they really are not much extra work for the most part).
Here are 5 Unique Baby Shower Gifts that I have personally given, and have always been a hit for me!
Baby Crate Closet Shower Gifts
Baby Crate Closet Shower gifts are essentially where you use a wooden crate and some dowels to make these mini baby crate closet gifts. They are such a fun way to make a baby shower gift if you want to gift some clothing as well as other items. Essentially all you need is some kind of box (the baby crate – we like to use wooden crates) and a few really affordable wood dowels (you can grab them for super cheap at Walmart). These baby crate closets are easy to make, and a real wow gift for any baby shower.
Find our step by step instructions on how to make these baby crates (or mini baby crate closet gifts) here. 
Diaper Gift Ideas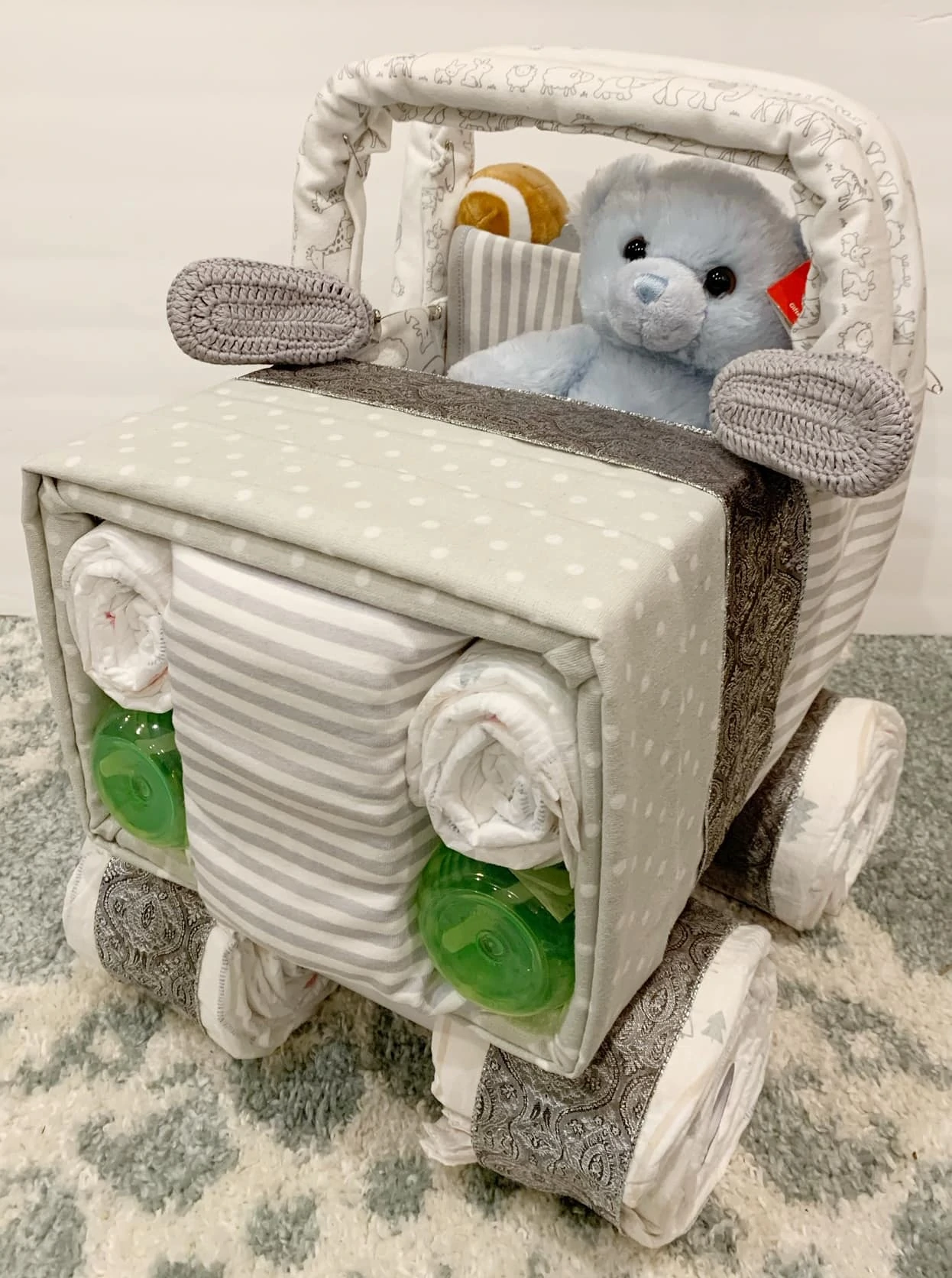 Diaper Cake or Diaper Jeep baby shower gifts!
All new parents need diapers. Some baby showers even offer a raffle to incent you to bring diapers to the shower. You cannot go wrong with one of these baby diaper gifts at a shower.  We share these step by step instructions on how to make a baby diaper cake or diaper jeep. These will show you how to turn diapers into the cutest baby shower gift, and you can even include other gift items in these too. This is my favorite 'go to' baby shower gift if I had to choose just one!
Baby Shower Gift Baskets
Baby Shower gift baskets make great gifts, as they can be customized easily for whatever the parents are asking for. Essentially you are just making a really cute gift basket, that you then fill like you would any other gift basket. Here are a few ways to put together Baby Shower Gift Baskets, that will stand out from the rest! Rather than adding your items into a traditional basket, try these ideas.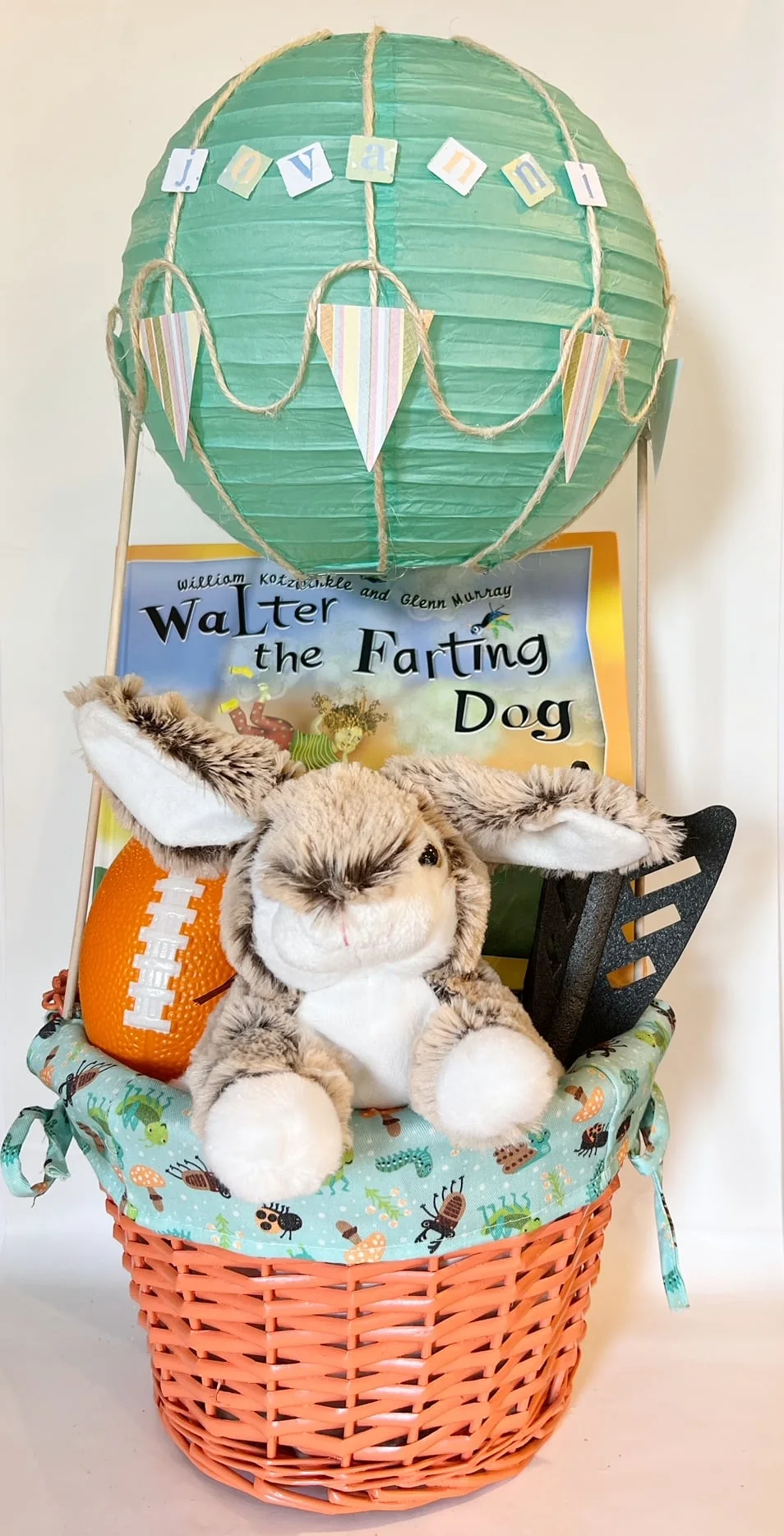 Hot Air Balloon Baskets for a Baby Shower Gift
I love to make these hot air balloon baskets. They are simple, yet so cute! I made the one shown above for a one year olds birthday present, but I have done them for baby showers too. Simply fill the basket with whatever gift items you want to include. Choose basket and hot air ballon colors to go with the theme of the shower you are attending, and this baby shower gift basket will really stand out from the rest.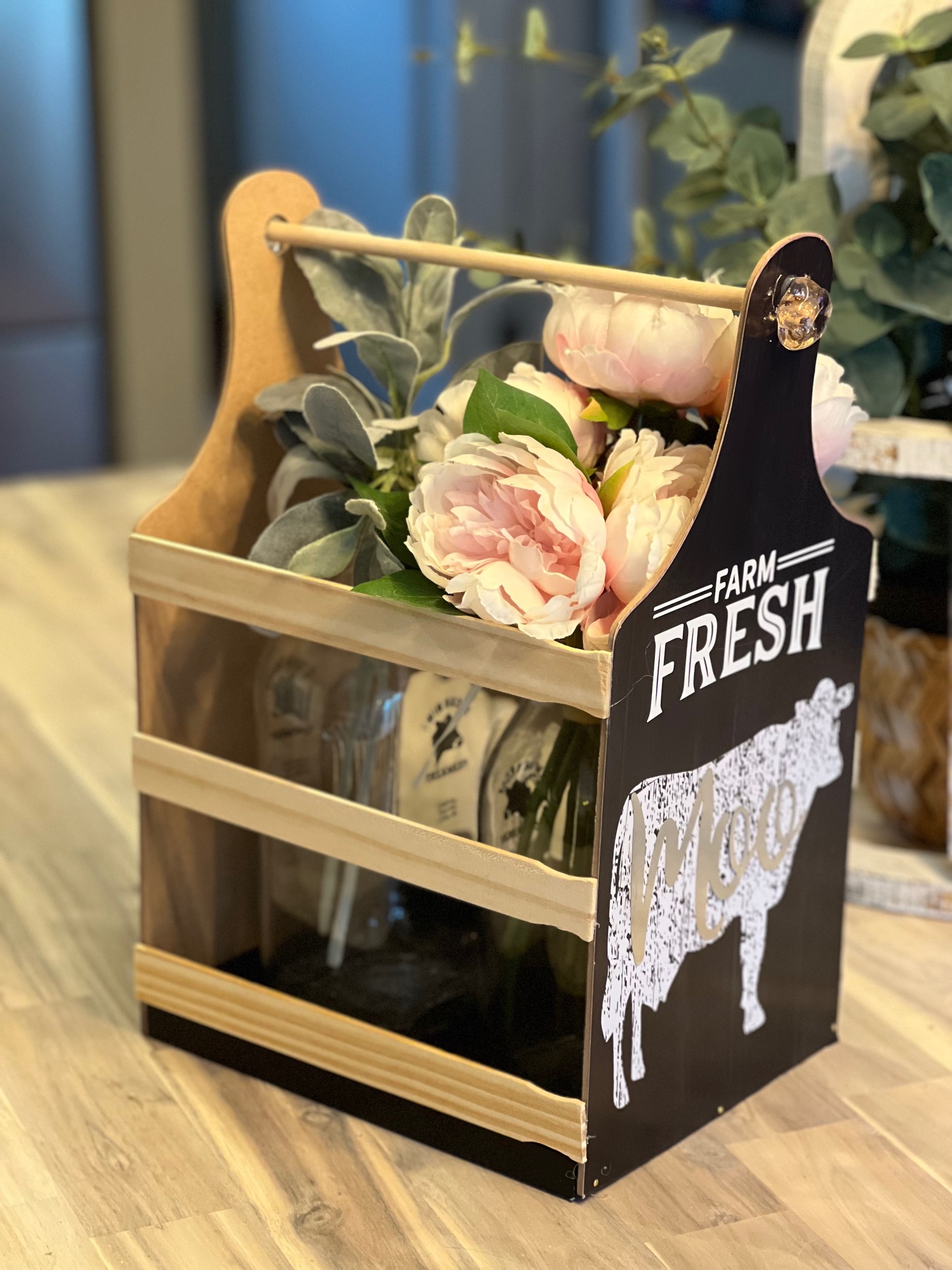 Milk Crate Baskets
These milk crate baskets can be made using items from the dollar store, and they are a super sweet way to gift items at a baby shower. Again, just fill them with items the parents to be are asking for, and boom – you have a unique and adorable baby shower gift basket. I like to fill mine with baby blankets, onsies, bottles, books and any toys or supplies they may be asking for. We used ours to gift flowers, but instead imagine this milk crate filled with baby bottles and bottle cleaning supplies for example.
Alterntatively, it is also a really cute way to gift diapers. the shape of the crate makes it really easy to fill with diapers too. I would line the bottom with a pack of wipes, then buy diapers with a cute pattern on them, take them out of the bag and fill the crate with those. Find instructions on how to make your own here.
Toy Gift Baskets
This is a really fun idea, as your "gift basket" is also part of the gift. Find a fun toy that the baby can use as he or she grows, and fill that with the items you want to gift at your next baby shower. This is again an example of one I did for a toddlers birthday party, but it could easily be done as a baby shower gift idea too.
I used a CAT truck for my gift (also look for Tonka trucks, or fire trucks and other similar ideas), and filled the back with the goodies. One thing that I really loved about this one is that the building blocks up front held a book I was able to personalize and use as a card, right there front and center. It also came with more building blocks and the truck, so the "basket" itself was a significant part of the gift. Everything I added inside was just extra.
More ideas for toys or other items you can use as baby shower gift baskets, beyond the tonka truck – but they can also use them after the shower, include:
Baby strollers or baby carriers – use either toy baby strollers (for the baby as they grow into the toddler stage), or another more timely idea would be an Umbrella Stroller that they can use for something simple to keep in the car, etc.
Toy Cribs is another really cute idea. These ones align so perfectly with the idea of a baby shower, you cannot go wrong with these!
Sand buckets – These are a nice option for just about anyone. Having beach or lake toys as the baby grows into a toddler is wonderful. These also make a great idea if you are going to gift things like baby sun screen, or baby sun shield clothing, etc.
Shopping Carts – This Minnie Mouse Shopping cart is just $10. You could take the toys out, and give those to the recipient seperately, and turn the cart into an adorable baby gift basket!
Tool Boxes – This little boys tool set is another adorable idea, and for just $5! Take out the tools and give them seperatlely. Add your gifts to the tool box, and top it off with a cute bow at the top. This one is a great idea if you want to give the parents a gift card, and then more small items to fill it.
Ride on Cars – this one is going to cost you more, but if you are grandma or someone really wanting to bless this family, fill one of these ride on cars with fun gifts for the baby!
You imagination is really the limit here. Just look for toys or items that have the space to allow you to put other items in it!