Amazon currently has 3-packs of Disney Cuddly Bodysuits for as low as $5.35 to $5.96 per 3-pack. That is just $1.78 per onsie! Shipping is free with Prime, or Super Saver shipping on orders of $25 or more.
*Remember that Amazon prices are subject to change at any time. Make sure the price is current before you purchase the item. 
Find more Amazon deals on Thrifty NW Mom.  And don't forget that when you search the web using Swagbucks, you can earn Amazon gift cards for further savings at Amazon. Read more about using Swagbucks as your search engine to earn gift cards as you search the web.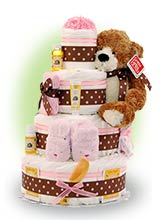 I love to collect affordable items I can use for diaper cakes for baby showers, and these would be great!
The idea of a diaper cake is you stack rows up diapers and secure them with decorative ribbon to achieve a 'cake like' look. I usually cover some cardboard for my base, and stuff in extra items (like the blankets and bibs – you can roll them up and tuck them into the cake). You can get instructions on how to make a diaper cake here. One diaper cake, purchased online will likely cost you more then the $175 worth of merchandise for 70% off would cost, and you could make multiple cakes out of that (plus the cost of the diapers).
Thanks Hip 2 Save!