Cute Clothes On Amazon To Update Your Wardrobe (On A Budget)!

Cute Clothes On Amazon To Update Your Wardrobe
(On A Budget)!
Are you looking for cute clothes on Amazon, but do not want to have to spend hours browsing so much stuff. We have narrowed down some finds that we loved from recent purchases, to add to our own personal wardrobes, and share what these items look like in real life here.
I was out shopping with a friend of mine recently (who has great style), and she shared with me that one of her tricks is to find cute styles she likes in store, then look for them for cheaper on Amazon. She has been buying a lot of her clothes off Amazon lately, and there have been some hits and some misses. A few of the items she has purchased have been some of her most complimented outfits that she wears. So I asked her if she would share with me the ones she loved, and would recommend to others to buy as well.
I have also made a few purchases recently, and have been surprised at how much I have liked the items I have gotten off of Amazon. It makes clothes shopping so easy, and they sometimes offer promo codes to help you save even more often too. If you are looking for some affordable items that you can get to update your wardrobe, check these favorites of ours out.
Amazon has a Fashion Sales & Deals page here, where you will find many discounts on clothes for the entire family.
We also share a list of general Amazon deals here, if you are looking for more than clothing deals on Amazon.
Amazon now has a service for Prime members, where you can try on clothes and send back what you do not want to keep, with a pre-paid shipping label.
Check out Jens review on Amazon Wardrobe here, for more details on how this works.
Here are Some of the Cute Clothes on Amazon We have recently Purchased & Recommend:
Cute clothes on Amazon for summer – all of the summer items I got where $25 and under at the time I purchased them (starting at just $9). So it is really can be a budget friendly way to shop.
(Note that prices on Amazon can change at any time. These prices where current at the time of publishing this article, but be sure to confirm the current price on Amazon before purchasing)
I like the prices on Amazon clothes, and the convenience of shopping from home, but I do find the site to not be the easiest to browse for cute clothes. So I did some research on some of the most popular items for summer (based on customer reviews) and tried some of these myself.
In an effort to save you some time doing the research yourself, and to show you what they look like on real people, here are some current things I bought – and kept.
Here are some Summer Wardrobe Ideas you can get on Amazon right now:
( Note – I am very awkward at taking photos – always have been. Most of these items looked much cuter in real life, so check out all the reviews for each product on the Amazon pages too, to get a better idea of how they look on different sizes and shapes). 
I am 5'7 and around a size 10 pant, and Large top to give you an idea of how sizing works.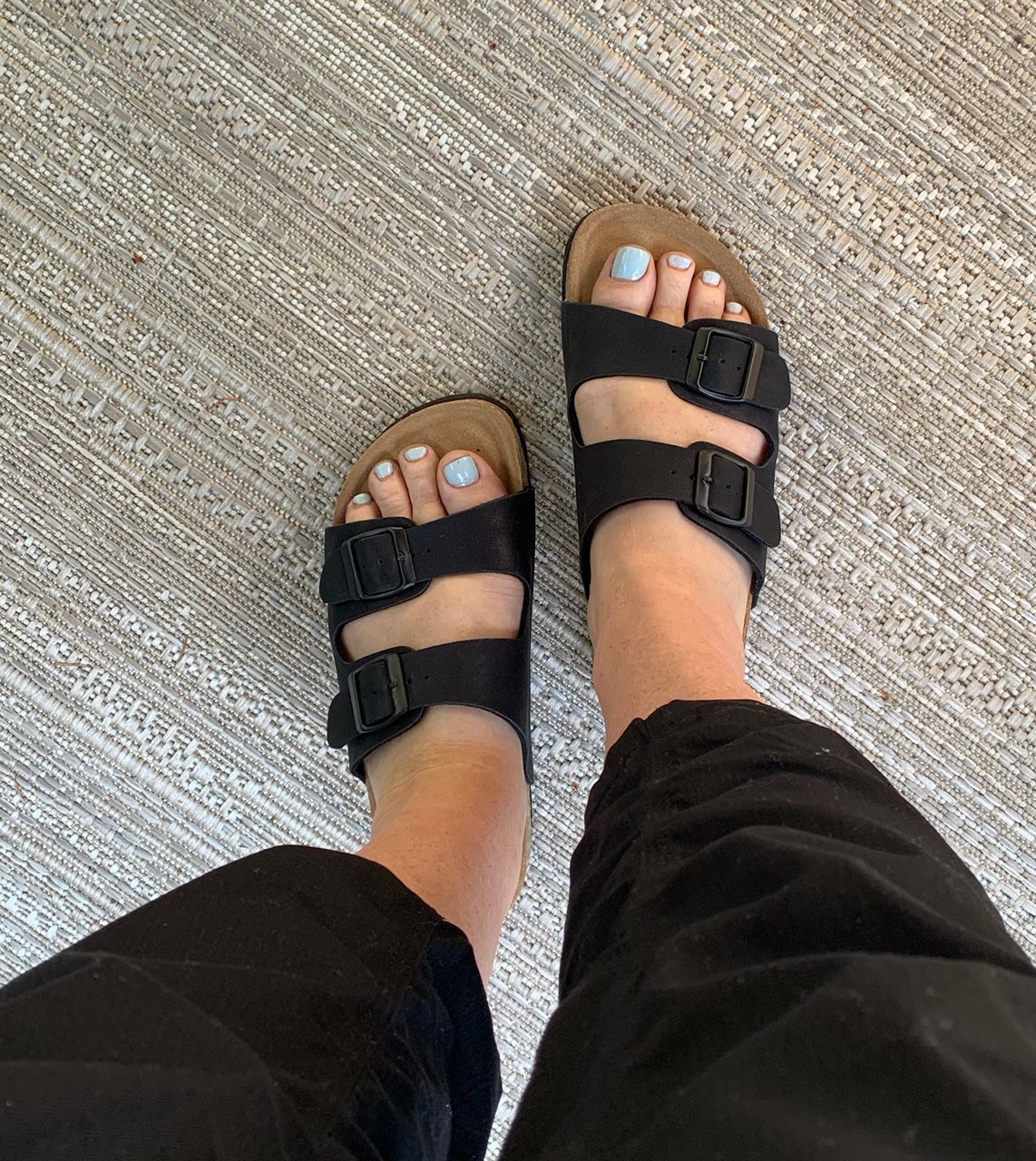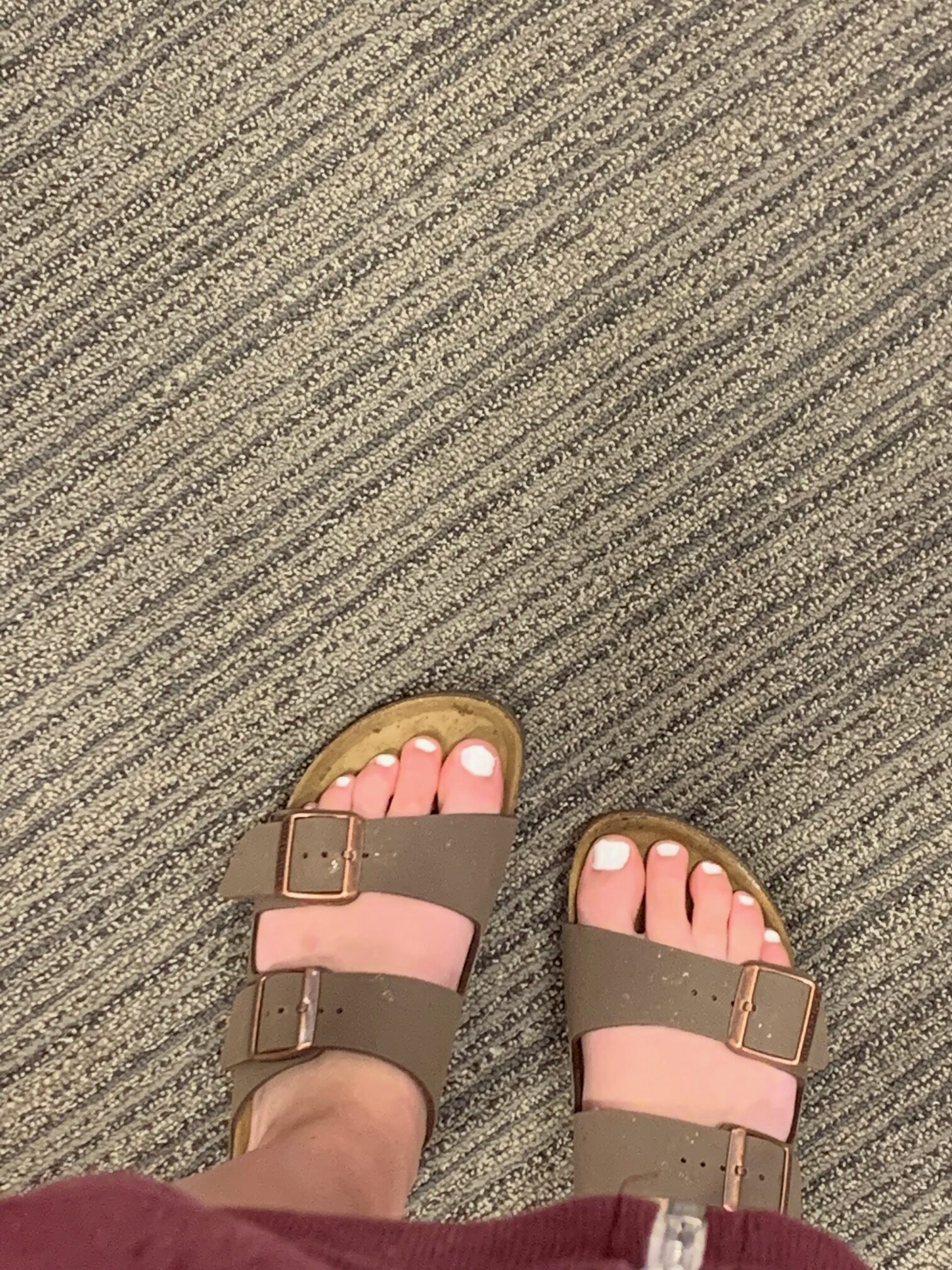 (Look a-likes in black, real Birks in brown)
Find these shoes on Amazon here. These get a 4.6 star review from over 25k reviewers. 
This look-alike Birks, are a fraction of the price at only $24.98 – and come in a variety of colors. I bought a pair, and so far really like them. Here they are next to my daughters real Birks, to give you an idea of how they compare in the looks department.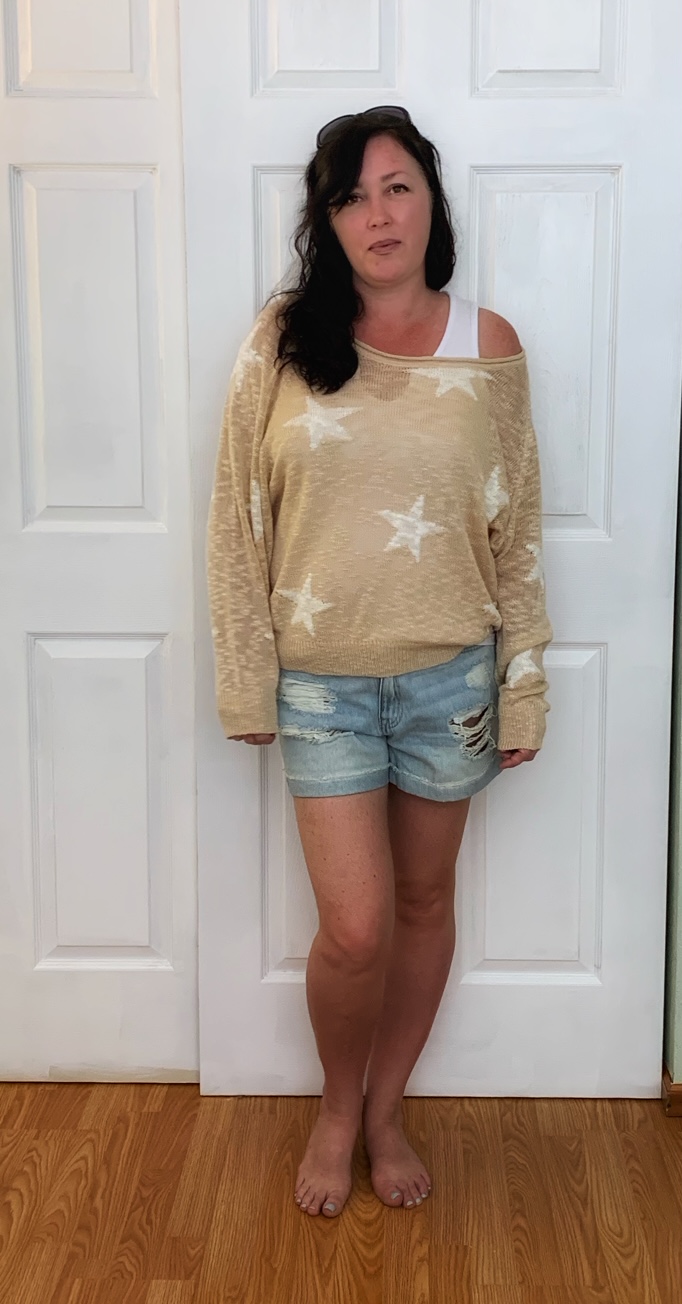 I loved this thin star sweater. I got it to have something to throw on for warm summer evenings as we travel this summer. It is super light weight, and perfect for travel. I really liked this one (it comes in more colors and I am thinking of buying another one).
If you want it to fall of the side of your shoulders, you will want to buy a size up. I bought a L and wish I would have grabbed an XL (but like the L).
Here is where you will find it on Amazon, with all of the color options available. This one gets 4 stars from over 60 reviews.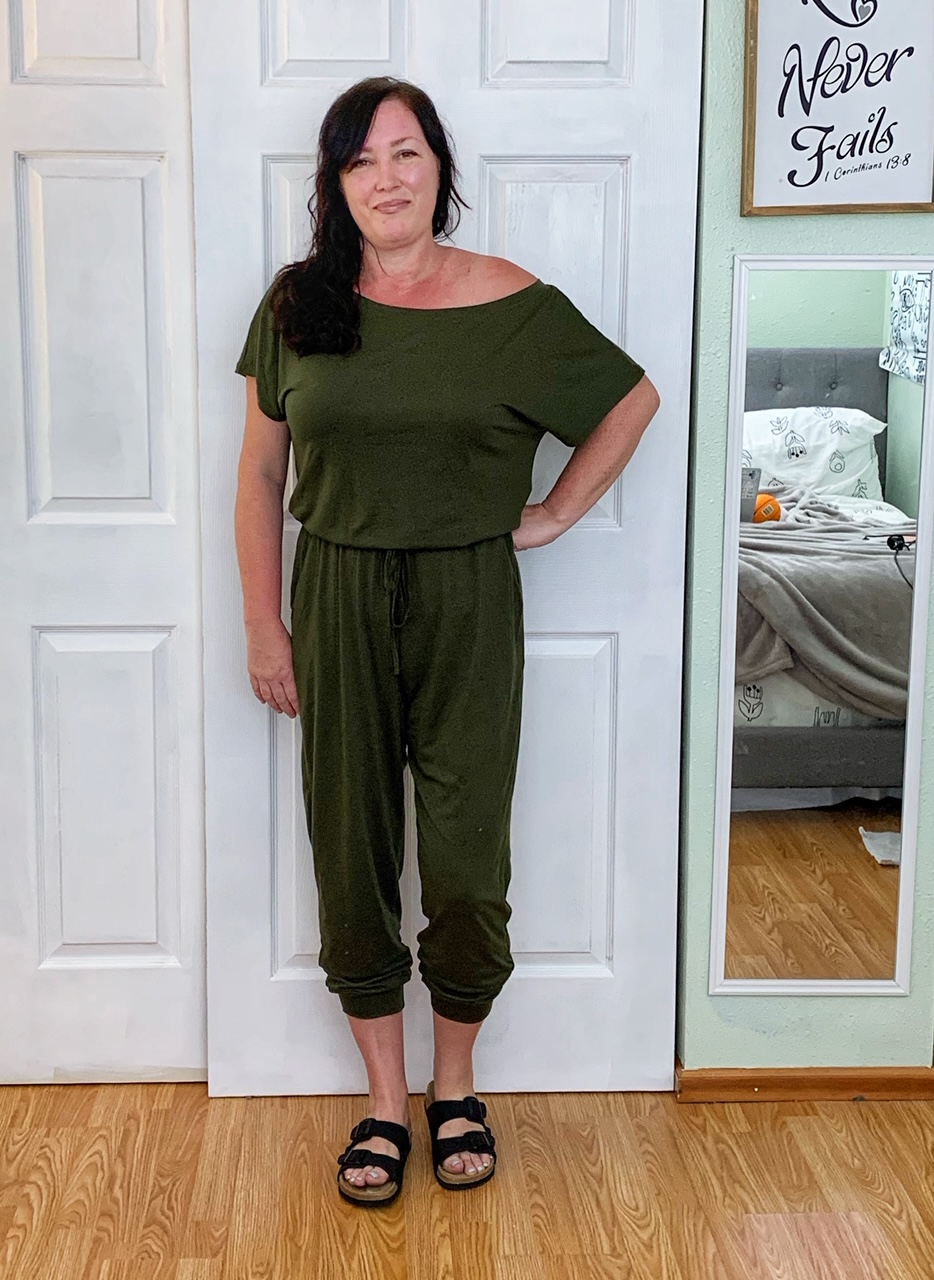 This jumpsuit seems to be one of the most popular that Amazon sells. I have never owned a jumpsuit, and my problem area is my stomach, so I was really apprehensive about this one. The reviews were so good, I had to try it though.
In the end I liked it enough to keep it. It is super comfy (would be perfect for travel, which is what many people advise). I can say, it would be a very comfy way to travel – as it is so light and airy. It is easy to slip down (if you had to use the restroom) as there is stretch in the top. I got a size L, and you can wear the legs bunched up, or they go down to your ankles too. If you do not want it to go off the shoulder order on the smaller size.
Since I do not love to highlight my stomach area, it is not my very favorite outfit (the drawstring there is just for looks), as clothing that cinches in at the waist sometimes feels like it is not covering this area – but overall I did really like this one. I have worn it multiple times now, as it is just so easy to throw on and be comfy in. It comes in multiple colors.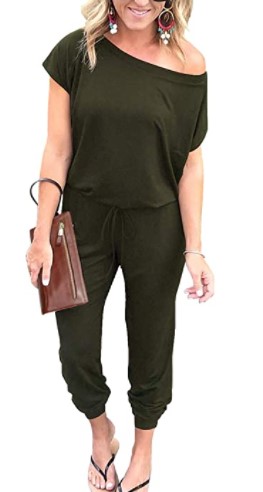 Here it is on their model, and this is where you can find this jumpsuit on Amazon (gets 4.4 star reviews from over 28k reviewers).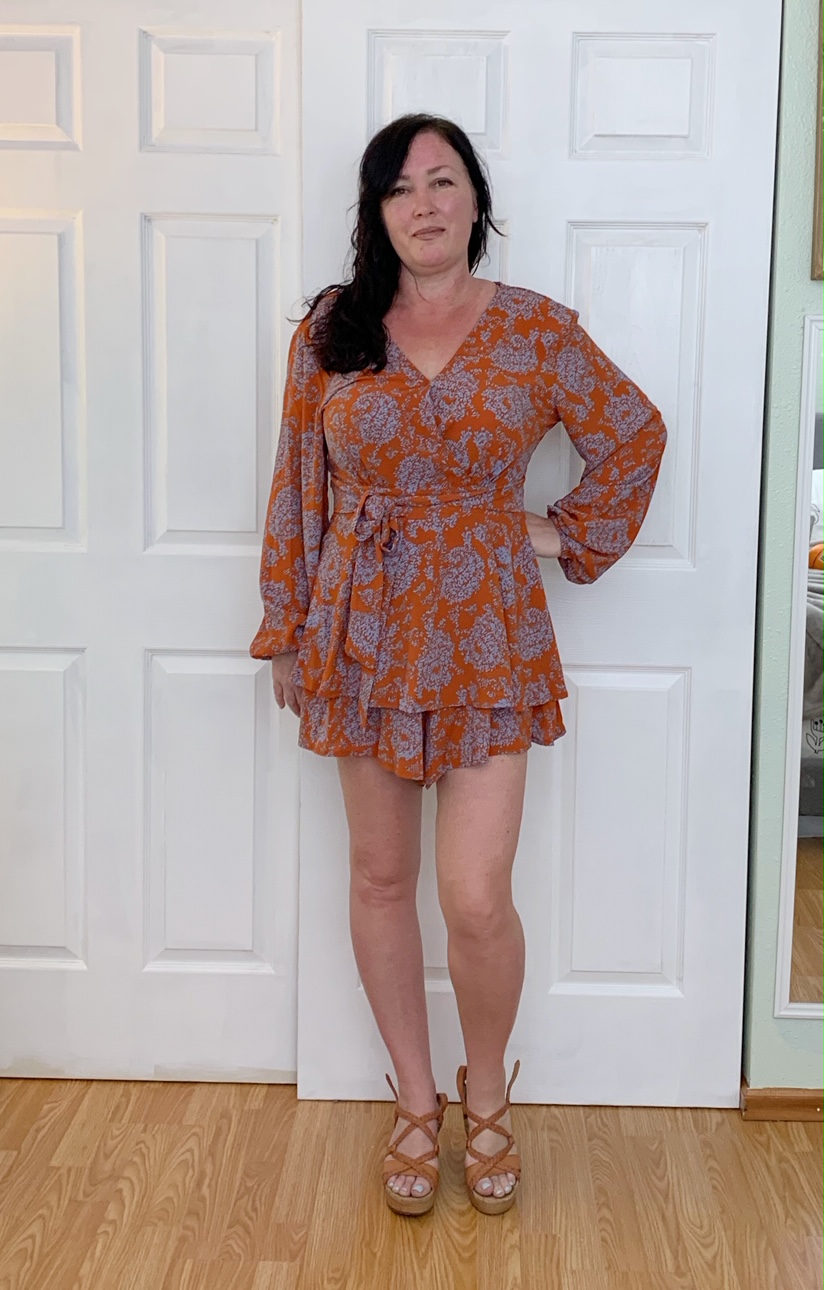 Ok, this jumpsuit is a shorts jumpsuit, and is way out of the ordinary in terms of what I would normally order – but I love it! It has a very flattering cut, and is fun for dinner nights out in the summer, or anyplace else you might want to wear it. It looks short, but since it is actually shorts, it does not feel like too much when I am wearing it.
The top closes with a button. Being a little more busty, this part pulls on me a little bit – but  you could also wear it open with a lace tank or something along those lines under it. This will be my summer outfit for when I want to get dressed up this year – so glad I took the risk to try it out.
Here is where you can find this jumpsuit on Amazon. It comes in a few different patterns and colors, and gets a 4.4 star review from over 2600 reviewers.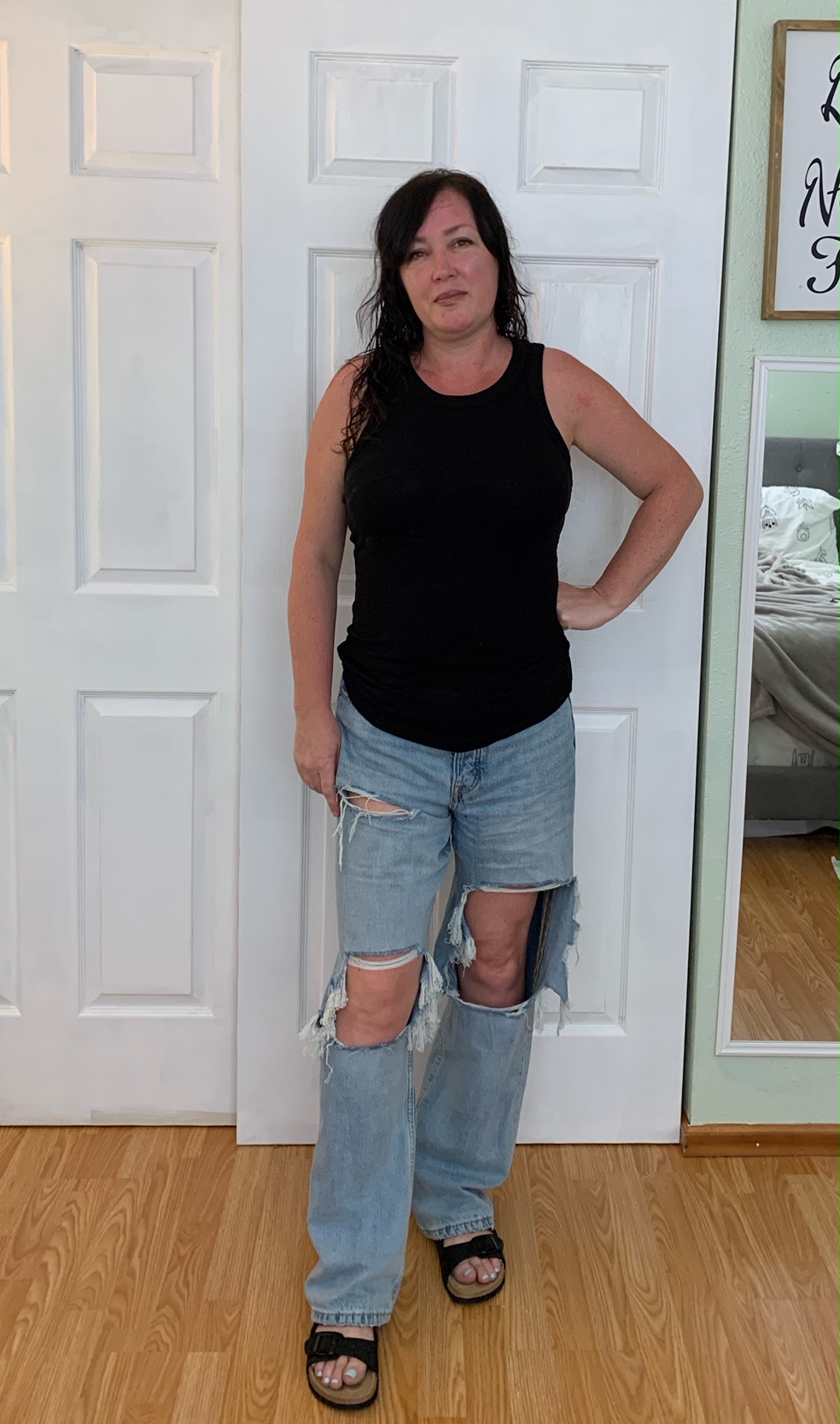 This is my new FAVORITE summer tank. I loved this one so much, I bought it in multiple colors (like 4 different colors). It has great coverage, is a thicker material (so not see through) and has plenty of stretch to it, making it easy to get on and off. It is my go to tank this summer for sure.
I bought it in black, nude, army green and apricot. I did try a different brand for the apricot one (as the brand I got the other two colors in did not have apricot in stock at the time). The apricot one was a bit cheaper, but although they look the same, there is not as much stretch to this one. I preferred (and recommend) the first version I got for sure (this one here).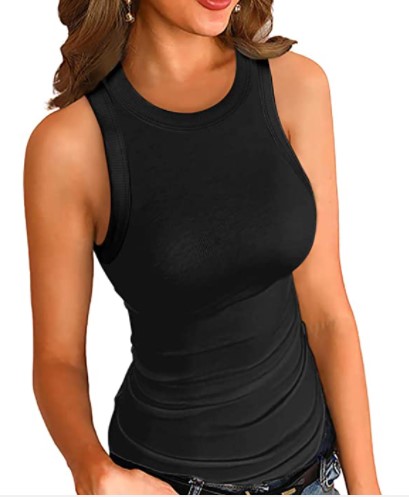 Here is where you can find this one on Amazon. It comes in multiple colors and gets a 4.6 rating from over 8k reviewers. Here is also what it looks like on the Amazon model.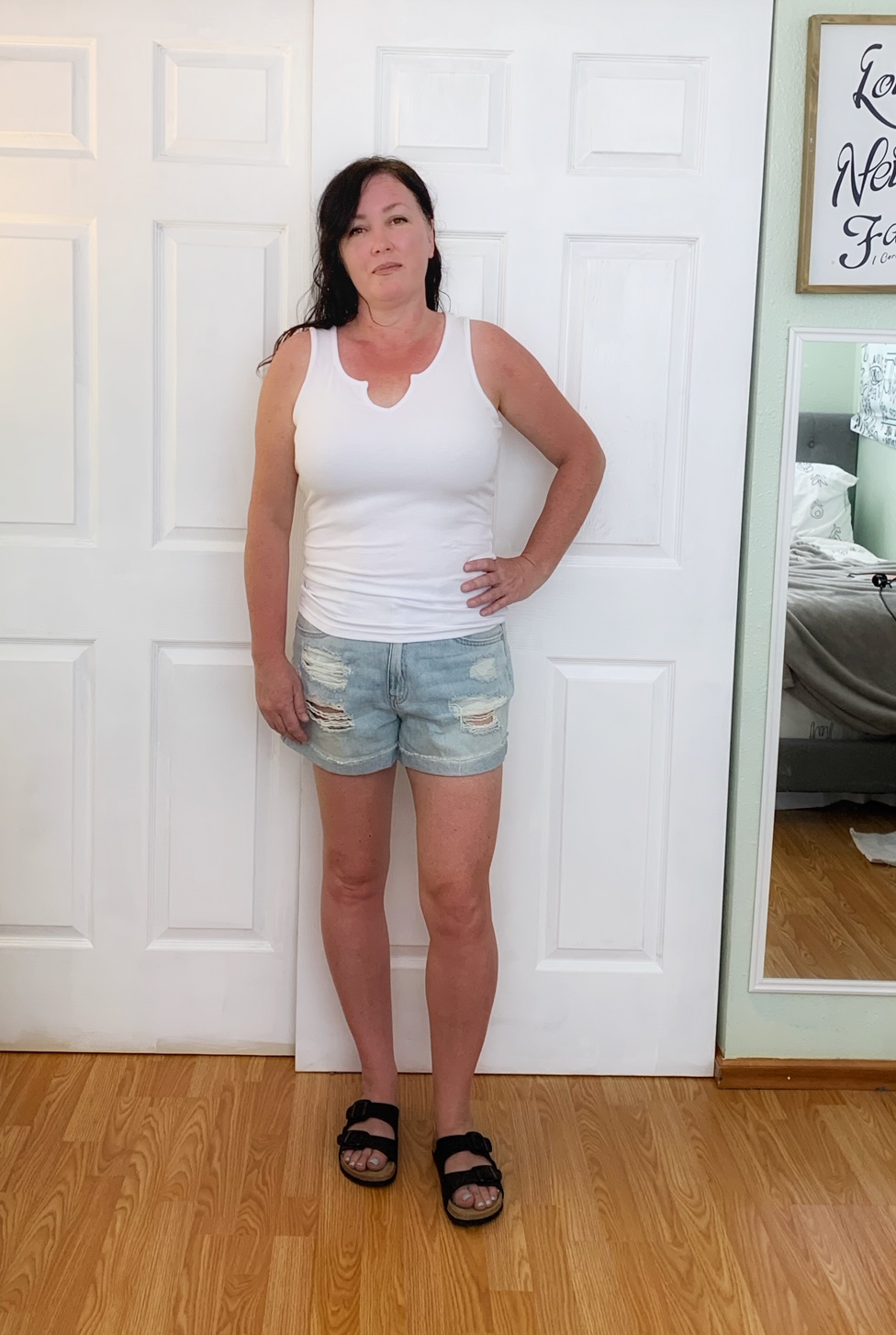 This was the style of tank top I liked second best. It is very similar only has a small cut out in the front. It was also stretchy like the one above, and provide nice coverage for a tank.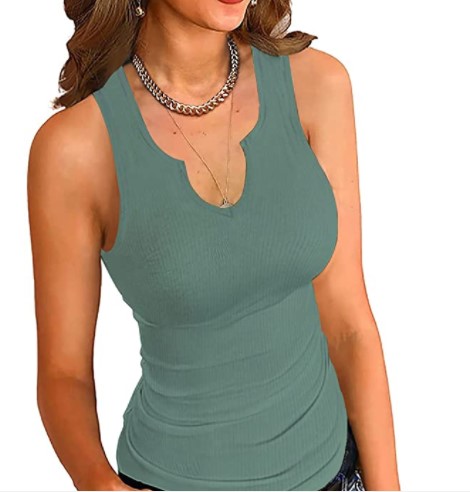 Here is where you will find this tank on Amazon, and it comes in lots of colors (and here is what it looks like on Amazon).  It gets a 4.6 rating from 61 reviewers currently.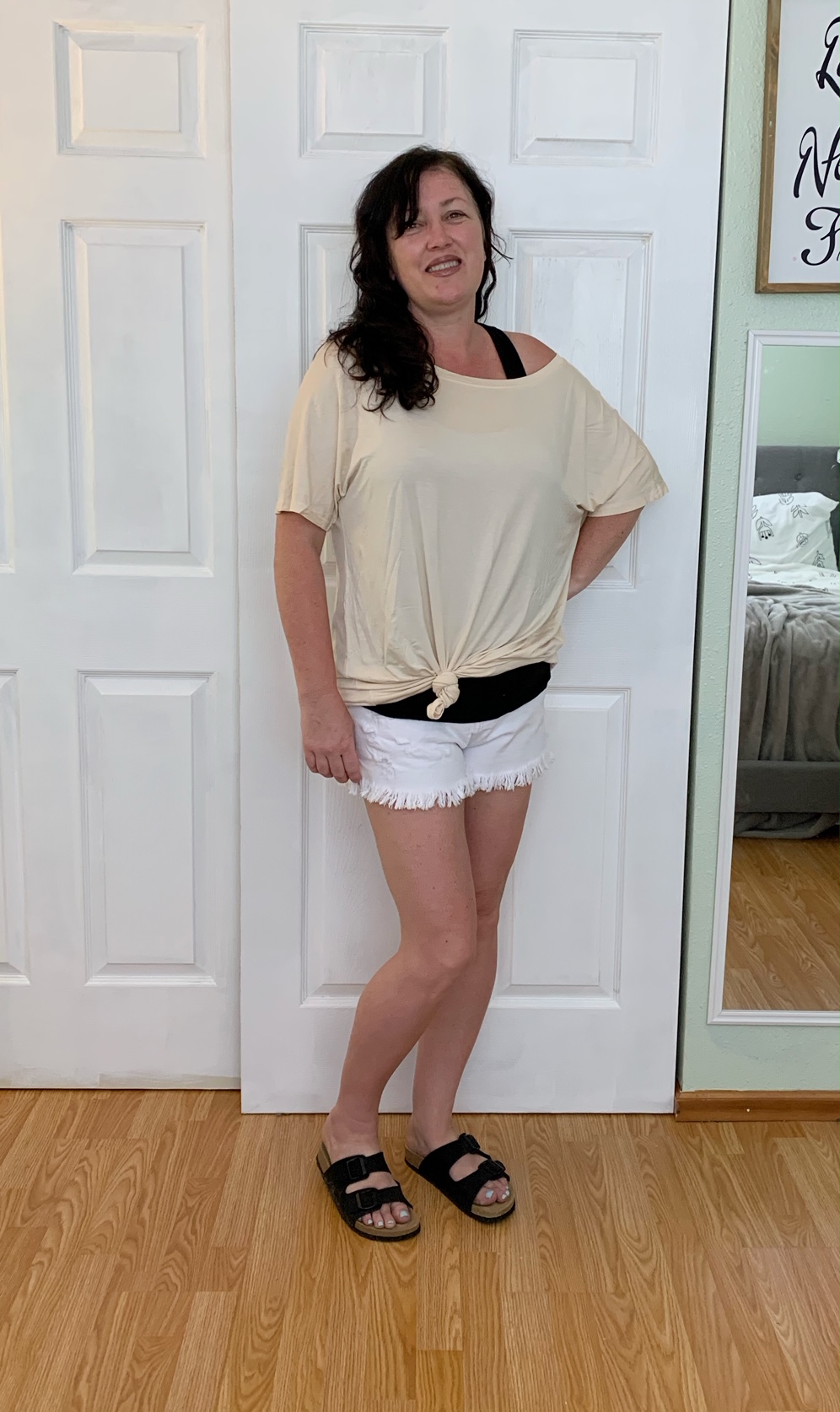 Both the shorts and shirt here are Amazon purchases. The shirt is so flexible (I got one in apricot and black, as they hang down low so you could wear over leggings, knot it up like I did to wear over shorts, or use as a bathing suit cover up. Another perfect piece to have on hand when traveling.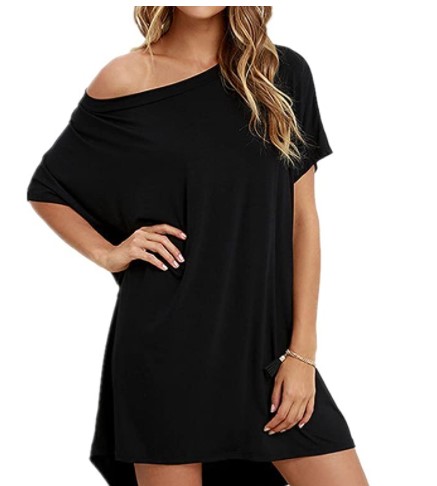 Here is the shirt on Amazon.  It gets a 4.1 star review from over 9400 reviewers, and comes in many different colors.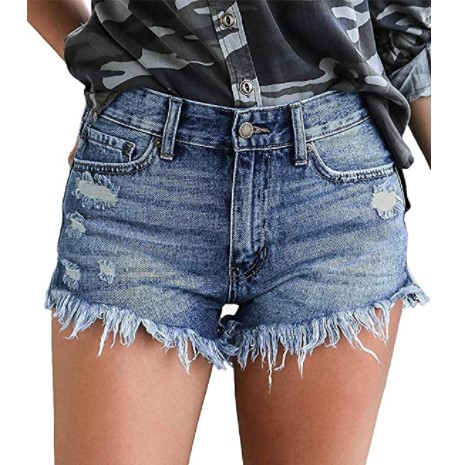 And here are the shorts on Amazon. They come in different colors / washes (and start at just $9). The shorts get a 4.2 star rating from over 12k reviewers. 
These shorts come highly reviewed, and in multiple color styles. I grabbed white, and while I don't love them as much as many others seem to in the reviews, I did like them enough to keep them. They have quite a bit of stretch to them, so they are comfortable, however they fit a little funky in the back.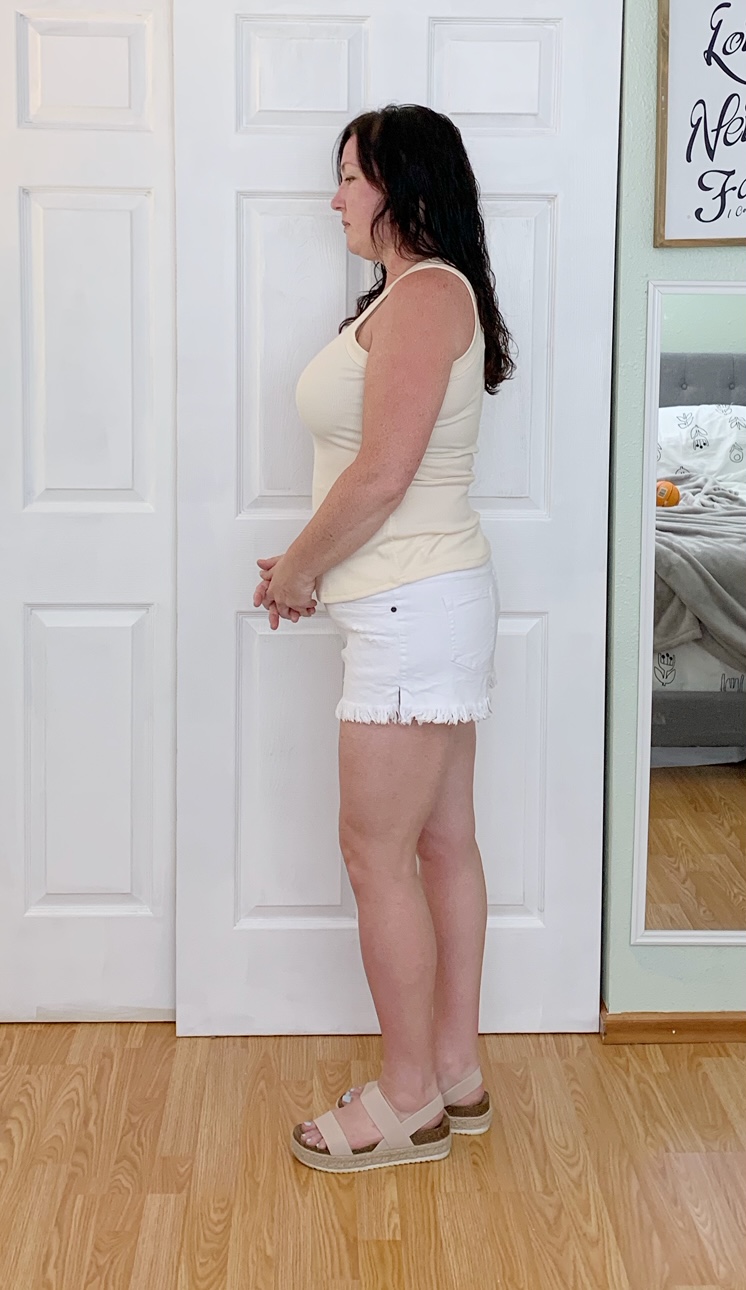 Here is a side view to show you how they flare out just slightly in the back (maybe making your backside look a bit flatter then it is). I still kept them because they were so comfy, and I think they will work well with a top with more flow to it, to cover some of that up.
People in the reviews seem to love these shorts though, so they might be worth trying out if you are looking for some comfortable "jean style" shorts.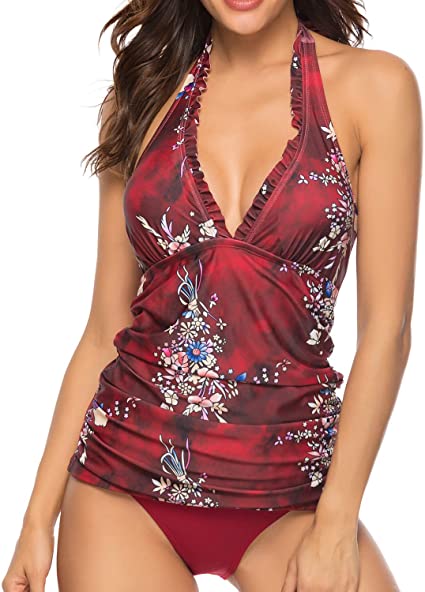 I even bought a swim suit off of Amazon this year, and was really happy with it. They have many options under $30 for a full swim suit, which I thought was a super deal. I am not brave enough to post pictures of me in my swimsuit here, but I can tell you the suit was thick, and provided great coverage. I got this one (but there are many different styles, that do not plunge as much or are real two pieces too – depending on what you are looking for).
It gets a 4.2 star review from over 2300 reviewers. Find lots of Amazon swimsuit options here.

Here are some cute clothes on Amazon for your fall wardrobe ideas from a good friend of mine too: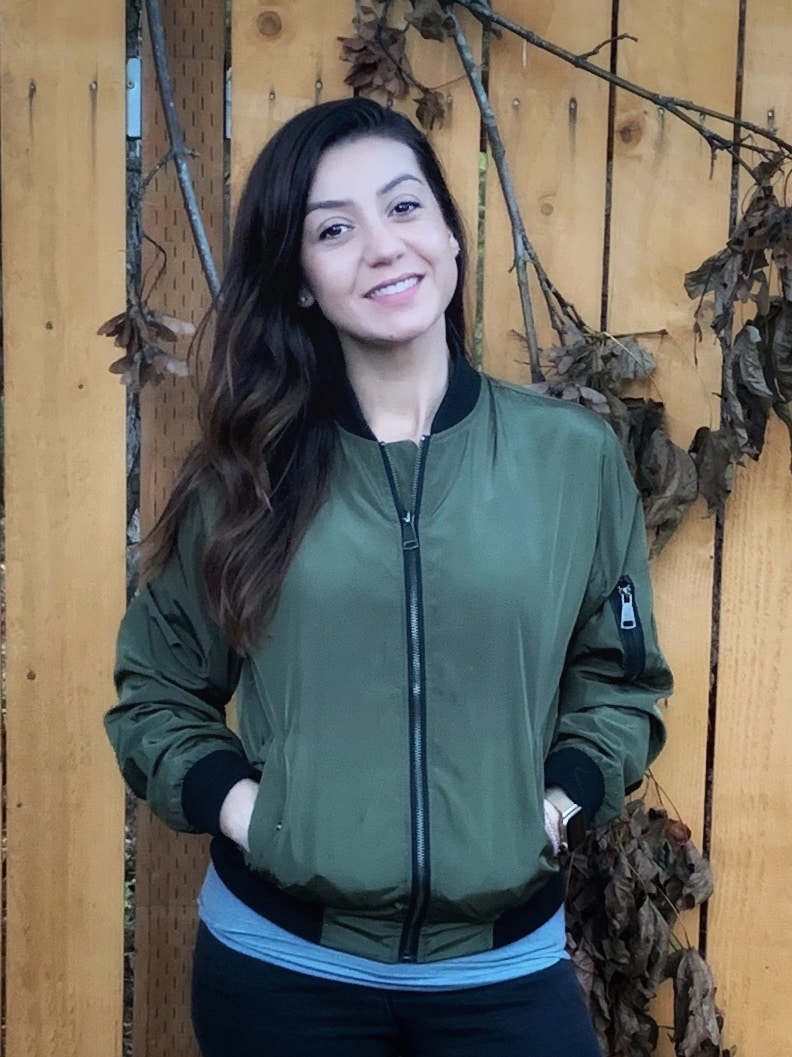 This is the bombers jacket she got to wear over her overalls (and is the outfit she gets the most compliments on)! This one comes in multiple colors too. Looks like there is a 10% off coupon available right now, so it is a great deal.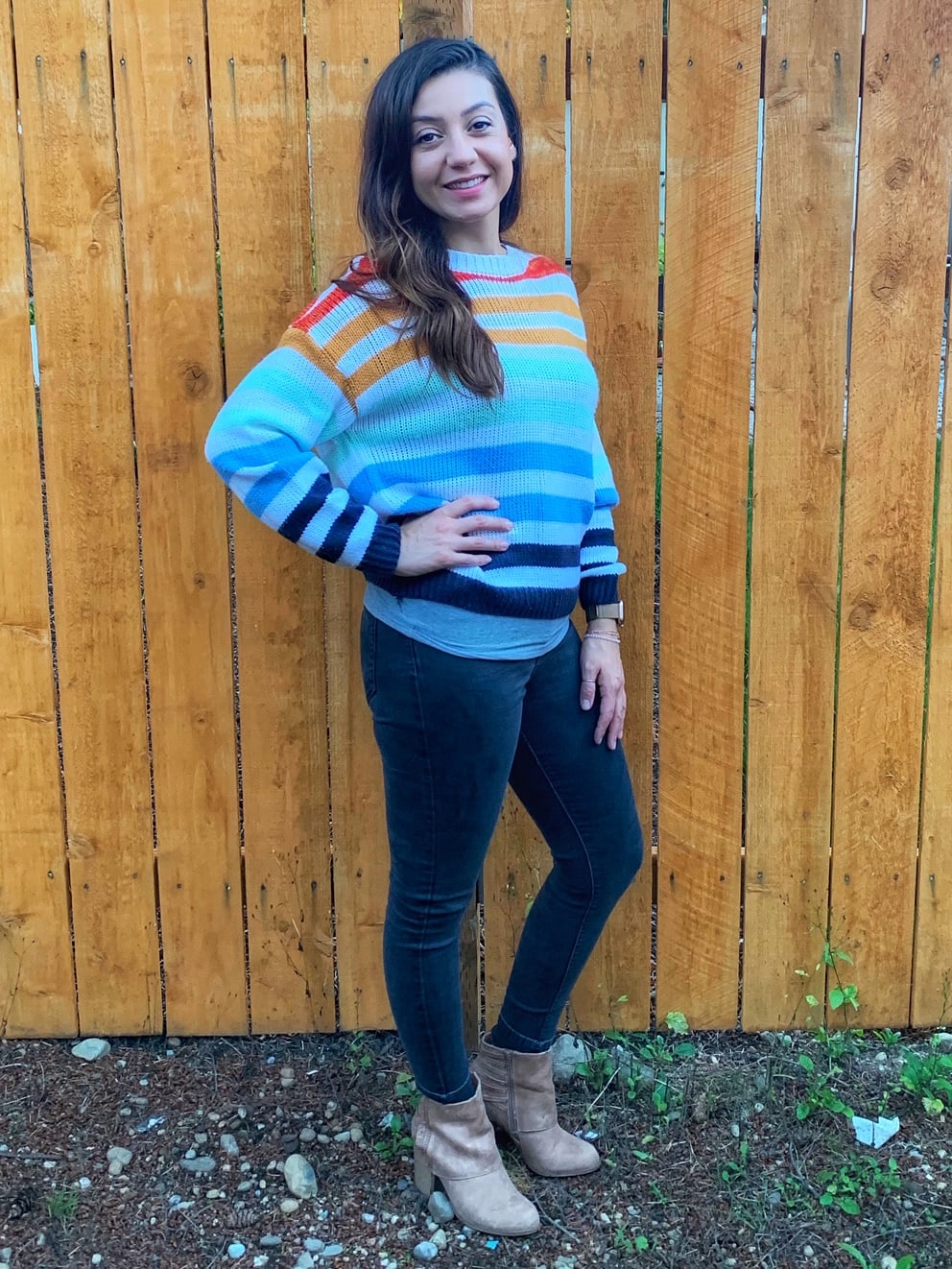 This is the cordat Women Sweaters Long Sleeve Crew Neck Color Block Striped Oversized Casual Knitted Pullover Tops (and it comes in multiple colors). It looks like we are not the only ones that love this one – it gets a 4 star review from well over 1000 reviewers. 
The jacket she has on above is the Levi Faux Leather belted jacket, and it currently has a $15 off coupon too. Note that this price is current at time of posting, but it may jump back up, so be sure to confirm current price before checking out on the Amazon site.
The cute boots she has on with the outfit at the Chinese Laundry Davinna Womens Bootie. They come in different styles, but right now the style she has on above are the yellow black snake pattern is on price drop.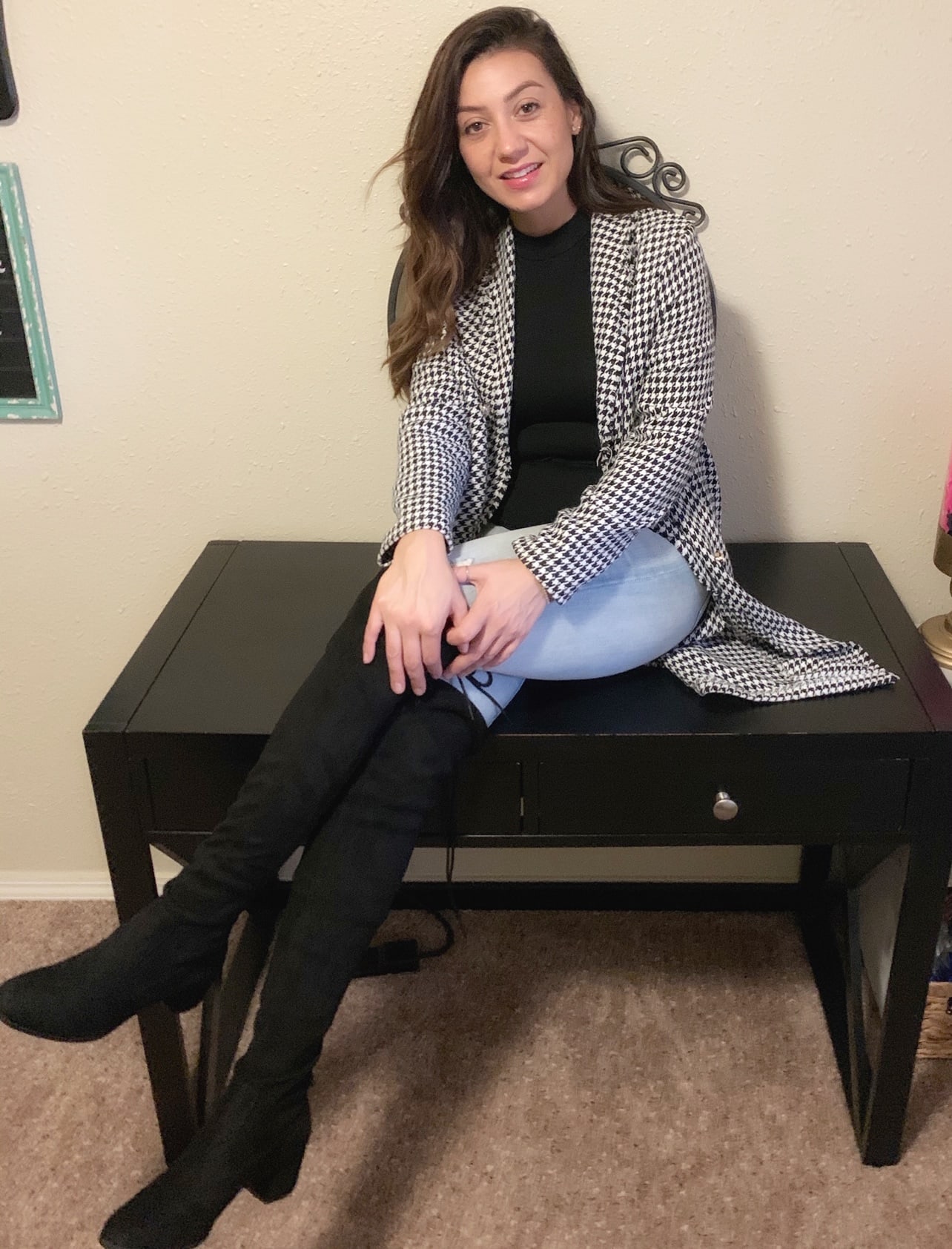 The boots in this picture are the Chinese Laundry Womens Mystical Faux Suede Riding Over-The-Knee Boots, are on a price drop. Again, these prices can change at any time, so confirm current prices before checking out.
Other Items She Bought and Also Liked: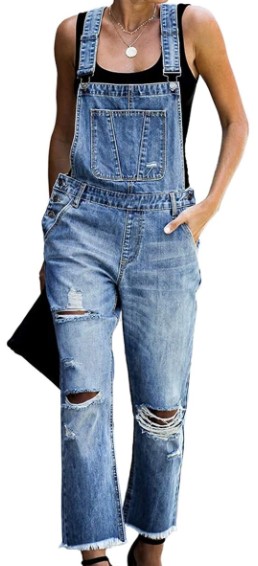 The overall set that she got (and gets tons of compliments on) is the Luyeess Womens Bib Overalls (Ripped). However they are now out of stock, but this set gets good reviews right now too, if you are looking for something close to what she got.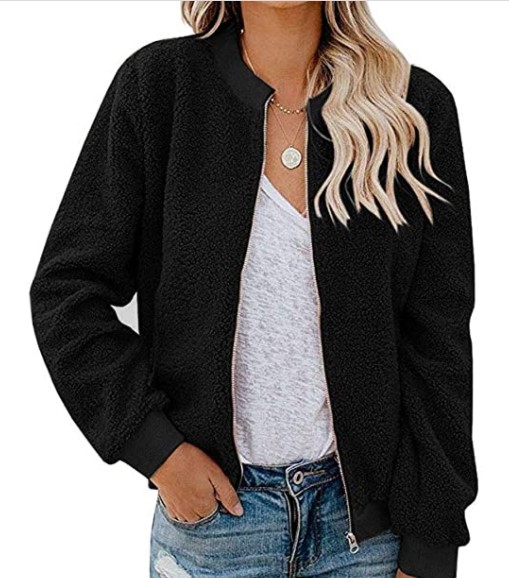 This simple fleece jacket is great to throw on over almost anything for fall. Plus, it has a 5% coupon off an already affordable price (and lots of colors to choose from).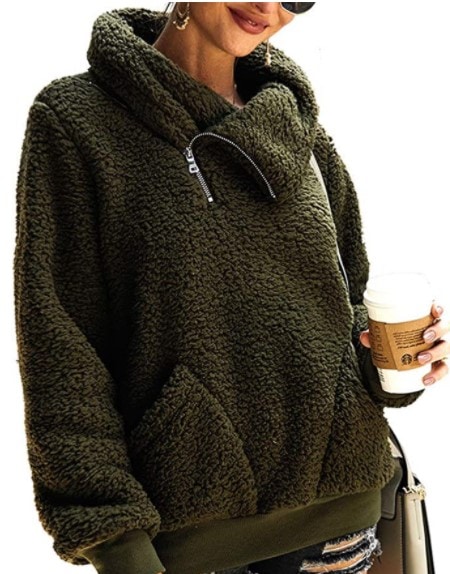 There is also this highly rated Womens Fleece Pullover, that currently has a $5 off coupon available (making it just $30.99 after coupon). There are lots of coupons to pick from for this one.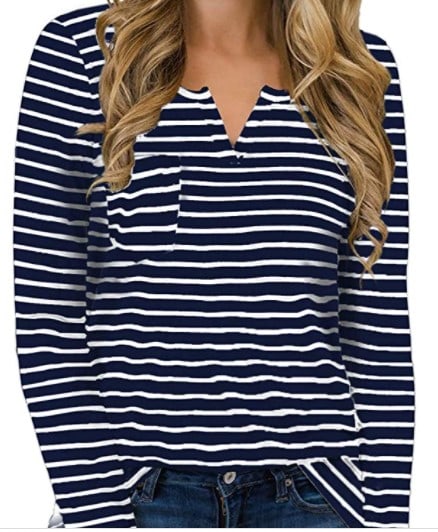 She loves this tee (she got the long sleeve, but they have short sleeves for $16.99 and long sleeve for $18.99 – and in lots of color and print styles).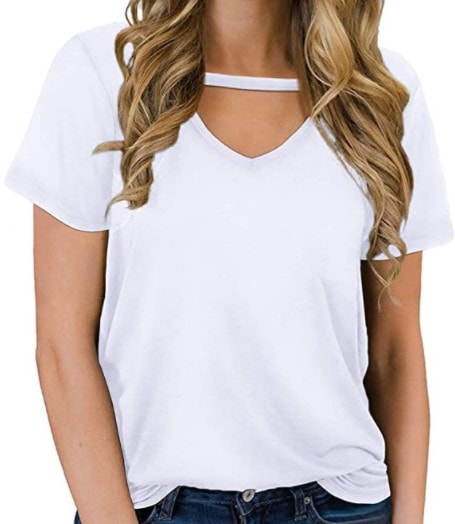 This white one is on sale for $13.99 right now too!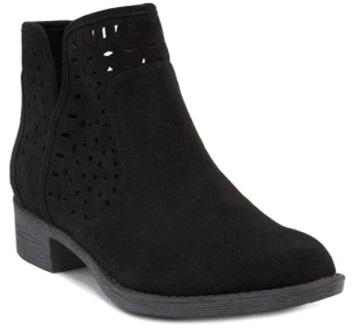 Sugar Women's Calico Ankle Bootie Boot with Perforated Chop Out Design – $19.98 (prices may vary for sizes and colors, but this is what we found for black in an 8 right now)! This one also comes in grey and brown styles as well.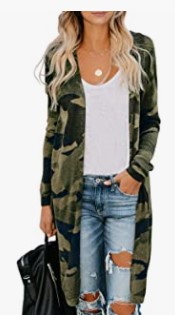 I saw this Camo Long Cardigan on a woman the other day, and loved it (and comes in lots of other style options too).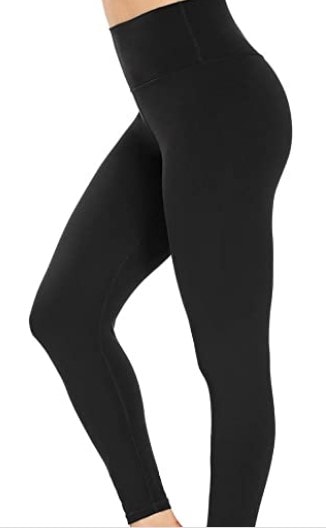 And here are a pair of high waisted Leggings that I bought on Amazon, that I think are great for the price. They are thicker (not see through at all), and are that athletic texture of the leggings you will get from places like Fabletics. There is a nice wide band around the top for tummy control too – and or $13.49 I think they are totally worth it.
Coupon Codes for Clothes on Amazon
Here are some coupon codes for clothes on Amazon, that you can use to save big on clothing on Amazon too. Now, these are not items we have ordered personally, and many don't have reviews on them – but Amazon is good about returns if they do not work out. We love that there are so many opportunities to find cute clothes on Amazon these days, and order from the convenience of home.
These are limited time coupon codes, and may expire at any time. They were working at time of publishing this article, and we will remove them as we learn they are not working anymore. Be sure to validate the Amazon price at time of purchasing, as these prices can change at any time.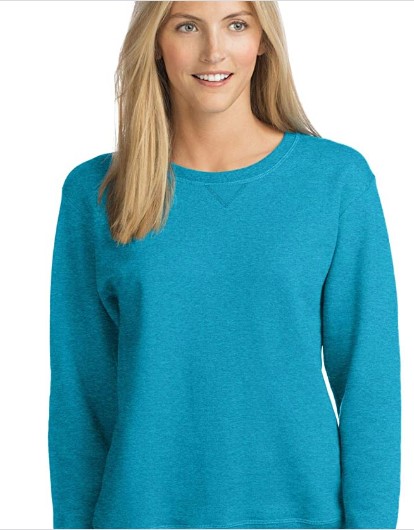 Hanes Fleece Sweatshirt is just $8 (no promo code needed)! Comes in lots of colors.
 Or find more cute clothes on Amazon on their Fashion Sales & Deals page here.