Cute Clothes On Amazon To Update Your Wardrobe (That Won't Cost Much)!
Are you looking for cute clothes on Amazon, but do not want to have to spend hours browsing so much stuff. We have narrowed down some finds that we loved from recent fall purchases, to add to our own personal wardrobes, and share what these items look like in real life here.
I was out shopping with a friend of mine recently (who has great style), and she shared with me that one of her tricks is to find cute styles she likes in store, then look for them for cheaper on Amazon. She has been buying alot of her clothes off Amazon lately, and there have been some hits and some misses. A few of the items she has purchased have been some of her most complimented outfits that she wears. So I asked her if she would share with me the ones she loved, and would recommend to others to buy as well.
I have also made a few purchases recently, and have been surprised at how much I have liked the items I have gotten off of Amazon. It makes clothes shopping so easy, and they sometimes offer promo codes to help you save even more (and we have shared a few of those deals here too). If you are looking for some affordable items that you can get to update your wardrobe for fall, check these favorites of ours out.
We also share a list of general Amazon deals here, if you are looking for more than clothing deals on Amazon.
Amazon now has a service for Prime members, where you can try on clothes and send back what you do not want to keep, with a pre-paid shipping label.
Here are Some of the Cute Clothes on Amazon She Has Recently Purchased & Recommends (as well as a few picks I have purchased myself):
(Note that prices on Amazon can change at any time. These prices where current at the time of publishing this article, but be sure to confirm the current price on Amazon before purchasing)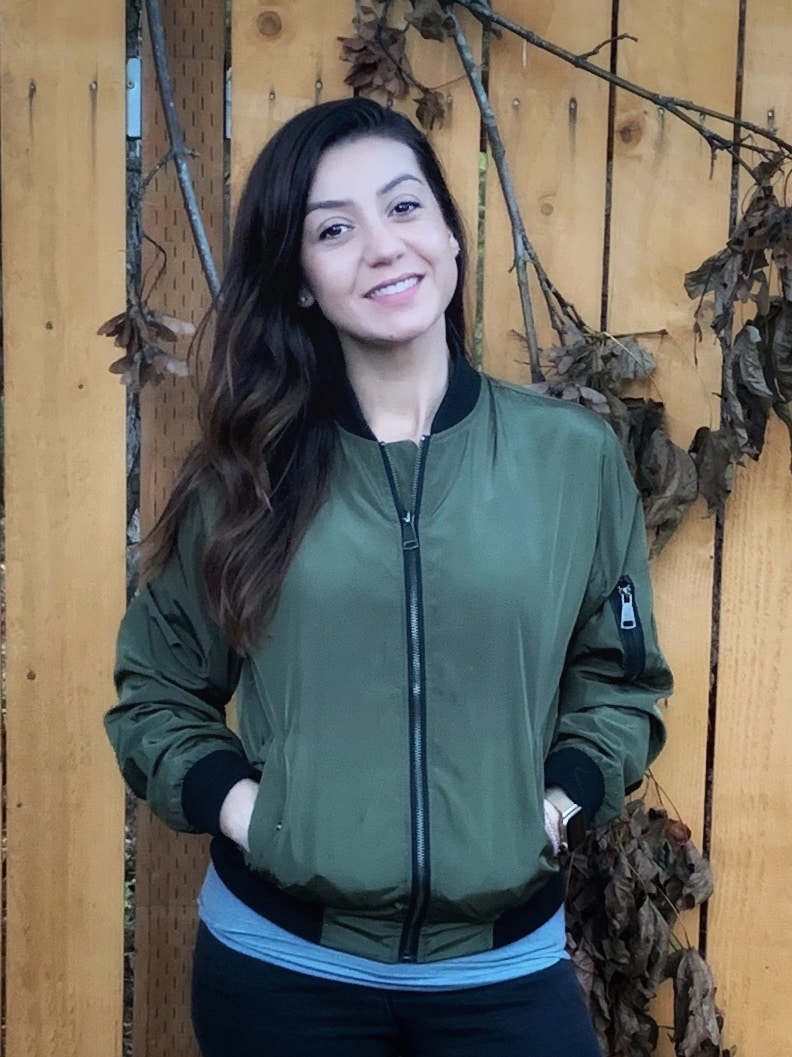 This is the bombers jacket she got to wear over her overalls (and is the outfit she gets the most compliments on)! This one comes in multiple colors too. Looks like there is a 20% off coupon available right now, so it is a great deal.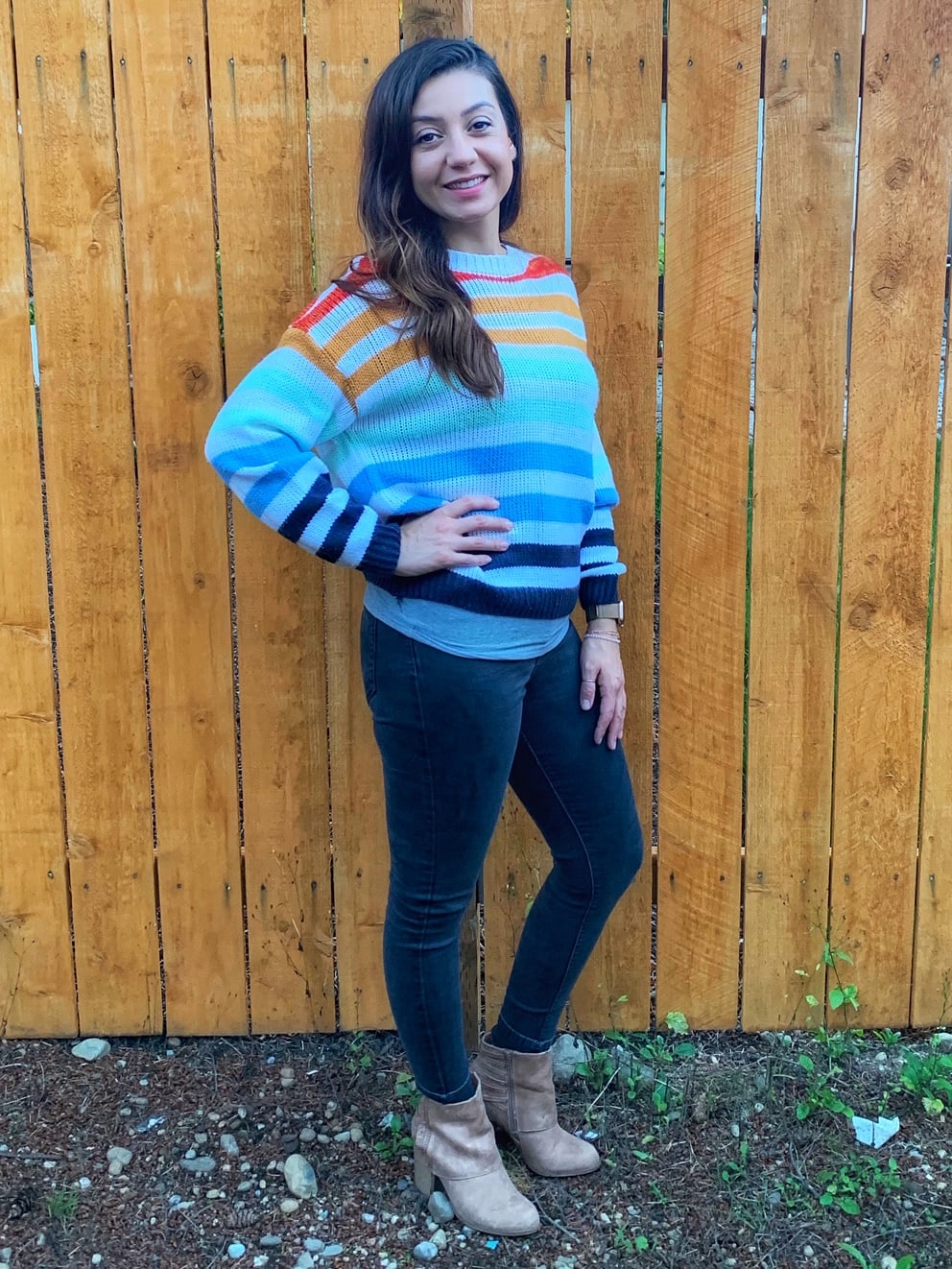 This is the cordat Women Sweaters Long Sleeve Crew Neck Color Block Striped Oversized Casual Knitted Pullover Tops (and it comes in multiple colors). It looks like we are not the only ones that love this one – it gets a 4 star review from well over 1000 reviewers. 
The jacket she has on above is the Levi Faux Leather belted jacket, and it is currently on sale for $79.99 for the black color (reg. $89 – $120). Note that this price is current at time of posting, but it may jump back up, so be sure to confirm current price before checking out on the Amazon site.
The cute boots she has on with the outfit at the Chinese Laundry Davinna Womens Bootie. They come in different styles, but right now the black bootie has a coupon available for $23.98 off the bootie (coupon available at time of publishing, but confirm it is still there when you go to checkout – as prices and promotions can change at any time).  The style she has on above are the yellow black snake pattern. These boots generally run around $79, but both this style or the black ones with the coupon will end up in the $50 price range right now!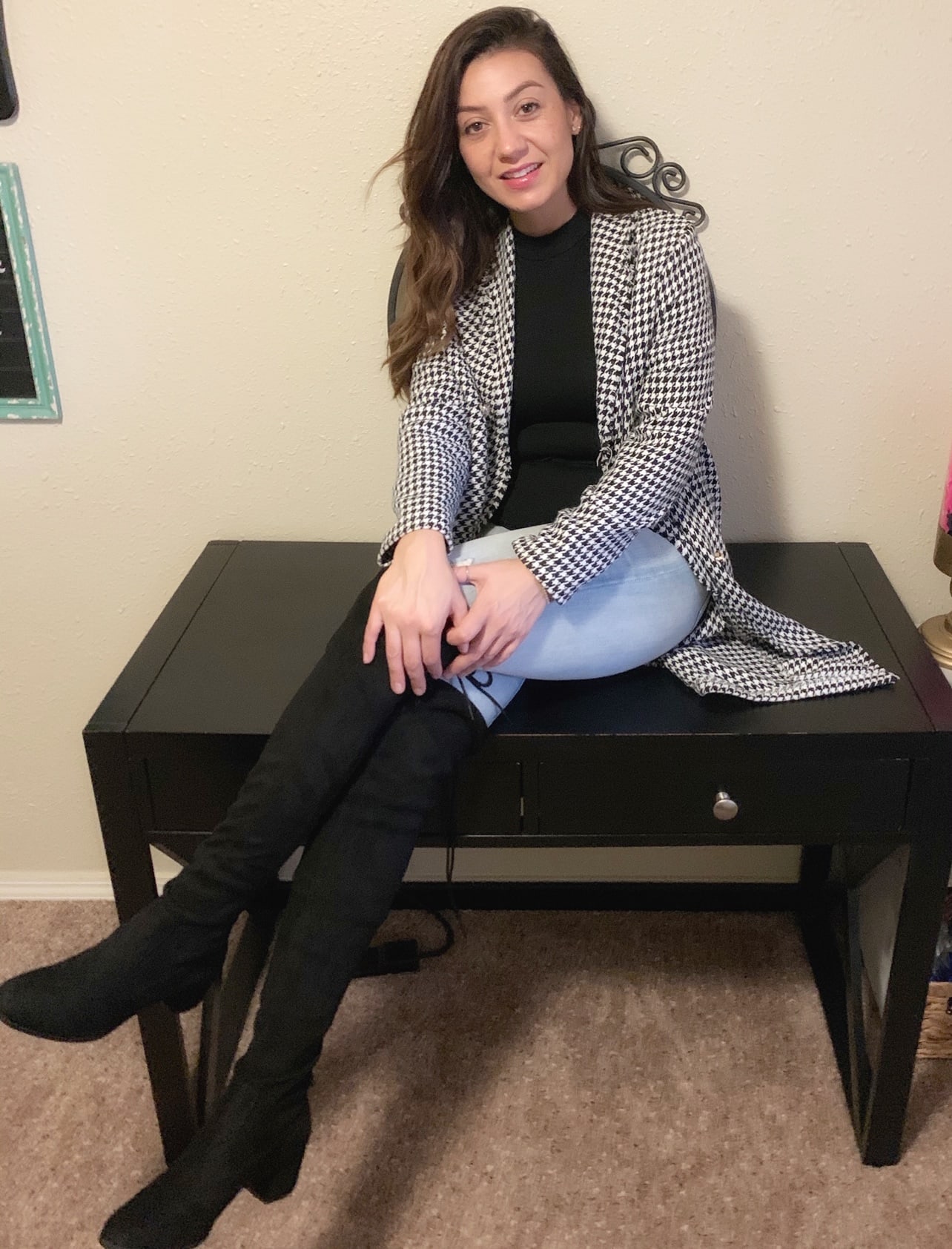 The boots in this picture are the Chinese Laundry Womens Mystical Faux Suede Riding Over-The-Knee Boots, and if you are interested in the grey color, most of those sizes will run you under $30 (around $16 plus shipping). Again, these prices can change at any time, so confirm current prices before checking out.
Other Items She Bought and Also Liked: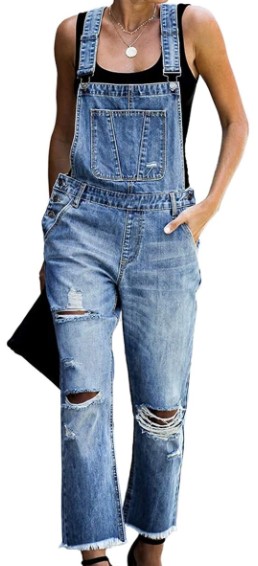 The overall set that she got (and gets tons of compliments on) is the Luyeess Womens Bib Overalls (Ripped). However they are now out of stock, but this set gets good reviews right now too, if you are looking for something close to what she got.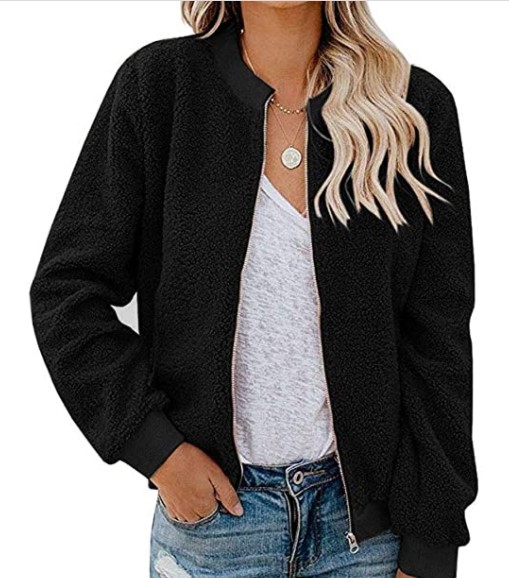 This simple fleece jacket is great to throw on over almost anything for fall. Plus, it has a 5% coupon off an already affordable price (and lots of colors to choose from).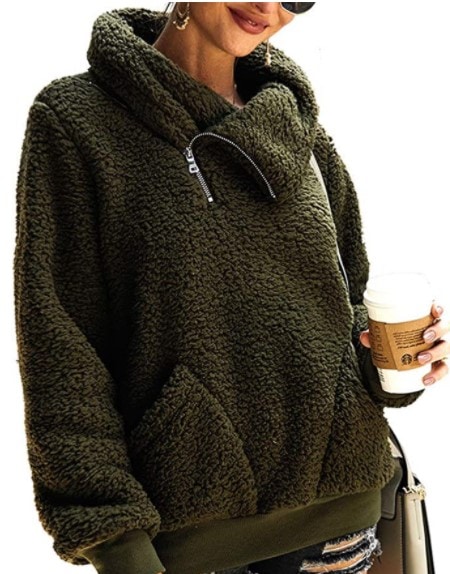 There is also this highly rated Womens Fleece Pullover, that currently has a $5 off coupon available (making it just $30.99 after coupon). There are lots of coupons to pick from for this one.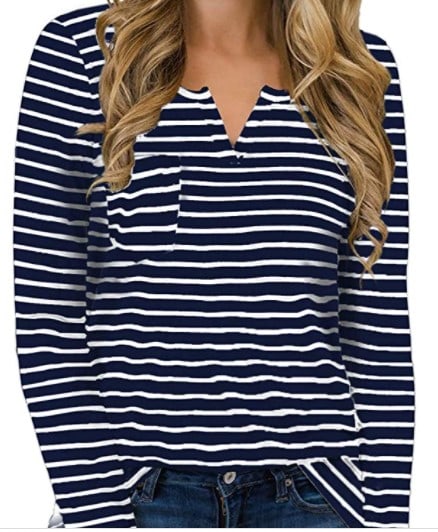 She loves this tee (she got the long sleeve, but they have short sleeves for $16.99 and long sleeve for $18.99 – and in lots of color and print styles).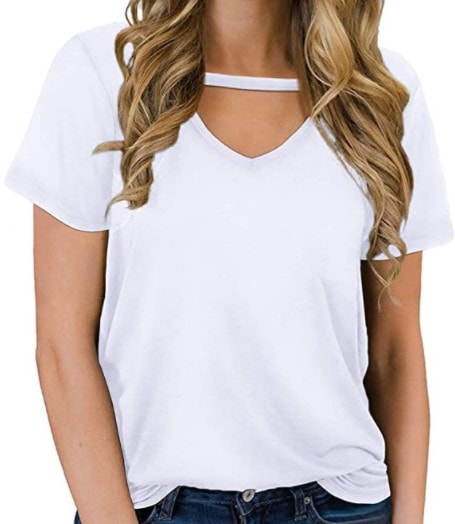 This white one is on sale for $13.99 right now too!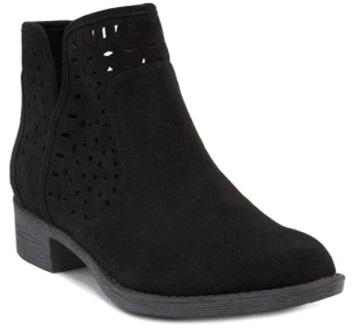 Sugar Women's Calico Ankle Bootie Boot with Perforated Chop Out Design – $19.98 (prices may vary for sizes and colors, but this is what we found for black in an 8 right now)! This one also comes in grey and brown styles as well.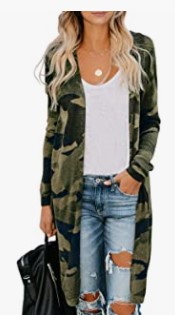 I saw this Camo Long Cardigan on a woman the other day, and loved it (and comes in lots of other style options too).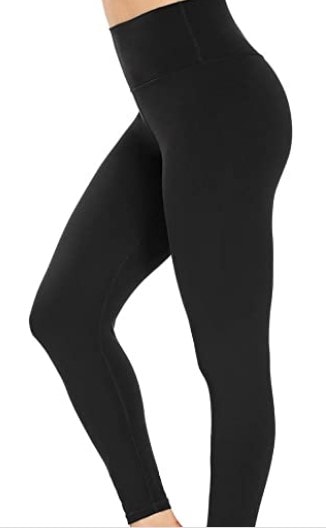 And here are a pair of high waisted Leggings that I bought on Amazon, that I think are great for the price. They are thicker (not see through at all), and are that athletic texture of the leggings you will get from places like Fabletics. There is a nice wide band around the top for tummy control too – and or $13.49 I think they are totally worth it.
Coupon Codes for Clothes on Amazon
Here are some coupon codes for clothes on Amazon, that you can use to save big on clothing on Amazon too. Now, these are not items we have ordered personally, and many don't have reviews on them – but Amazon is good about returns if they do not work out. We love that there are so many opportunities to find cute clothes on Amazon these days, and order from the convenience of home.
These are limited time coupon codes, and may expire at any time. They were working at time of publishing this article, and we will remove them as we learn they are not working anymore. Be sure to validate the Amazon price at time of purchasing, as these prices can change at any time.
This windbreaker comes in three colors, and should drop down in price to $11.49 – $12.49 when you use promo code ZAW7AK9R at checkout.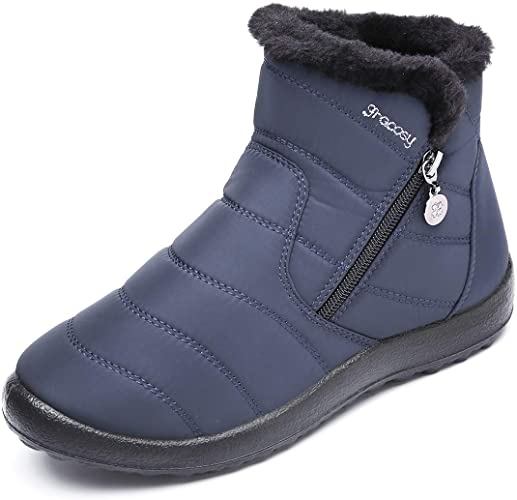 Womens Winter Ankle Boots are just $14.49 with promo code gracosy0923 at checkout.
This mama tshirt should drop down to $12.99 with promo code LCG4QKQ4 at checkout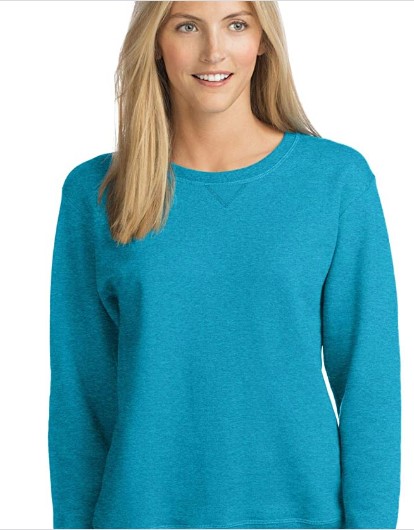 Hanes Fleece Sweatshirt is just $8 (no promo code needed)! Comes in lots of colors.