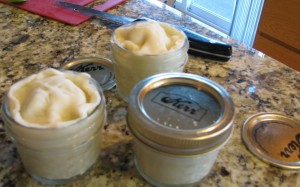 Every year one of my favorite thing to do at Christmas time is make gifts.  I love to sew, cut, paste, glue, glitter, bake, & frost!  I love to make gifts for friends, family and neighbors.  One of my fondest Christmas memories is baking and decorating cookies with my siblings, mom and grandma then taking them to the elderly.  I want to give my boys some memories like that!  Over the years I have made many homemade gifts and now my oldest helps me make gifts to take and deliver to others.
I'll be sharing my top 5 favorite homemade gift ideas with you  every day  this week here at Thrifty NW Mom.  I hope there is something for everyone, whether you're super crafty or not.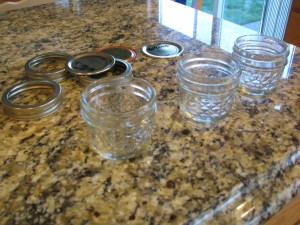 Mason Jar Pies-Super easy, even for those who aren't crafty. All you need is mini mason jars (4 oz.) You could use larger sizes, but preferably something shallow.  If you don't like to cook, you can buy pie crust and pie filling.  Simply press the pie crust in the jar, use the ring of the mason jar lid to cut the top of the pie crust, fill with store bought or homemade pie filling.  Then you can either bake them at 450 degrees for 15-20 minutes until crust is golden brown or freeze with baking instructions for the recipient.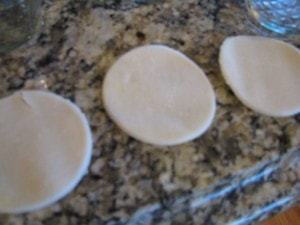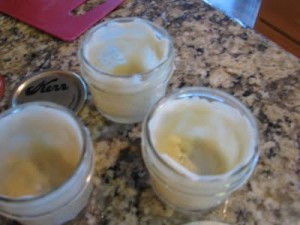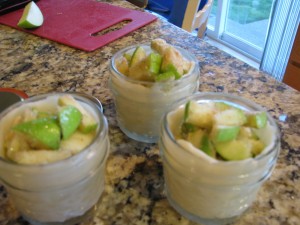 Apple Pie Filling:
Use one medium to small size apple per jar (smooth bottom apples are the best for baking)
1/4 teaspoon pumpkin pie spice
1/8 teaspoon salt
1/4 teaspoon flour
1 tablespoon brown sugar
Mix together and then place  on top of the bottom pie crust.  Top the apple mixture with a pat of butter then add the top pie crust. Make small slits in the top pie crust for steam.  Brush whole milk or whip cream on top of crust.  Bake 425 degrees for 15-25 minutes.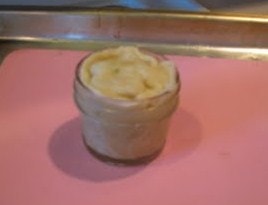 Helpful hint:

When you bake them, place them on a silicon mat on a cookie sheet so they won't slide around when you get them out of the oven.
Other Filling Ideas:
Bake cupcakes in the small mason jars, then top with frosting once baked and cooled
Bake brownies in the jars
Make a savory pie like pot pie or shepherd's pie
Where to Find The Mini Mason Jars:
You can find a dozen jars at Winco for around $8 or Walmart for around $9. You could also look at your local Goodwill, Value Village or other thrift store & possibly find them as low as $.25-$.50/ea, but then you will need to purchase new lids for around $3/dozen.
So many endless possibilities! Super cute & pretty simple to make!  And best of all – this is quite the frugal gift!
Have you ever made Mason Jar Pies….what type of filling did you use with your jars?
*If you have a fun, thrifty homemade gift idea & would love to share with all the readers at Thrifty NW Mom, send me an email at thriftynwmom (at) hotmail (dot) com.  I'd love to feature more readers' ideas!
By TNWM Contributor Sarah from Chickie Momma Crafts