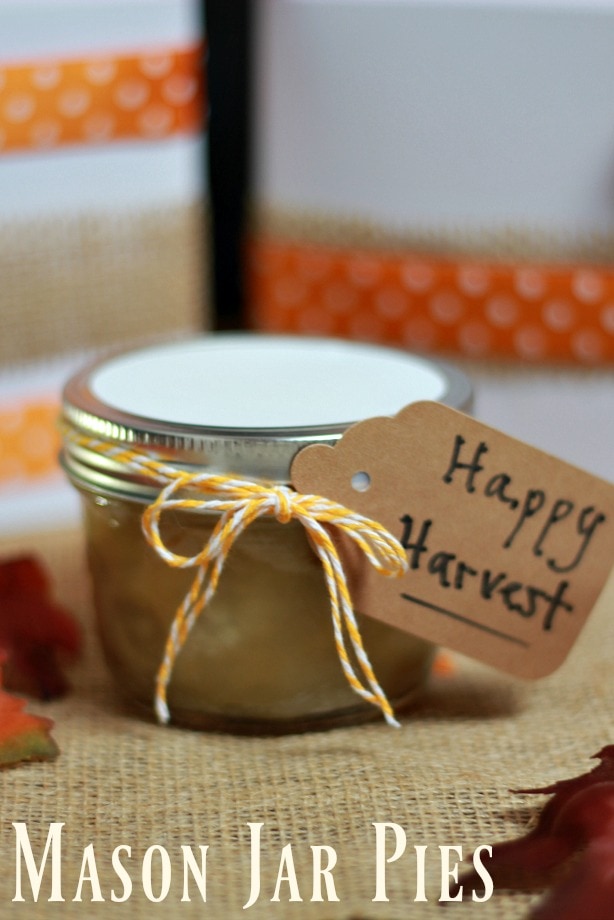 We are quickly approaching the holiday season & that means all sorts of get-togethers, whether it's with family, friends, work colleagues & more.  I love the idea of bringing a little hostess gift to get-togethers, so these Mason Jar Apple Pies are perfect for a hostess gift.  They also make fun little gifts for teachers if you like to give little gifts throughout the year, friends, neighbors, and more.
The single-serving dessert idea is perfect as they eat it in one sitting, without having to worry about storing leftovers and eating too much – it's just the right amount & they can choose when to eat it. You could freeze them after you prepared your pies (without cooking) & then your recipient could keep it refrigerated until they're ready to eat. Love that these mason jar pies are a frugal gift, too!
It's all about the taste & flavor with yummy food gifts like these little mini pies, but I think it's fun to get a little creative with the presentation of your little gifts, too. I am sharing a few ideas for packaging these up when you pass these out, too. The mason jar look is so fun & rustic and even more fun when you add a few extra elements to jazz them up for the autumn season or any season.
I am not the most crafty person, but I love ideas like these mason jar pies, as they seem like they'd be very time-consuming, but with a few simple shortcuts, they were really very simple & easy to make. I made these as apple pies, but the possibilities are endless, especially when you consider the different seasons – cherry pie, peach pie, apple crisp and more. You could also make Cheesecake in a Jar as a gift idea, too.  For a simple  shortcut, you could buy pie crust instead of making your own (which is what I did & the instructions I will share) but if you have a great pie crust recipe, that would be delicious of course.
Mason Jar Apple Pies::
Ingredients:
Pie Crust (homemade) or pre-made store bought pie crust
1 tbsp butter
Apples (small – medium apples) – I used Granny Smith apples (smooth bottom apples are best for baking)
Apple Pie Filling:
1/4 tsp pumpkin pie spice
1/8 tsp salt
1/4 tsp flour
1 tbsp brown sugar
Directions: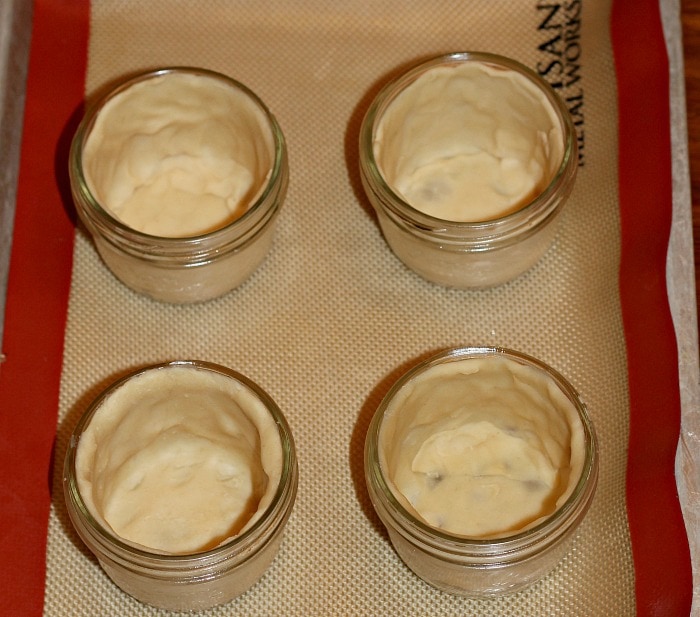 Make your pie crust (or buy a pie crust). Press the pie crust in the jar to fill the entire jar on the inside.
Mix the ingredients together for apple pie filling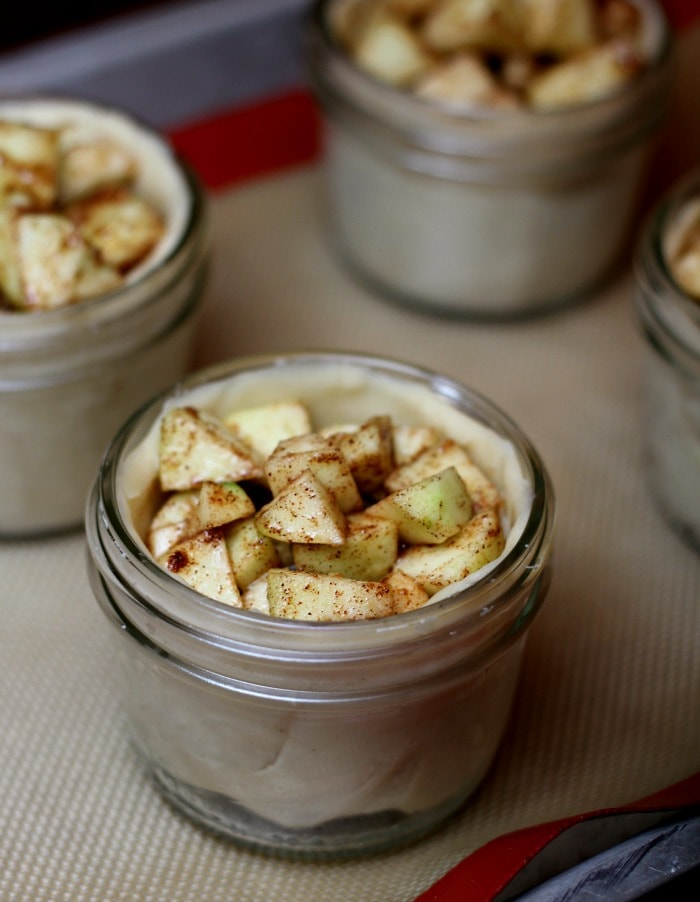 Fill the inside of the jar with your pie filling (you could use a homemade apple pie filling as shown below or buy store-bought apple pie filling)
Add 1 tbsp of butter on top of the pie filling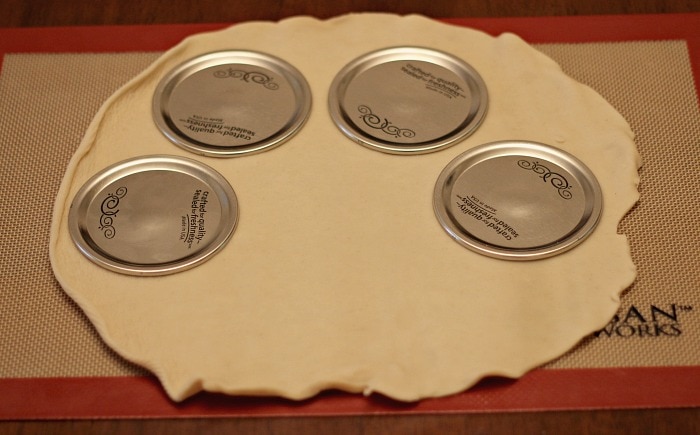 Use the ring of the mason jar lid to cut the top of the pie crust into circles
Place the top of the pie crust on & seal.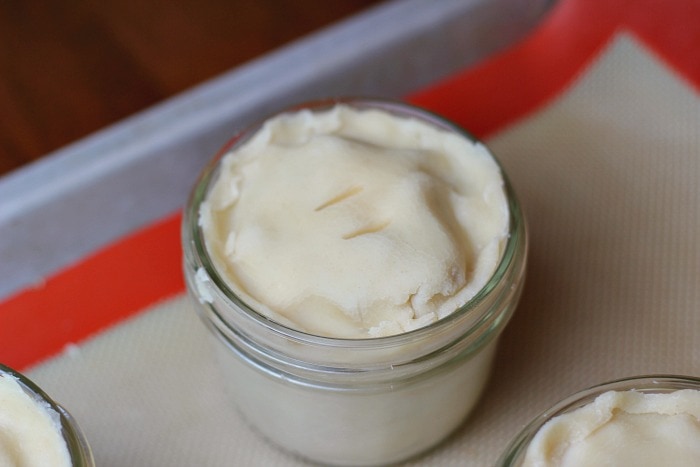 Make small slits in the top pie crust for steam.
Bake at 425 degrees for 15 – 20 minutes or until crust is golden brown.
Apple Pie Filling:
Use one small to medium size apple per jar
1/4 teaspoon pumpkin pie spice
1/8 teaspoon salt
1/4 teaspoon flour
1 tablespoon brown sugar
Mix together all of the apple pie filling ingredients.
Helpful Tip:
When you bake your mason jar pies, place them on a silicone mat on the cookie sheet. This will help them to not slide around when you get them out of the oven.
If you are bringing these as a gift to be eaten later, you could freeze them after you make them (before baking) & then bring them frozen. The recipient could put them back in the freezer or keep in the fridge for a few days, so they can choose when they'd like to indulge in this tasty treat.
Other Filling Ideas:
Pie Fillings – Peach, Cherry, Apple Crisp
Make Cheesecake in a Jar
Bake cupcakes in the small mason jars, then top with frosting once baked and cooled
Bake brownies in the jars
Make a savory pie like pot pie or shepherd's pie
Packaging for Mason Jar Pies: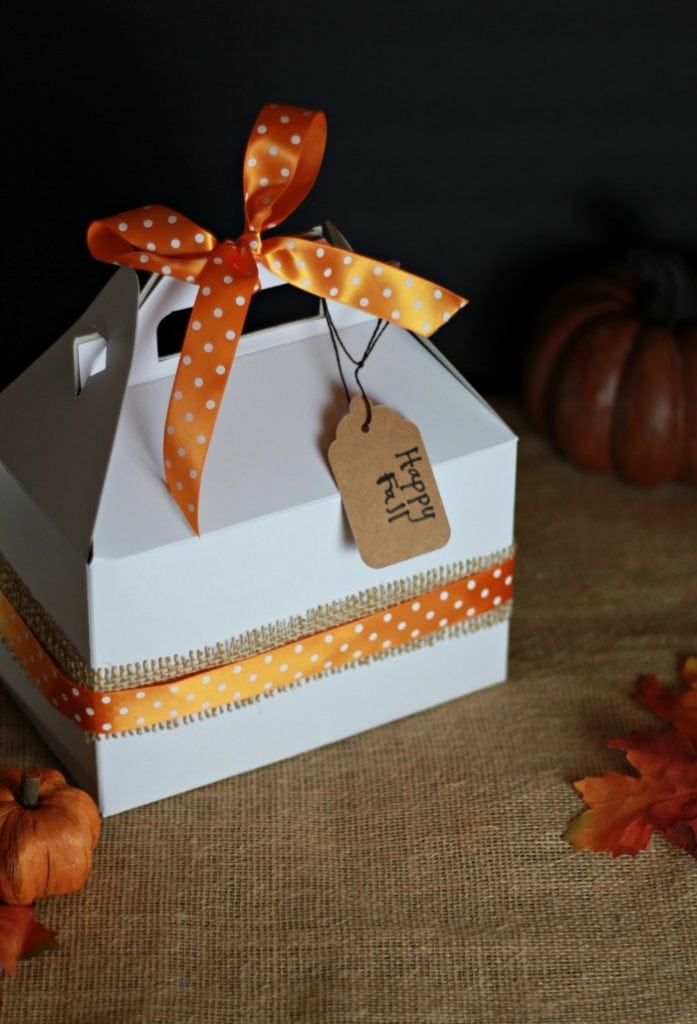 I love that there are so many possibilities for packaging up items with mason jars. The simplicity of the mason jar means that you could jazz it up more with some ribbons & tags or use a more simple approach for decorating your jars with just some twine & a cute tag. Plus, you could also deliver several of them together for a couple perhaps, using fun & functional gift boxes.
I am always on the hunt for places to find deals on craft & party supplies for decorating items for gifts like these Mason Jar Pies.  We recently learned about an online retailer called Paper Mart, where you can get quite a large variety of discount packaging items to have on hand for gifts or parties, such as ribbons, gift boxes, tags & more at excellent prices.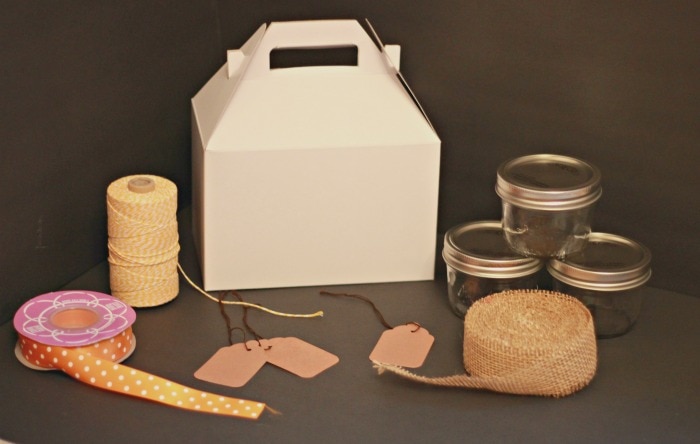 I had the chance to try out a few of Paper Mart's party supply products that they sent me to review and decided to use them as I put together my mason jar pies. I wanted a few different options of how to bring the mason jar pies to teachers, friends & neighbors.  Here are a few of the different ways you could package up the Mason Jar pies.
Mason Jar tied with twine & tag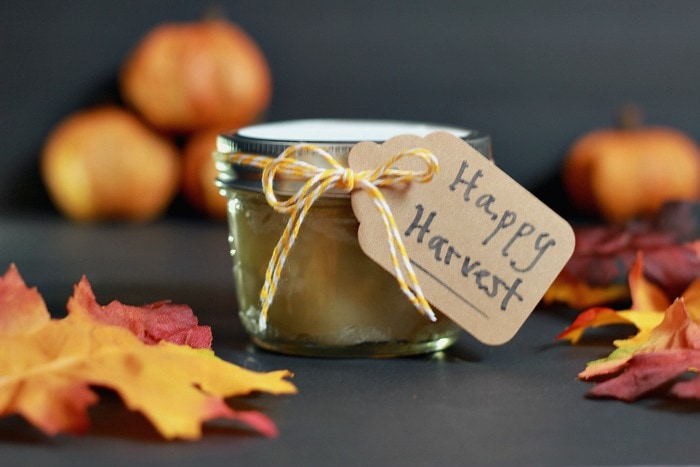 A very popular look with the mason jars is to use a simple twine & tag. I love this orange grosgrain baker's twine for it's simplicity while still having the autumn theme, paired with these simple kraft gift tags.  I also cut out white cardstock for the top of the mason jar (using the mason jar lid for sizing when drawing the circle to cut out), just for a more finished look.
Mason Jar tied with ribbon & tag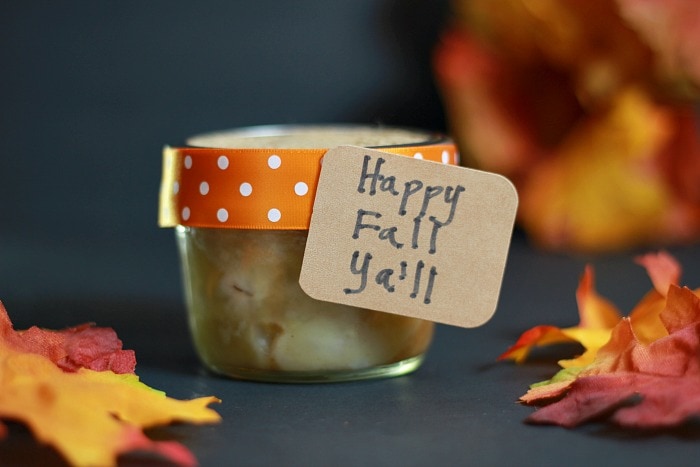 I love pops of color especially for the seasons, such as autumn time, so this is another way to dress up your mason jar pies using this fun, bold polka dot satin ribbon from Paper Mart.
Package Mason Jars up in Gift Box:
For a fun and different way of giving out your Mason Jar pies, I thought it was perfect to use these White Gable Boxes with ribbons & tag .  These boxes are the perfect size to put two 8 oz mason jars & nestle them in with some burlap or tissue paper.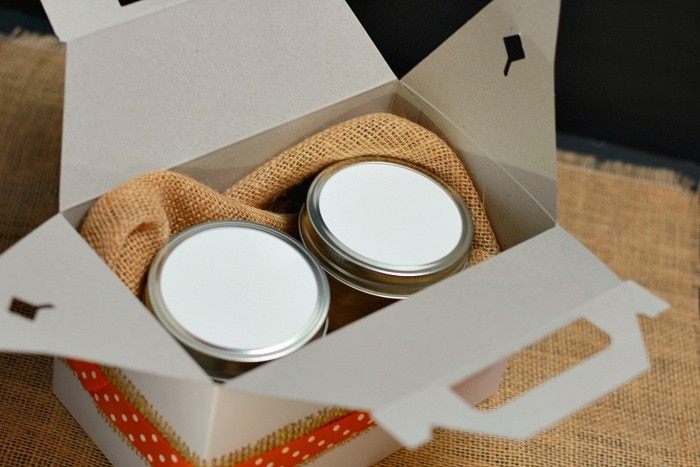 These boxes come in the kraft (brown) or white color and you can keep them as simple or as decorated as you like. You can see the two different options I came up with below.  There are so many possibilities with these boxes of how to decorate them.  You can use them for every season, coming up with all sorts of different ribbon combinations. I loved these with the bright, bold polka dot satin ribbon paired with the more rustic burlap ribbon & kraft tags.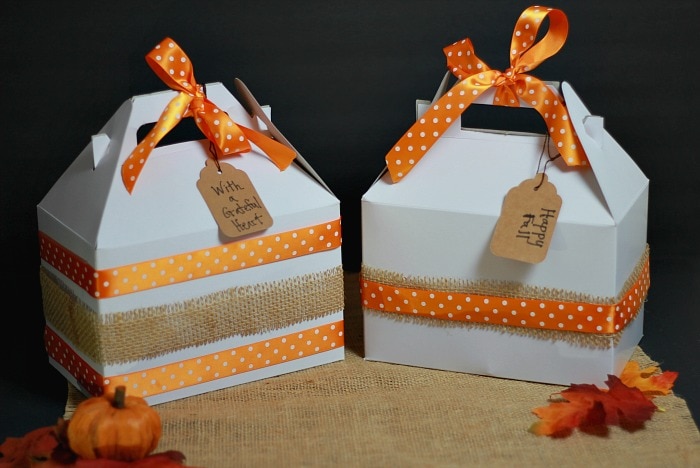 These are just a few of the possibilities of ways you could decorate your mason jar pies to bring them to a gathering as a hostess gift or to hand out to friends, neighbors teachers. I love the variety of packaging & decorating options from Paper Mart that you can choose from.
Paper Mart is a new to me online discount packaging retailer, but they are definitely not new.  They are actually in their 95th year of business – wow! This is a company that has continued to grow, as they are now one of the largest discount packaging optionsa.  Paper Mart has everything from boxes & bags for packaging & gift giving to jewelry boxes, ribbon, and much more!
I like the fact that when you make your order, your order will then ship out on that same next day with Paper Mart. That is always a benefit to have your order arrive quickly.  They also offer a low price guarantee, which means that they will match or beat any competitor's price, up to 10 days after you place your order.
Have you ever made Mason Jar Pies….what type of filling did you use with your jars?
Disclosure: Paper Mart sponsored this post & provided products for me to review. All opinions are my own.