We'll be featuring some fun holiday recipes & crafts over the next week or so & I'm thrilled that my friend Steph is sharing her delicious recipe for Cheesecake in a Jar! These are super cute, especially in these fun little jars, and they are such a simple gift idea for friends, neighbors, co-workers, & more. Make sure you go check out her blog, You Paid More than Me  - she is an amazing decorator on a frugal budget (her house was even featured twice in The Nest magazine).
Guest Post: Stephanie from You Paid More than Me
This is a mini cheesecake I have used for years. In fact, I'm sure this recipe is well over 50 years old. If I can bake a recipe like this you can too, I promise! Most of the ingredients you may already have in your fridge!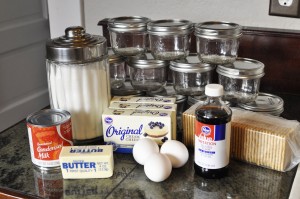 Ingredients:
1 ½ cups of Crushed Graham Crackers
1/4 cup of Sugar
¼  cup of Butter, Melted
3 pkgs of 8oz Cream Cheese, Softened
1 can of 14oz Sweetened Condensed Milk (NOT evaporated milk )
3 Eggs
2 Tsp Vanilla ( I eyeball it )
12 Half Pint Jars (I found these at Fred Meyer, but you could also find at Safeway, Lowe's, Home Depot,etc. I paid around $10 for the dozen)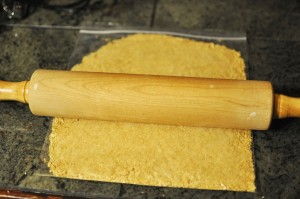 For the Crust:
Crush your graham crackers, if your kids want to get involved, now is the time!
Combine the crushed crackers with the sugar and butter. Press equal portions ( about 2 large spoonfuls ) into the bottom of your jars.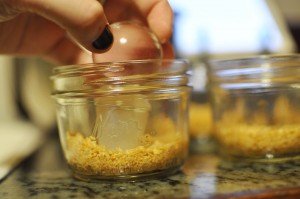 Filling:
In a large bowl, beat the cream cheese until it's fluffy.
Slowly add the condensed milk until it's smooth. No lumps!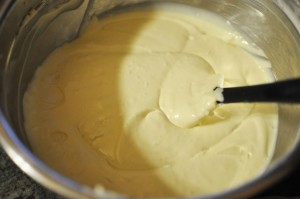 Now add the eggs and vanilla, and mix it well. At this point I indulge myself and taste the batter, and I almost always add a touch more vanilla!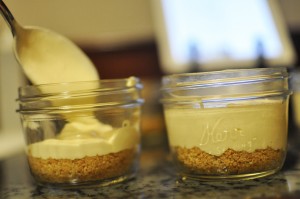 Scoop the batter into the jars, trying to equally distribute it. It came out to about 3 large spoonfuls each jar, dont fill to the top.  Now get out a deep baking pan or casserole dish, and fill with boiling water, you're going to give these filled jars a bath in the oven. The water should be covering about half of the jar.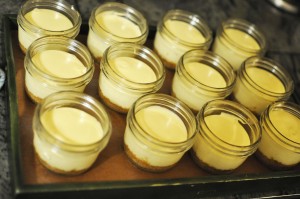 Bake them at 350 degrees for 25 minutes. You want them to still jiggle, but begin to pucker a bit. Dont look for a golden color, you shouldnt find it :)
Take this time to clean, you'll thank yourself later.
This is the hardest part of the whole recipe. Please, please be careful.  Carefully take the pans out of the oven. The water is boiling hot and it IS a balancing act.
Still with me? Hands intact?
Ok good.
Take the jars out of the water right away and set them out to cool. I just put mine directly in the fridge, where they cooled overnight.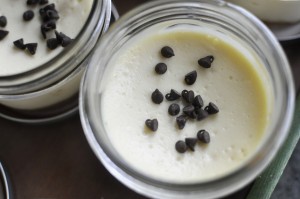 Once cooled, add any topping you like. I chose mini chocolate chips and raspberries. I mashed up a few raspberries with sugar to make a bit of jam and plopped the berries on top. Other ideas are oreos or cherries or really anything. You can also use baking cups instead of jars, and it would make 24 mini cheesecakes. Enjoy!
If you like this Cheesecake in a Jar recipe, make sure to check out the Mason Jar Pie recipe too – another fun idea to give to others during the holiday season!
Steph is a wife, mom, doula, wedding coordinator, decorator and a dealaholic. She has expensive taste on an Ikea budget, and she loves to hunt down that bargain. You can find Steph blogging over at You Paid More than Me, which is a mix of DIY, Knockoffs she finds, Ramblings and decor inspirations, that she hopes will inspire you. 
Do you have a frugal yet fun Christmas craft,gift idea or Christmas recipe to share with all of us?  We'd love to feature unique reader ideas. Email me at thriftynwmom (at) gmail (dot) com with your idea.  If you're a blogger, we will link to you within the post as well as providing a short bio at the end. You'll also get a $10 Starbucks gift card as a thank-you!