It looks like the BIG Target 70% off toy clearance sale will be happening this week, most likely tomorrow, Thursday and/or Friday, but it will depend on the toy clearance markdown day at your store. We heard this morning from reader Jenifer that the Renton Landing Target store has started the 70% off toy clearance sale today! So, make sure to head out there & let us know what type of deals you're finding! We also love to see pictures of your shopping trips so we can all know what type of toys are out there on sale – so feel free to send us your pictures to thriftynorthwestmom (at) gmail (dot) com, so we can share on the blog.
Unfortunately Sia & I are both heading out of town early tomorrow morning for a blogging conference in California for a few days (before the Target stores will be open – boo! :( ), so we're going to be relying on all of you awesome readers to keep us updated on which stores have started the 70% off toy sales & what toy deals you're finding! Make sure to follow the Thrifty NW Mom Facebook page as fans will be updating with the Target stores that have the 70% off toy clearance sale happening!
Don't forget to check out the baby equipment clearance section, too, as you can often find some awesome deals on equipment such as strollers, pack 'n plays, high chairs & more around the same time as the toy clearance sale.
Make sure to read our tips below on the best ways to get the most out of the Target toy clearance sale!! I'd be making your lists now of how much you want to spend & who you might need to buy for during the year!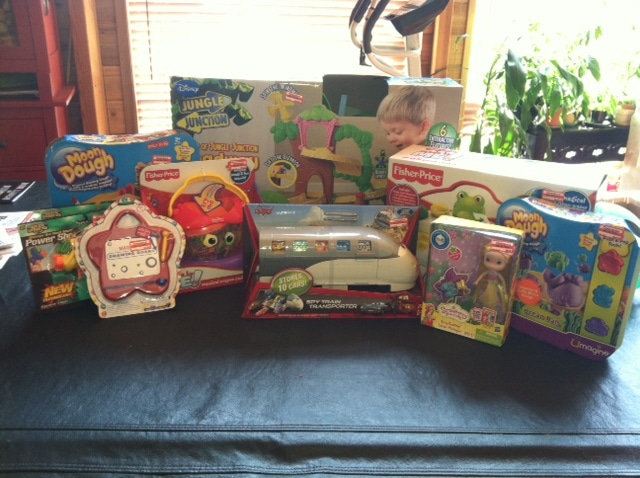 Check out reader Jenifer's score from the Renton Landing's 70% off Target toy clearance sale today!
Total retail price for toys (pictured above):  $161.58
Total paid:  $49.77
Total Savings: 62%
Tips on Shopping the Target Clearance Sales
Scan, scan, scan
Don't rely on what the signs or even the red clearance stickers say as they may not be accurate.  I always pick up the items that I'm interested in & head to one of the in-store price scanners to check the price. You just might be pleasantly surprised by what you find.
Put items in your cart if interested
When the toy clearance sale happens, these items will move fast, so if you're debating about a few things, it's a good idea to stick them in your cart & then decide whether you want them. On the other hand, if you have some time to stick around, you just might find some deals you didn't find at first as people bring back the items they choose not to get.
Check out the store in person
I've never had luck when I call the store to find out if the clearance sale is going on. The people in Customer Service may not be aware of the markdowns taking place, so I think it's best to just go to the store yourself or tag-team with a friend (you each take different stores & report back on what you find). I love when my friends send me texts or pictures of the deals they find in the stores. It's great to have that heads up!
Make a list & stick to it
I admit, I can get a little caught up in these sales when they happen. I definitely believe in buying ahead when you find items at rock-bottom prices like 70% off. However, you don't want to overbuy & end up with a lot of items you won't end up using.  So, I recommend making a list ahead of time of possible birthdays/gifts that you could use the items & ages. There are often a lot of people at the toy clearance sales & it's hard to think clearly when you're so excited about those great deals you're finding (at least, that's the case for me!)
Follow Thrifty NW Mom on Facebook
I love our community at the Thrifty NW Mom Facebook page as everyone is great about sharing tips on when the clearance sales are happening at their stores. So, make sure to be checking the Facebook page regularly later this week as I'll be asking daily what people are finding at their stores. Make sure to list your specific store & share what you found so the rest of us can check our stores for similar items. We also love to see pictures of your finds, so feel free to send them to me at thriftynwmom (at) gmail (dot) com.
*Check out more of my tips on shopping the Target clearance sales!