Harvest Snack Mix – Fun Fall Party Snack
This fall already seems to be speeding by and before you know it, the holidays will be in full swing.  October is a busy month for many of us with visits to the pumpkin patch, fall festivals & cider squeezes. Add in Harvest or Halloween Parties at home or at school and football games on the weekends, there are plenty of opportunities to get together with friends & family. This busy season calls for being prepared & shopping ahead at the grocery store to make sure you have enough food to last you through all the get-togethers and parties that are coming up this holiday season. So, it's perfect timing that Albertsons is back with their popular Stock Up Sale – an opportunity to stockpile any items you plan on using over the next month or two. We partnered with Albertsons for a sponsored campaign to share about ways that we take advantage of sales, like the Stock Up Sale, to save on food costs for holiday gatherings by buying ahead & buying more of the items we know we will need for the holidays during a big sale.
In our home, it's an extra busy month, as my husband and daughter share a birthday near the end of the month, so I'm always on the hunt for ways to save money on food costs for parties, as we always have a birthday party at home for my daughter with friends & often have a birthday party for both of them with family at home, too. Even having a party at home can get pricey with the food, decor, crafts & more, so I love to find ways to get creative with items I can find on sale so I can stock up ahead of time for parties.
Harvest Snack Mix: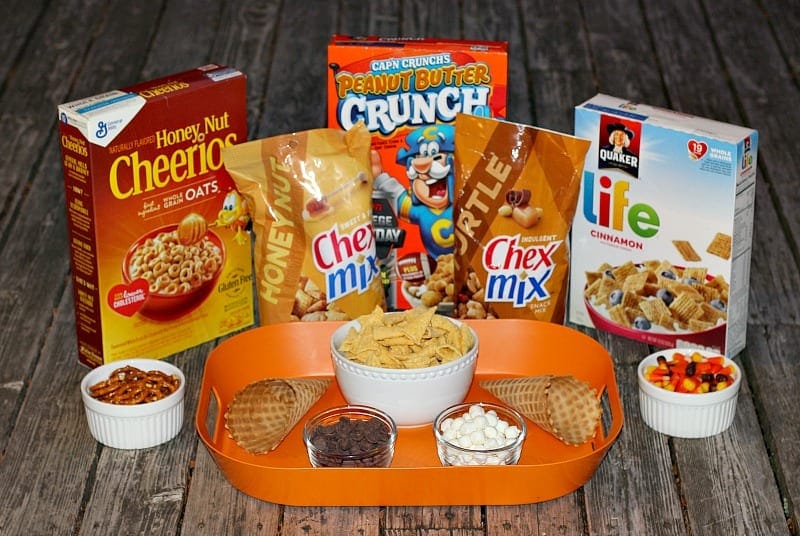 Ingredients:
*These are the ingredients I used, but use your favorite combination of salty & sweet items for your Harvest Snack Mix. The amount you use is based on personal preference & how large of a group you will be serving -I tried to use equal amounts of all the chips & cereal 
Waffle Cones or Sugar Cones (if you want to make it into a Cornucopia)

Bugles

Chex Mix (I used two sweet varieties, but I love mixing the sweet & salty versions together)

Quaker Cinnamon Life Cereal

Honey Nut Cheerios

Cap'n Crunch Peanut Butter Crunch

Pretzels

Chocolate Chips

Mini Marshmallows

Candy Corn

Reese's Pieces
Additional Ideas of Mix-Ins: Craisins/Raisins, mixed nuts, white chocolate chips
Directions:
Use equal parts for your snack mix of the cereal & chips (Bugles, Pretzels, etc), depending on the size of your group & your preference.
I then used 1 cup of mini marshmallows, 1 cup of chocolate chips, 1 cup of candy corn and 1 cup of Reese's Pieces to add to this mix (again the amount is personal preference as to how much extra sweet you want to add).
Mix all of the ingredients in a big bowl and stir gently.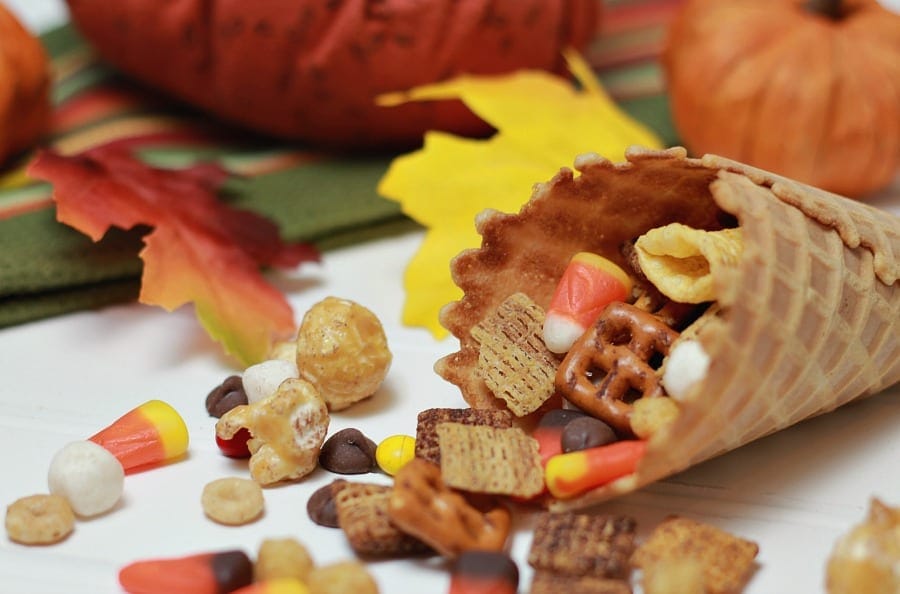 Serve in a big bowl, individualized bags for treat bags or try serving it in a "cornucopia" if it's a Harvest or Thanksgiving theme. This is just a fun, unique way to serve the Harvest Snack Mix so that individuals can pick up their own "cornucopia" (or waffle/sugar cone) filled with as much snack mix as they prefer.
You could even dip the ends of the cone in chocolate & chocolate sprinkles to make it a bit fancier. And if you really want to make it look authentic for the harvest theme, try shaping the cone into a cornucopia at the end of the cone (see step by step directions)
Party Snack Ideas with Stock Up Sale Items: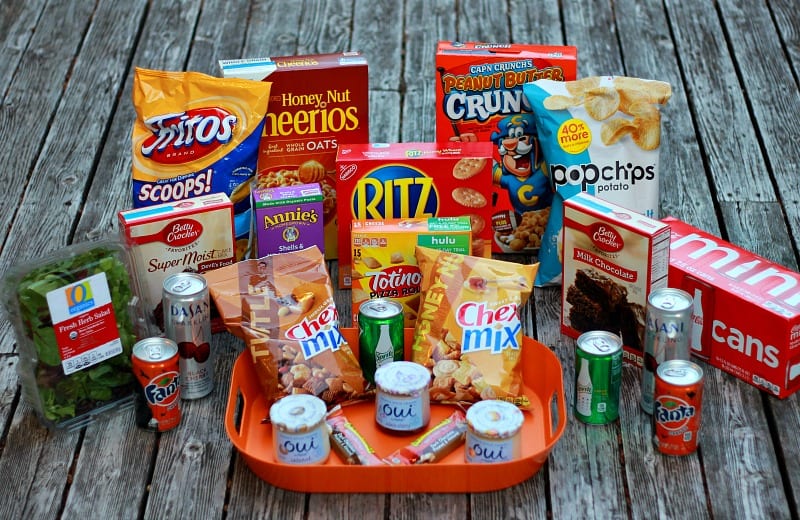 Here are just a few of the products included in the Stock Up Sale to show you the wide variety of items available with this sale at Albertsons.  Whether you are stocking up your pantry for meals & school snacks at these low, affordable prices or getting prepared ahead of time for holiday parties & gatherings this holiday season, it's definitely the time to take advantage of the extra value from shopping during the Albertsons Stock Up Sale. Download your local store's app for more even savings! We can always count on great deals at Albertsons!
Here are some options of ways to use these Stock Up Sale Items for Party Food:
Make Yogurt Parfaits  – Use the Yoplait® traditional yogurt or  Oui™ by Yoplait® yogurt to make parfaits by layering the yogurt with layers of Cheerios™ in between as well as added on for the topping for added crunch. This is definitely a crowd-pleaser, especially for the kids.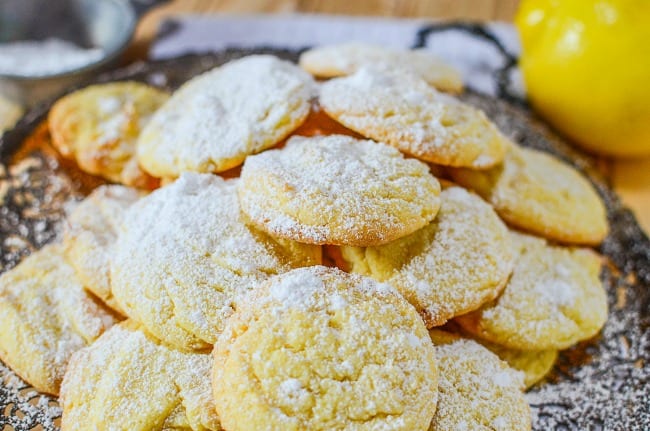 Betty Crocker™ Cake Mix & Frosting – Make cupcakes for your party in the colors of your theme or use that cake mix to make a variety of cake mix cookies. Check out all of the different options for Cake Mix cookies.  We love cake mix cookies.
Annie's™ Naturals Shells & Cheese with Topping – If you're having a holiday party with both kids & adults, make sure to have some kid-friendly main dishes too. Kids love the Annie's Naturals Shells & Cheese & to add a little crunch to it, crush some Ritz crackers for the topping.
Sweepstakes: Enter to Win Free Groceries for 1 Year:
Albertsons is giving away groceries for 1 year to a lucky winner for their sweepstakes going on now. Head into an Albertsons store between 10/4 – 10/19 and buy participating items and you could win.  Show how you stock up your pantry during the Albertsons Stock Up Sales by taking a photo of your shopping trip and sharing online or on Facebook or Twitter. Find out more about the Stock Up Sale Sweepstakes at Albertsons.
Here's all the details:
Take a photo featuring two or more of the participating Stock Up Sale products below

Share the photo on Twitter or Instagram or

online here

 by 10/19

Use #StockUpSale2017 and #Sweepstakes in your caption and complete entry form
Here are the participating items for the sweepstakes: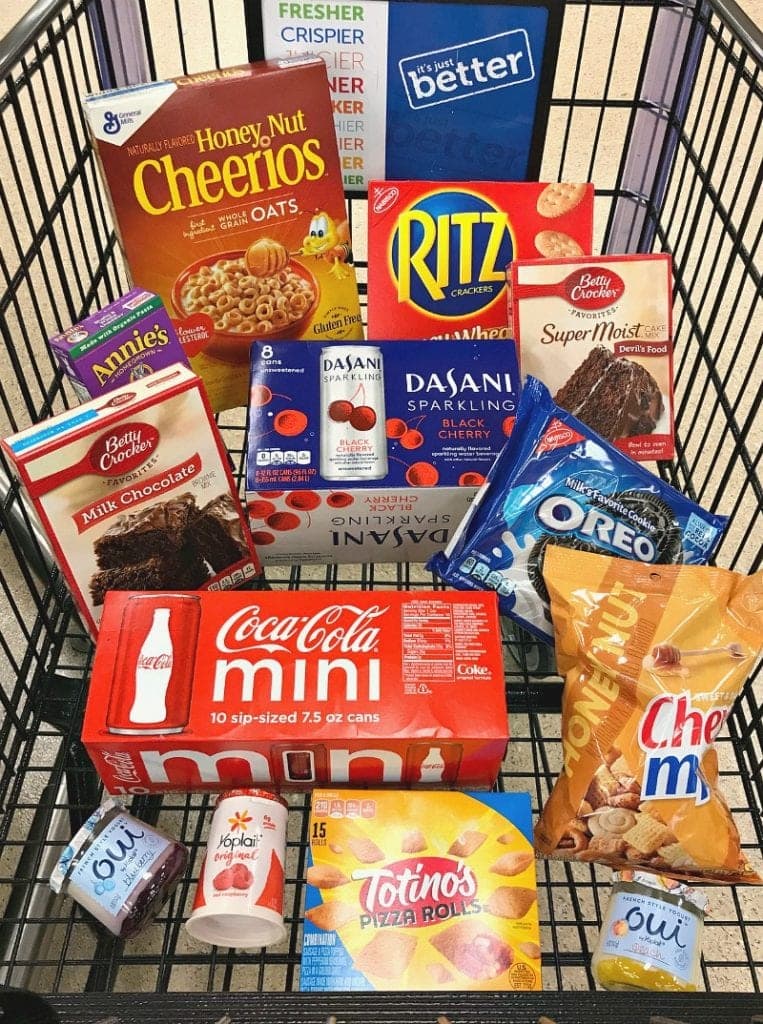 Honey Nut Cheerios™

Cheerios™ 8.90oz.

Cinnamon Toast Crunch™ 12.20oz.

Progresso™ Traditional, Rich & Hearty, Reduced Sodium, Light Soup, Vegetable Classic, selected varieties 18-19oz

Nature Valley™ Granola Bars 7.44oz-8.44o

Yoplait® Traditional Yogurt, 4-6oz, selected varieties

Oui™ by Yoplait® Strawberry French Style Yogurt 5oz.

Annie's™ Natural Mac & Cheese 6oz; selected varieties

Old El Paso™ Shells

Totino's™ Pizza Rolls 15ct, Totino Party Pizza 9.8-10.4oz, selected varieties

Betty Crocker™ Hamburger Helpers, 4.7-8.7oz, selected varieties

Betty  Crocker™ Fruit Snacks, 4.5-8oz, selected varieties

Chex Mix™ 8-8.75oz, selected varieties

Betty Crocker™ Super Moist™ Cake Mix, 15.25 – 16.25oz., select varieties

Betty Crocker™ Whipped Frosting, Milk Chocolate 12oz.

Betty Crocker™ Brownie Mix, Chocolate 18.40oz

Pillsbury™ Apple Toaster Strudel™, 6ct., 11.70oz.

Coca-Cola MiniCans

Dasani Sparkling Black Cherry

Classico Tomato Basil

Heinz Ketchup

OREO 14.3 oz

Ritz 13.7 oz
I find all of these great products at my local Albertsons– be sure to check out these great products at your local Albertsons Companies grocery stores including Albertsons, Safeway, ACME Markets, Jewel-Osco, Vons, Pavilions, Randalls, Tom Thumb, Shaw's, Star Market, United Express, United and Carrs/Safeway.
This is a sponsored post written by me on behalf of Albertsons.