Walmart Winter Fashion Looks for Women
This post may contain affiliate links and I may be compensated for this post. Please read our disclosure policy here.
Disclosure: This post was sponsored by Walmart and Reward Style. All opinions are 100% my own. Find our disclosure policy here for more information.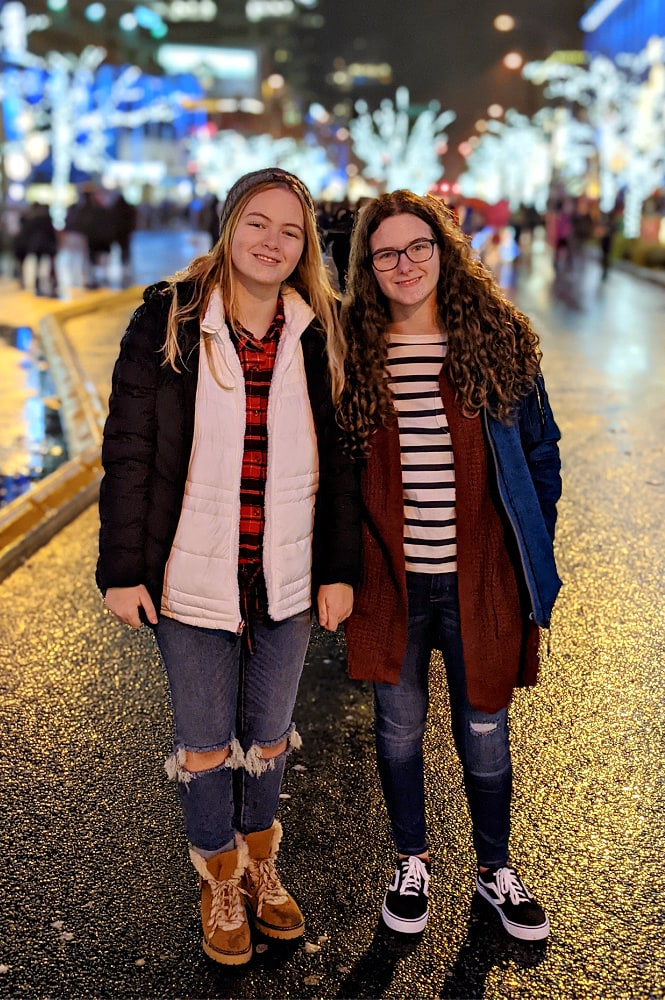 Walmart Winter Fashion for Women
I have to say that Walmart has really been surprising me this past year with some of the cutest Walmart fashion items for men, women & kids! My girls have definitely been much more interested in shopping their women's & juniors items & I have found some cute items too! And I love that they are so affordable so you can find some fun new pieces for the season to add to your wardrobe staples! Their shoes are so fun & stylish, too, definitely some cute options which are similar to some of the more popular shoe trends in fashion right now, but with significantly more affordable prices!
You can head in store if you prefer to try on the items before you buy, which my girls love to do. I prefer to shop online, as I love the comfort of trying things on in my own home and then I can return in store if something doesn't work. There are so many options online, too, for their top brands, so if you don't find anything in store in your size or what you're looking for, definitely check out the options online as they have such a wide selection for their clothing options online now!
Make sure to check out all of the Fashion Deals that Walmart has been offering as well – so many price drops and clearance prices on so many of the winter fashion items right now!
Walmart + 
Even better, you can sign up for a Walmart + membership this year. They have a  FREE 90 day trial here to see what you think & how it works for you over the holiday season!  This is the best option as you can get free shipping on items shipped by Walmart, with no order minimum!
Plus, you can get FREE grocery delivery with a $35 minimum from your local store (even same-day grocery delivery). This is amazing to get the free grocery delivery as it can be so pricey from the other grocery stores.  You can also save on prescrioptions and save $.05/gallon on fuel as well at Walmart & Murphy stations. You can also use the Scan & Go option for scanning items as you shop in stores & pay with your phone when available.
Winter Fashion Finds for Women
Winter Fashion Look #1
No Boundaries Juniors' Lace-Up Cardigan Sweater with Hood – $17.98
This textured, waffle-knit sweater is definitely going to be one of my daughter's new favorites as it's so comfortable & a great, longer length which can pair with jeans, nice pants, leggings & more. It comes in 4 colors & she thought this burgundy color was so pretty for fall or winter and to dress up during the holidays too!  It has lace-up sides & a hood to give it a little more style, too.
Free Assembly Women's Pocket T-Shirt with Long Sleeves – $10 (reg $14)
This black & white/cream striped crew neck shirt is such a versatile shirt for layering with so many different outfit combinations. Love that it has a nice elastic cuff on the sleeves too. You can partially tuck this in or leave it out, whichever you prefer.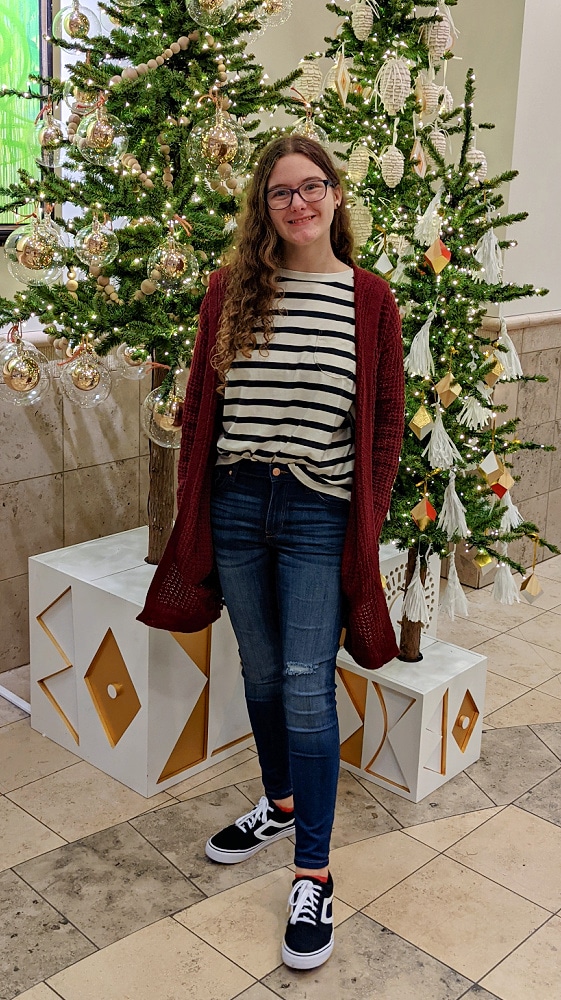 Celebrity Pink Juniors High-Rise Ankle Skinny– $12.99 (Reg $17.99)
My daughter still loves skinny jeans, so these were perfect for her & so comfortable. There were a lot of different options for jeans whether you like the skinny jeans, the mom jeans look, bootcut, etc.
No Boundaries Women's Casual Retro Sneaker – $14.97
These are the cutest canvas lace up shoes that are so popular with this look right now! But the price is so affordable compared to the high price tag for other brands ! My girl loves the look of these shoes, so she was excited to get the black & white option. They also had an all white option with the thicker soles that is also so on trend right now and both of these are so versatile with so many outfit options.
This entire outfit costs less then $60 for outfit & shoes! Such a great price for a cute winter outfit! You could dress this outfit up for a night out with some pretty jewelry and nice boots or black flats!
Winter Fashion Look #2
Time and Tru Women's and Women's Plus Size Reversible Vest – $19.98
This comes in both womens' & women's plus size with 5 different color options. This is such a great option for a winter look as it's reversible so you can go with the quilted puffer vest look or change it up to the faux sherpa style on the inside. So many different options of how to wear this for a more casual look as my daughter is doing or to dress it up more.
No Boundaries Juniors' Plus Size Collared Plaid Top with Control Bottom – $13.98
This is only showing plus size online, but we found it in regular juniors size in store. This is a fun plaid/flannel option to add to your wardrobe for the holiday season. It definitely is a fun option for holiday events & get togethers! My daughter wore this to our first Christmas event at Snowflake Lane which was the perfect festive yet casual look for her.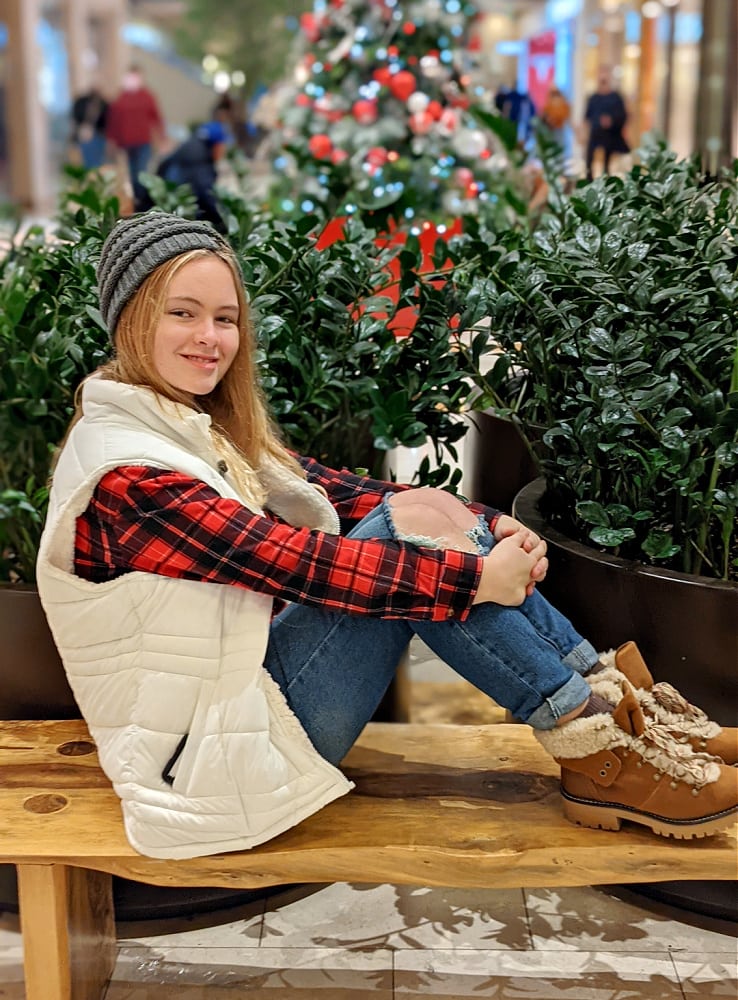 No Boundaries Juniors' Super High Rise Destructed Mom Jeans – $14.98 (Reg $17.98)
These high rise mom jeans were a nice option for a casual look that she can wear with so many different outfits and at such an affordable price. She wore these all day while we were shopping & at a Christmas event & they were so comfortable for her.
Time and Tru Women's Cozy Hiker Boots – $26.98
Walmart has such a wide selection of fun boots for the winter season with so many different looks that rival some of the most popular boots on the market right now. My daughter loved the cozy look of these boots & they are nice & warm too as she wore them standing in the rain for several hours as we watched the parade at Snowflake Lane.  They have a faux fur collar and metal around the laces for more durability, plus memory foam too.
This outfit cost came to just around $75 total! That's including these cute boots & vest, too, so it's a great deal for a fun, casual holiday outfit that not only looks great but will keep you warm in the rain or snowy weather, too!
Winter Fashion Look #3
No Boundaries Juniors' Long Sleeve Raglan T-Shirt, 2-Pack – $14.98
Such a great price for 2 tops, just $7.50/ea  – these could work for layering tops for a winter outfit or get it a size larger for PJ tops too!
Women Winter Fleece Lined Crew Neck Long Sleeve Slim Fit Stretch Tight Shirt – $9.50
These fleece lined long sleeve shirts are perfect to keep you warm on a cold winter night especially for those who are always cold! It's a nice, stretchy & soft shirt to wear for layering with outfits or for a PJ top.
Disney Mickey Faces Men's Lounge Jogger – $11.98
If you like to have the baggy look for PJ's, either size up or look in the men's department. We found these cute disney lounge pants for cozy PJ's.
George Men's Fleece Sleep Pant – $9.98
These fleece PJ pants are nice & roomy so they are so cozy, you'll want to stay in them all day! Perfect for watching Christmas movies or throwing on after a day up in the mountains in the snow!
Total cost for each of these PJ outfits is around $20! These are great versatile PJ's as they can definitely go with the holiday season, but also work for all winter long!
There are just so many fun options for clothing styles for teens & women's styles right now at Walmart! We are loving all of the fun winter options for clothes, outerwear, accessories, shoes & boots & so much more!
Let us know your favorite Walmart fashion finds, too!