The Farmers Dog Food – Fresh Dog Food Delivery – 50% off 2 Week Supply
This post may contain affiliate links and I may be compensated for this post. Please read our disclosure policy here.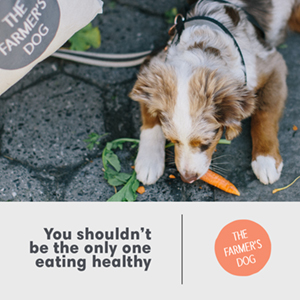 The Farmers Dog Food – Fresh Dog Food Delivery – 50% off 2 Week Supply
If you have been considering trying out fresh dog food for your pup – you can get  50% off the first 2 weeks of fresh dog food from The Farmer's Dog Food right now by signing up for their 2 week trial!
If you have been interested in trying something new for your dog, this is a great time to try out fresh dog food delivery from Farmer's Dog & see if it's a fit for you! Many dogs have digestive issues, in fact we just took our puppy in to the emergency vet for digestive issues she had. And the solution they gave us was to feed her fresh food for 2 weeks. Thankfully she healed up, but I know many dogs have ongoing digestive problems & need something different from commercial, processed dog food.
Farmer's Dog offers fresh, healthy dog food, made fresh & shipped to your door in pre-packaged, ready to eat servings, no preservatives, for a healthier diet for your dog. These are the most natural ingredients for your dog, so it's high quality and from reputable food suppliers, local farms & more that meet USDA human-grade standards.
How much does Farmers Dog Food cost per week?
You will get a box with 2 weeks' supply of fresh dog food for just $32.65 & the shipping is free or $16.33 per week. This is 50% off the regular price for 2 weeks. That works out to just $2.34 per day!
After the special promotion it will be $32.65 per week.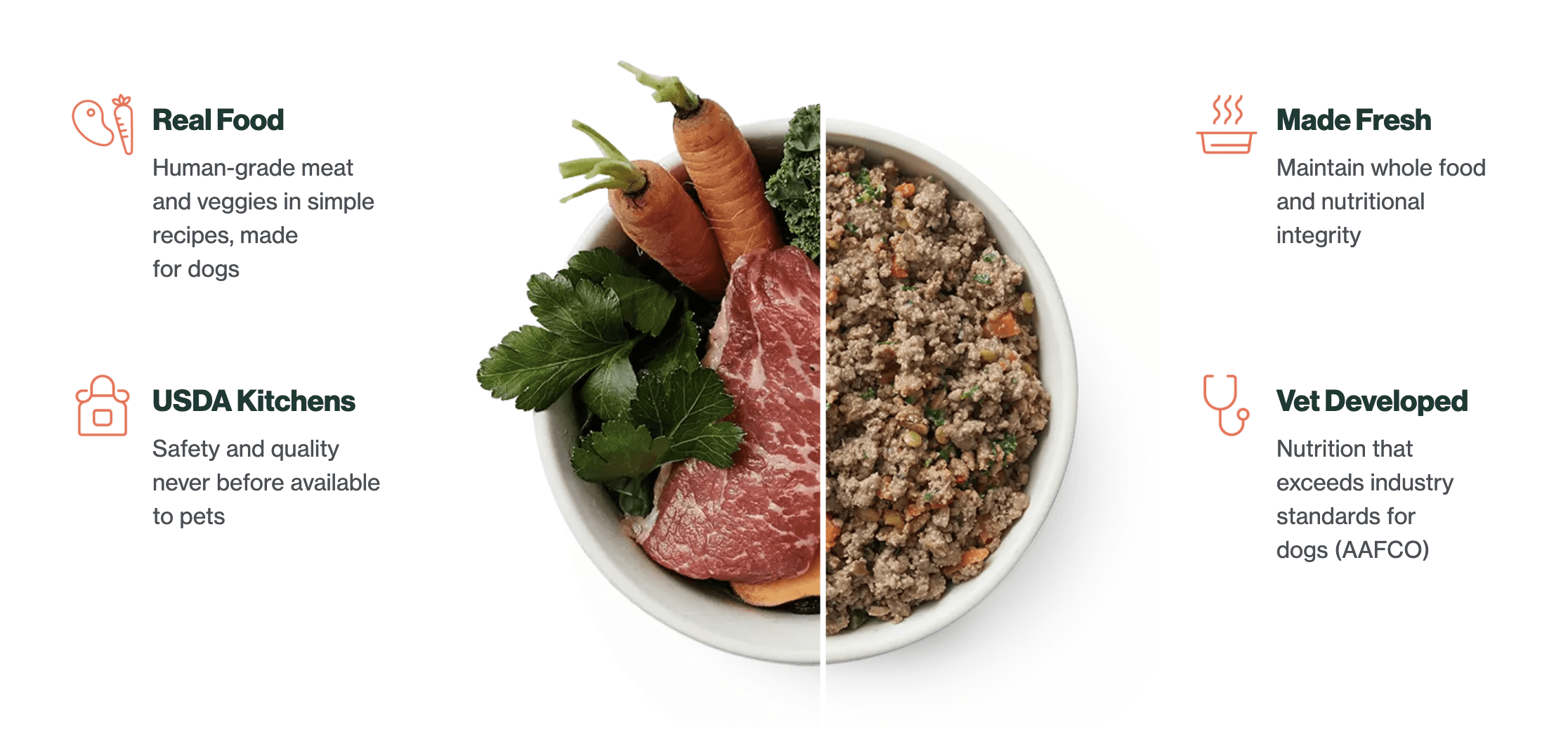 The Farmers Dog Costs & Fresh Dog Food Options:
Here is how to get your Farmers Dog food for 50% off for the first two weeks, as well as more info on the Farmers Dog costs after that.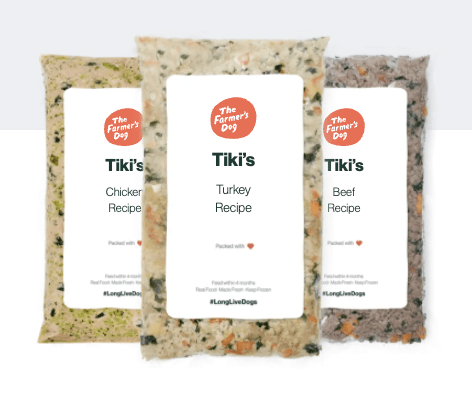 Head to Farmer's Dog & click on the "Start Today" orange button
Take a short quiz about your dog & what you are looking for with the dog food. They will customize a plan just for your pup.
They will give you their suggestion of the best customized plan for your dog.
Head to checkout to start your 2 week trial for 50% off  ( fresh dog food for 2 weeks + free shipping). You will need to put in your credit card number as it is a subscription box service;  however, you can cancel your subscription at any time.
Final Price: $32.65 + FREE shipping (+ tax) or just $2.34 per day.
Information about Renewals:
Farmer's Dog is a subscription box service for fresh dog food delivery. By signing up for your first free box, you are signing up for a two week trial. After the two weeks is up, you will be charged on your credit card for the plan you selected. You can cancel your account at any time before your next order is shipped if you choose to not continue with the plan.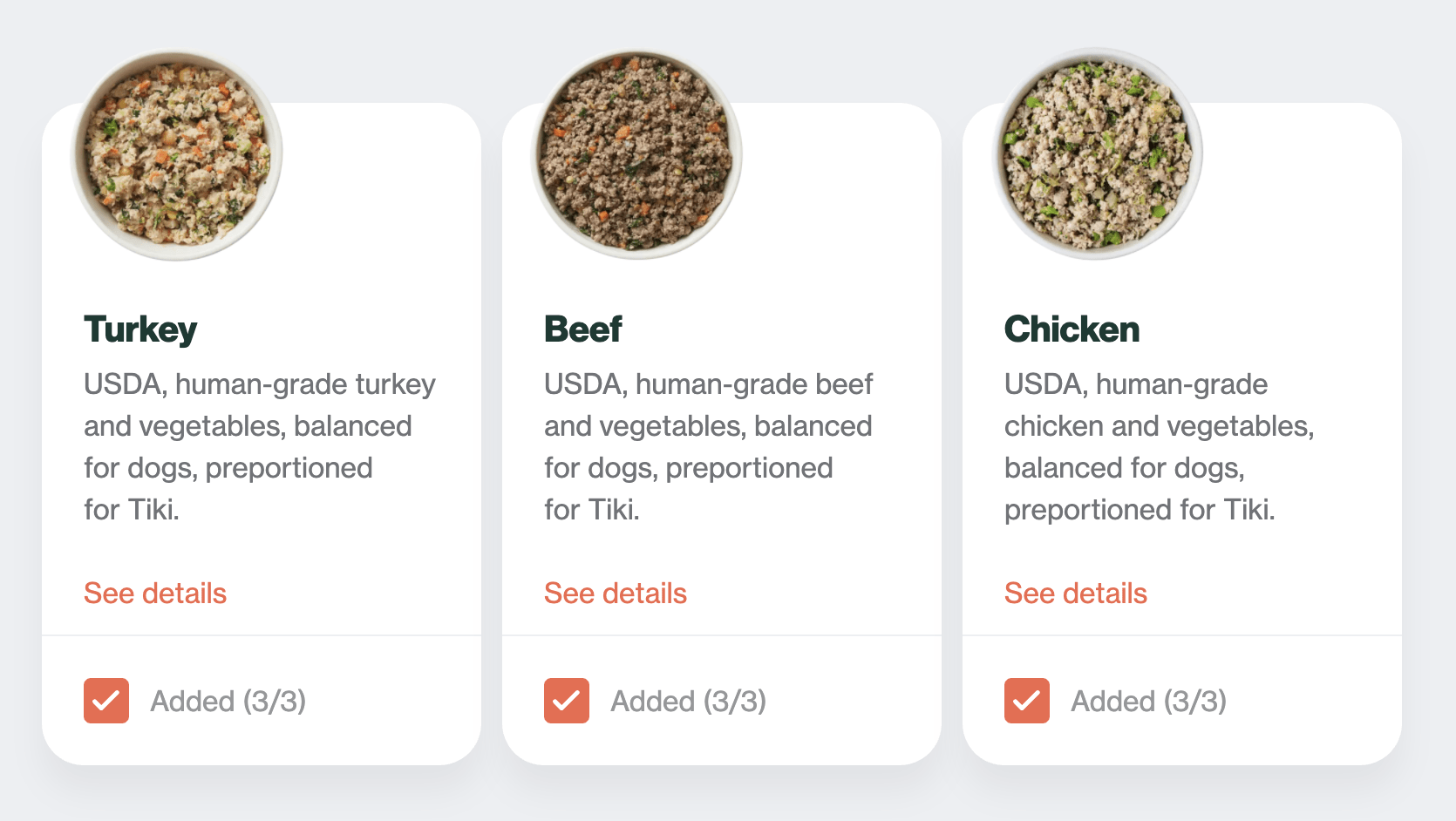 Why Should you Feed Your Dog Fresh Food?
Every recipe that you receive from Farmer's Dog uses clean USDA proteins, mixed with simple produce & balanced with vitamins & minerals. They have board-certified veterinary nutritionists who formulate the recipes to be 100% complete & balanced according to AAFCO standards & using human-grade ingredients. There is growing scientific evidence pointing to the health benefits of a fresh dog food diet. Whether your dog has a particular health issue that this would greatly benefit them or if your dog is perfectly healthy, eating fresh dog food can help your pup to live a longer, healthier life.
If you're thinking of making your own fresh dog food, they found that over 95% of home-cooked dog food recipes available online lack crucial nutrients. So, this is something to consider if you are looking at fresh dog food long-term. The Farmer's Dog food recipes are all created with vet nutritionists so you know you are getting the best nutrients for your dog & healthy, natural ingredients!
How is Farmer's Dog Food Made?
All of the Farmer's Dog meals are made from human-grade ingredients, USDA approved, & sourced from reputable food suppliers, local farms & other human food purveyors that meet USDA standards. They never use feed-grade ingredients (found in most dog food) & they don't process the ingredients to be shelf-stable. You will need to refrigerate the food when you receive it. But this means you are getting the highest quality, most natural nutrients for your dog.
Have you ever ordered fresh dog food delivered to your door? How did it work for you?
More Dog Subscription Boxes:
We also love these dog subscription boxes which have healthy treats, tough toys & chews for dogs!