Fresh Tomato Recipes for the Tomato Lovers – Simple & Healthy Meals You Will Love!
This post may contain affiliate links and I may be compensated for this post. Please read our disclosure policy here.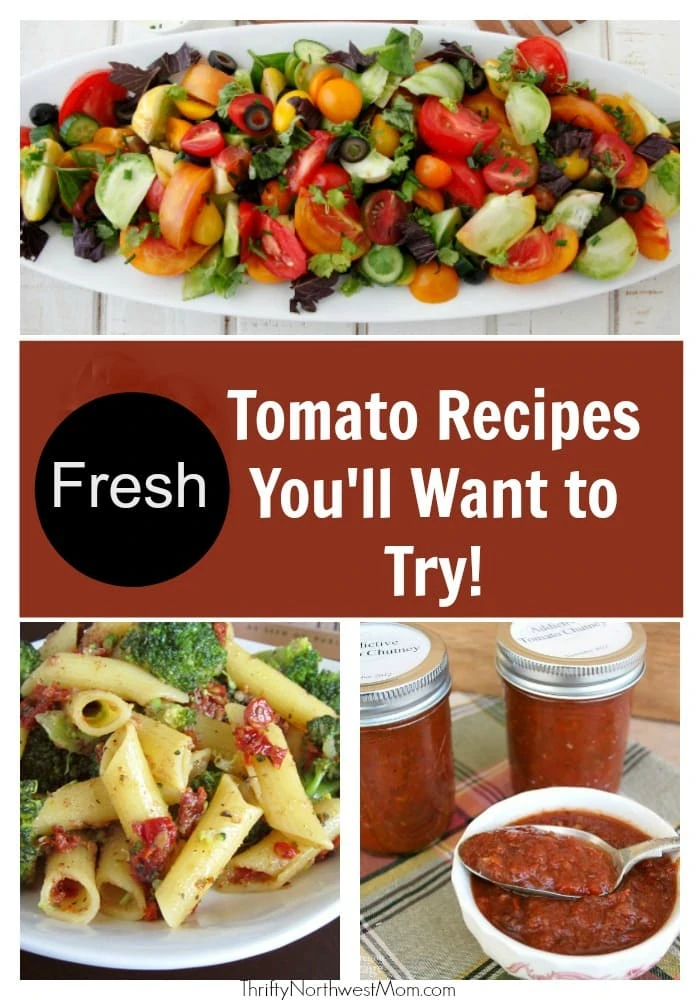 Fresh Tomato Recipes for the Tomato Lovers – Simple & Healthy Meals You Will Love!
Tomatoes are a wonderful summer food. If you are an avid gardener or just a fan, there is more to tomatoes than slicing them up for sandwiches and such! Tomatoes also come in so many shapes and sizes,  the options are endless when it comes to enjoying them!
Tomato is an easy and nutritional additive to everything from soups and salads to main dishes and dips! Plus, if you are a gardener you can use them up super easy when you get the large bounty in the summertime! Check out these great recipes using tomato!
It is also a very versatile food. You can eat them fresh from the garden as a snack, use them as an ingredient in a salad or meal, or make them the main ingredient in a meal. You eat them raw, fry them up, bake them, puree them and more. There are red tomatoes, yellow tomatoes, orange and green tomatoes. Their are steak tomatoes, roma tomatoes, heirloom tomatos and many more varieties too.
My favorite part is the taste. They add a wonderful freshness to any meal, and are perfect for lighter tastes in salads, or heartier cravings in pasta dishes. We have come up with a number of tomato recipes to enjoy here. Find everything from tomato soups and sauces to stuffed tomatoes and tomato meatballs.
What is your favorite way to use tomatoes?
Tomato Sauces and Dips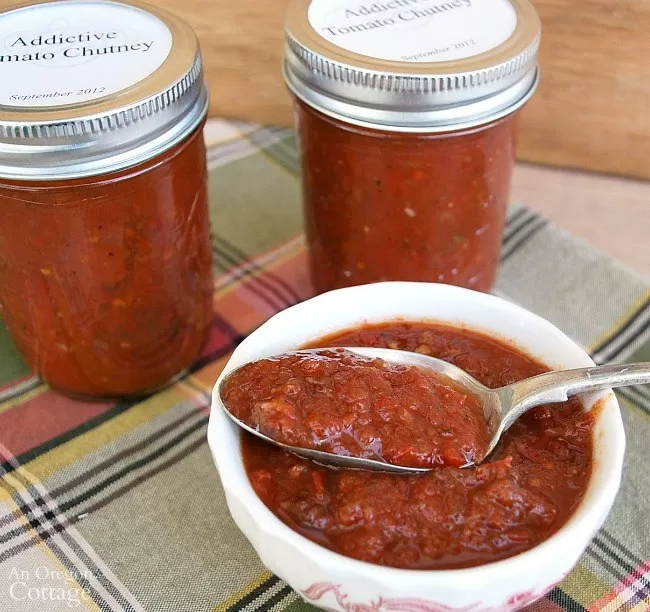 (Photo credit An Oregon Cottage)
Tomato sauce is much easier to make then you may think and the taste is so much better then buying a canned sauce. Plus you can control the salts and sugars that are often snuck into canned or jar versions. Here are some tasty ones to try at your house.
Balsamic Roasted Cherry Tomato Sauce from An Oregon Cottage
Tomato Chutney from An Oregon Cottage
Sun Dried Tomato Hummus from Pinch My Salt
Homemade Pico de Gallo from Thrifty NW Mom
Stuffed Tomato Recipes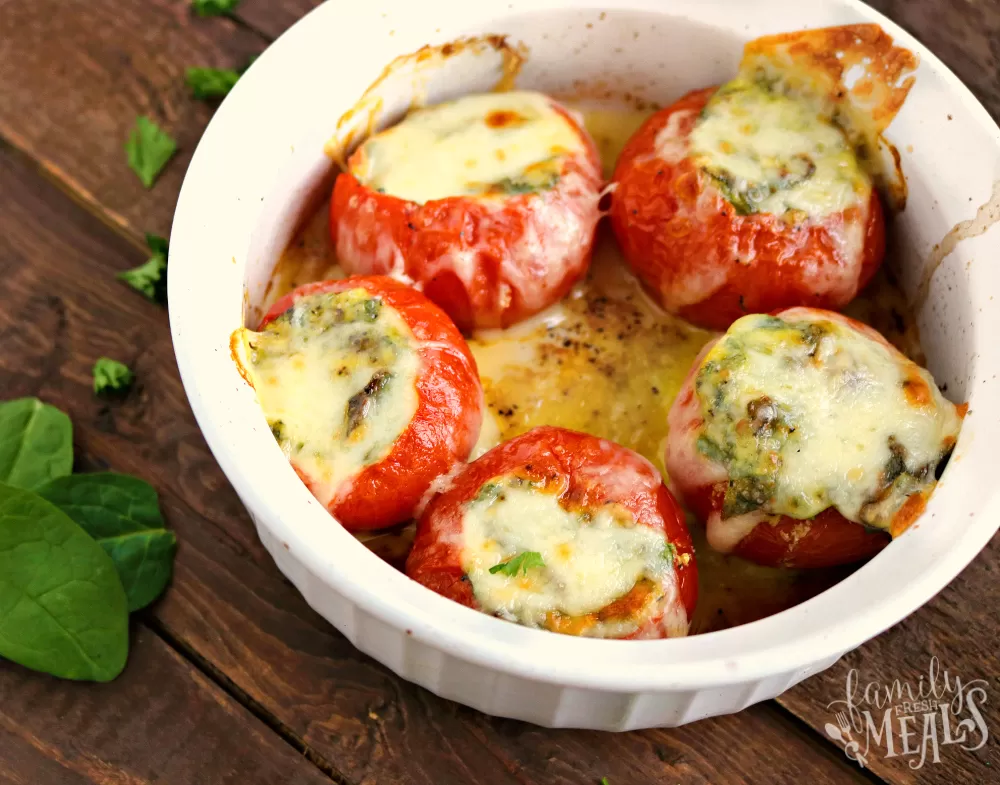 (Photo credit Family Fresh Meals)
Stuffed Tomatoes can be served as an appetizer for a game day spread or summer potluck ,or they can be a side dish or main dish. It has many of the flavors of pizza without the crust too.
Roasted Cheesy Tomatoes from Crystal & Co
Stuffed Tomato Bites from Family Fresh Meals
Easy Stuffed Tomato Recipe from Work It Mom
Tomato Soups and Salads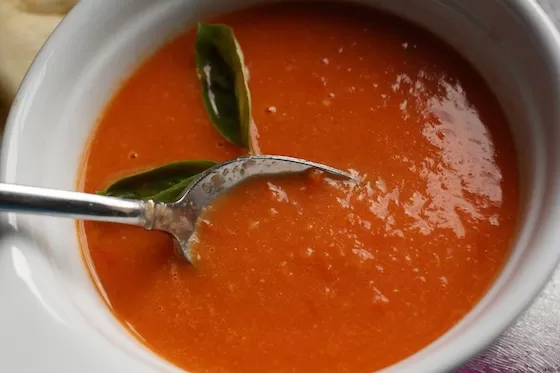 (Photo credit Happy Hooligans)
Tomato soups are one of my favorite things to make with the tomatoes from my garden. Once you start making tomato soup yourself, it will be hard to ever eat it out of a can again. And it is so simple. Add a little cream to turn it into a bisque, and a little red pepper to add some heat!
Heirloom Tomato Salad from Weelicious
Cucumber Tomato Avocado Salad  from Thrifty NW Mom
Homemade Tomato Soup from Happy Hooligans
Chunky Crockpot Tomato Soup from A Mom's Take
Easy Caprese Salad Recipe – Thrifty NW Mom
Main Dishes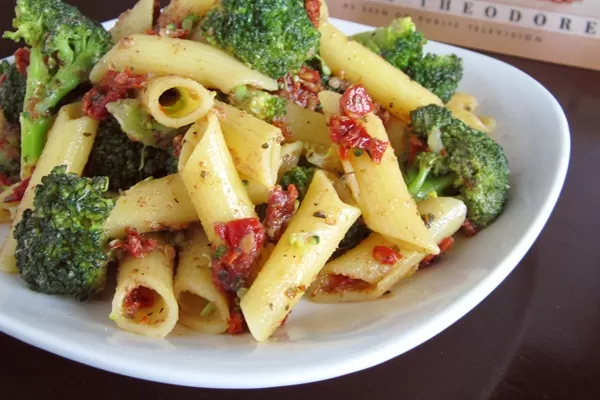 (Photo credit Go Dairy Free)
It is amazing how hearty a tomato based meal can be! Try some of these, they are sure to keep your family happy or be a crowd pleaser, and fill up hungry stomachs!
Sun Dried Tomato Meatballs from Sarah Fragoso
Sun Dried Tomato Broccoli Penne from Go Dairy Free
Tomato Bacon Macaroni and Cheese from Butter With a Side of Bread
Tomato and Jalapeno Tuna Stuffed Avocado from See Vanessa Craft
Skillet Tomato Rosemary Chicken from B-Inspired Mama
More veggie recipes you'll want to check out::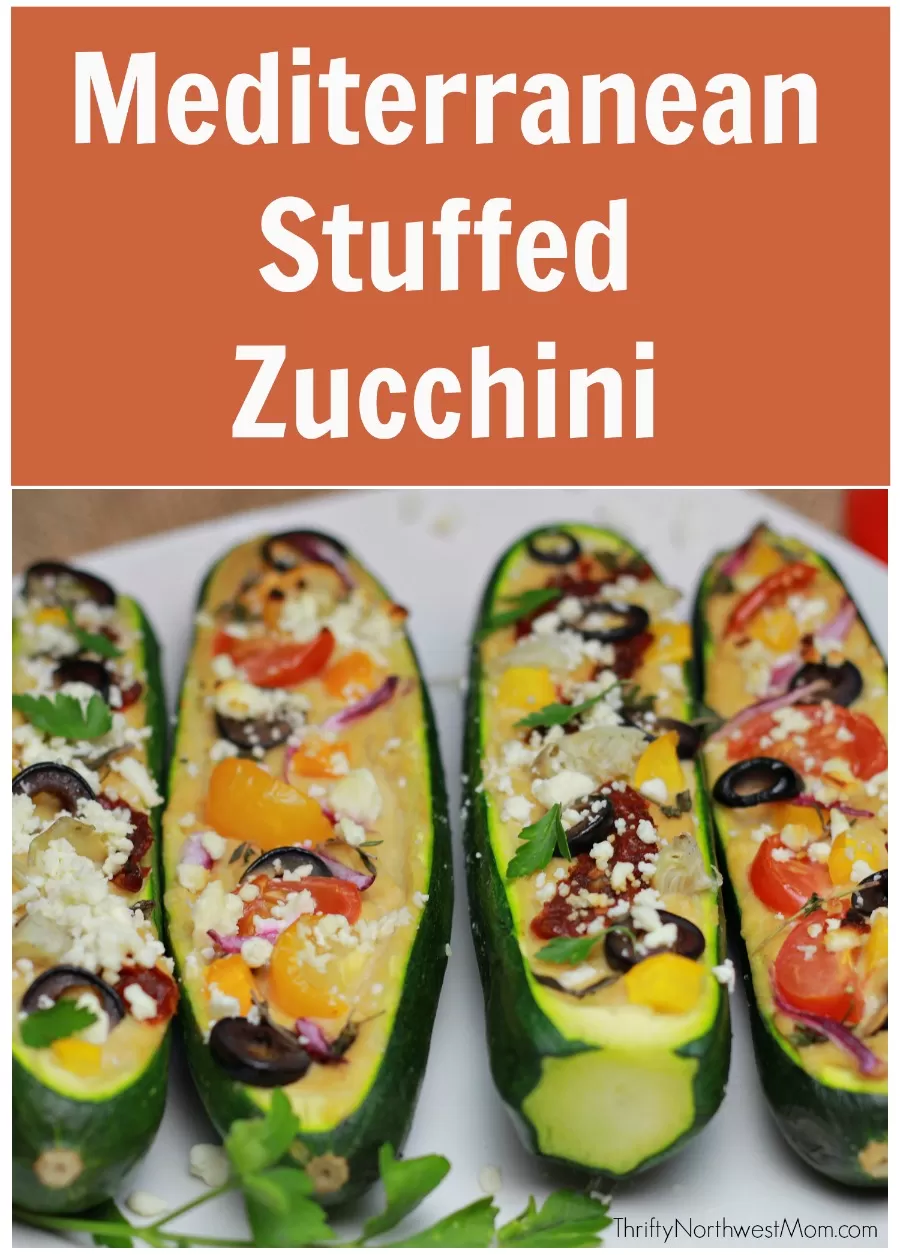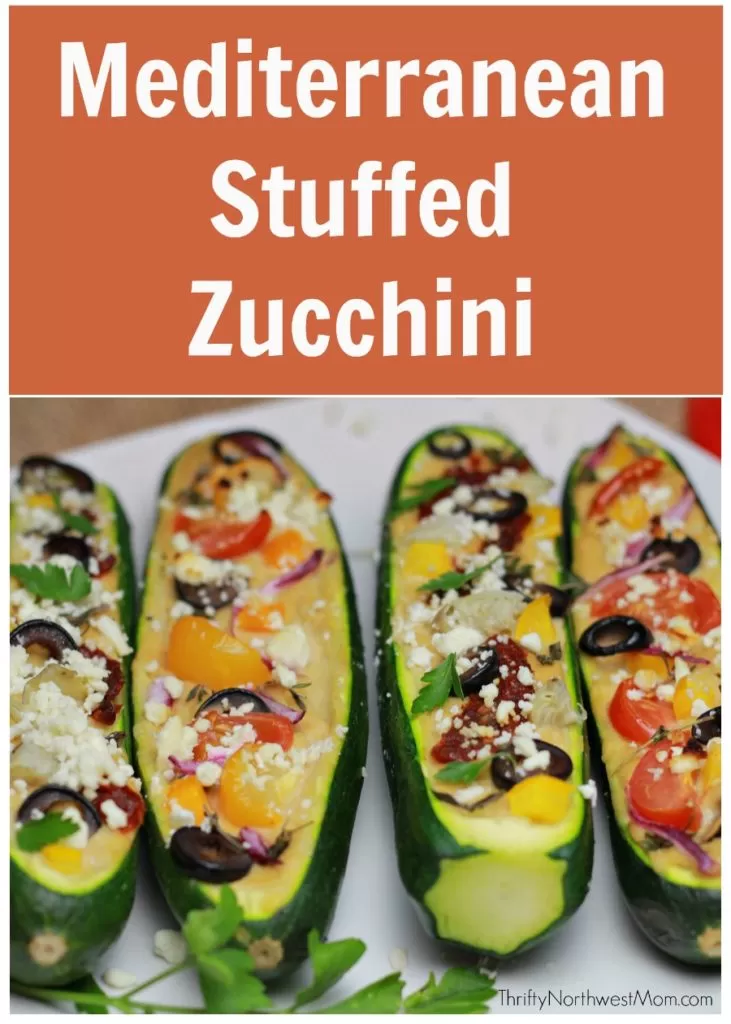 Mediterranean Stuffed Zucchini
Easy to Make Cold Spinach Recipe
Save
Save
Save
Save
Save