12 Unique Garden Art Ideas from Junk (Budget Friendly)!
This post may contain affiliate links and I may be compensated for this post. Please read our disclosure policy here.

12 Unique Garden Art Ideas from Junk (Budget Friendly)!
There are so many ways you can add art to your garden, without spending a ton of money. If you head to your local garden store, and look to buy pieces from there, you will likely be paying premium prices. However, garage sales, thrifty stores, antique shops, and just stuff other people want to get rid of can make great additions to your garden with a little imagination. The key to affordable and unique garden art, is to re-purpose items that may have originally been created for a different purpose. It will add lots of visual interest to your garden, make it one of a kind, and is also a great way to preserve memories. We share ideas you can use to make yard art from junk, that you will love and won't have to spend much on.
Here are some things we have added to our garden over the last few years, that help to break up the green, and add some visual interest. When you have fun planters, you can use more affordable plants too, helping you to really dress your yard up on a budget. You can find some really affordable planter pots at Home Depot (starting at under $5) that you can use to turn many of the pieces we share below into planters. We share a number of small
The other thing I love to look for, are pieces that will carry a memory for you. We love to walk through the yard, and stop and remember how some of these pieces have been in our family before they were in the garden (like kids boots, old work boots, loved toys and more)!
Here are some unique garden art ideas we hope inspire you to turn your yard or garden into a place that means something special to you and your family for years to come. And be sure to share your best tips for making yard art from junk too.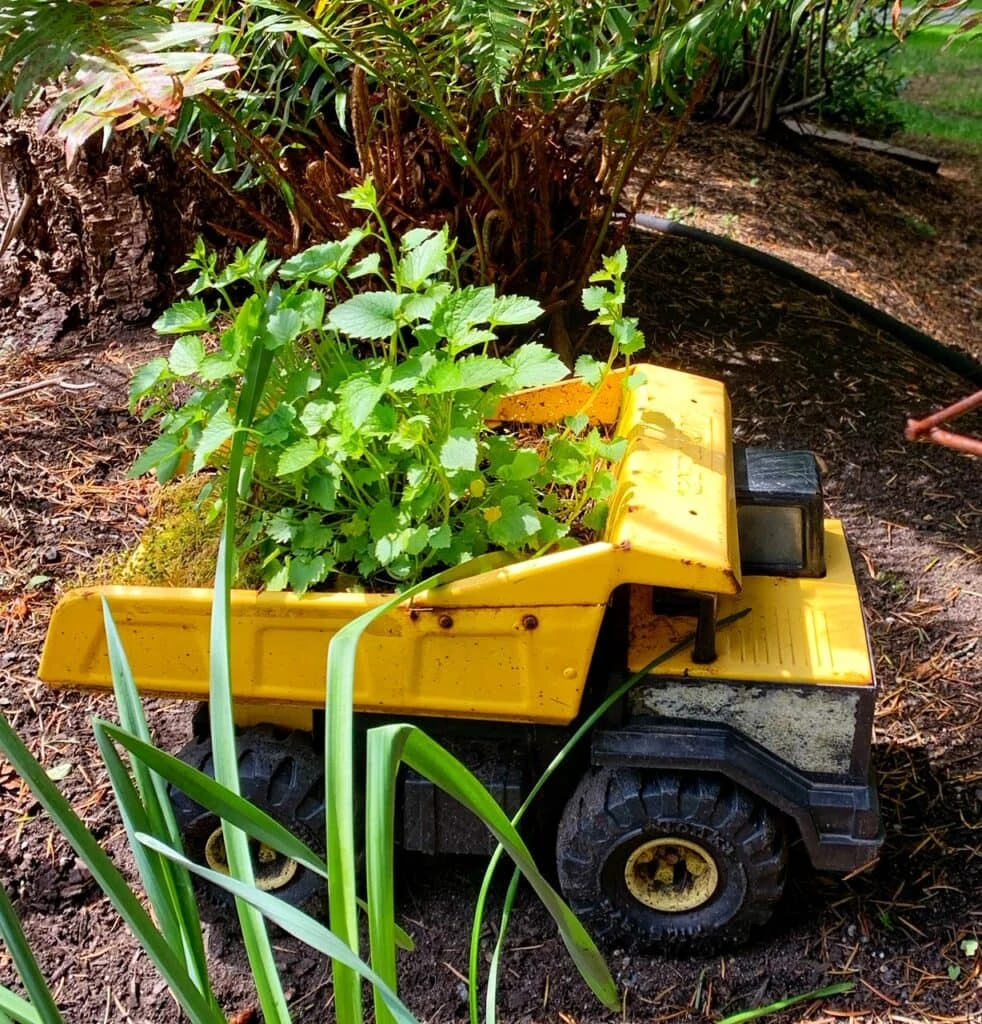 Use your kids' toys in your garden rather than get rid of them.
Do your kids have toys that carry special memories for you? Rather then give them away, turn them into a unique planter for your garden. Dump trucks are an easy one to plant in, but you could use many toys in various ways (sit a loved doll under a favorite shrub, or make a fairy garden out of an old doll house, etc.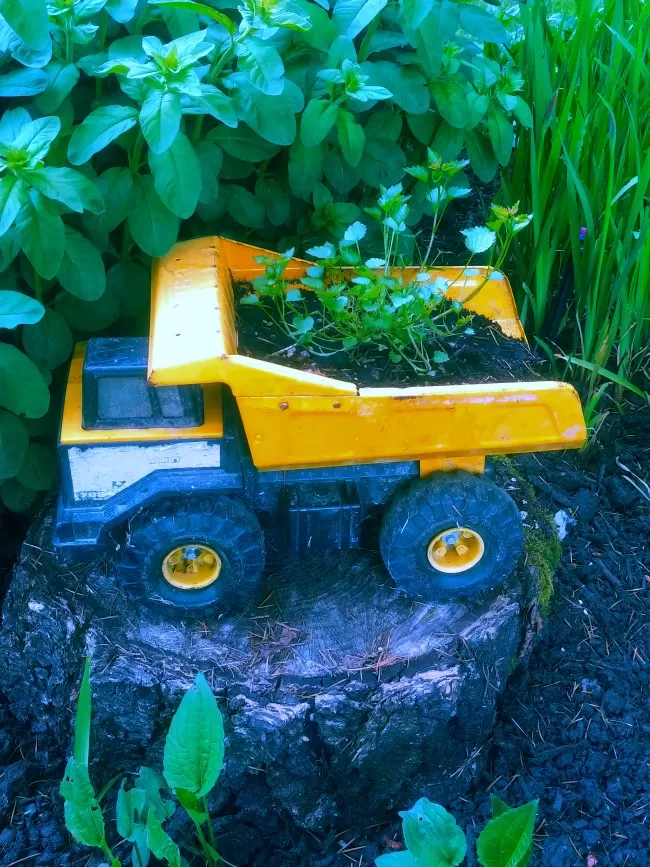 We also use our kids trikes in the garden or their little red wagons as planters. You can balance a plant on the seat, as well as behind the trike on the part the kids could stand on. Plus, I love the red color popping in the garden.
In addition to toys, think about saving baby shoes as another idea, and planting in those. Recycling old shoes for garden art is one of my favorite ways to create a keepsake for your garden!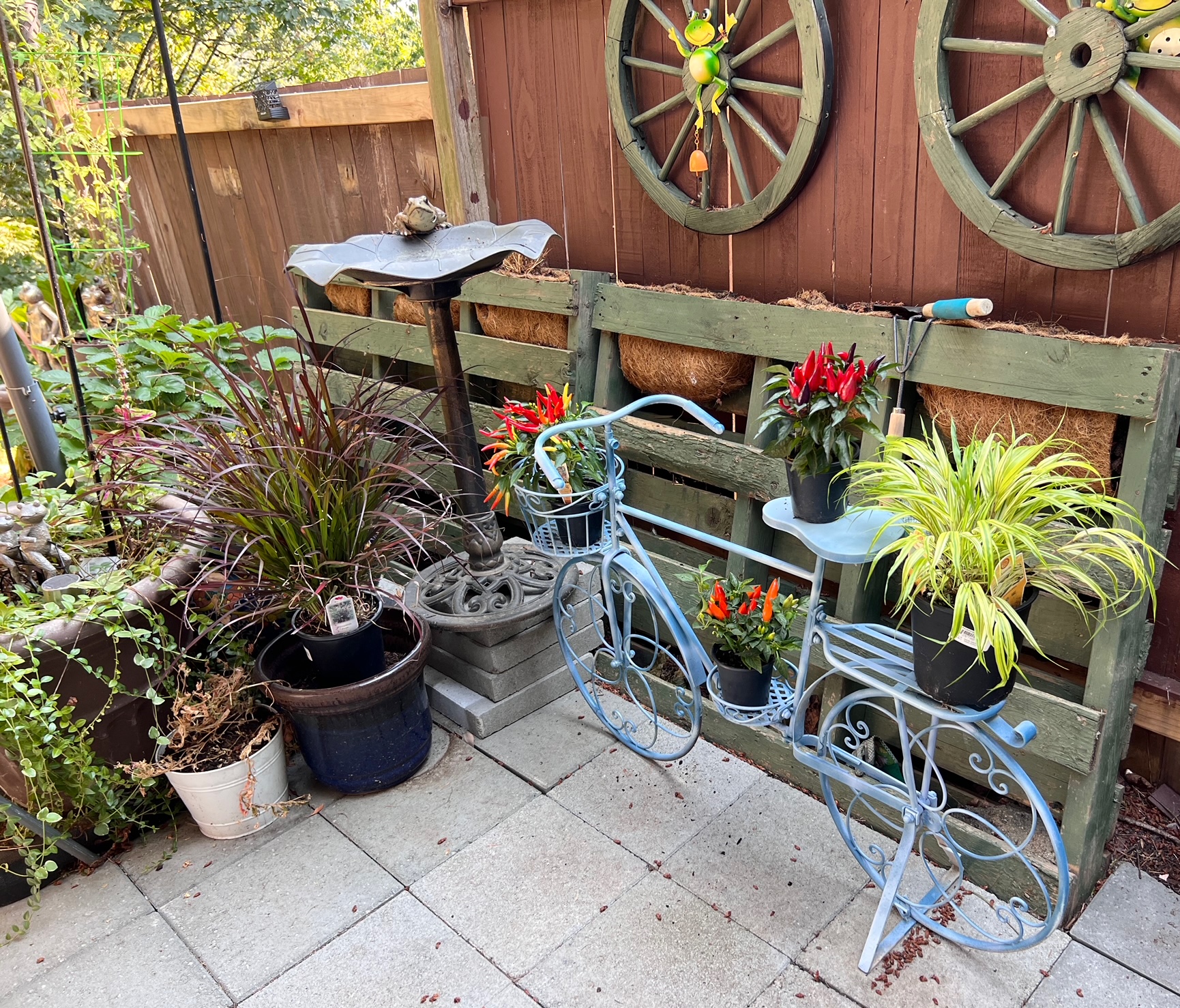 Use Bikes to Hold Flowers
There are a couple of options here. Some bikes were made from garden art (we found the one shown above in a junk pile someone was giving away, and just added some flowers on top.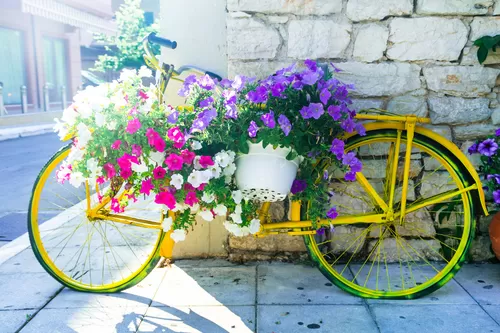 And sometimes you will find people giving bikes away. Really, you could use any old bike you want and spray paint it any color you want. Add a flower pot to the seat, one over the back wheel of the bike, if you have a space there, and add a basket to the front of the bike to. It makes a fun statement.
Old machinery, or even cars, make big statements in a yard if you have the space!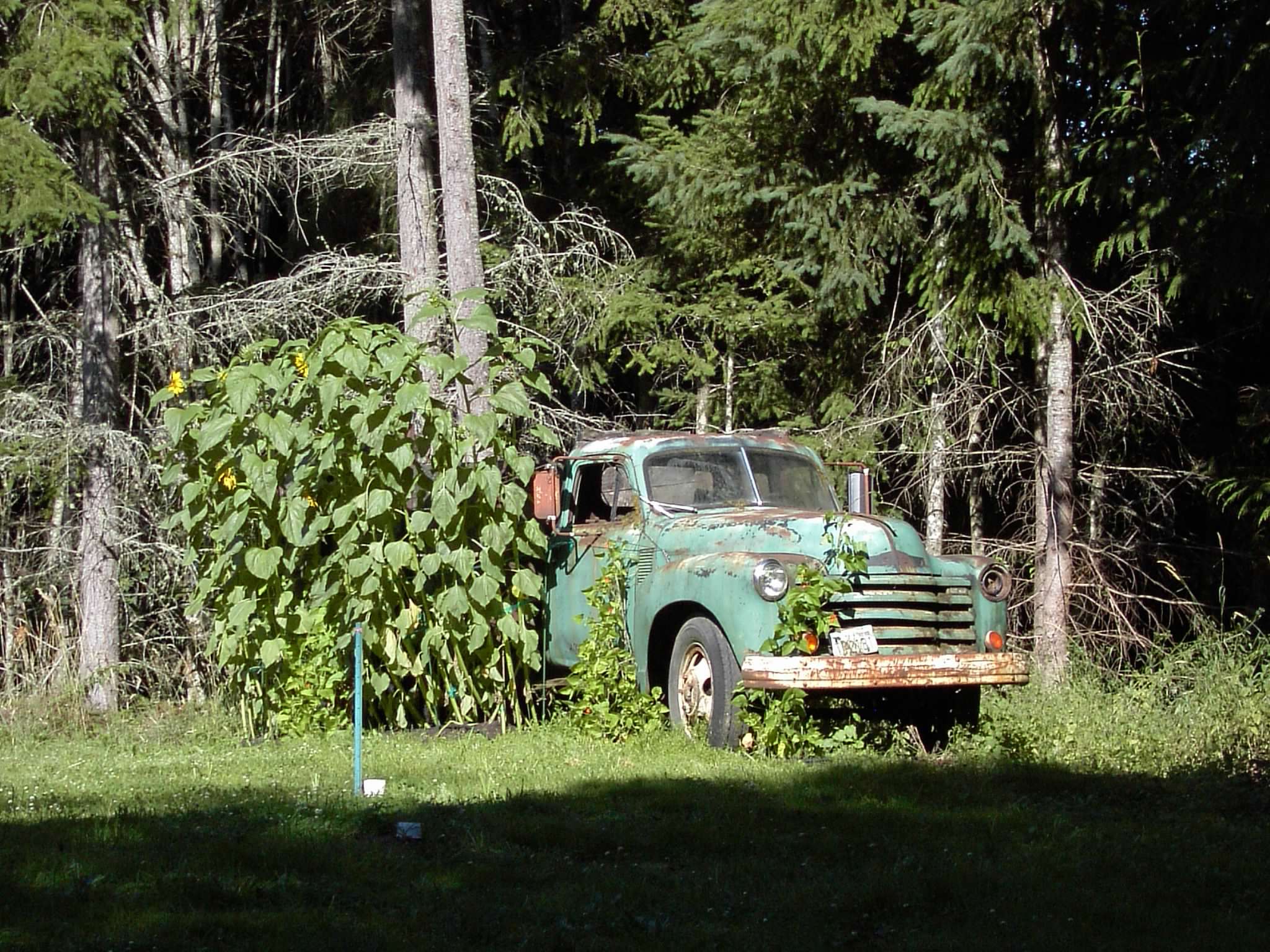 Here is an old truck that no longer runs and we grew sunflowers up the side of it.
Find an old piece of machinery or something that has great character to it? Put it in your garden, and plant flowers in the seat, or in an old engine. Or set a pot of flowers someplace on it. You can use so many different things for this kind of garden art, and it will be special and unique to your garden for sure!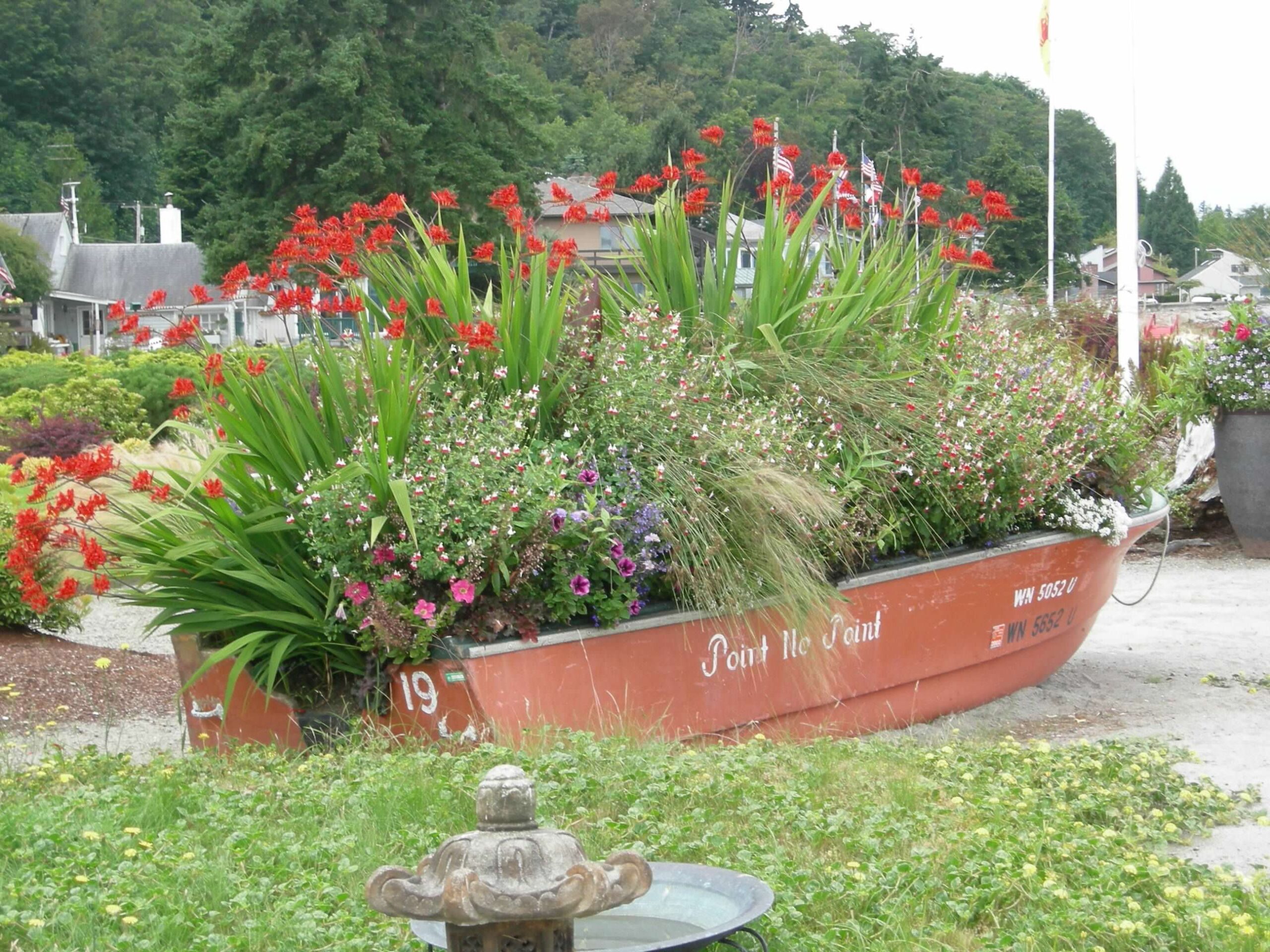 One of the keys here, is that you turn them into something of character, and they don't look like they were just dumped in the yard like its a junk yard. I love this old boat that was set in the front yard of this beach house, and used as a garden bed.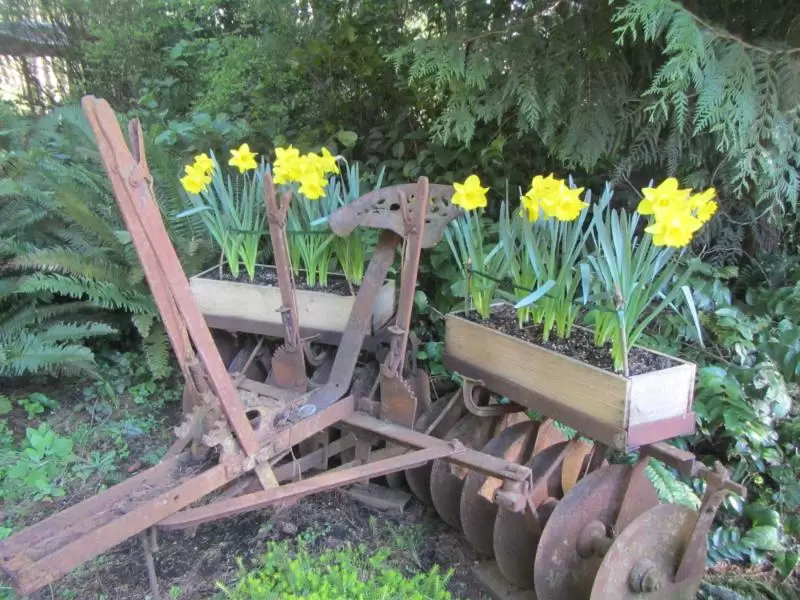 Here is some old farm equipment that we build planter boxes for, to turn it into a unique planter. It has daffodils in the early spring, and then other colorful flowers later in the summer.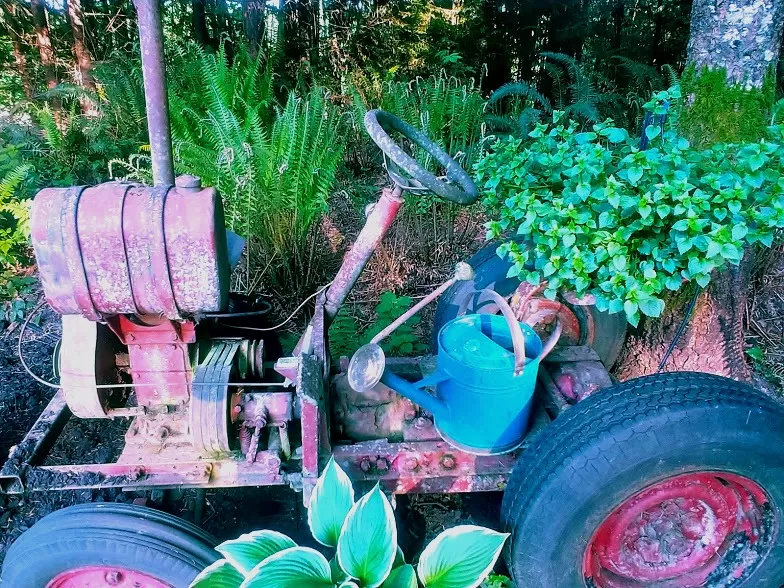 This is an old tractor that had a pile of dirt dumped on the site, and some greanery grown in that. Hostas are all planted around the front of it for more beautiful green to offset the old rusty red tractor.
Add found pieces on top of columns, or other found items to make them stand out.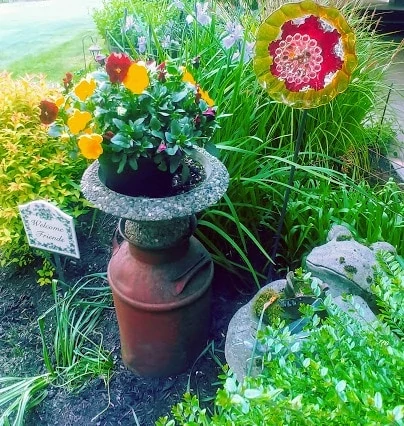 Use an old milk jug as a stand to give height to your planters. You can also use it as planter if you want. I have found old milk jugs for my garden at garage sales, and antique stores in the past.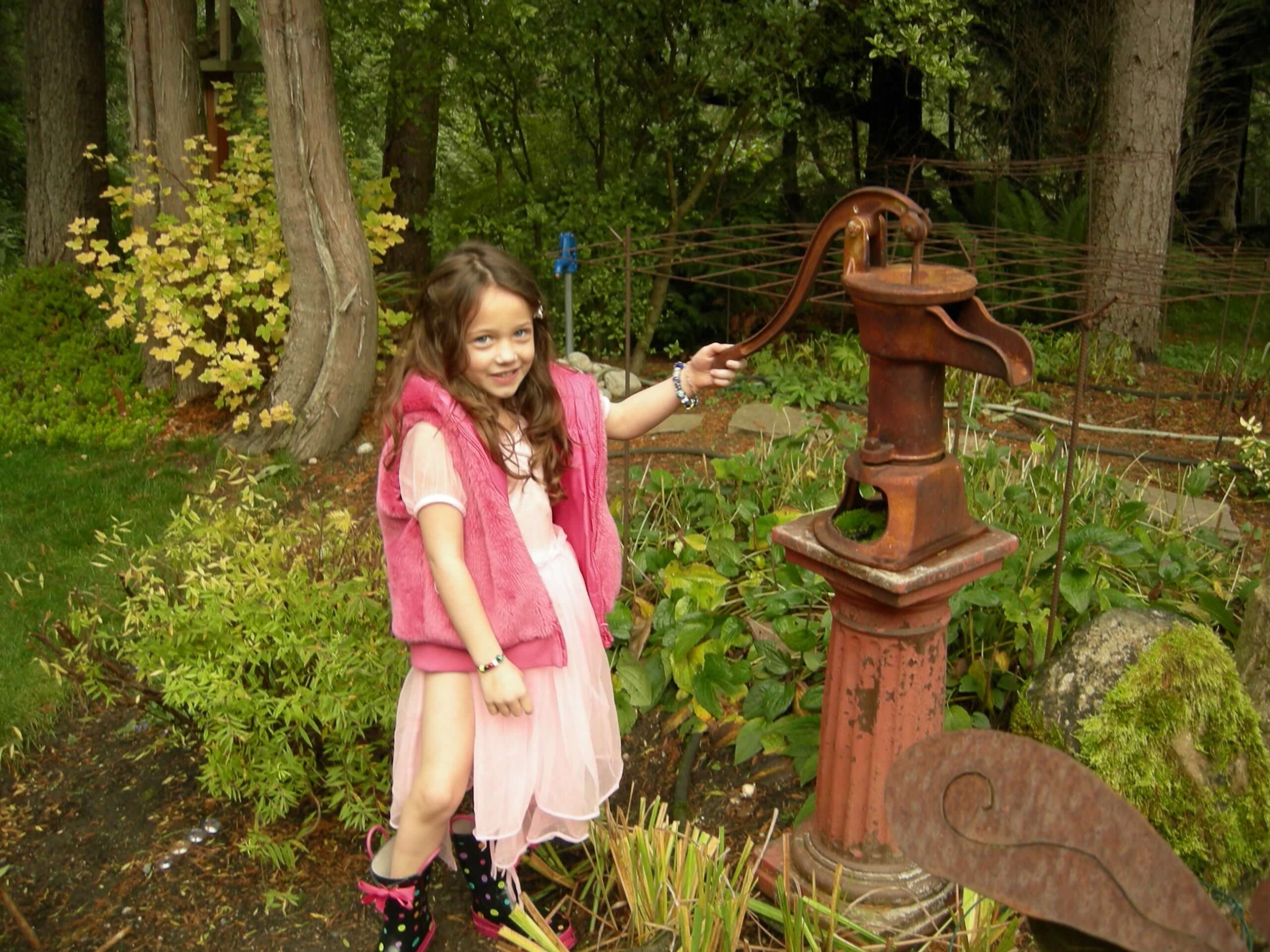 Here is an old waterpump we propped up on top of a small column, to make it stand out in the gardens. It adds a nice contrast to all the green around it, and the extra height really makes it pop.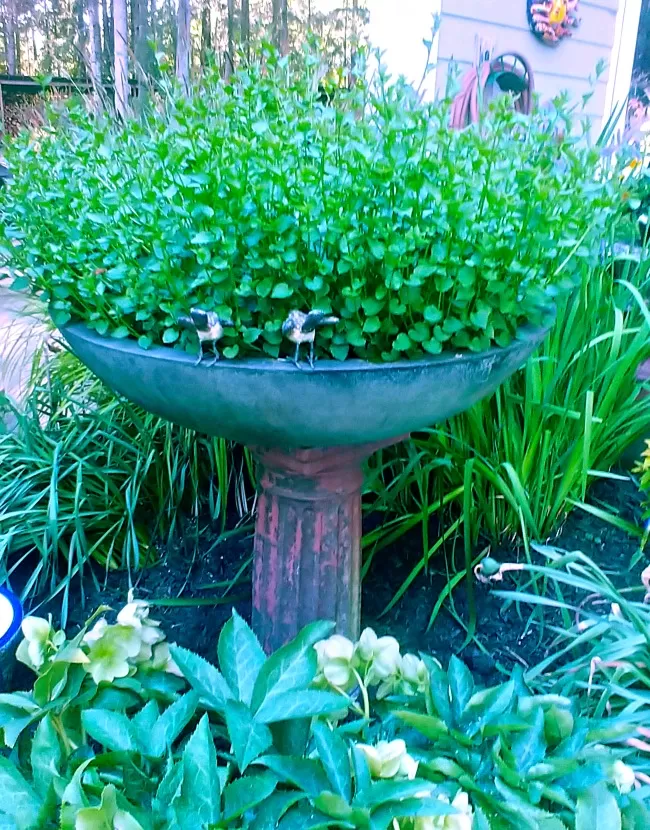 Here is another example of putting a cement pot on a column and planting in it. Balance one of those affordable aggregate rock containers on an old column base, for a cool looking planter. These are often more affordable then fancy pots, and this is a great way to make them have more visual appeal in your garden.
We share similar ideas on how to stack found bowls on large vases to make DIY Bird Baths here too.
Repurpose old shoes that carry a special memory into planters or decorative bird houses!
You can add succulents to so many different things. Add them in an old boot, or a baby shoe you want to keep. Your imagination is the only limit here.
We have shared before how we love to plant moss and succulents in our kids baby shoes. It has been such a fun way to remember their toddler days.
This cowboy boot has a fake aloe vera plant in it. We hide it in the garden, and no one even knows the plant inside is not real.
And here is an example of a work boot we turned into a bird house when it was retired from work, and no longer needed. Its a great way to remember how hard you worked to now have time to spend in the garden.
Repurpose kitchen pots and dishes you no longer need (or find at the thrift store) into planters or garden art.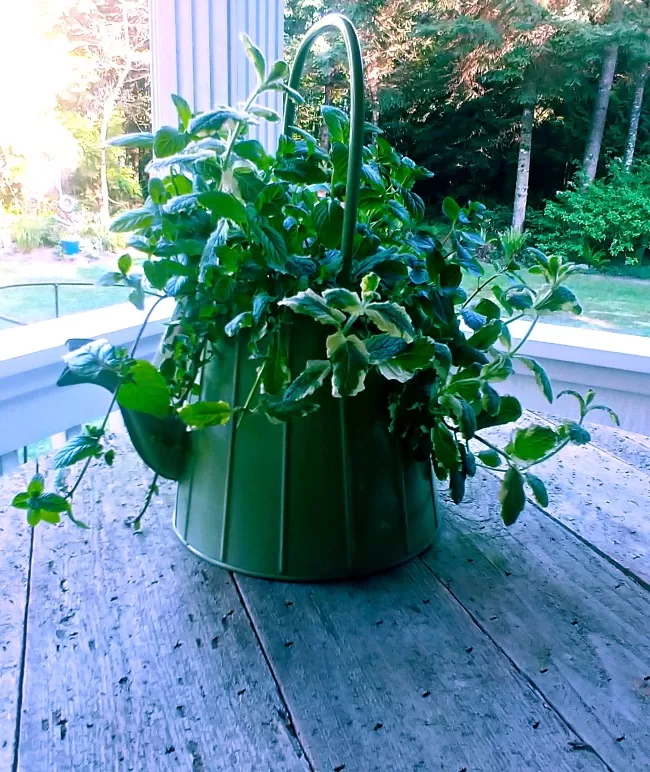 Look for pots and pans, or especially tea pots and large tin water jugs to use as planters. We have used tea sets, tea cups, ice cream cups, and so many more things from thrift stores as planters.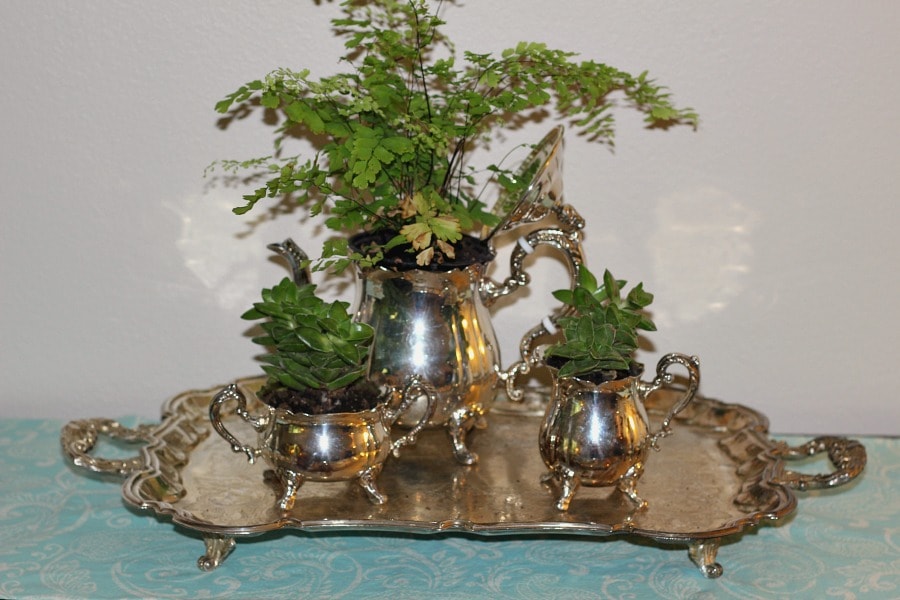 Plant herbs in a tea pot or a tea cup! This idea is especially fun if you plant herbs you can use in your tea (like mint versions), and it makes a wonderful gift as well! We later repainted it and added a brighter pop of flower color, so this one has lasted us a few years now and been through a couple of transformations.
You could also add 12 small succulents to a muffin pan, or any other cool dish or pan from the kitchen. This idea is really fun to hunt for at garage sale and thrift stores, and it is a great way to save on fun planters!
One important tip here is that you will want to drill some holes into the bottom of whatever you use, for drainage. This will make it more likely that your plants will have a long healthy life.
Find lots more tips and ideas on how to hunt for these out of the box planter ideas at your local thrift store here.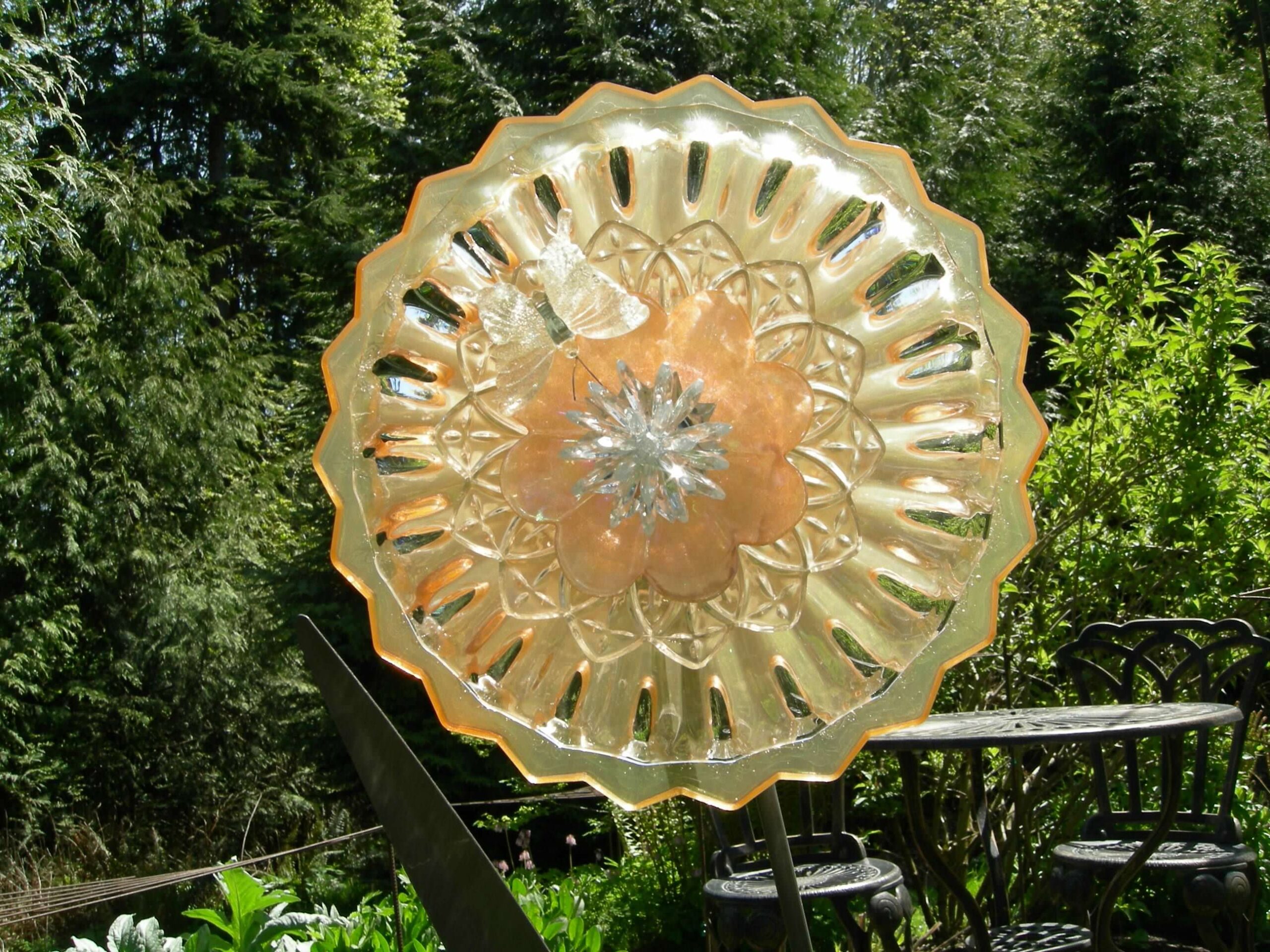 Another idea for dishes is to make glass plate flowers for the garden by up-cycling plates, bowls and more. We show you how to make your own here, and it is one of our favorite ways to dress the garden up. Plus, they make impressive gifts for others!
Grow Flowers up an all old set of mattress springs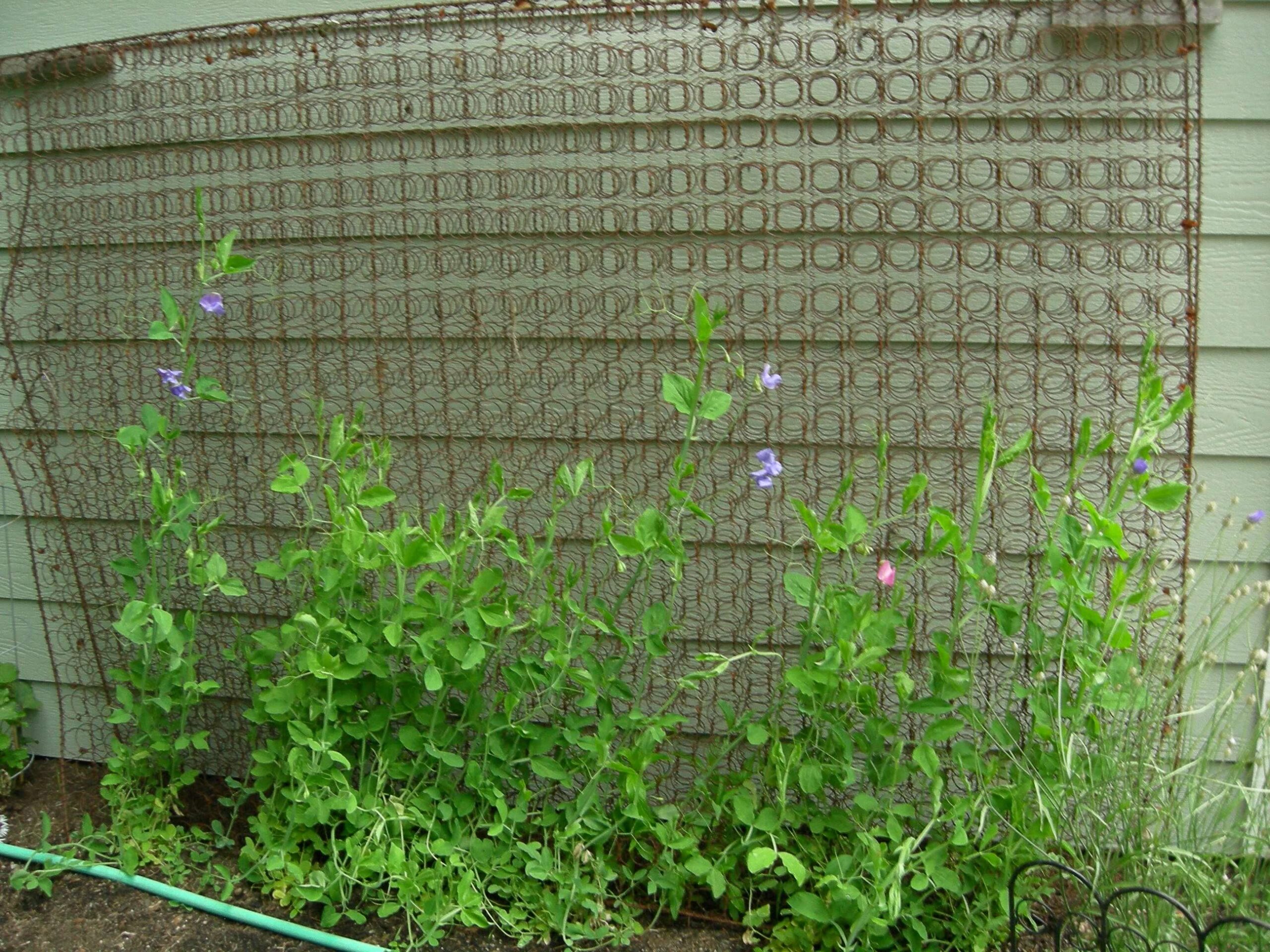 We just tossed this old set of rusty mattress springs up against our garden shed, and started growing some vine plants up it.
If you want to put a little more work in, you could build an arbor and put this at the top of it to grow your vines through.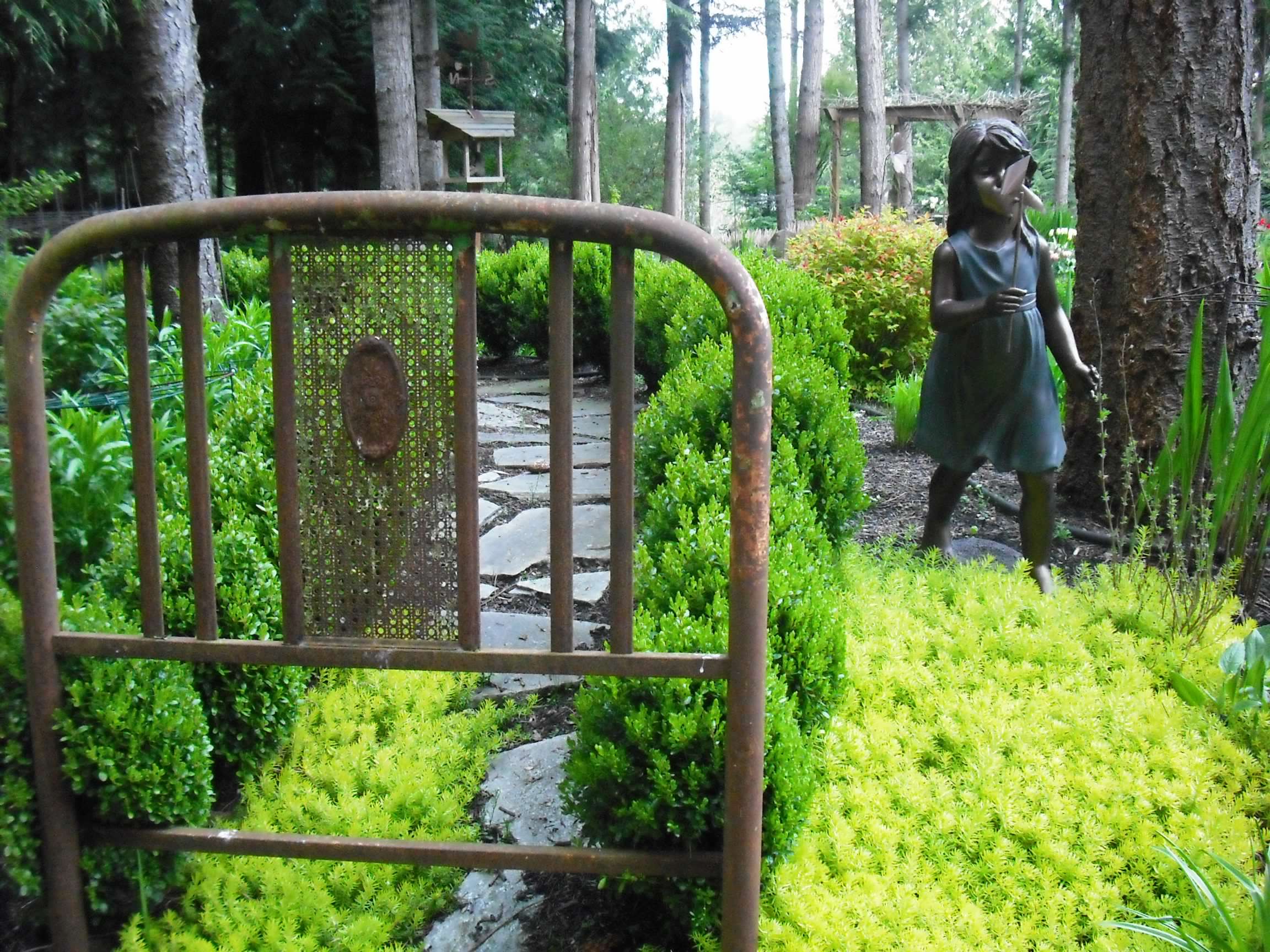 Another idea here could be to use an metal bed frame to create a garden gate. I love these as they are not only an art piece in the garden, but they are also functional, and a great way to define space.
You could also use the metal bed frame as something to grow vines up as well (like the bed coils mentioned above).
Turn old junk wheelbarrows or wagons into beautiful planters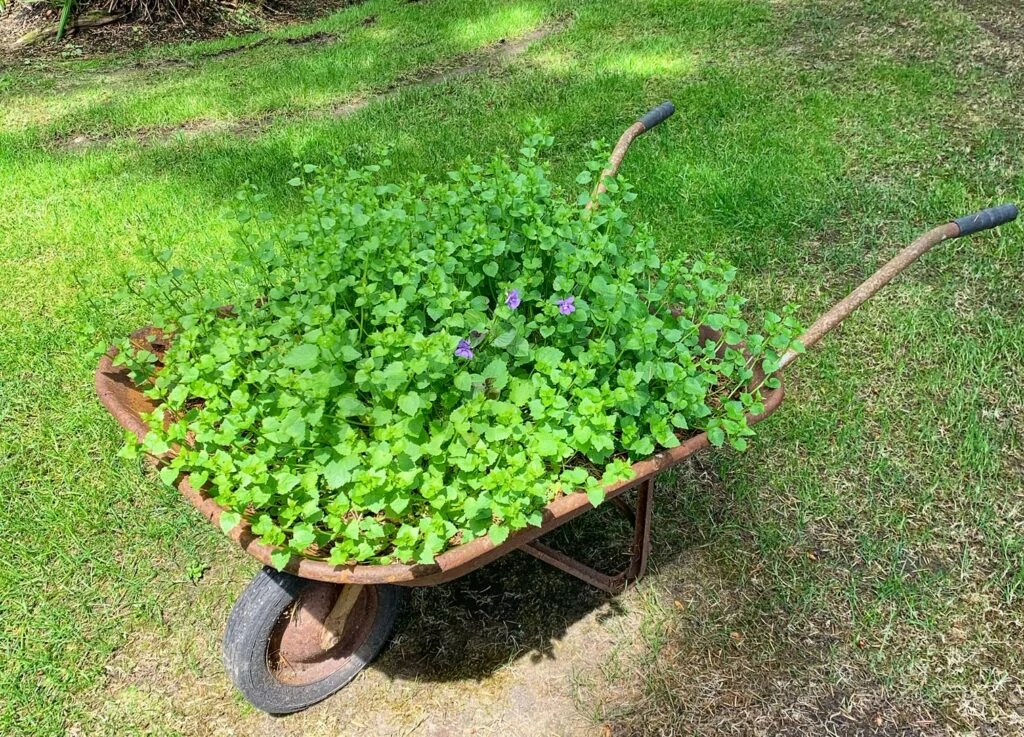 Have an old rusty wheel barrow or wagon you are not using anymore? Add some dirt to it, and plant away. We have lots Wagon Planter Ideas here too!
We have more ideas on what you can Reuse and Repurpose Items to Create Beautiful Planters on a Budget here too.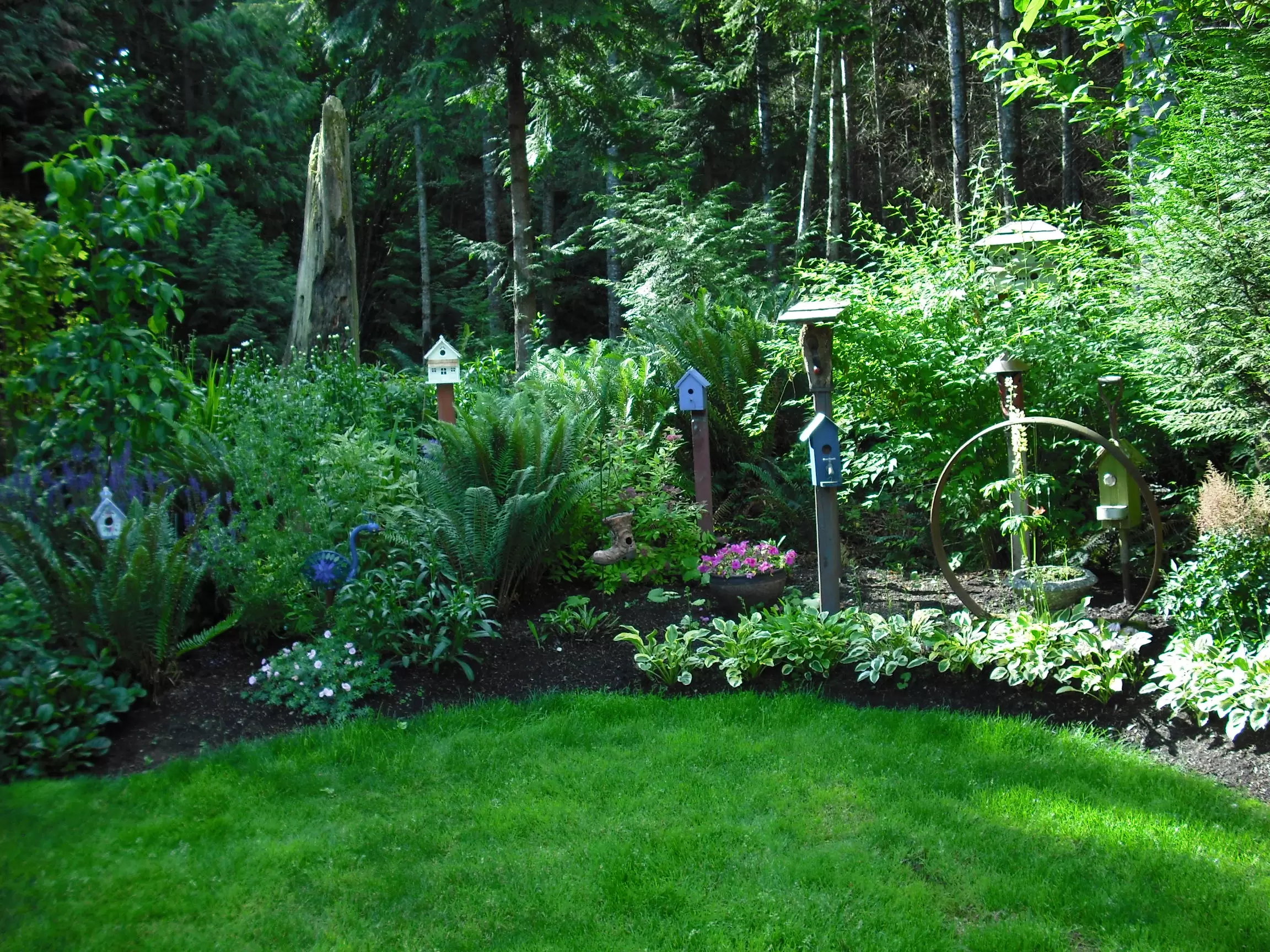 Make a bird house garden!
You do not have to use expensive bird houses. Get the wooden bird houses, and paint them fun colors, then put them on boards that you cut at different heights. This is more of an art feature, then real bird houses, but it is a fun conversation pieces.
Use Sticks from Your Yard To Dress Up Your Garden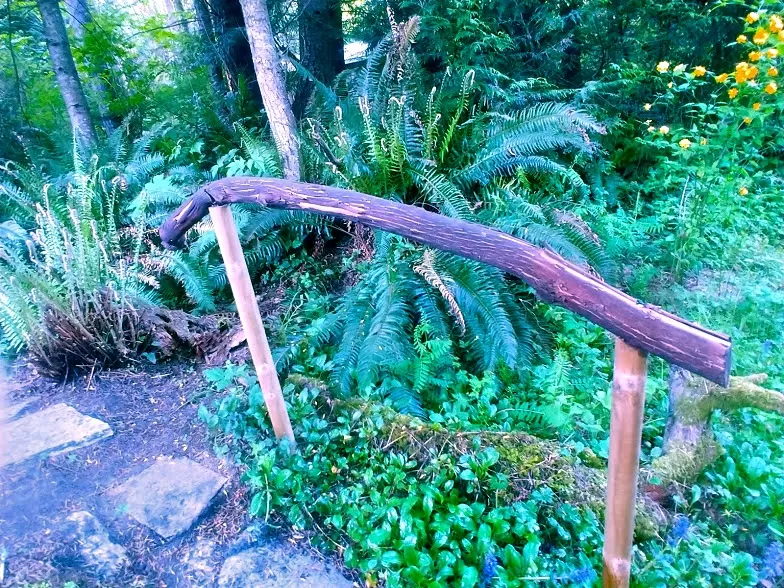 Define a walkway by making an organic looking rail. Find a curvy piece of wood, and nail to to the top of two straight pieces of wood that you have staked into the ground. It defines a walkway, but keeps things feeling like you are still in the woods, and blends right in with the scenery around you.
Use anything you can figure out how to plant in! 
You can really use just about anything you find that you can add a plant pot to as a planter. Here are some we have used in our gardens.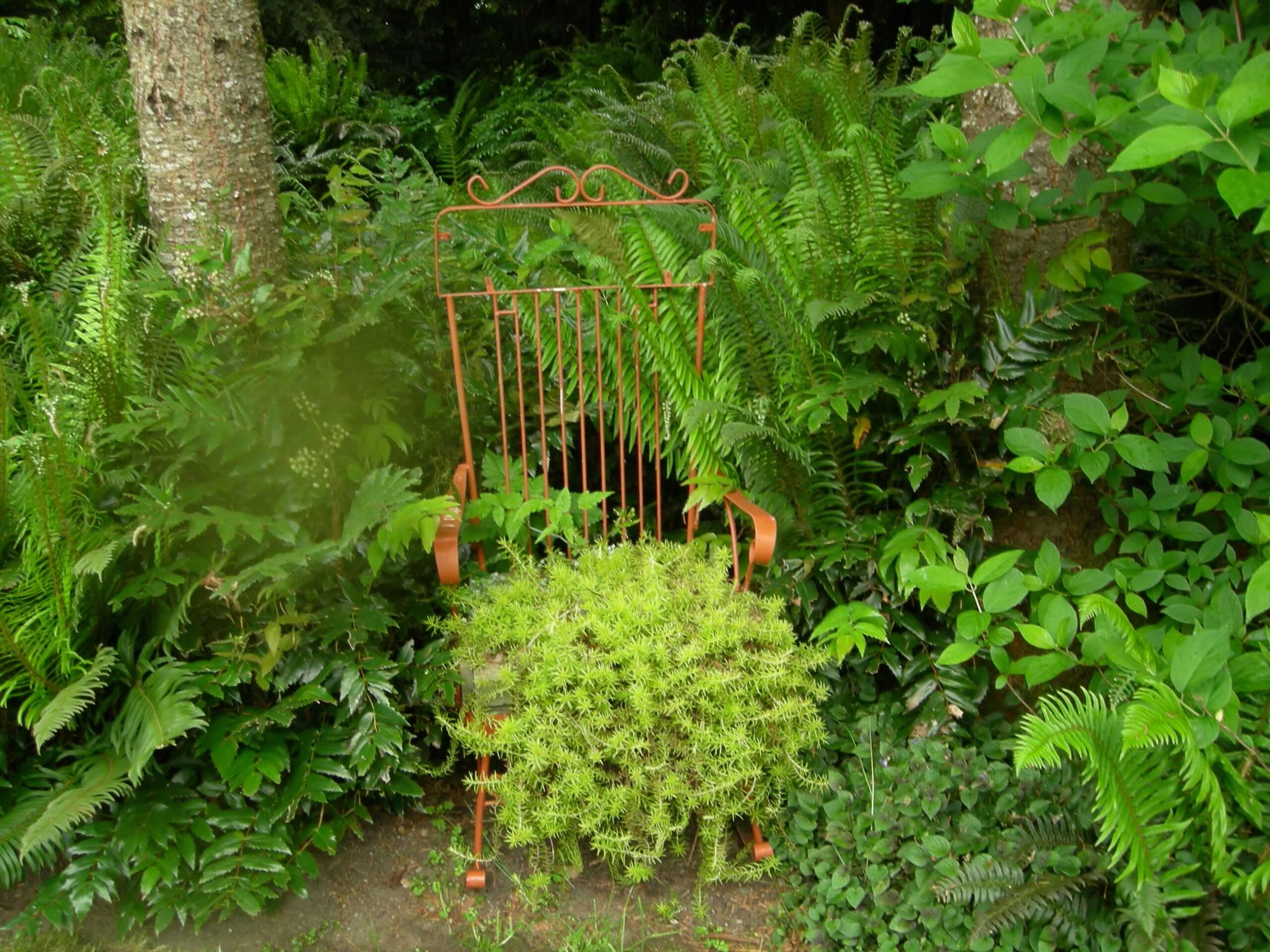 Here is the ultimate in unique garden art ideas from junk. We found this metal rocking chair in the woods adn addes some orange paint to it, and a planter on the seat that we grew some greenery on.
If you come across old metal furniture at a thrifty store or garage sale, pick it up and spray paint it a bright color, then add it to your garden. You could even put a planter in the seat area, to make it functional. Functional or not, it is a fun way to break up all the shades of green in gardens with some fun color!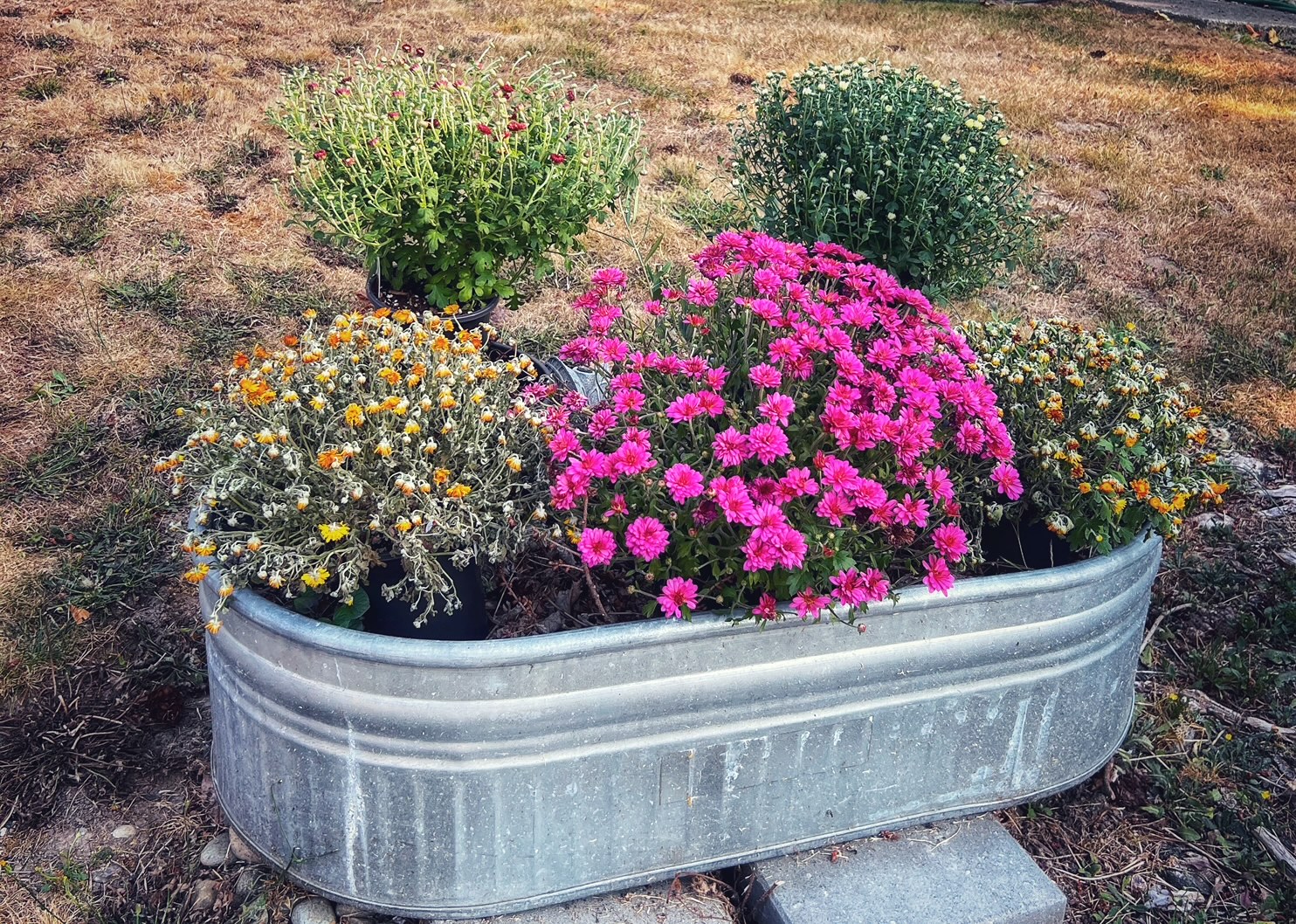 I love my metal trough. I drilled some holes in the bottom, and set it in my front yard. You could plant flowers in it, but I love to just add pots so I can change them out year round. I have tulips in it in the spring, flowers in the summer and mums in the fall.
We used an old bathtub that we took out after remodeling, as a strawberry garden one year. You could plant flowers in it though like the one above.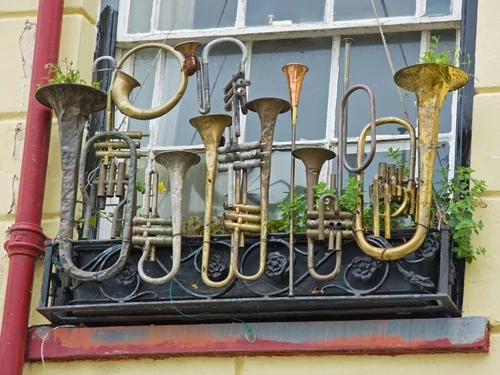 Your imagination is really the only limit. If there is a way to add dirt and flowers, there is a way to make it look great in your garden!
Plus find more ideas on how to Reuse and Repurpose Items to Create Beautiful Planters on a Budget.

More Unique Garden Art Ideas From Junk You Might Be Interested In Here.