The Infinite Experience Space Tour – An Immersive & Interactive Virtual Reality Experience
This post may contain affiliate links and I may be compensated for this post. Please read our disclosure policy here.
Disclosure:  We were hosted for this experience so we could review it & share our experience. All opinions are my own. See our disclosure policy for more details.
UPDATE: Extra 20% off –
For a limited time, save 20%* on tickets to The Infinite for bookings until September 5th. Just use promo code FINALBLASTOFF20.
*Get 20% off each ticket for a maximum of four (4) tickets purchased with promo code FINALBLASTOFF20. Valid for tickets until Sept 5th. Can only be used once per user. Offer may not be combined with any other offer and can be revoked without notice. Additional service fees apply.
******************
The Infinite Experience Space Tour – A Virtual Reality Experience
A new awesome experience has come to the Tacoma area & it is one of the most unique experiences you will ever have!  The Infinite Experience Space Tour is an interactive & immersive Virtual Reality experience & space-themed art installations to give you a better perspective of what life is like in space.  The Virtual Reality experience uses footage shot on the International Space Station documenting the life of eight international astronauts both inside & outside the space station. The footage is part of a Emmy award-winning series, Space Explorers: The ISS Experience, produced with TIME studios, shot over the course of almost 3 years.
This is just the 3rd city that has hosted this event, so I am so excited that our local city, Tacoma, WA is the one to host it next! The Infinite Experience tour was first in Houston & then Montreal & now it's here in Tacoma for the summer at the Tacoma Armory downtown. They are planning on visiting 3 cities a year, so we are thrilled to have it here in Tacoma for the next few months!
Whether you are a big space enthusiast or not, I can guarantee that everyone will be fascinated & intrigued by space after experiencing The Infinite Space tour. My daughter has really shown a lot of interest in astronomy & space after our visit to NASA's Kennedy Space Center last summer in Florida, so she was absolutely thrilled to experience this & this tour really helped to grow her interest for space even further. For the rest of us, even though we don't have the same passion she has developed for all things space, we absolutely enjoyed every minute of the tour as well & it has made me want to learn more about the International Space Station & all the work the astronauts are doing up there.
Since the high majority of us will never make it to space, I loved that the Infinite Experience really brought space to life for us in such a real & tangible way. Taking part in the VR experience, we truly felt like we were on board the ISS with the astronauts & got to explore & see what it was like. Stepping outside of the ISS & getting those views of the vastness of space & the enormity of our planet Earth was just incredible! There's just something about actually moving & experiencing it, versus just watching it in a movie – it was truly one of the coolest experiences we have had in learning about space (& this is after visiting Kennedy Space Center last summer, which we loved – but this definitely rivaled that experience).
Hours/ Dates of the Event & Cost:
Dates: Started May 25, 2022 thru the summer

Hours: Monday, Wednesday, Thursday and Sunday: 10 a.m. to 7 p.m (last entry), Fri & Sat Friday and Saturday: 10 a.m. to 8 p.m  (last entry)
Length of Time: Plan on 60 minutes – 35 minutes is the guided VR experience & another 25 – 40 minutes for exploring the other exhibits at your own pace
Age Requirement: Ages 8 & up
Price:
Adults: $48 (weekdays) & $60 (weekends)
Child (ages 8-12): $15 (weekdays) & $22( weekends)
Students (ages 13+): $28 (weekdays) & $32 (weekends)
Seniors (65+) & Military: $40 (weekdays) & $48 (weekends)
Group Bundle (10 or more): 10% off – $43.20 (weekdays) & $54 (weekends)
Reduced mobility (+ free companion): $28 (weekdays) & $32 (weekends)
When you arrive, you will be checked in & will check your bags/purses at the door for no distractions/items to hold while you are focused on walking with the Virtual Reality goggles around the room. Then you will head into the room to read about the tour, learn about how the VR experience will work & get in line for your turn.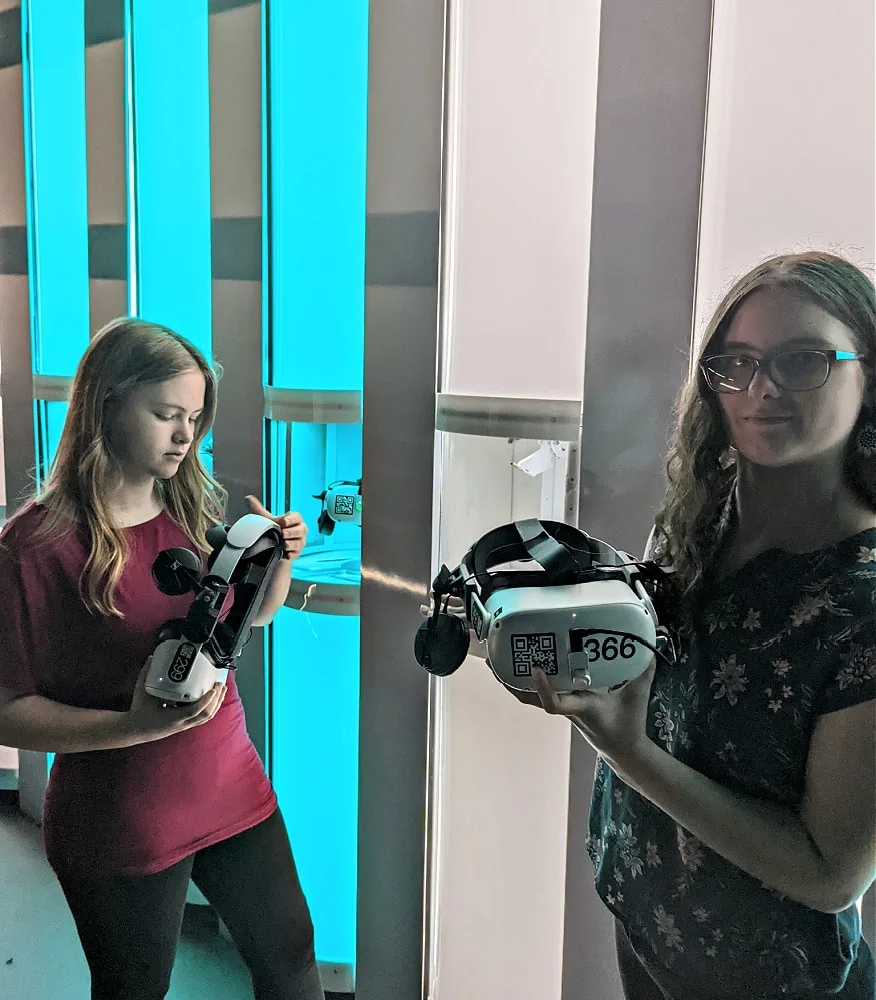 You'll first enter into an Onboarding room where you'll wait for your turn for the Virtual Reality experience to start. You'll be given all of the guidelines for the experience & how it will work & then head into the room to put on your VR goggles. Then, it's time to head into the large room where you will be moving around the room, exploring the International Space Station with your Virtual Reality headset. This part of the experience lasts about 35 minutes for the collective, guided VR experience.
All of this is done with the VR headset on, you are moving around this large room guided by the VR system. It's quite brilliant how it works as you will see avatars of the people around you (or at times, just glowing bubbles of where they are, so you don't run into people). The people you arrived with will be in one color (for us, it was blue) & then other people were in gold/yellow & then the employees were green. So that was really helpful to know where your family or friends were at all times & staff/other people, so you could move around safely & focus on all of the footage you were seeing.
During the VR experience, you are moving through the interior of the International Space Station (ISS) as well as stepping outside of the ISS to see the view from space & the enormity of Earth as seen from ISS. You'll also hear from astronauts inside the ISS, too, who share about their day-to-day experiences onboard the ISS.
Once you have completed these different areas of exploring the ISS, you will then be guided to sit down in chairs together & this is where you will watch a short VR film of a space walk by several astronauts onboard the ISS. This is all real footage thru VR & you can turn around & get 360 views of what they are seeing from the space walk outside the ISS – including the huge views of Earth! This was so mesmerizing to watch & feel like we were right outside in space with them.
After the virtual reality experience, you will then enter several exhibits that  you can walk thru at your own pace. These are art installations that are spaced themed & they are so fun. My teens had a blast with these 3 art exhibits & it's the perfect place to take fun & unique photos & videos with all of the light & sound displays going on. Especially since you can't take any photo/video during the VR experience, so these art exhibits are a fun way to document your experience on the Infinite tour.
Exhibits:
The International Space Station (ISS) –
This is the collective VR experience where you are moving around the room to explore the International Space Station (ISS) via Virtual Reality. This is so different from most VR experiences & other types of space films in that you are typically sitting & watching it; however, in this case, you are moving all around a large room, guided by the VR experience and it's fully interactive & immersive so you feel like you are right there in the middle of everything.
Everyone is moving & experiencing all of this at the same time, yet it's going to be a completely different experience for everyone. There are glowing blue orbs located all around the room, spaced out from each other & it's your job to go around & find them & "touch" them. Once you touch one of the orbs, then it will transport you to a different place at the International Space Station just as if you are one of the astronauts with information about what you are seeing or hearing from the astronauts, or giving you unique views from inside or outside the ISS. Since you are constantly moving, turning & checking out the ISS, it really feels like you are right there exploring it & listening to the astronauts. Such a unique perspective and 360 degree views that you will have as you explore the ISS.
And now I totally want to go back & do this again as there are so many different orbs around the room that you can have a totally different experience from one visit to the next just by activating different orbs – so you can learn all new information & get more perspectives about life in space. It was just so much to take in & now that we know what to expect & how it works, we all definitely want to try it again!
The Space Walk –
The Virtual Reality program will guide you into seats at the end of the ISS tour. From here, you will watch a short VR film that was filmed during a space walk with several astronauts from the International Space Station. You can sit up & move your head all around to get the 360 views that they are seeing from their perspective. It really feels like you are right there with them as they are working outside of the ISS. My favorite part was when the Earth would come into view & it just looked so massive from space (you also have these views while you're exploring the outside of the ISS too). You could see the Earth turning & pick out the different continents & countries, too, which was so cool!  It really makes you realize just how massive our world is & how our corner of the earth is just a small part of it!
Ryoji Ikeda's "The Universe within a Universe"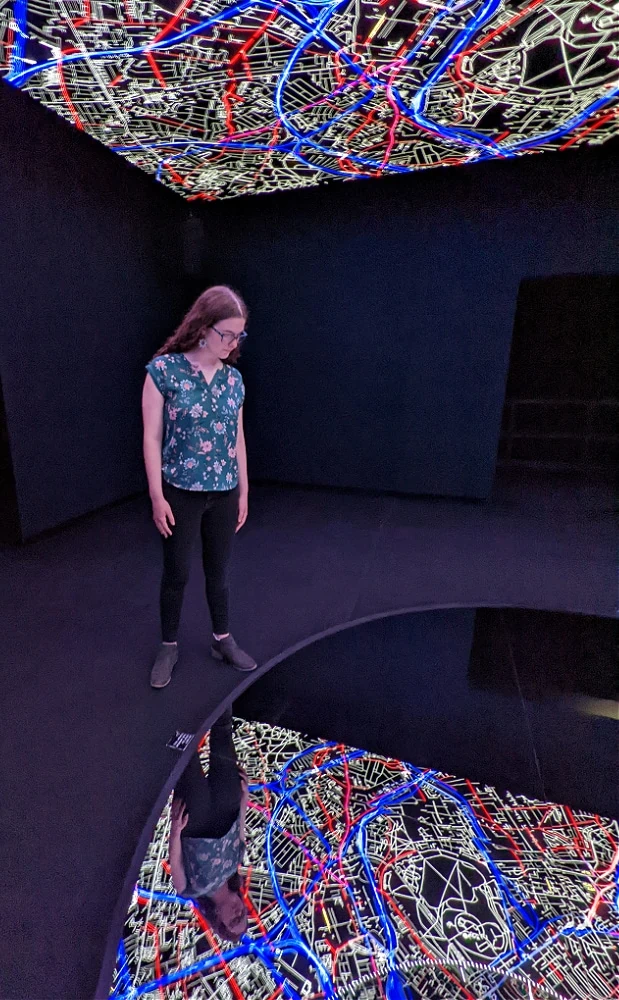 This was such an interesting art exhibit with a space theme by world renowned Japanese artist, Ryoji Ikeda. It's called "The Universe within the Universe", a dazzling light & sound show display displayed on a huge screen on the ceiling & reflected in the mirror on the floor for an all-encompassing experience. It is constantly changing, fast-paced & a great place to just take it all in or take some fun photos & videos of all that you are seeing & experiencing. This art installation is supposed to simulate traveling thru a black hole in space. It is around a 10 minute display that you can stay & watch as long as you'd like – it was definitely mesmerizing.
The Wormhole –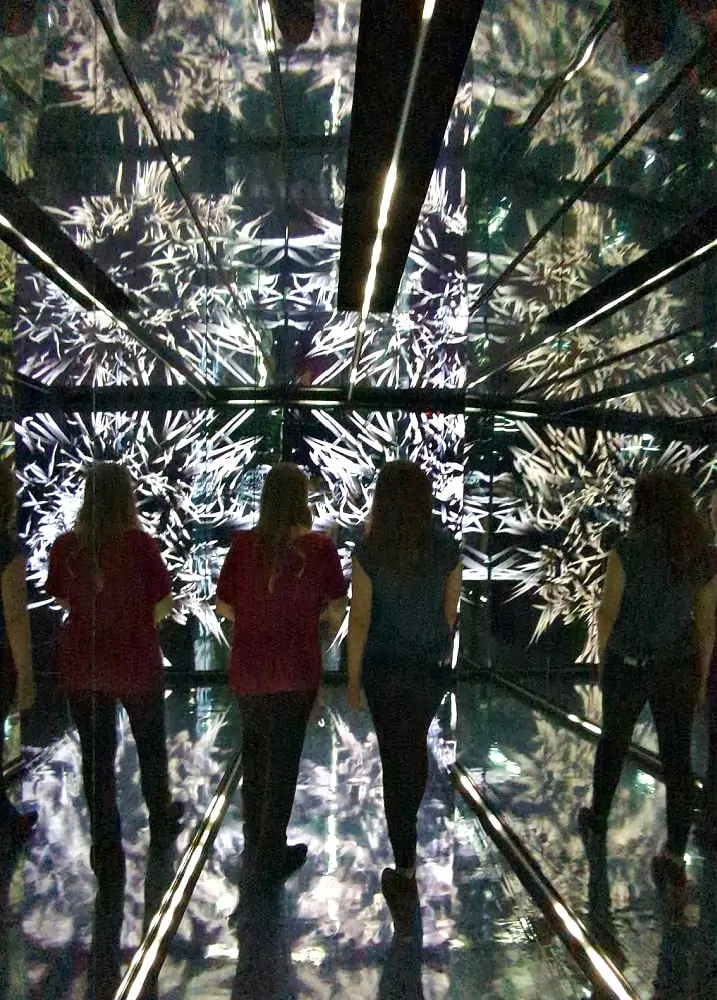 The next art installation is meant to simulate returning to Earth through a "wormhole". This is a pathway which is surrounded by mirrors on all sides & it creates the coolest effects. We realized using our phones for photos & videos that the cell phones magnified it even further, too.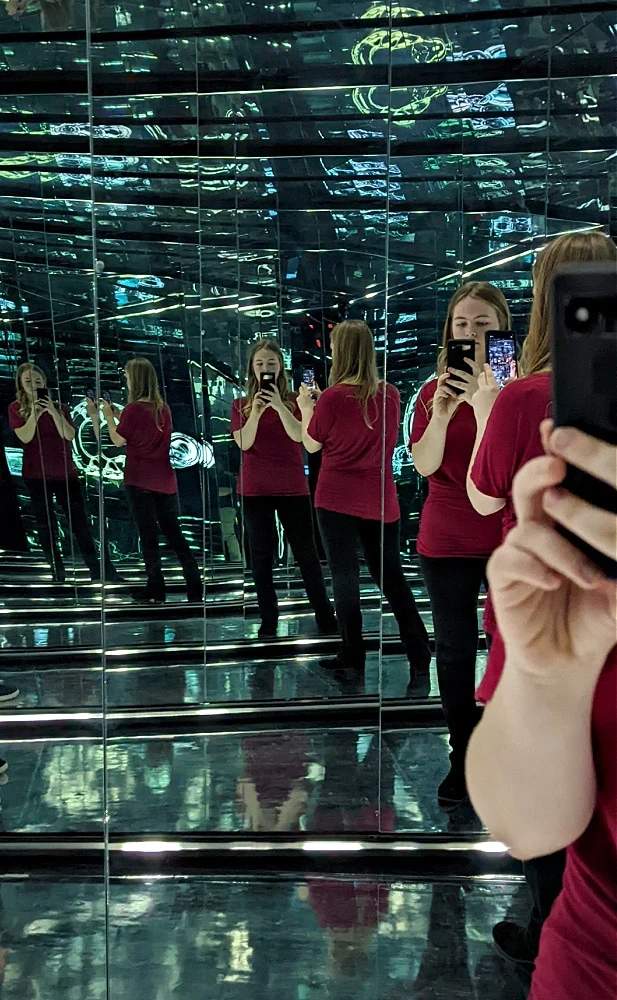 My girls had a blast in this room taking silly pictures & seeing their multiple reflections in the glass. The light effects just made all of the pictures turn out so fun so it was definitely a teen hit! (And with the adults too – so many fun poses to try in here!)
The Origin –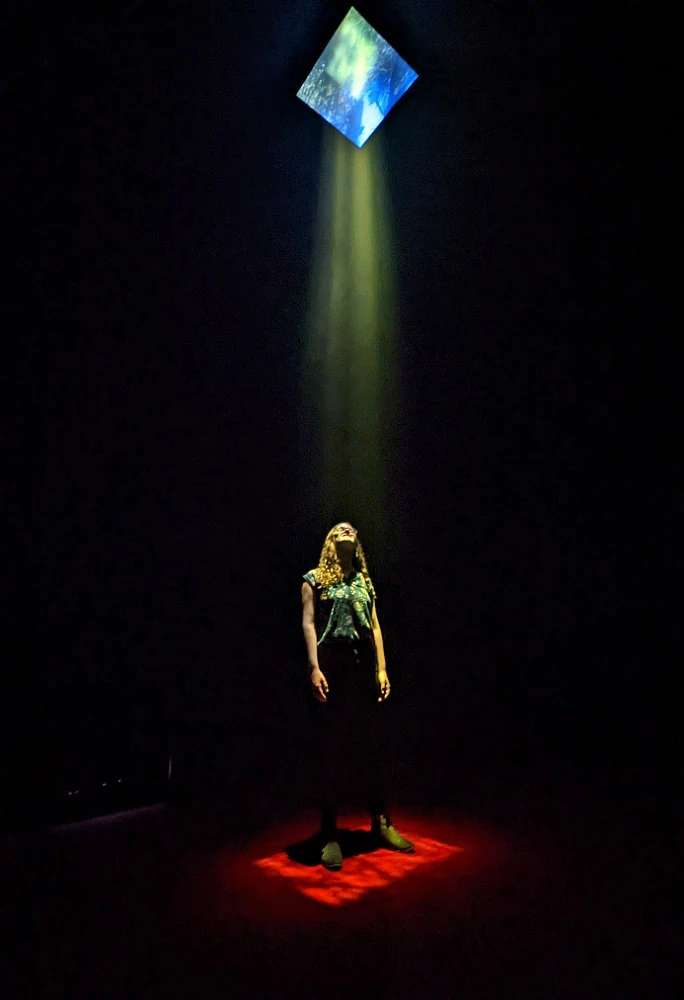 I loved the simplicity of this last art exhibit, with the possibilities of the artistic direction you could take with your photos & videos as there was a dark room with a single beam of light coming thru. You could stand under that light & the pictures were so dramatic. Definitely a lot of different opportunities for creative & artistic photos to be taken here.
We appreciated having the art installations after the VR experience as they were so different  from the VR tour, yet all tied together the space theme so well. Since there is no way to share what your VR experience is like thru photos or videos, we loved that this was a way we could capture our memories from this tour thru the art installations & such creative opportunities for photos & videos of each other in these rooms.
Shopping:
Once you exhibit the tour, you'll find a gift shop. This is your chance to buy a memento to remember your experience on the Infinite tour. They had a variety of different clothing options for men, women & kids (t shirts, sweatshirts, hats, etc). They also had a nice coffee table type of book and other mementos.
Tips for Your Visit: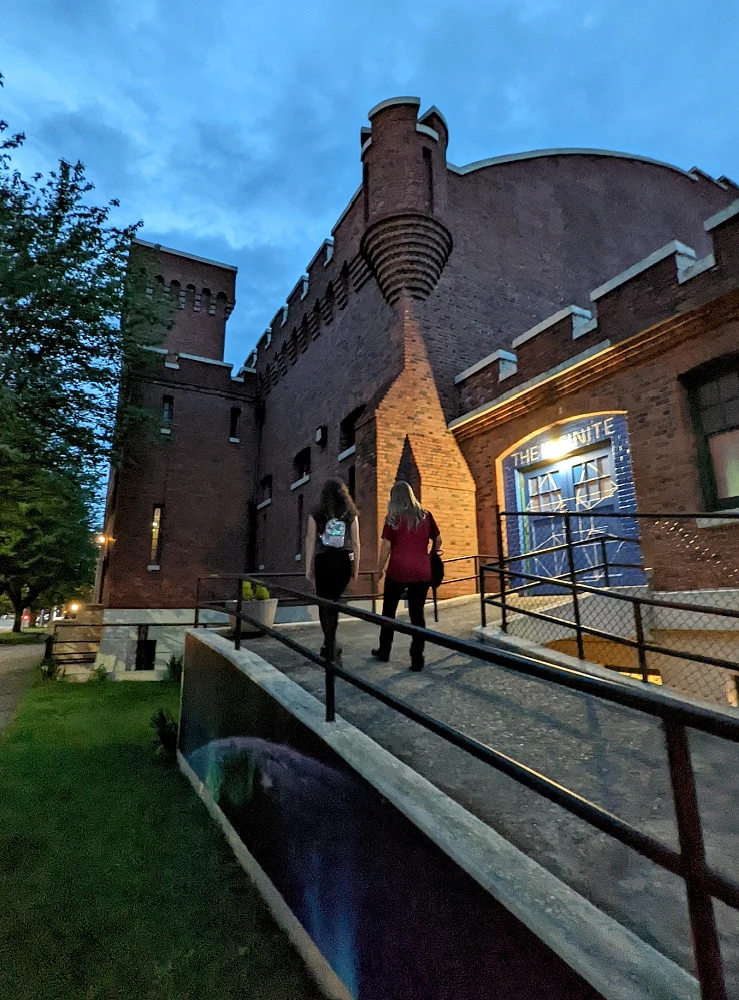 Parking – There is street parking available around the Tacoma Armory on surrounding streets near the Pierce County District Court Building. And there is also paid public parking available next to the event as well (operated by LAZ parking). You'll enter the venue on the west side of the building on Yakima Avenue.
Clothing – Due to the nature of the VR experience & some of the exhibits – no high heels are allowed. They also recommend that you wear pants (rather than dress/skirts) as there is an exhibit with a lot of mirrors on all sides (including the floor), which is supposed to represent a wormhole in space.
Sensitivity to Light / Sound – If you are someone who is sensitive to light or sound (or your child is), just be aware that after the VR experience, several of the art installations do have flashing lights & louder sounds. I have had issues with vertigo this year, so in one room (the Ryoji Ikeda art exhibit, the first room after the VR) I did have to look away from the flashing lights a few times as it could get more intense during certain segments of the show. But it was easy to close my eyes for anything that was too intense.
Captions – If you are someone who has a hearing loss or just more of a visual learner – they do offer captions for the VR experience. I have a severe hearing loss & wear a cochlear implant, so the staff turned on the captions for me. I didn't even realize until driving home that I was the only one with the captions as my family didn't have them. But it made it such a better experience for me to be able to visually see all of the educational information they were sharing about the International Space Station & life for the astronauts. For others, it could be too distracting if you want to just listen & focus on the images you are seeing in virtual reality. So just ask if you'd like them for the experience.
Places to Visit Nearby:
Restaurants:
Things to Do Nearby: