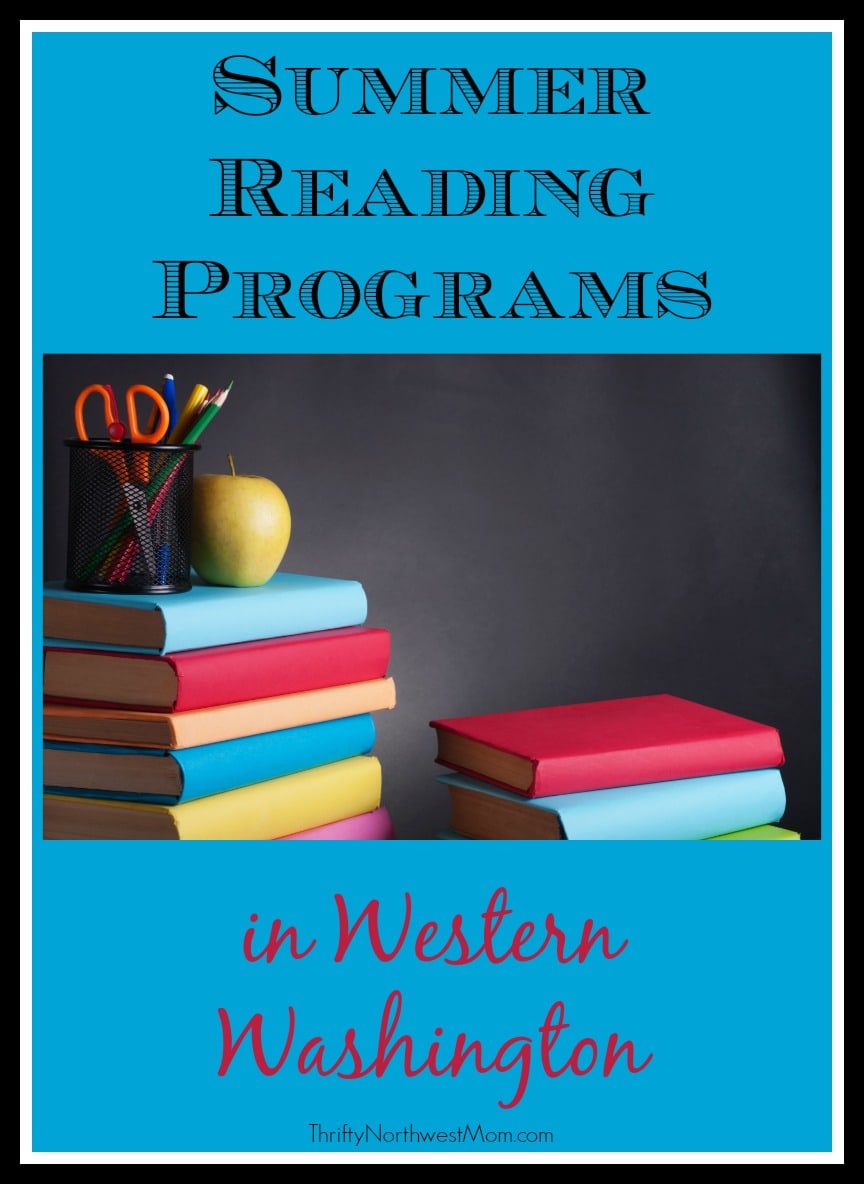 We are back this year with a roundup of the Summer Reading programs that are happening around the country as well as in the Pacific Northwest. We are providing the list of summer reading programs for the Puget Sound area. You can find the list of Oregon Summer Reading programs at Frugal Living NW.
Summer reading incentive programs are a great way to keep kids motivated, stay on track with the skills they learned throughout the year & foster that love of reading they'll carry to adulthood.
If you have a library card for a particular library system, remember that those library systems typically have a reciprocal relationship where you can also check out library books with the other library systems, so make sure to look into that if your child is feeling particularly ambitious this summer! :)
National Reading Programs: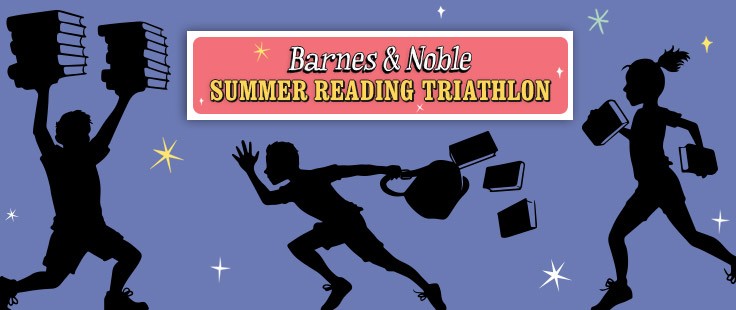 If your child reads at least 8 books, they will earn a FREE book. Download a reading journal and once your child has read 3 books, completing a journal about the books they've read, and bringing it in to a local Barnes & Noble story by September 5th to pick out their free book.
Your child can earn 10 FREE tokens every time he or she reads for 2 weeks in a row.  Just fill out the form and bring it in to claim your free tokens. Limit of 1 free token offer per child per day (food purchase is required). Download a Reading Rewards Calendar.
Kids 14 years and under can earn Bookworm Bucks by reading 15 minutes a day for a month in June and July.  Grown-ups may read aloud to kids who are still learning to read.  Track your reading on a printable reading log which much be initialed by a guardian.  Once the child has reached 300 or more minutes, bring the log to your local HPB to claim Bookworm Bucks.  High school students must read a book each month in June and July and write a short review instead of using a log. Redeem by August 31, 2017.
Scholastic Summer Reading Challenge:
Kids can log in their minutes they've read & earn awesome virtual prizes prizes. This is going on from May 8th – September 8, 2017.
Puget Sound Area Library Programs:


There are a number of public libraries offering summer reading programs. Many libraries also have programs for kids ages birth- 5 (preschool group) & for teens as well.
KING COUNTY:
King County Library System –

Starts June 1st.  Be a reading champion and earn a medal with fun in-library programs and online activities for children birth to 5th grade. Download or pick up a Reading Log and keep track of your minutes.  Preschoolers (ages newborn-5 years) will earn a prize when they have completed 5 activities.  Elementary (ages 5-12) can earn a halfway prize by reading 500 minutes, and a KCLS Summer Reading Champion Medal by reading 1,000 minutes!  Prizes are available July 18th through August 31st with your reading log.

Seattle Public Library – Begins June 27. The Seattle Public Library's Summer of Learning Program this year is Blast Off to Space! Pick up a free Mission Log with fun activities. Earn a fun prize by reading 20 minutes a day for 8 days and completing 2 activities.
PIERCE COUNTY: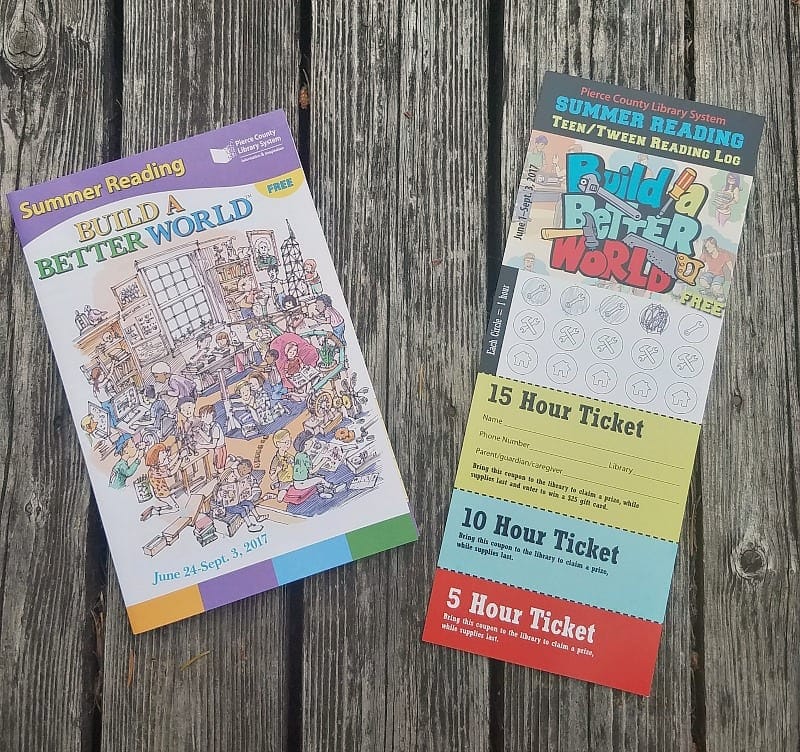 These are the Summer Reading program sheets we picked up for my girls –
they have the regular kids pamphlet & then a shorter one page sheet for tweens/teens for my 11 year old. 
SNOHOMISH COUNTY / ISLAND COUNTY:
Sno-Isle Library System –  Kiddos of all ages and their caregivers are invited to flex their reading muscles this summer! Start by registering through Beanstack or read and track 10 hours on a printable reading log. Read 10 hours to win! Show the completed log, paper or online, to library staff, then choose a free book. Keep reading to Build a Better World. Every additional 10 hours you read will earn you a vote for something new in your library.
Everett Public Library – Pick up a reading log at either Everett Library any day between June 1st and July 31st. Children and teens can earn a free book for completing 24 hours of reading. Adults have a reading challenge as well.​​​​​
SKAGIT COUNTY:
Mount Vernon Public Library – Read books and earn prizes!  Sign up in the library or online beginning Ma7 26th through July 6th.
City of Burlington Public Library – Beginning June 5th through August 5th, printable reading logs are available for Babies (0-35 months), Kids (Ages 3-Grade 5), Teens (Grade 6-12) and even Adults.  Babies can earn points by being read to or by doing pre-literacy activities with you.  For every 15 objects crossed off on the list, your little one receives a prize.  Finish all 3 levels to be entered into the grand prize drawing.  Program ends August 6th.  For every 10 minutes read, one window can be filled in for a total of 120 minutes per level or 2 books per window.  Complete all 4 levels before advancing to the Superhero Training Mission to complete the program.  Kids in grades 6-12 need to complete 4, 8, 12, and 16 hours of reading to earn prizes.  Adults can enter a Summer Reading Prize Drawing by checking out 45 total books.
Anacortes Public Library –  Register for this year's summer reading program between June 12th through August 31st. The theme is this year is Build a Better World. Sign up online through the Anacortes Public Library. Kids from birth to age 18 can sign up and track their reading through the printable journal. Once the reading goals has been reached, they can choose a free paperback.
Upper Skagit Library District – The program starts June 20th and runs through August 5th. Kids ages 0-17 can earn prizes during this year's Summer Reading Program.  Sign up and pick up a packet at the library and color in a reading log for every 20 minutes you read.  Read and report at least 800 minutes by August 26th to earn a free paperback book.  Each reading log  enters you into a special prize drawing.  There are several free activities happening all summer long as well.
La Conner Library – There are lots of great activities, events, and books available now! Check out the website for more info on activities or stop into the library for more information about the summer reading program, Build a Better World!
WHATCOM COUNTY:
Whatcom County Library – On Your Mark, Get Set, Read Summer Reading program runs June 1st through August 31. Sign up anytime at your local library. School age kiddos and teens set their own reading goal which they track on the Book Bingo card. Once the goal has been met, receive your choice of a Summer Reading Reward Book. Early readers can spend their summer reading books and completing activities that you can track on the Book Bingo card for Early Learners. Complete 5 or more Early Literacy activities and receive a Summer Reading Reward Book!
Bellingham Public Library – On Your Mark, Get Set, Read is happening now through August 31st.  For early readers, print an activity sheet from home or get one at your library. Complete the activities and receive a number of prizes, including a book from the library!  Ages 5-12 will receive a reading program packet through the Bellingham schools, or they can print it from home or pick one up in the library. For each our read, color in a trophy. When 15 trophies are filled in, receive multiple prizes including a free book!
KITSAP COUNTY:
Kitsap County Library – Now through August 31, participate in On Your Mark, Get Set, Inspire! Read 10 hours and get a prize! Read any book that you want! If 10 hours is an easy goal for you to meet, read 100 hours and get a limited edition t-shirt!  You can also receive a prize by getting inspired to reach a goal for which you can enter to win one of the amazing prize baskets!
MASON, GRAYS HARBOR, THURSTON, LEWIS, and PACIFIC COUNTIES:
Timberland Library – As soon as school is out, sign up for Build a Better World! Sign up in your local library or register online.  Complete reading logs and activity sheets for rewards!  There will be lots going on at the library including free entertainment (Jugglemania, Puppets, and ventriloquist), activities, and prizes!
CLALLAM COUNTY:
North Olympic Library System – Build a Better World Summer Reading Program runs now through August 19th.  Ages 3-12 can sign up and complete 14 hours of reading (read or be read-to). For every 14 hours read, be entered to win a Grand Prize of a new bike! Those who read 100 hours will be given a special t-shirt! Readers who participate have the option of winning four different prizes including a whale watching tour, an airplane flight from Rite Brother's Aviation, a Lego set, or a gift to a local restaurant.  These prizes are for kids, teens, and adults!
JEFFERSON COUNTY:
Jefferson County Library – Exercise your mind and your body during the summer reading program. Get your reading record beginning June 19th at the library or on the bookmobile.
For more Summer Fun around the Northwest – check out these ideas:
Northwest Frugal Fun in the Summertime – this is a page filled with ideas on frugal summer kids activities, Northwest Park reviews, travel around the Northwest & more!
Seattle Staycation Ideas – over 100 ideas for staycations around the Seattle area
Summer Fairs & Festivals around the Northwest – a big list of festivals & fairs happening around Washington & Oregon during the summertime
Northwest Park Reviews – Check out our list of parks around the Northwest to find a new park to explore over the summer
Northwest Travel & Family Fun Pinterest Board – make sure to check out our Pinterest board filled with great ideas for traveling around the Northwest
If I have missed any local library programs, please leave a comment so I can add it to our list!