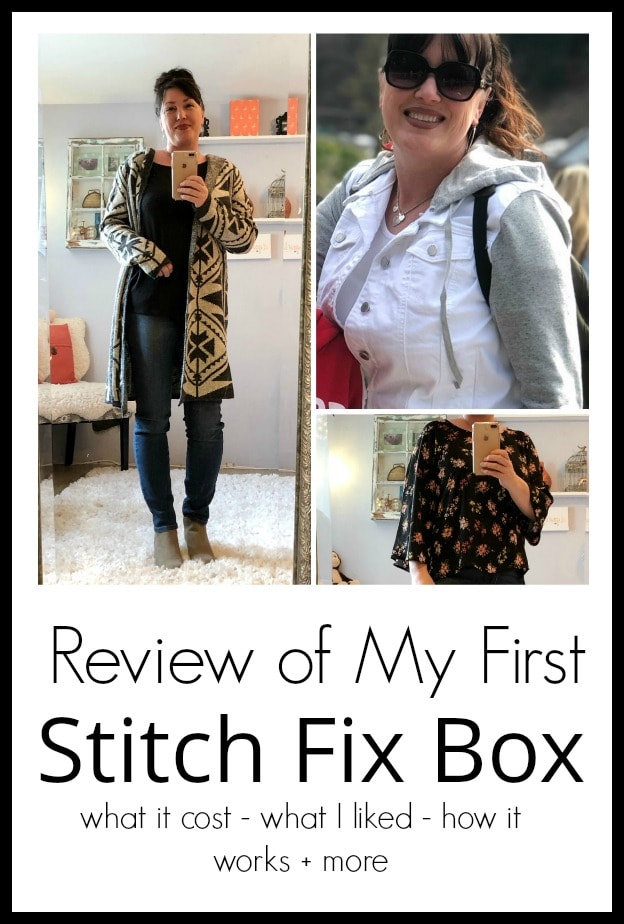 Stitch Fix : Set Up Profile & Get A Customized Box of Clothes Just for You!
If you are home and have a little extra time on your hands, it is a great time to take the Stitch Fix personal survey to share with them your clothing style. They will then have a personal stylist review your information, and send you a box of clothing and possibly shoes and accessories, picked just for you to match your style. You can start that process here. 
One fun idea you can use right now, is to give the gift of Stitch Fix to your mom (or a mom you know that you want to bless) for Mothers Day! It is the perfect Mothers Day gift right now, because you can send them a Stitch Fix Gift card right from the comfort of home, AND they can set up their personal style, and order their first box right from the comfort of their home. It really is fun to get a box in the mail, of clothing that was picked to match your specific build, size and style too. It is a gift I think many moms would love!
Jen and I have gotten a handful of the Stitch Fix boxes between us, and we both have different styles, so you can look through our reviews to get an idea of how this works.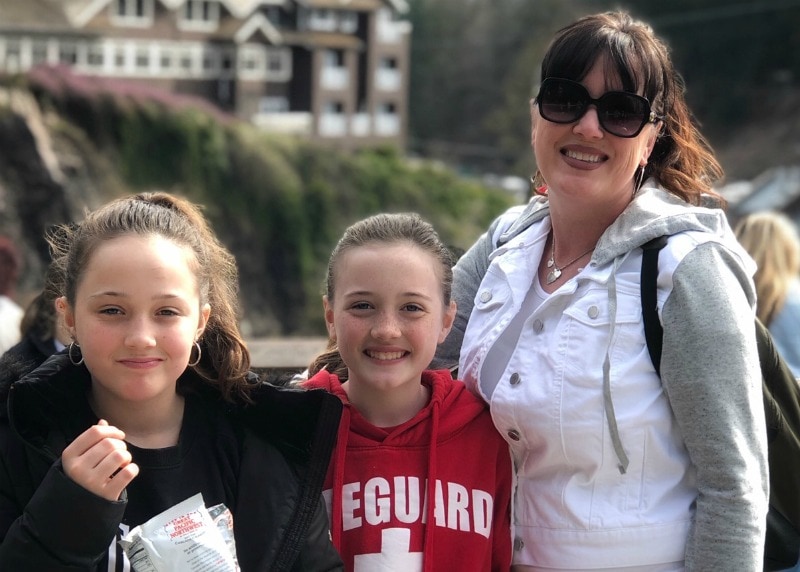 (This is a picture of me wearing a coat I got in a Stitch Fix box, on a family outing last year. I have gotten lots of use out of this jacket!)
Stitch Fix is a personal styling service, where you answer some questions, and use other tools to show them the kinds of things you like, and what fits you best, etc. They then have a personal stylist pick out items to send you (as often as you select). You can send feedback on what you think about the items they send you, so theoretically they should get better about picking items for you as time goes on.
We have lots of details on how Stitch Fix works, as well as 5 tips to make the most of it in this article here.
How Much is Stitch Fix a Month:
Stitch Fix does not have a monthly subscription fee, like other subscription box programs. With Stitch Fix you pay for the items you keep, and do not pay for the items you choose to send back.  You set up how often you choose to get a Stitch Fix box (monthly, quarterly, seasonally
There is a styling fee that is charged to your account should you choose to send everything back ($20), but as long as you keep at least one item, the styling fee is waived.
How do I cancel Stitch Fix?
You are only charged for a Stitch Fix once they schedule one for you. You can prevent this from happening, by simply making sure you do not have any scheduled. You will want to select the option that you want to stop receiving any automatic fixes. It will still save your account preferences so if you decide to order any fixes in the future, those will all be there.
We share various Stitch Fix reviews from previous Stitch Fix boxes here. If you are looking specifically for review for Stitch Fix for men, you will find those here. Or if you are looking for Stitch Fix for Kids, find those reviews here.
Stitch Fix Outfits that Came In My Most Recent Box:
Here is my most recent box (and some highlights of a couple of my favorite pieces I kept from a previous box). Note that I was born in a generation that did not take selfies, so if I am looking awkward or not comfortable in a picture, well that is because I feel awkward or not comfortable! Selfies is not one of my talents, but I wanted to show you how the clothes looked on a real person, so you can better judge if this is a good fit for you. My kids tried really hard to give me a crash course on how to look natural in them, but I just could not master it no matter how hard I tried. They are pretty mortified that I am publishing these pictures, but I thought I would take one for the team here – so the rest of you "mature" ladies could see how this process works. I love getting the boxes in the mail, and seeing what someone else thought I might like. It is always an exciting surprise!
The images at the very top of the page here, are some of the items I got in a previous box, and I kept almost all of those. This time, while I really liked the fit and style of most everything in this box, the colors where off (we are moving into Spring and they were all Fall colors). But it is fun each time to see what comes, and as long as you keep at least one item from each box then it can be a good deal (see all of the details on how the styling process and fees work in this detailed post here).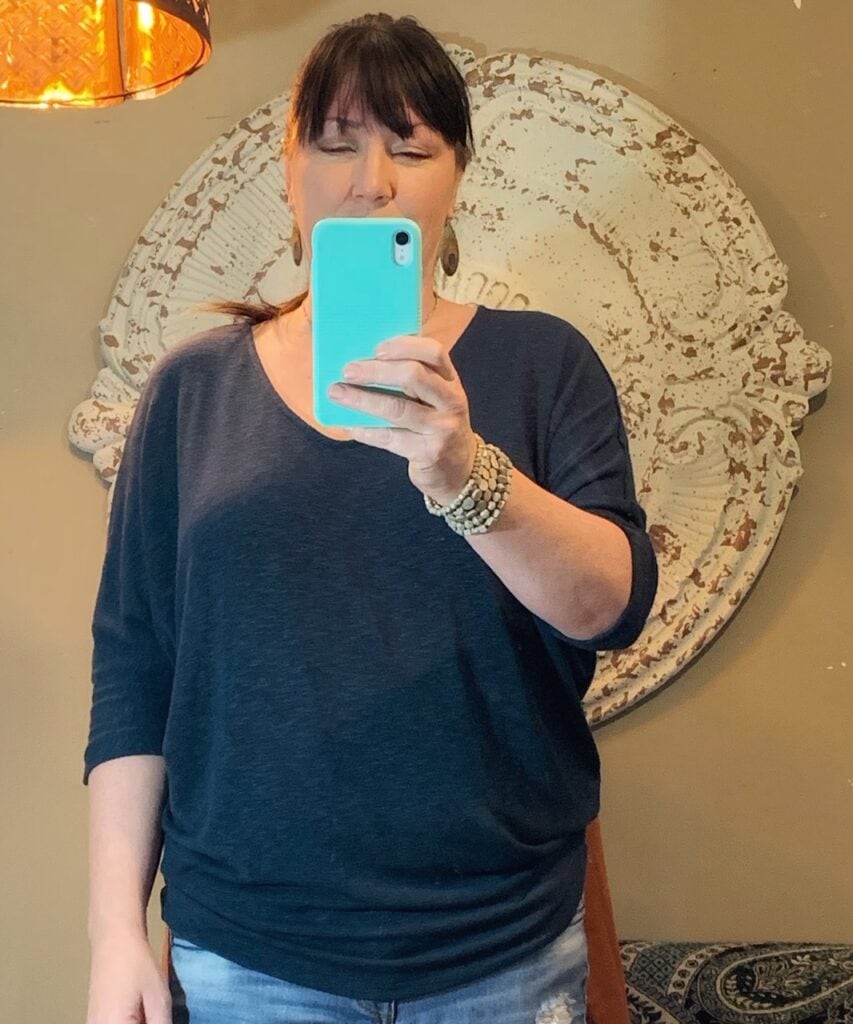 My favorite item in this box was this blue shirt. It just fit really comfortably, and was super versatile. I could wear it with jeans, or dress it up with slacks or a skirt. It could be business casual, or just casual, and it was comfy. I am always looking for simple pieces I can just toss on and go, and that is what this shirt was for me – so I kept this one. Here it is on me.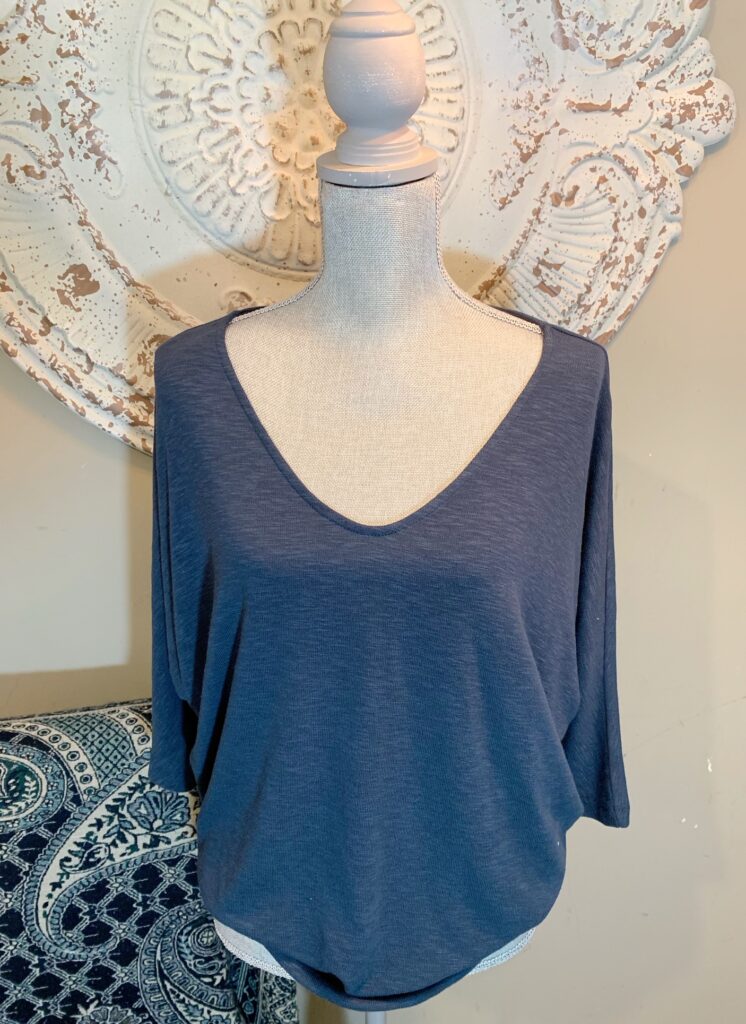 And here it is on the mannequin, in case you have a different body build and want to see how it lays in general.

These Leopard Print pants where in my most recent box. I thought they were super comfy (they had a stretch to them so fit really well. When I saw them in the box my first thought was "no way", however like many items I get through Stitch Fix I had a different opinion once I tried them on. I matched them with a black sweater I already had in my closet, and the cute bracelet they sent and I almost decided to keep them. That is until my tween and teen daughters walked in on me taking a selfie in them, and insisted I send them back. I guess they did not think mom looked too cute in them. Since I was on the fence on them in the first place, I took their advice this time and send them back. However, had they sent me these pants in a solid color, I would have kept them for sure!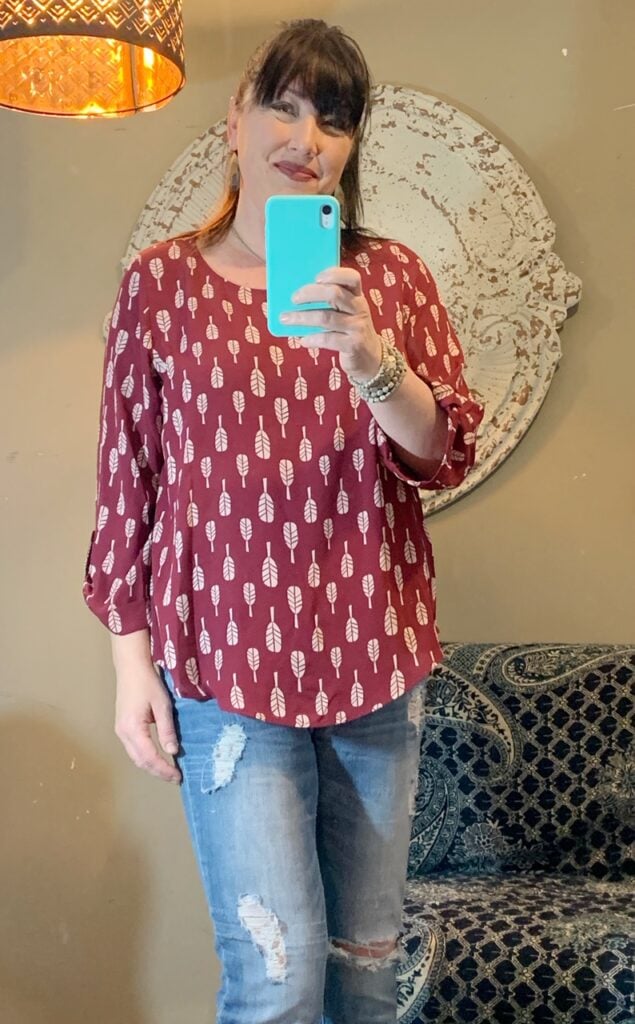 This rayon shirt was comfy and easy to throw on. I almost kept this one, but in the end I set it back. I am kind of regretting not keeping this one though. It would have been a great toss on and go shirt.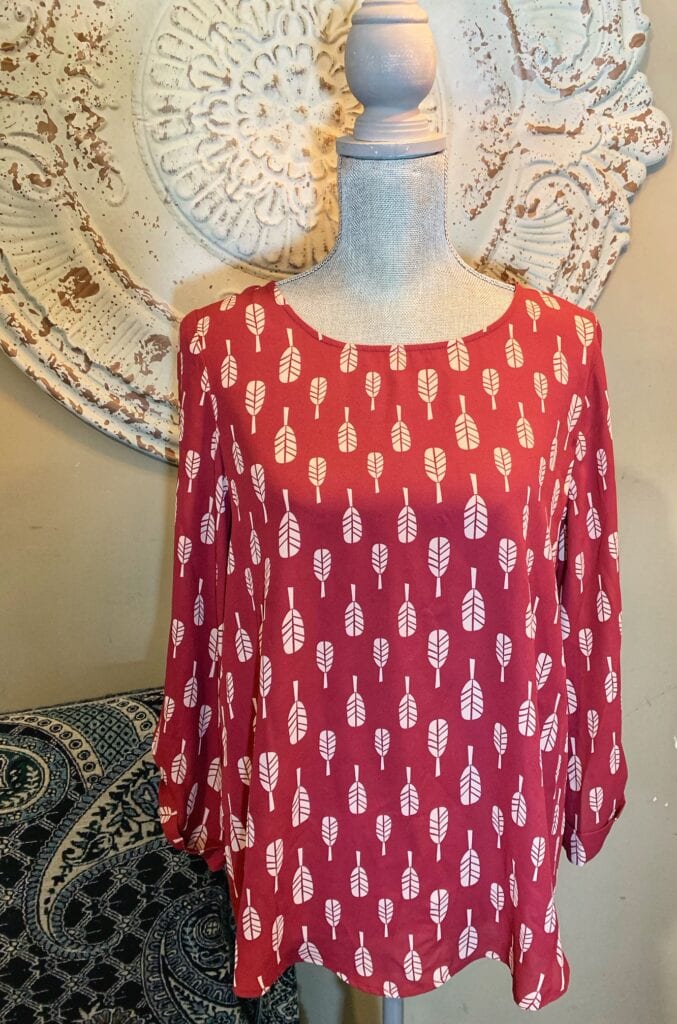 And here it is on the mannequin to see how it lays in general.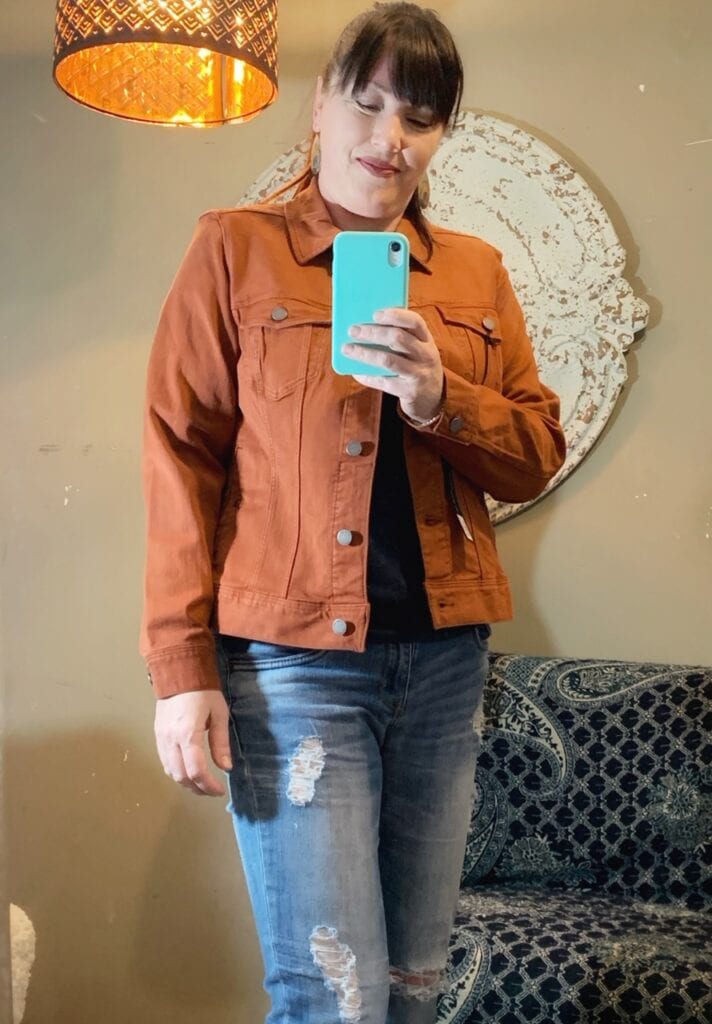 I love a great jean jacket, but I sent this one back. I got the box in March, and the brown was just not going to work for me going into the Spring. I may have kept it had it been sent in Fall box, but although I liked the fit and comfort of the jacket, I was not feeling the color.
Note that you can request different colors sometimes to items in your box, online.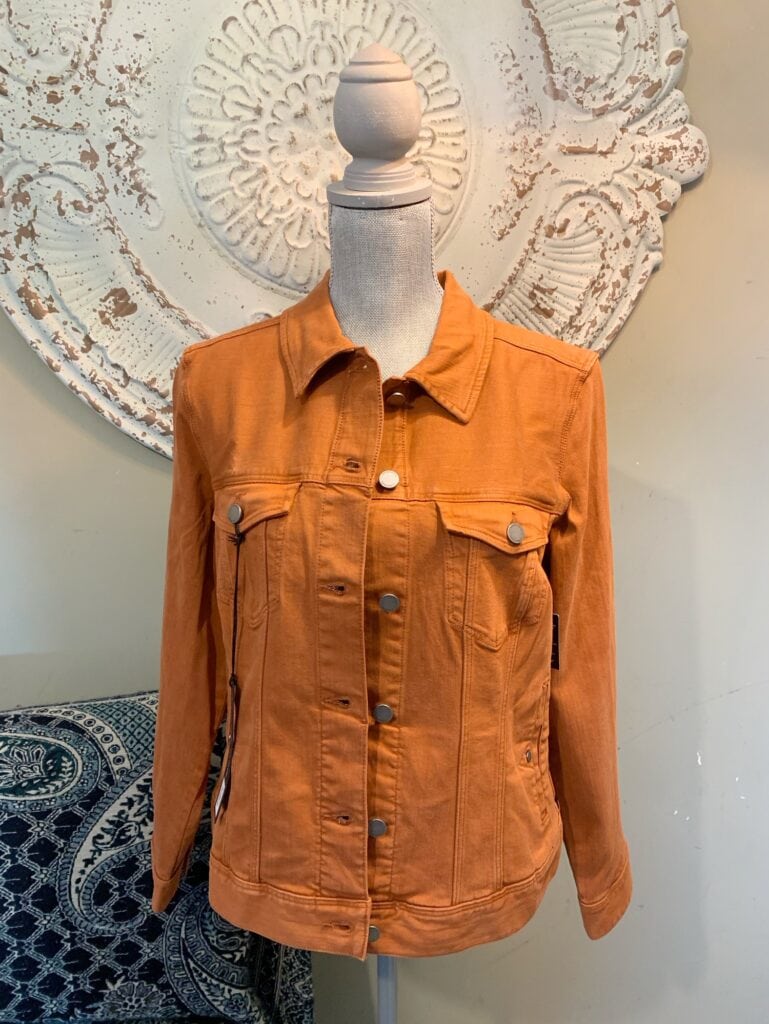 And here it is on the mannequin.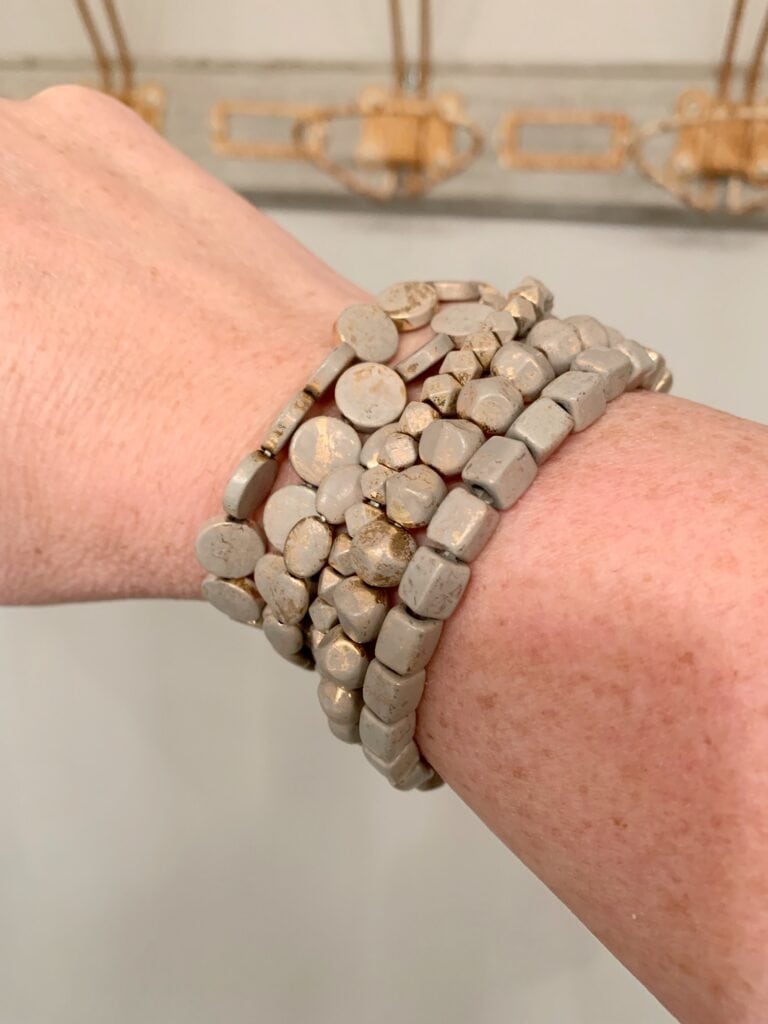 I actually really loved this bracelet, but I don't find that I am very good at accessorizing my outfits on a regular basis – so for that reason I sent this one back.
Here is a previous outfit I got that I kept most of (everything except the jeans), and have gotten lots of wear out of it to this day!