Stitch Fix Men – Unboxing the First Box for New Customer!
This post may contain affiliate links and I may be compensated for this post. Please read our disclosure policy here.
Stitch Fix is not just for women, but men can order Stitch Fix clothing boxes too, to update their wardrobe. Check out this review of a Stitch Fix Men Box.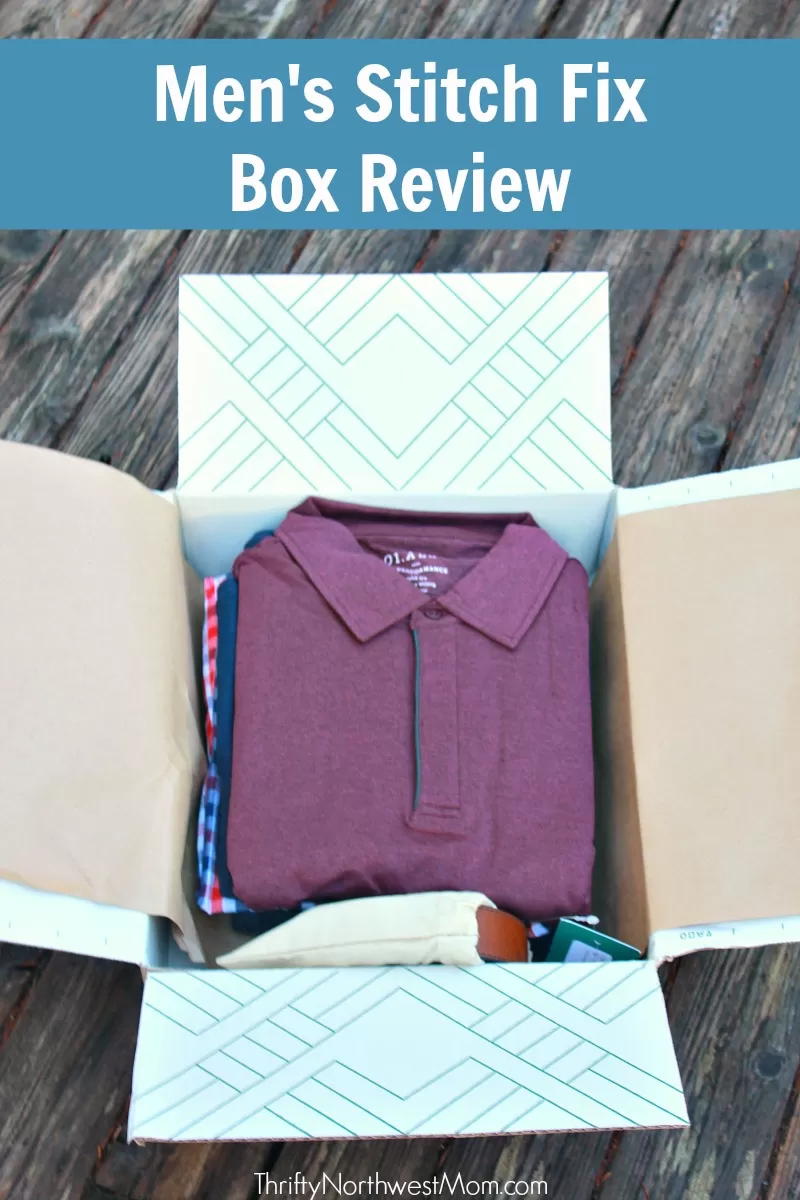 Stitch Fix Men – Unboxing the First Box for a New Customer
I know many of you know about Stitch Fix for Women, but did you know that they also offer Stitch Fix boxes for men? This can be a really helpful option for men who need to dress stylish & professional for work, but just don't have either the time, desire or patience to go shopping for that wardrobe. Also, if men are needing a refresh for their wardrobe & just wanting to get some new pieces to add, this is a nice option as well as they don't have to do any work (except the initial style profile) & a stylist will curate 5 items to send and then he can try the items on at home & send back by mail anything he doesn't want. It doesn't get simpler than that!
The good news is that Stitch Fix Men has expanded to also carry Big & Tall, Tailored, Activewear & Extras. They carry men's sizes XS-3X in tops, 28″ – 48″ in waist & 28 – 36″ inseams. Tailored styles include elevated suit separates, dress shirts & dress shoes. If you would like to focus on active wear, they have performance wear for every outdoor activity (running, hiking, golfing, etc). So there really is a wide variety of items you can ask for when you order your box. The key is to be very specific about what you need & what you're hoping to receive in your box.
When I talked it over with my husband, Ben, about the service & wanting to try it out, he decided to try it out too! For both of us, we are just very practical when it comes to our clothes, so really only focus more on staples & not necessarily more updated styles.  We've been finding items in our closet that are 8-10+ years old, so definitely need some newer, better-fitting options.  Lack of time is a big factor in our life right now, though, with him in grad school this year & life with 2 busy kids & after-school activities, so it's very rare for us to actually find the time to head out shopping. We also  both were excited to see what a stylist would choose for us & the ideas that would come with the box on how to wear each of the items.
If you're new to Stitch Fix, this is an online service where a stylist curates 5 items to send to you (clothes, shoes and/or accessories). You can then try them on in the comfort of your home, but with the expertise of a personal stylist and decide whether or not you want to keep the items. If you choose to send them back, you will be provided with a postage paid envelope, so you can just drop it at the post office within 3 days of its arrival.
Stich Fix offers womens' and men's clothes as well as plus sizes, maternity and petite sizes, too. They've also recently added Stitch Fix Kids, too, for kids clothes.
Stitch Fix Reviews & Tips:
I have done quite a few reviews on the boxes I have received from Stitch Fix, so make sure to check out those reviews here:
Stitch Fix For Women – 5 Tips for Using Stitch Fix + Review
Stitch Fix Spring Box for Women 
Stitch Fix Spring Box #2 for Women
How It Works:
Head to Stitch Fix and fill out the Style Questionnaire. This is a very detailed Style Quiz where you can share your size, the look of items you prefer, colors, etc. You can even include links to Pinterest boards if you have any boards with styles you like. If your significant other does not have a Pinterest board, create a board on your Pinterest board & find some looks that he will like & add it to the board.
You will then be sent 5 items curated by your stylist within a week or two by mail. This box can include clothes, accessories (like belts) and shoes (depending on what you asked for in your Style Quiz). This typically costs $20 to have a Stitch Fix box sent to you (however, if you keep any of the items, you can use the Styling fee towards the cost of an item in the box.)
Review the items in your box & try them on, deciding what you will keep or if you will send any back. You have 3 days to do this. You can keep one, two or three, etc & then send any items back that you don't want. You will have a postage paid Priority Mail envelope to use & all you have to do is drop your bag at the Post Office mailbox within that 3 day timeframe. If you keep even one item, your $20 styling fee will be applied to your purchase of that item(s).
 Discount for buying ALL of the items – If you choose to keep all the items, you will get an extra 25% off the entire box. This works out to an awesome savings on high quality items. If you only have 1 item you don't like, it may be more worth it to keep the whole box for the discount & then maybe try to sell or swap with someone else for that item you didn't want.
Fill out the Box Feedback Form online at Stitch Fix – regardless of whether you keep all the items or return all the items or some of the items, make sure to fill out the Feedback form & checkout before you send back any items from your box. This is where you can have your $20 Styling fee applied to your order (if you keep any items).   This is really important to provide the feedback for each item about what you liked & didn't like to provide that information for your style profile for future Stitch Fix boxes.
If you decide that you don't like any of the items in your Stitch Fix box, it's totally free to send all of the items back in the pre-paid envelope. By giving them the feedback about what you didn't like about the items, though, will help the stylist to narrow down more specifically what you are looking for in future Stitch Fix boxes, though, so that feedback is very important.
Ben's First Stitch Fix Men Box: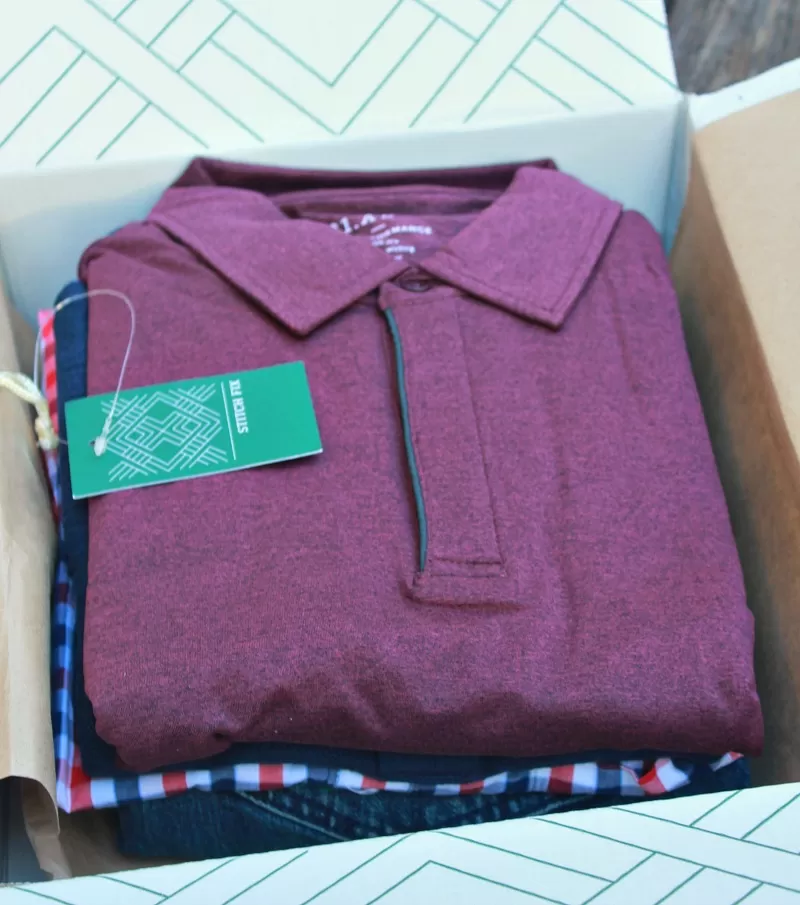 I wanted to share the items that arrived in my husband, Ben's first box from Stitch Fix. It's definitely a learning experience as he learned that he needs to give much more specific feedback about sizing, which they recommend that you share even more specifics on sizing in the comments.
He did not take photos of these clothes on, mainly due to the fact that we ran out of time with late nights when it arrived mid week (& only 3 days to return)  and they were a bit snug for most of these items (he is changing his style profile & the feedback for his stylist based on that).  So, I apologize as it is a bit harder to see what the items look like since he is not wearing them. Hopefully with a future box, we'll get pictures of him wearing the items.
Every Stitch Fix box includes a personalized Style guide.  His stylist shared a note about why she had picked the items she had as she knew he was wanting more business casual clothing options. She wanted to pick some classic, style staples to add to his wardrobe. He really liked the look of all of items in his box – his stylist definitely found great pieces according to the style  he likes. The only problem was that the clothes were not a great fit for him, size -wise.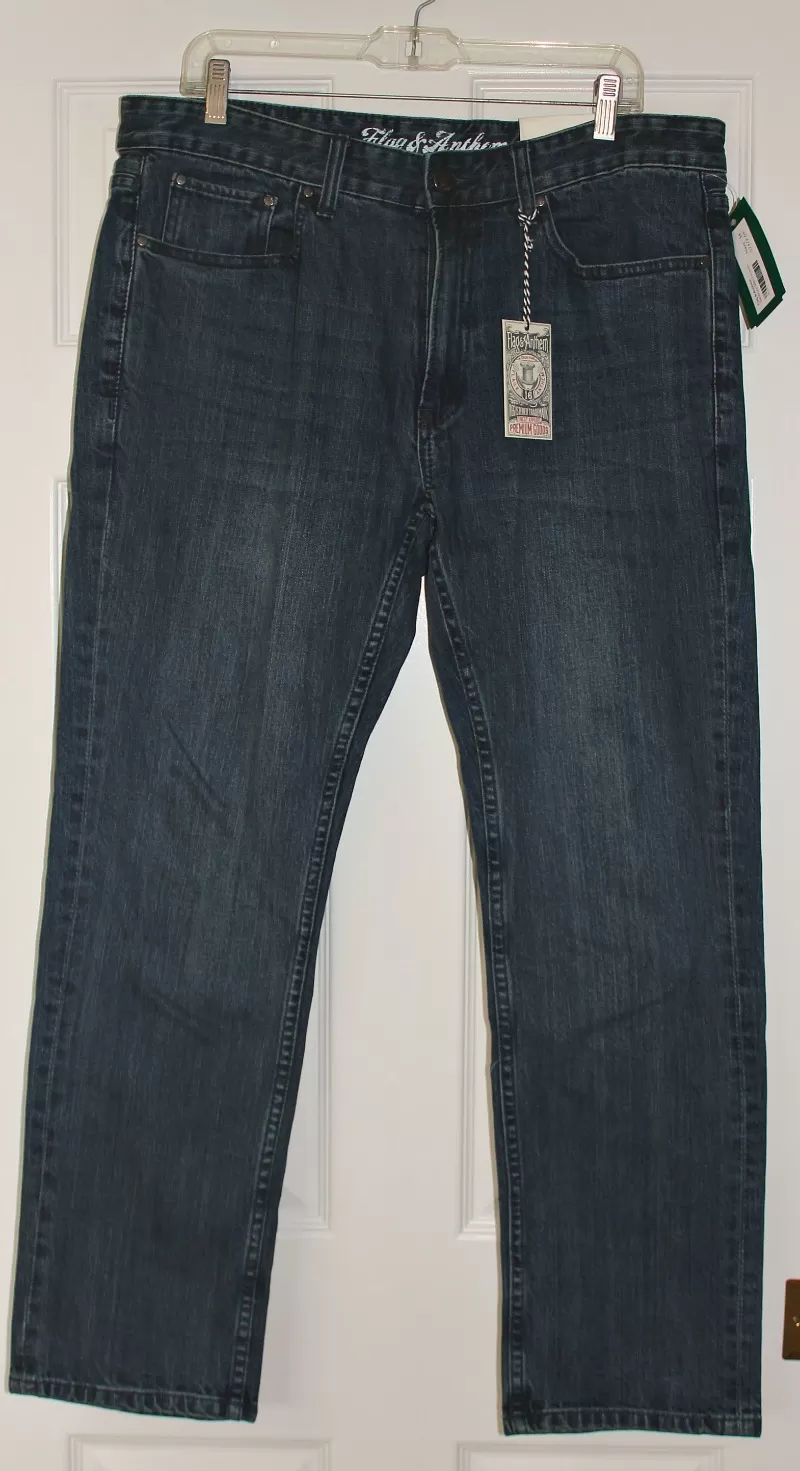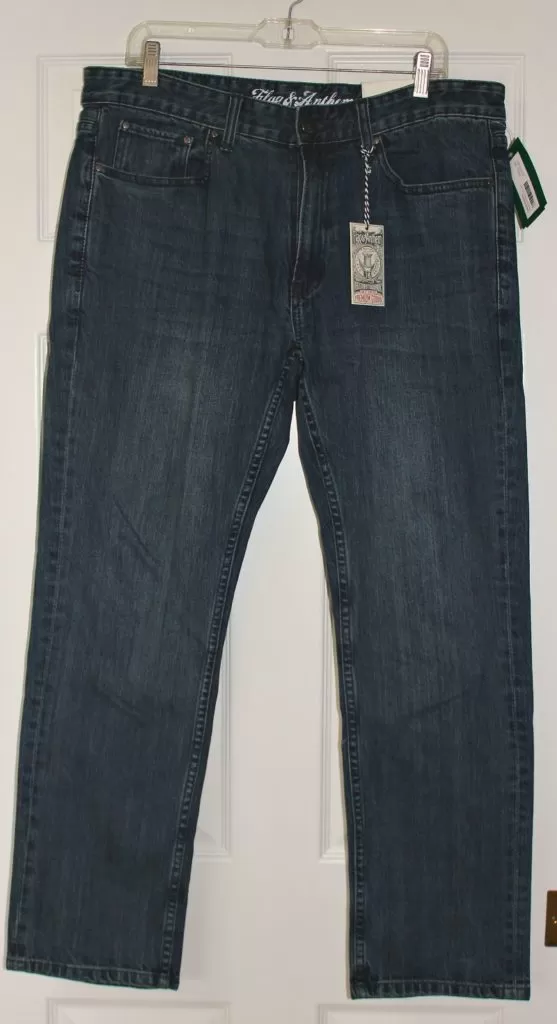 Flag & Anthem Danbury Slim Fit Jean – $69.50 (after 25% discount = $52.13)
Ben really liked these jeans and the darker wash was perfect as he could wear these to work or to relax on the weekends as you can dress them up or down. The main issue was the fit – they just didn't fit well in the waist/seat area, so he couldn't wear them without a belt. He typically pays less for his jeans, but knows that in order to get a few pairs that really fit well, he may have to pay a higher price like this, but he needs to find the perfect pair that fit very well.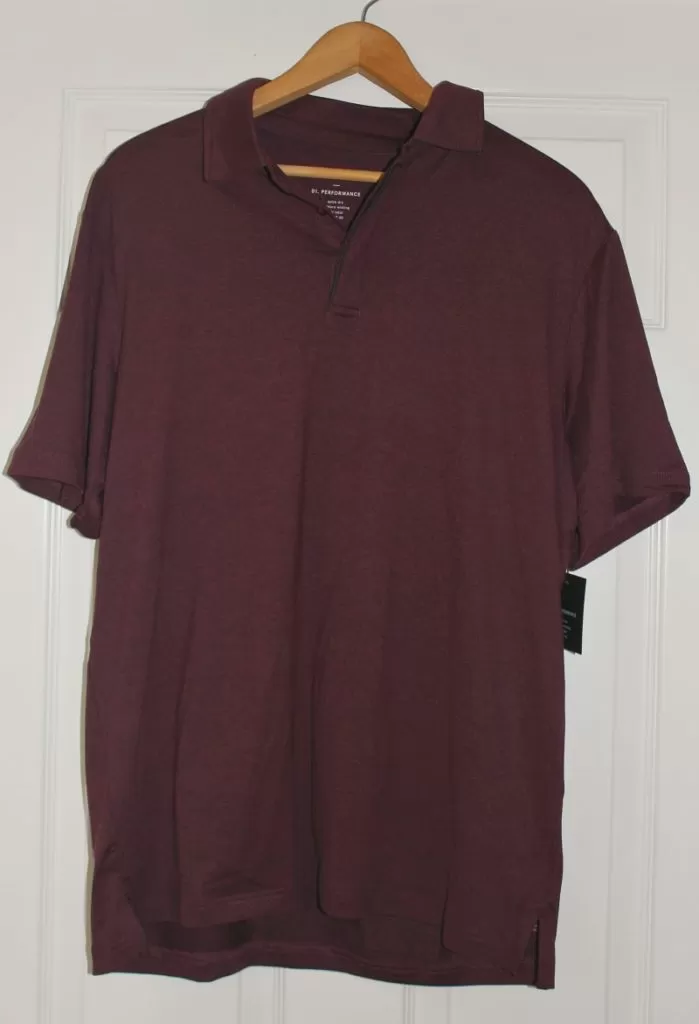 01 Algo Jack Performance Polo  Shirt, Burgundy – $38 (after 25% discount = $28.50)
This shirt is super soft & he really liked the material & color. The fact that it is moisture wicking with UV SPF 40 was perfect for his busy days and a variety of settings. However, this shirt was too small & too fitted, definitely a slim fit. So this didn't work for him. But he really liked the shirt if it had fit better.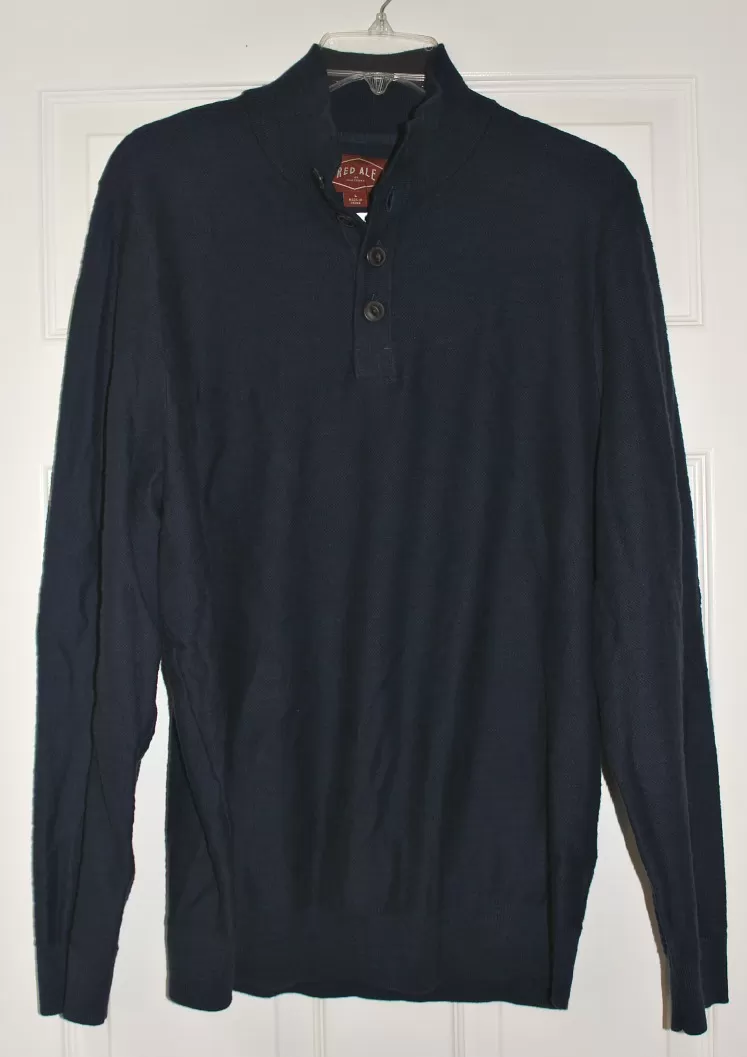 Red Ale Riverside Button Mockneck Navy Sweater – $49.50 (after 25% discount = $37.13)
This was Ben's favorite item out of the box. He loved this sweater as it's so versatile for dressing up for work or meetings and for more casual weekends or evenings out. However, it's a bit too similar to a navy sweater that he already owns. But this was exactly his style! If he was keeping the other items in the box, he definitely would have kept this.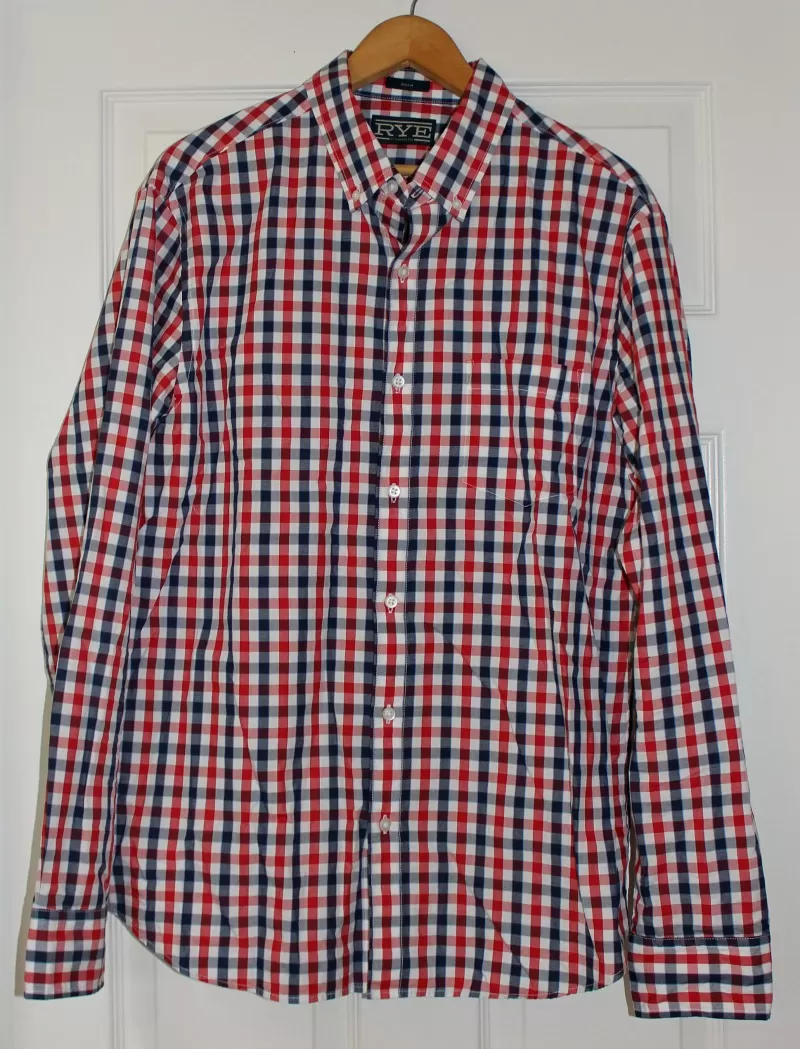 Rye Long Sleeve Button Down Shirt – $48 (after 25% discount = $36)
Ben also really liked the look of this shirt and the colors. Again, it was just a bit too fitted and very similar to a few shirts he already owns. If he had been purchasing all 5 of the items to get the 25% discount, I think he would definitely have gotten this.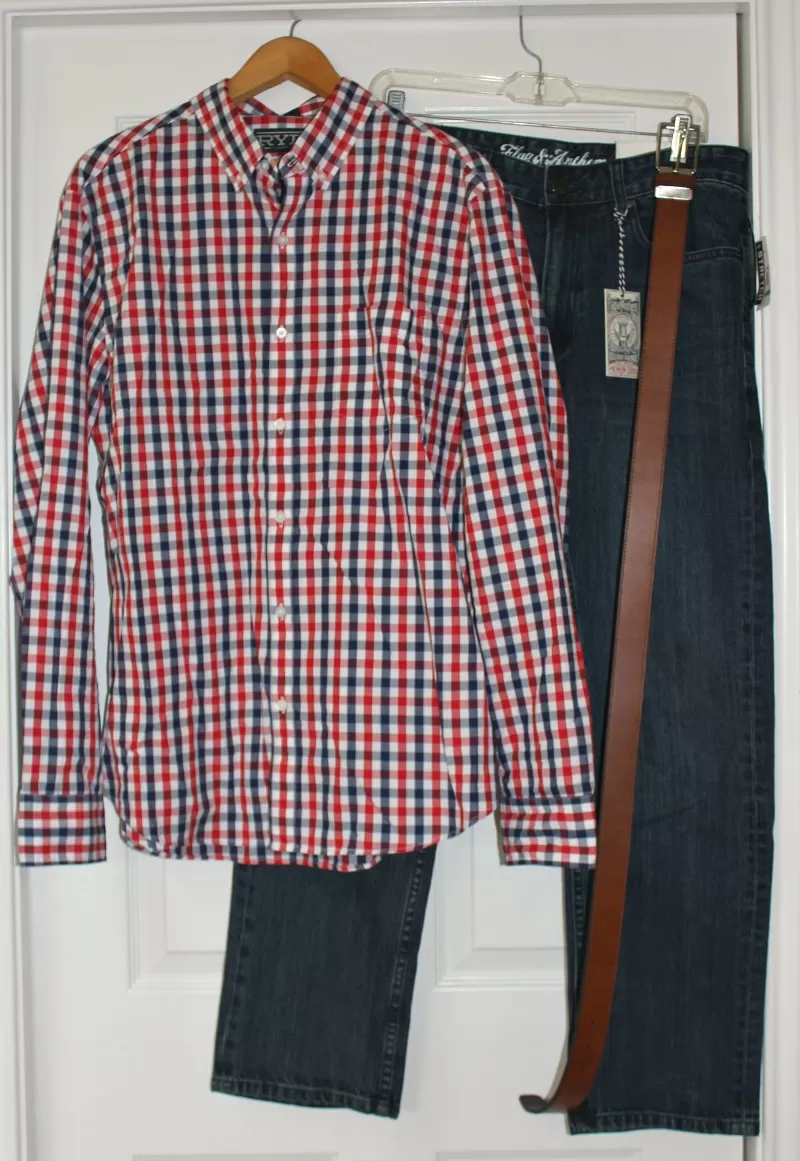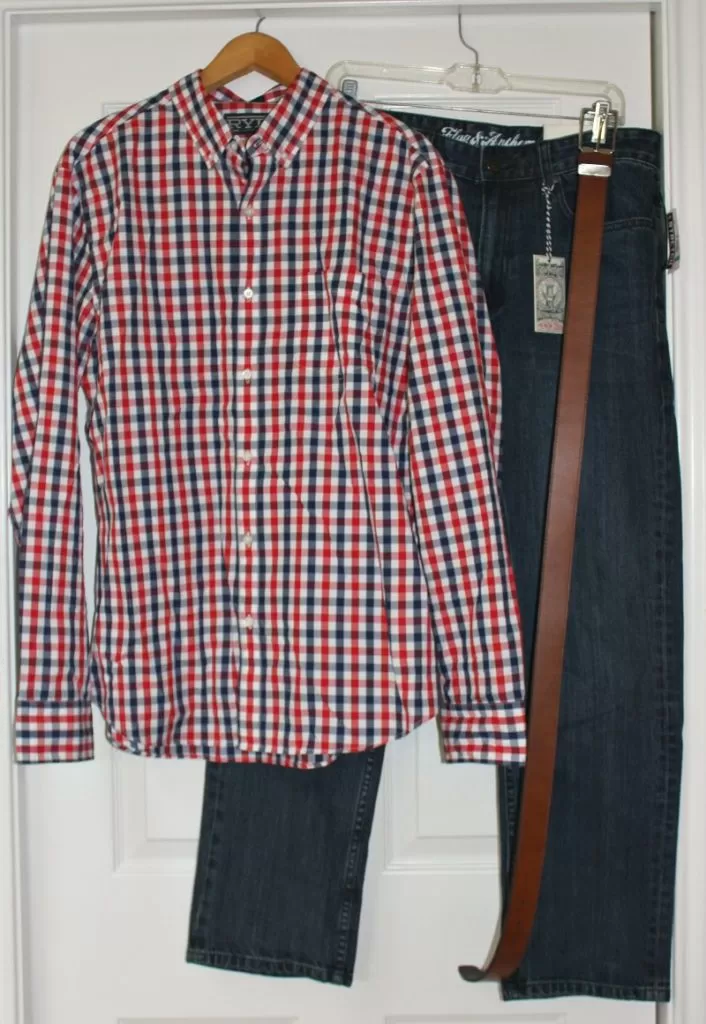 Boconi Jokum Reversible Smooth Leather Belt – $38 (after 25% discount = $28.50)
This is a nice, high quality belt & a great color, but he really doesn't need a belt at this time. I think he's going to change that on his style profile to just focus more on clothes rather than shoes & accessories, since those are his greatest needs with updating his current wardrobe.
Overall, Ben was really happy with the types of clothes he was sent and he felt the stylist definitely found items that were his style & looked professional yet comfortable. His only issue was the sizing was just off a bit, and that's because he was too general in his style questionnaire and he just needs to be more specific about sizing. He definitely wants to try it again in the future, though, after the feedback he provided to see what new inspiration they would provide for him in updating his wardrobe.