Pumpkin Patch Bento Lunch Box Idea – Creative Idea for Fall Lunches!
This post may contain affiliate links and I may be compensated for this post. Please read our disclosure policy here.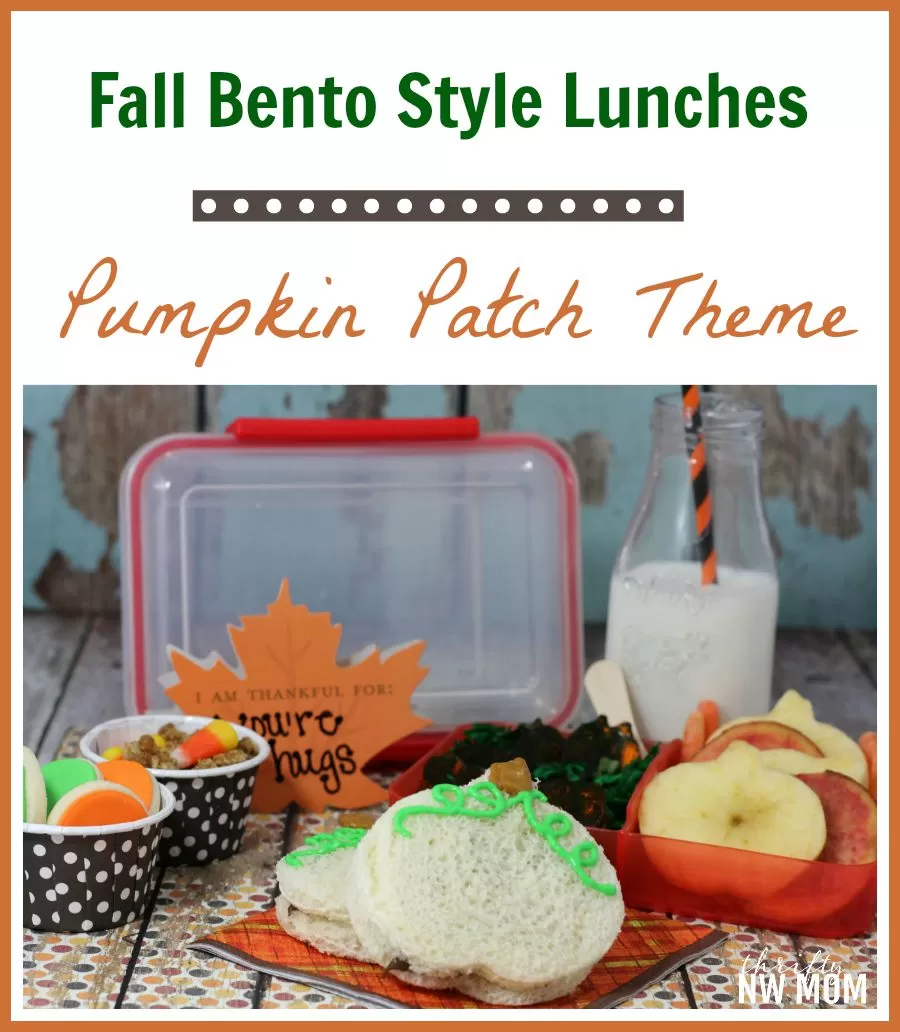 Fall Bento Lunch Box Idea for Back to School!
It's fun to get creative with lunches for your kids as a break from the typical options you give them & we know that many of you are now using the Bento Boxes for kids' lunch boxes, so we thought it would be fun to share a unique idea for the fall season, since today is the first day of fall!
There are a lot of ideas in this bento box – you could do them all or just pick & choose your favorite ideas such as the pumpkin shaped sandwiches or the jello pumpkins in the coconut "grass". What I love about this lunch idea is how easy it is, but it really gets the kids excited to move into the Fall season from Summer.
We'd love to hear your ideas, too, of the special themes you've done in your kids' lunches!
Pumpkin Patch Bento Lunch Box:
What's included: 
These are the items you will be including in the "pumpkin patch" bento lunch for your kids::
Pumpkin shaped sandwich
"Pumpkin patch" in grass (Jello & coconut)
Granola with  candy corn
Pumpkin shaped apples & nectarines
Round sugar cookies
Lunch Box Ingredients and Supplies: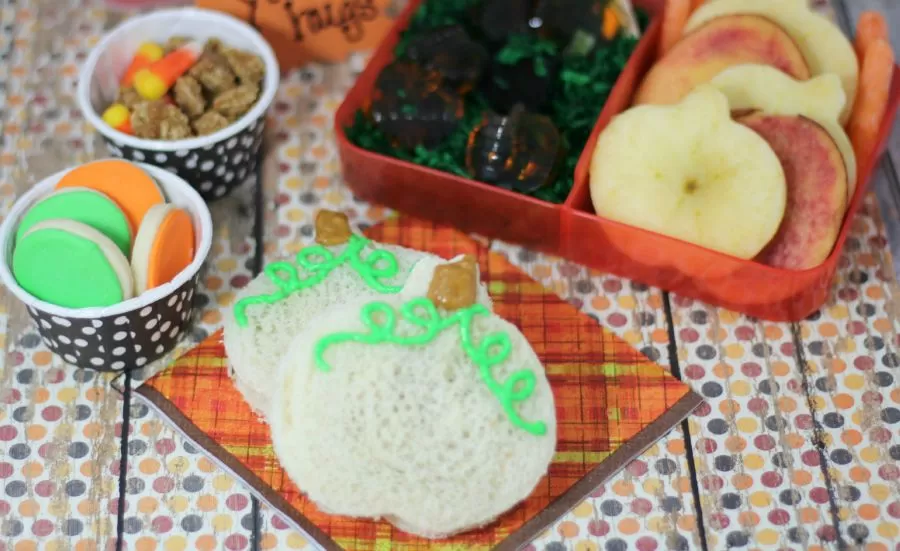 Here are all the ingredients & supplies you need for each of the elements of the Bento Box. Your kids will definitely love this special treat in their lunch box during the fall season or the week of Halloween. If your child is headed to the pumpkin patch for a field trip, or you're just going as a family, this would also be fun to do as lunch the day before or as a lunch to pack with them to the patch.
Sandwich: 
2 slices of  bread
Nutella
Banana
Apple butter
Green food coloring
Pumpkin cookie cutter
Jello Pumpkin Patch:
Shredded sweet coconut
Orange jello
Mini pumpkin cookie cutter
Green food coloring
Candy Corn Granola :
Candy corn pieces
Granola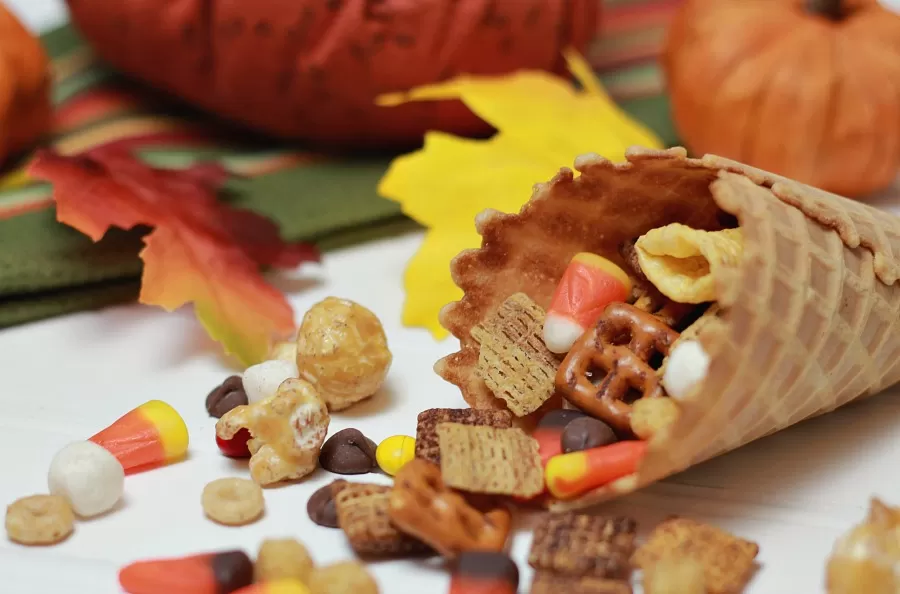 We also have this Harvest Time Snack mix that would be fun to add in place of this too!
Sugar cookie rounds: 
Small round sugar cookies
Orange & green icings
Pumpkin fruit: 
Apple
Nectarine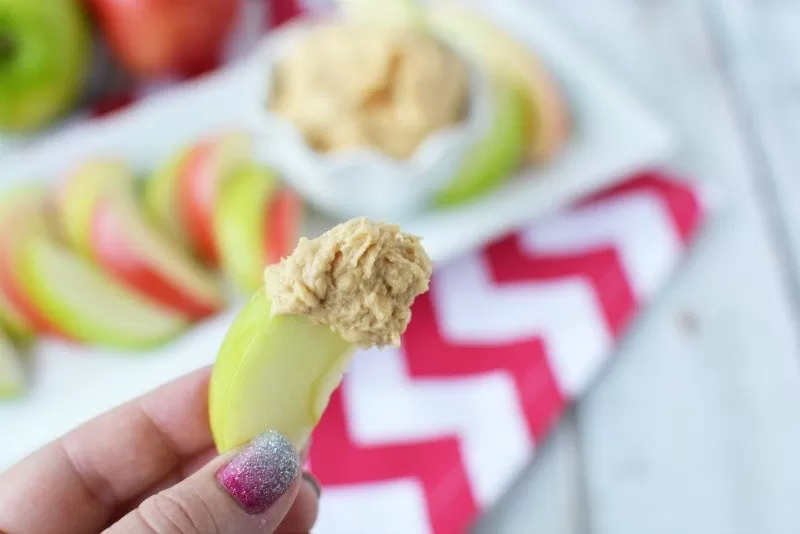 This peanut butter dip would be another fun option to pack with the apples!
How to Put Your Pumpkin Patch Bento Lunch Together: 
Here are the instructions on how to put your Pumpkin Patch Bento Box all together. You could even involve your child in putting it all together, cutting out the pumpkin shapes if they're old enough, helping to make the jello & more. Or maybe you are wanting to surprise him with his lunch, so you'll want to put together a lot of this the night before.
Sandwich: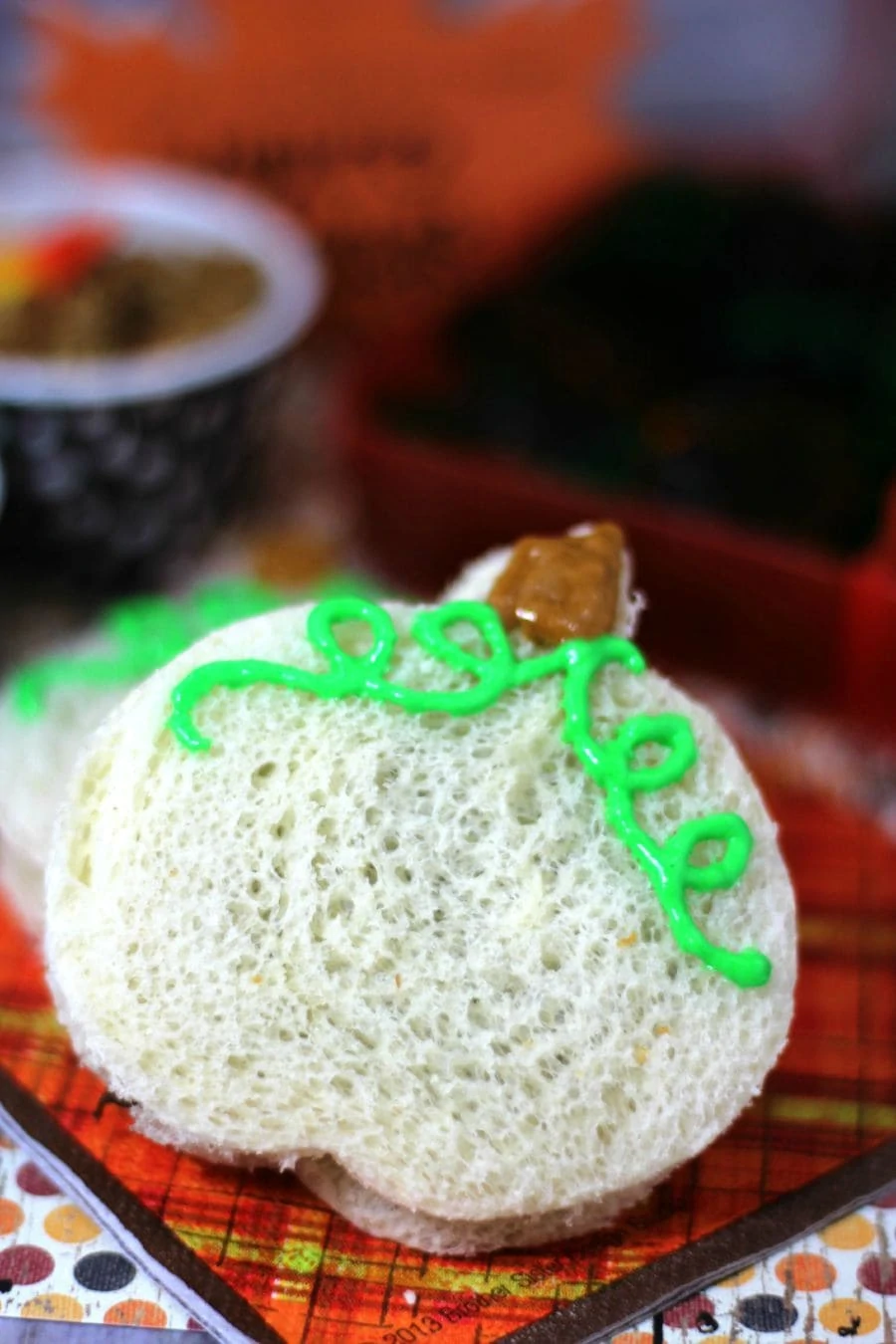 -Using the pumpkin cookie cutter, cut the bread into 2 pieces of pumpkin bread
-Mash banana
-Spread nutella on one side of bread and on the other a layer of mashed bananas.
-To make the stem and vines…use apple butter for the stem.
-Add green food coloring to a tablespoon and using a frosting bag with a #5 tip draw the pumpkin vines on the top slice of bread.
Jello pumpkin patch: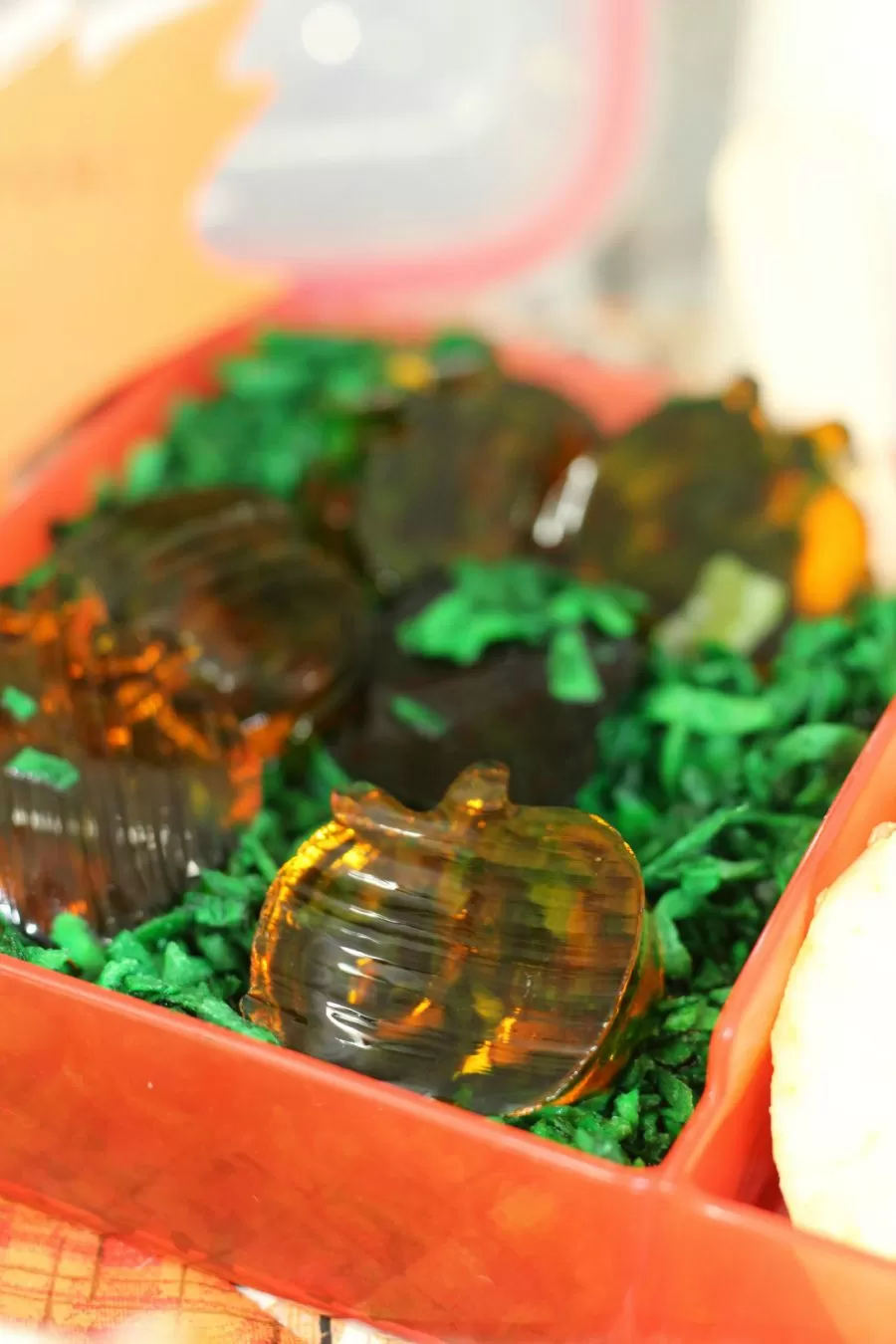 -Using a drop or two of green food coloring and a tablespoon of water in a zip lock bag add the shredded coconut, close the zip lock bag and shake or knead the color into the coconut.
–Allow the filled bag to sit for 1 minute. Put the colored coconut into a collander rinse it with cold water to remove excess coloring.
-Make a box of orange jello on a cookie sheet following the box directions.  When done, use a mini pumpkin cookie cutter to make the pumpkins for your patch.
Candy corn granola: 
-Add several pieces of candy corn to granola.
Sugar cookie rounds:
-Either homemade sugar cookies or a refrigerator roll of sugar cookies .  Using a small round cookie cutter make the round circles.
-Frost in orange and green colors.
Pumpkin apple & nectarine slices: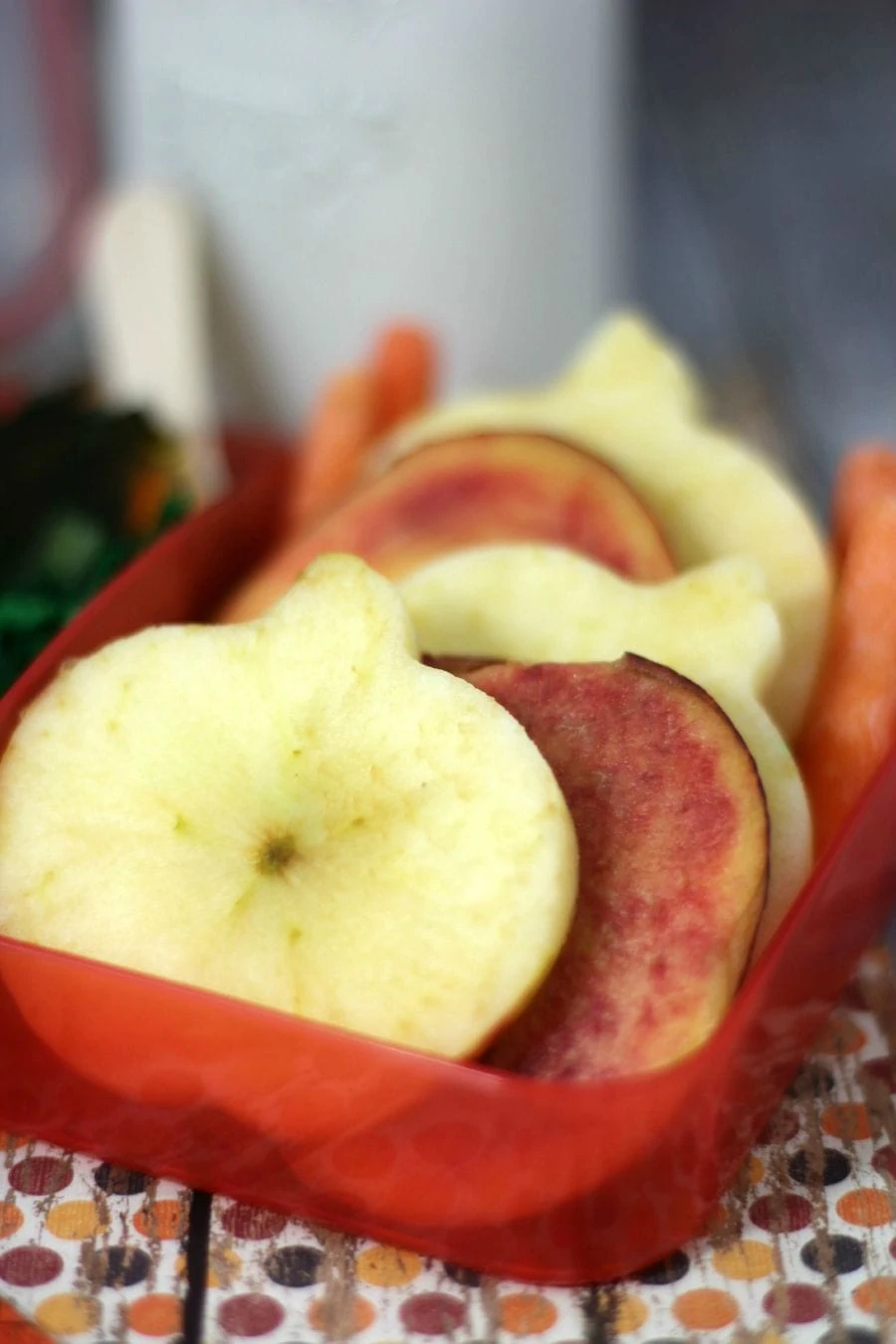 -Peel the apple and nectarine then cut them into slices.
-Use the pumpkin cookie cutter to make the pumpkin sliced apples and nectarines.
More Yummy Recipes:
And if you're looking for some inspiration for Bento Boxes & lunches, here are a few ideas for you: 
Do you have any creative ideas for bento box lunches for the fall?