Foster Farms All Natural Lunchmeat #TheBestTurkey (Perfect for School Lunches)!
This post may contain affiliate links and I may be compensated for this post. Please read our disclosure policy here.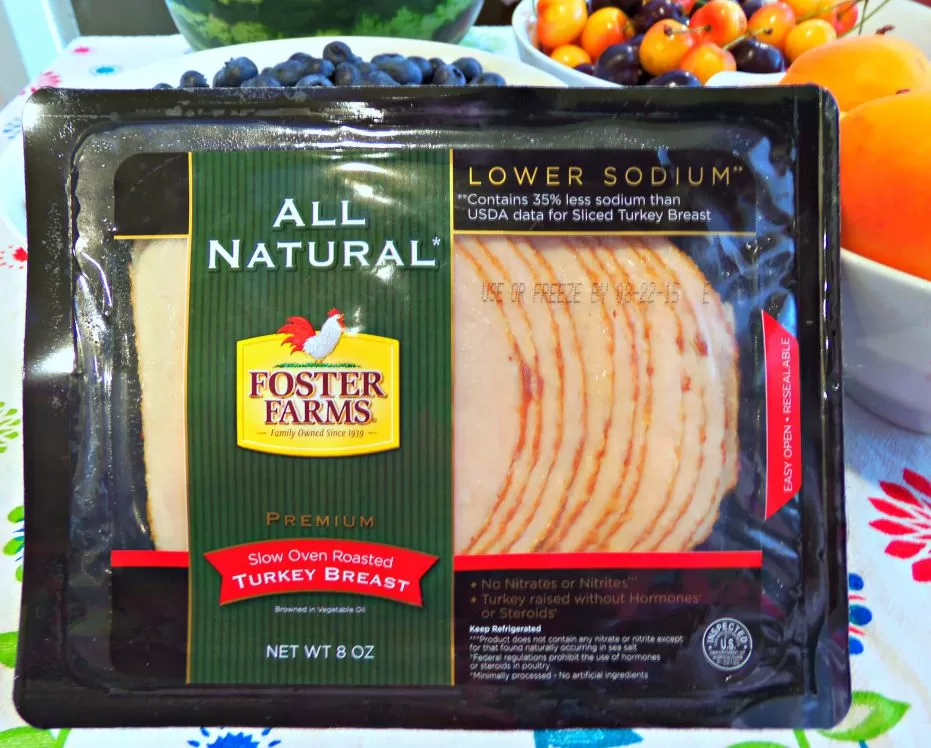 Healthy School Lunches – Foster Farms All-Natural Lunchmeat #TheBestTurkey
Sending kids back to school with healthy lunches can be a challenge when you are just trying to get them to school on time during busy morning rushes. That is why when Foster Farms asked to sponsor a post to share about their new All Natural lunchmeat I could not wait to try it out! PLUS, they have a $1 off coupon available here to help you save. Grab yours now!
One of the easiest ways I have found to send my kids healthier lunches, is to have easy to grab healthy options ready to throw into their lunches the morning of. Lunchmeat has always been an easy way to get the kids a lunch packed, but then we started hearing so much about the nitrates in lunch meat, and the high amounts of sodium and preservatives. I actually stopped buying it for a while because of these things. But, my kids and I do really enjoy a good lunchmeat for quick and filling snacks. We love to roll it up with some cheese in it for a quick bite, make sandwiches, or just eat it by itself. So when I started learning about more healthy options, like Foster Farms All-Natural lunchmeats to enjoy lunch meat again, I was relieved.
All natural, nitrate/nitrite free
No hormones or steroids
No preservatives
Foster Farms All Natural Lunchmeat is unique in that it uses high pressure pasteurization to eliminate bacteria and seal in PURE flavor INSTEAD of using natural preservatives like vinegar as an antimicrobial, which often results in a sour aftertaste
Does not contain wheat, milk, eggs, fish, shellfish, peanuts, tree nuts or soy
35% lower sodium, 100% taste *this is the real point of differentiation between the competition
So, then the next question was, "How does it taste?". The real taste test for my family is does the meat taste good on its own (without having to be sandwiched in the middle of a bunch of other ingredients). For us, the answer was yes! I really liked the taste of the Foster Farms All-Natural Turkey. It tasted very similar to the stuff I get sliced in the deli from time to time, so I was impressed.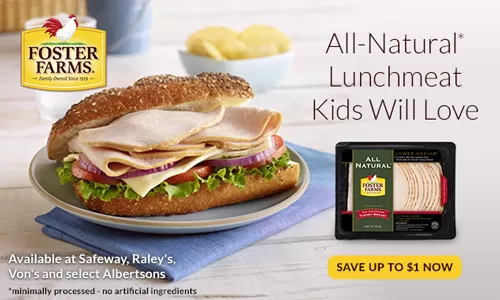 Now for price information. The package of meat was regularly priced at $5.99 for the package at my local Safeway. There is a $1 OFF coupon available to print here, and chances are many of the local stores will be having sales prior to school starting. Plus, I have some tips below on how my kids like to eat it (and it stretches the meat so that you can use it for a few main entries for lunches. I could make one pack stretch for a week for one child, so I found it to be a good value for an all natural product).
Here are some of my kids favorite ways to eat it (and easy for me to make):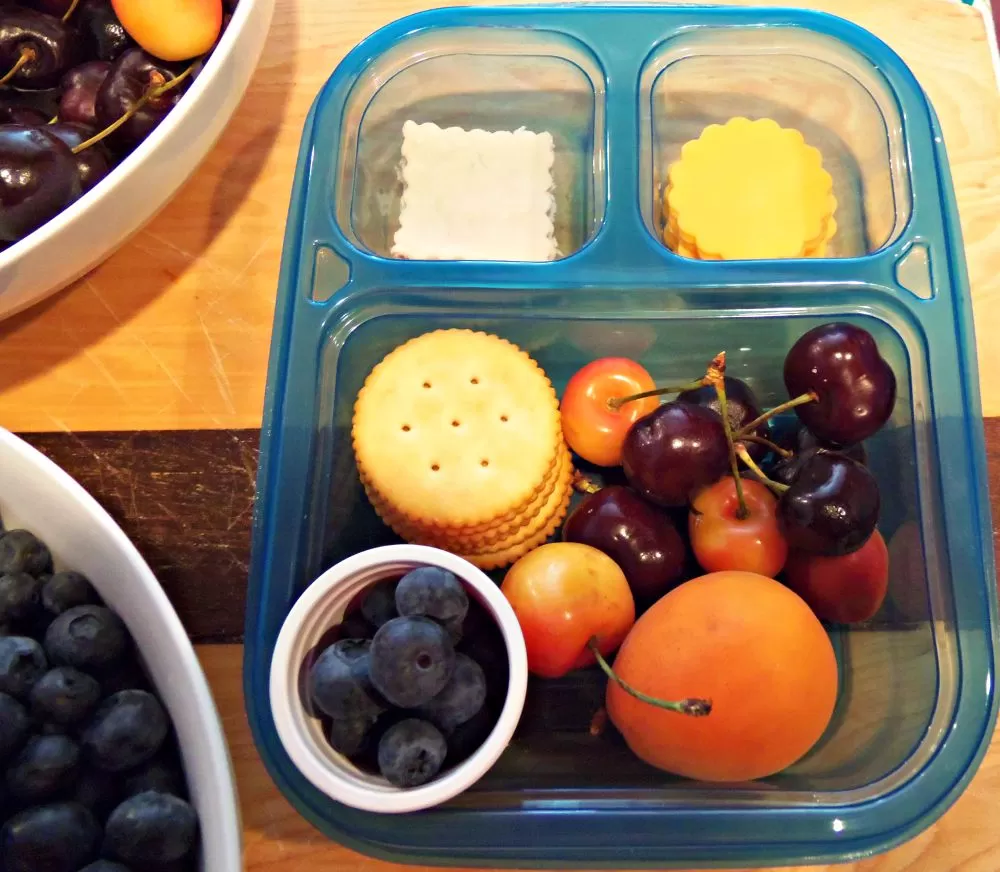 The DIY Lunchable
My kids love lunchables. I found that a great way to get healthier options into their lunches is to pack them lunchables that we make at home. The kids love them, and I can pack it with food that is nutritious and will help keep them focused for the school day.
I found these lunch kits for $1 ea and bought a few affordable cookie cutter sets, and use it to make my kids lunchables that they like better then the ones we buy pre-made. Plus, they eat more out of them since I can pack each one with foods each child likes.
Here are a few tips for making DIY Lunchables easy to pack and keep them healthy:
Have the foods ready to go the morning of, for easy packing. I do this by washing and drying my fruits and veggies over the weekend and keeping them in easy to grab bowls in the fridge. I also buy the pre-sliced Foster Farms All Natural lunchmeat and pre-sliced cheese packs when on sale.
Have a spot to make the lunches. I have a kitchen island that I will pull out my cutting board and the bowls of fruits, Foster Farms lunchmeat and other snacks I want to use for the day. Once you have it all out on the counter, it takes me just a few minutes to assemble the DIY lunchables.
Put the lunchable on top of an ice pack in a lunch container to keep it chilled until lunch time.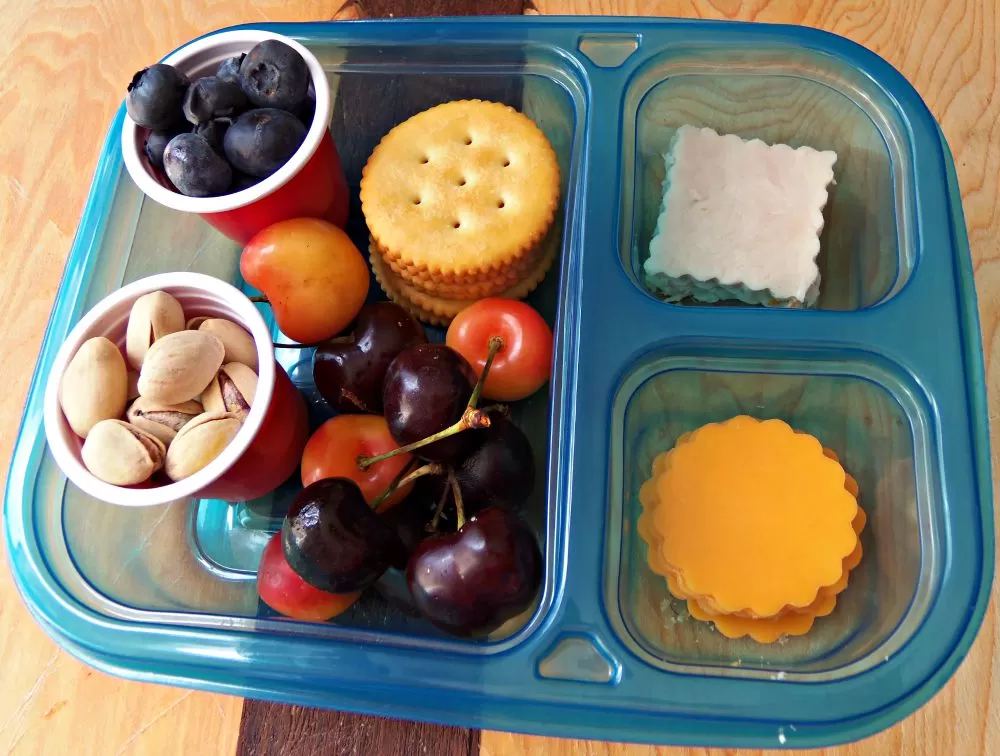 Ways to make the lunchables extra fun for your kids:
I use the small cookie cutters to cut the meat out. If I am careful I can get four squares out of a meat slice. I stack three slices of Foster Farms All-Natural Turkey on top of each other and cut out four squares, and have a whole stack of lunchmeat to put in the container. This is a great way to stretch the lunchmeat too (and its a perfect portion for my kids).
I use a different pattern cookie cutter in the same size for the cheese slices (I stack two slices on top of each other and use the same method).
On this day we were actually making a picnic lunch (just makes an ordinary day a little more fun for the kids!). So I used the small red cups to help separate the other items. For some reason my kids just love to eat and drink out of these. If I am packing for school lunches I use reusable cupcake liners to separate the other snacks, and then the lid easily fits on.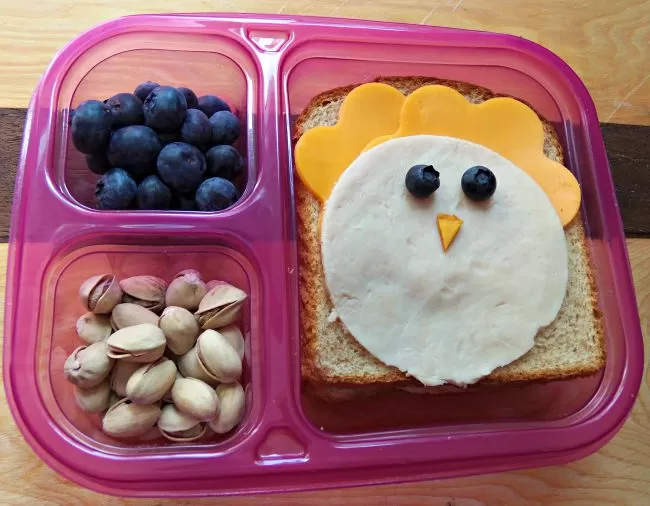 A true "Turkey Sandwich" Bento Lunch!
I have one child who loves turkey sandwiches. Just to make it more fun, I used the Foster Farms All-Natural lunchmeat to make her a Bento style lunch that looked like a turkey. This was so simple! I used most of the same ingredients I did for the lunchable above, but instead I took two pieces of the cheese slices and used a large flower cookie cutter for the back of the turkey.
I then used a large circle cookie cutter to make the turkey body, and added two blueberries for the eyes and a small piece of cheese for the beak.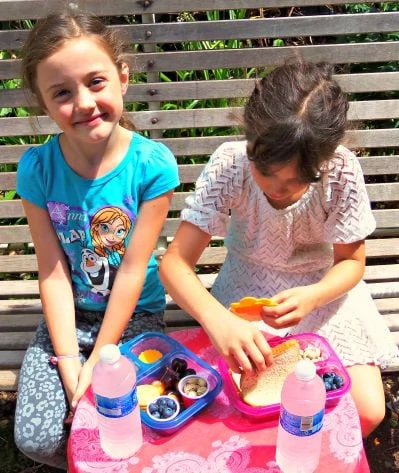 To keep it practical for my daughter I layered the bottom of the lunch container with a piece of bread with a few slices of turkey and mustard on it (what she likes on her sandwiches, you can add what your child likes best). I then topped it off with another slice of bread, and added the turkey to the top of that slice of bread. When she goes to eat her sandwich she just moves the cheese and turkey for that to the inside of the sandwich, and it tastes great to her (you can see how east it is in the picture above)!
This version took me just a minute or two to assemble. No hard work here!
Another tip, is that my kids do not love crust on their sandwiches. To keep it super simple, you could make their turkey sandwich just like they regularly eat it, and then use a large cookie cutter to cut the whole sandwich into a fun shape (we have butterflies and hearts, etc that the kids love to use).

Tea Sandwich Shish-Kabobs
The Tea Sandwich Shish-Kabob also works great for school lunches, and is also one of my favorite tips to make food stretch for small parties and get together.
I simply use the small cookie cutters to cut out four shapes from the bread, a different shape for the meat and one for the cheese too. I love to put them on the shish-kabob stick with cherry tomatoes and have favorite condiments available on the side that folks can add as they like. This is a way that you can make one slice of bread, and one slice of the Foster Farms All-Natural Turkey stretch per person if you wanted to!
You could add basil leaves or lettuce, pieces of bacon, or anything else you think would go good on the sandwich too. Serve with some fruits, nuts or pretzels for a healthy and affordable snack for guests!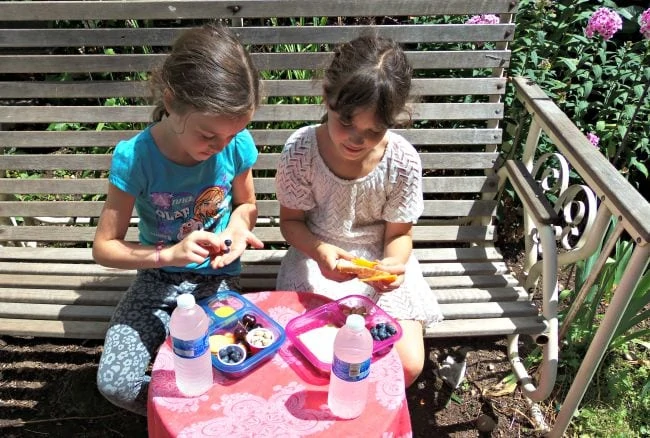 And here are the kids enjoying their lunches picnic style in our front yard garden. It gets them excited to eat healthier foods, and makes a normal day feel special for them.
We all really liked the Foster Farms All-Natural turkey lunch meat, and it will be a regular in my back to school lunch arsenal for sure this year!
This new product is only available in California, Oregon and Washington. You can find it at Safeway and select Albertsons stores here in the NW, and also at Vons and Raleys in other areas. Don't forget to grab your $1 off coupon before heading out to purchase too!
Let us know what you think once you get a chance to try it.
Disclosure: 
This blog post is part of a paid SocialMoms and Foster Farms blogging program. The opinions and ideas expressed here are my own.