How We Outfitted A Local Mom with a New Wardrobe for $250 + Enter To WIN $25 Kohls Gift Card!
This post may contain affiliate links and I may be compensated for this post. Please read our disclosure policy here.
We showed you last week how we took local mom, Nikki, on a $250 shopping spree (thanks to Kohls) and got her an entire new wardrobe for just around $250. You can find the details here, but Nikki ended up with 18 items for $250 after rewards (we paid an average of about $14 per item)! We shared the first 6 outfits that Nikki came up with in this post, and these were all right in the dressing room at Kohls (and read about why we wanted to get her set up with a new wardrobe in that post too)!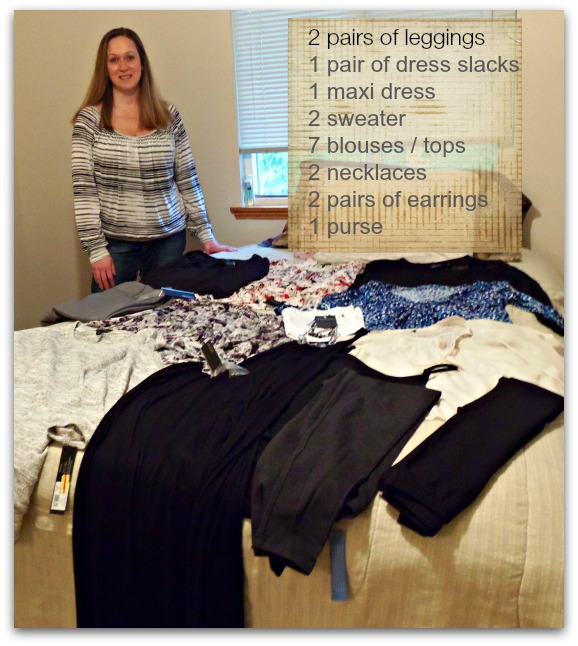 This week Nikki invited me into her home, to see how we could continue to stretch her wardrobe with the things we had purchased last week. Our goal was to give her 5 more go to outfits from these items. However, we were having so much fun that we came up with more then 5 more outfits!
The first four outfits are in the picture at the top of the page. Next we simply took a black top and pants and just switched it out from different shirts and jackets from Nikkis own closet. By adding in accessories and a bag, and changing out her shoes, she found a really cost effective way to make the most out of these clothes! These outfits are shown below.
This is Nikki celebrating after we got all of those outfits figured out. She now has enough items in her closet she can throw them up to celebrate!

A big thanks to Kohls for providing us the gift card to get Nikki a new wardrobe. We shopped the Daisy Fuentes line, which was not only incredibly flattering on Nikki, but also provided so much versatility for her wardrobe!
We would love to hear from you too. Let us know your favorite ways to bless a neighbor, or family member using your best saving skills!!
Giveaway –Win a $25 Kohls Gift Card 
Kohls has also provided us a $25 gift card to give to one of you!
This giveaway will end on Wed. 4/9  at 9pm pst.
The winners will be drawn using "And the Winner Is" plugin and announced on the blog.  I will also email the winners. The winners will have 48 hours to contact me, otherwise a new winner will be drawn. US residents only & you must be 18 yrs or older to enter the giveaway. This giveaway is not affiliated with Facebook in any way.
Here's how to enter this giveaway::
1st Entry (required entry): Comment below and let us know your favorite thing about the Daisy Fuentes line at Kohls (you can comment based on the outfits Nikki got if you have not purchased this brand before)
Extra Entries : (make sure these are all separate comments, with a comment for each entry)
2) Subscribe to the Thrifty NW Mom feed via email (must be verified)
3) Leave a comment here saying you "shared" this post (and let us know how)!
Disclosure:: Kohls provided the gift cards use to shop for Nikki with and find deals to share with you all.  All opinions are 100% mine. See our disclosure policy  for more details.