Kohls Partners With Us to Outfit a Local Mom in Daisy Fuentes Clothes!!
This post may contain affiliate links and I may be compensated for this post. Please read our disclosure policy here.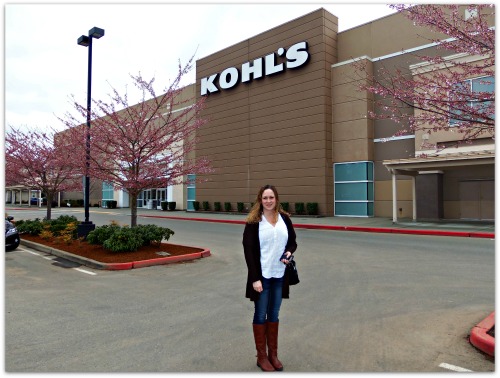 We are really excited to share this post with you. We recently had the opportunity to partner with Kohls, to work to get a local Seattle area mom set up with a new closet full of Daisy Fuentes clothing. Nikki (shown above) is a local single mom of three teens and pre-teens. She recently had her work hours cut back on her, and so like so many of you moms out there, Nikki spends what she can on her kids and very rarely splurges on herself. As a busy working mom of three kids, we thought that the Daisy Fuentes line at Kohls would be perfect to help give her a new wardrobe, made for a grown up!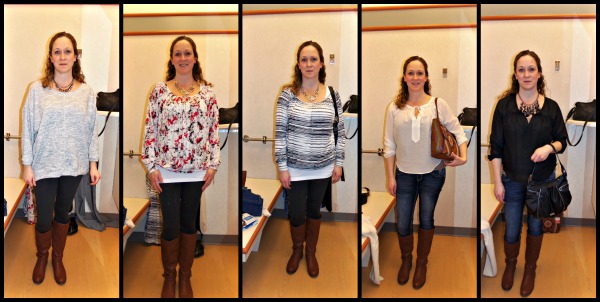 Nikki met me up at my local Kohls store, and our challenge was to provide Nikki with a new wardrobe with $250. The Daisy Fuentes line was perfect, as we were able to get her some items that were not only flattering and comfortable, but versatile too. Many of the items we picked up for Nikki can easily transition from running errands to going out to dinner, and even some items she can wear for a professional look.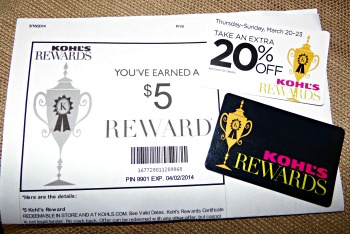 We spent $258.85 and will get back $10 in Kohls Rewards. Although we only s
pent $258, we actually had approx. $350 worth of clothing in our cart
(that was after the sale price's, but before all of our discounts were applied). We prepared for our shopping trip by getting all of our coupons and rewards ready. Here are a couple of things I recommend when shopping Kohls:
Sign up for the Kohls Rewards program. You get special coupons mailed to you, plus you earn an extra $5 reward for every $100 you spend.
If you have not signed up for Kohls emails do that here about a week before you plan to shop, and they will send you a free $5 coupon to shop with.
Check the Savings.com Kohls promotion page here to find out what promo codes and coupons might be available when you shop.
The 5 outfits you see in the picture above are just the tip of the iceberg in terms of what she got, and the variety of different outfits Nikki can mix and match. She loves the pants and boots look, so we started by giving her 5 great looks she can quickly throw on when she has to run out of the house. They are all built around a pair of boots Nikki already had and loves to wear. She got 5 different tops that we mix and match with boots and jeans or boots and leggings, then add in some jewelry and a new handbag to finish the look off.
These are just from the dressing room (so before she had an opportunity to mix items with what is currently in her closet). Once she does that, she really has an entire new wardrobe full of outfits to wear for all occasions.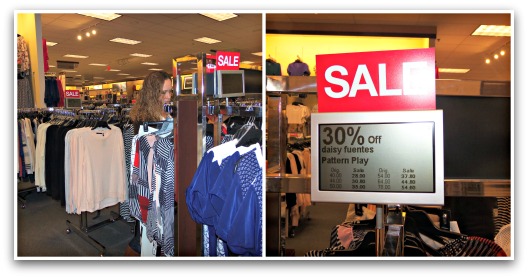 All together Nikki ended up with:
2 pairs of leggings
1 pair of dress slacks
1 maxi dress
2 sweater
7 blouses / tops
2 necklaces
2 pairs of earrings
1 purse

Loved this beautiful Daisy Fuentes sweater on Nikki. She can wear it over a dress or throw a tank under it and wear it with jeans for a more casual look!
That's an average of less then $14 per item, and she got some very nice clothing! By mixing and matching these outfits, she was able to put together an entire wardrobe for $250! Nikki has outfits that she can wear to work for a professional look, when she wants something casual (like dropping the kids off at school and grocery shopping), and outfits she can wear out to a restaurant in the evening when she is able to get away and more!
Stay tuned for next week, when we reveal 5 more outfits that we mixed and matched on Nikki from this shopping trip (plus more ideas on integrating the new clothes with her existing wardrobe).  She felt great in the Daisy Fuentes clothes, there were so many flattering options.
We also want to encourage folks, who are looking for a way to bless a hard working mom in their community. If $250 could get an entire wardrobe for one mom at Kohls, all of you smart couponers could probably take a mom out and bless her with a new outfit for around $40! Just an idea, if you were thinking about a way to make someone you know feel really special.
Disclosure:: Kohls provided the gift cards use to shop for Nikki with and find deals to share with you all.  All opinions are 100% mine. See our disclosure policy  for more details.