Double R Farms Pumpkin Patch – Puyallup, WA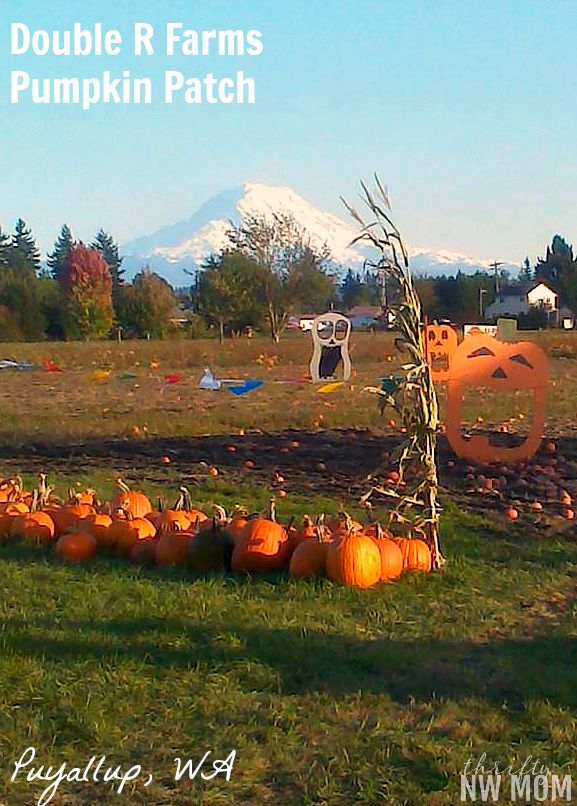 We are featuring a series of pumpkin patch & fall farm activity reviews with you this month from readers as well as our reviews.  If you'd like to share your favorite pumpkin patch or fall farm activity, submit a pumpkin patch review through our form and if we use your review, we will send you a $10 Amazon Gift Card. {We'd LOVE to get some Oregon reviews, too, if you have a favorite pumpkin patch!}
We would also love to hear your thoughts and opinions on these pumpkin patches & farms. Please comment below with your review, additional tips, or anything else you want to add. Check out a list of all the pumpkin patch & farm reviews we've shared. 
Double R Farms Pumpkin Patch
Double R Farms is located in Puyallup, off River Road, next to the Duris Pickles Farm & the big soccer fields. They will be open starting on Saturday October 3rd. Weekends they will be open from 10am – 6pm & Monday – Friday from 3 – 6pm. They will have pumpkins already picked as well as U-pick pumpkins. This is a small, family-run farm that is not too far off I-5, in the middle of Puyallup & Tacoma. It's a more low-key, relaxed atmosphere without the crowds of some of the larger farms in the area. What a gorgeous view of Mt Rainier they have from the pumpkin fields on a beautiful day!
Highlights of Double R Farm Pumpkin Patch:
Double R Farms has a corn maze, mini pumpkins sling shot, and hay wagon ride around the farm. They have pumpkins, flowers and corn stalks for sale. I like that it is a small family farm, not a huge crowded  farm. I prefer to support small business.
Recommended Ages for the Pumpkin Patch:
All ages will enjoy this farm. Activities for all ages, very family friendly and you can bring your dog on a leash.
Review of the Pumpkin Patch:
This farm is operated by three generations of the family. They strive to make your experience at the farm fun and safe without the big crowds of bigger farms. Very family friendly nice place to visit every Fall. I see many families come there every year to take their family photos. Most families are there for at least a couple of hours to take in the whole farm experience. It can get muddy if it is rainy, so wear boots or weather proof shoes. Dress for the weather and you will enjoy your visit more. There are porta potties, not plumbed bathrooms so bring some wet wipes for the little ones.
Anything else we should know about this Pumpkin Patch or Farm?
There is a food/drink truck there for meal or snacks. The past few years, they have offered Bonanza BBQ food vendor with delicious bbq food, hot dogs, hot and cold drinks at very reasonable prices. There are picnic tables to eat at, or take your bbq home for dinner. The corn maze is a few dollars, and sling shot cost a couple dollars. The hay ride is free.
Thanks to Chris for this review of the Double R Farms!  We'd love to hear from you if you've visited Double R Farms & what your experience was like!
More Fall Fun:
You can also find a BIG list of Northwest Fall Festivals and Pumpkin Patches to use as a resource for finding a fun family outing for the fall near you.
If you're on the hunt to check out the beautiful changing of the leaves, here are a few of the best places to view the autumn colors around the Northwest.
Here are more reviews of pumpkin patches for you to check out: