Scholz Farms "Pumpkin Palace" – Pierce County Pumpkin Patch with lots of FREE family fun!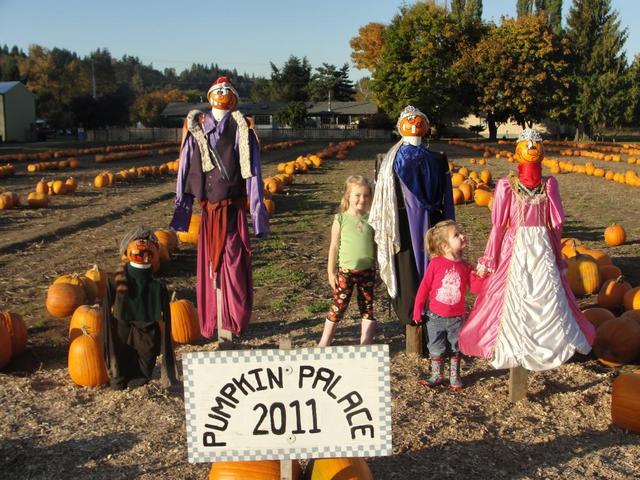 One of our favorite places to head to during the fall season is Scholz Farm's "Pumpkin Palace" for some good, ol'fashioned fun on the farm! What I love about Scholz is that it is definitely the most frugal of all the pumpkin patches around this area of Pierce County,  but there is some serious fun to be had for the kids, especially the younger crowd – toddlers, preschoolers & elementary aged kids. All of the activities at Scholz are FREE – you do not pay for any activities – you only pay for the items in their retail section & store (pumpkins, seasonal items – corn stalks, hay bales, all sorts our gourds, produce, etc).
 Scholz Farms is conveniently located just right off Highway 410 on the Orting Highway (maybe 10 minutes from Highway 167) and about 5 miles down the Orting Highway on the right-hand side headed towards Orting. You can't miss the big signs directing you to the Pumpkin Palace (it's past Spooner Farms, another popular pumpkin patch in the valley).
They've got a large pumpkin patch as well as stalls full of animals (pigs, turkeys, goats, & more), corn maze, retail store & gift shop (with all locally grown or Washington grown produce) as well as lots of fun activities for the kiddos. It can definitely keep you busy for a couple of hours if you have younger kids.
Here are a few of our favorite  things to do at the Pumpkin Palace:
(these are pictures from last year's visit – we haven't made it out yet this year, but hopefully this next week – these are the activities they offer each year, though)
They have a whole area out back with activities for the kids. My kids love the putt-putt golf with the homemade golf course they created. I love the golf clubs – a stick with an old-fashioned shoe at the end. The kids think it's hilarious to hit the golf balls with the shoe!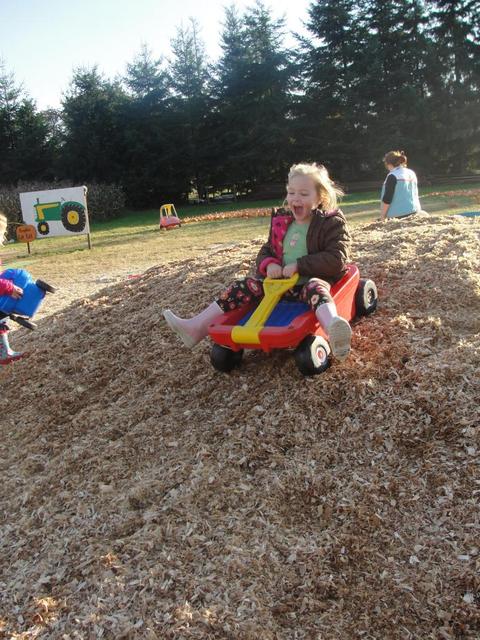 This is probably the biggest hit for my kiddos – it's a big pile of wood shavings & they have a bunch of ride on toys/trikes that kids can bring up to the top of the hill & then ride all the way down. I think my daughter likes it, don't you? Pure joy!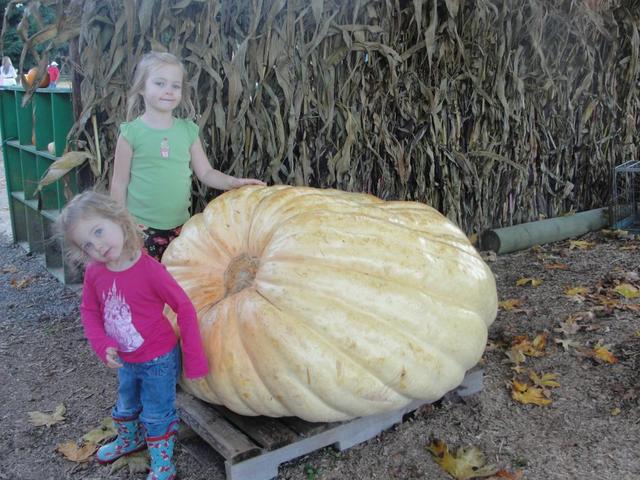 My girls love checking out the gigantic pumpkins they have on display.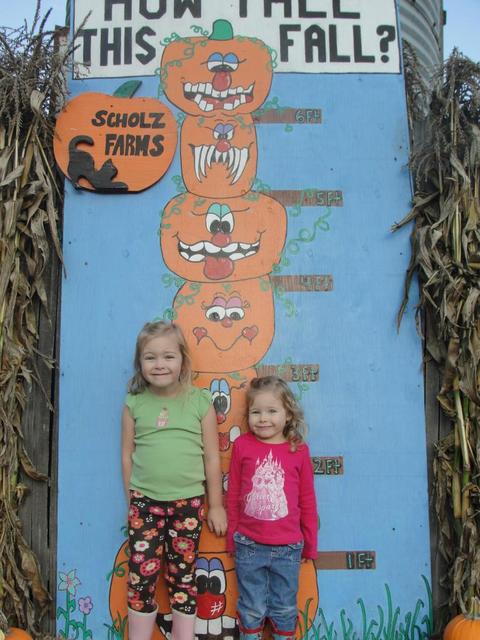 No visit to the pumpkin patch is complete without a picture in front of the "growth" chart – gotta compare every year!
You've got to get a pumpkin patch picture  – an annual tradition of course! They've got a huge field of pumpkins to choose from – every shape & size! We drive by there almost every day & they are constantly bringing new pumpkins to the patch during the week, too.
Corn maze fun – I love that this corn maze is fairly short & nice & easy for the little kiddos! It's easy for them to find their way out so they love to do it themselves! 
As you can see , there's just lots of fun to be had at the Pumpkin Palace at Scholz Farms. I love that it is such a frugal option for families especially with so many higher-priced pumpkin patches around right now – this is a great option to still have a ton of fun as a family & leave with the perfect pumpkin for everyone – yet not having to have break the bank on this fall outing. It's definitely not fancy or as polished as some of the other local pumpkin patches, but they know how to set it up so the whole family can have fun!
Other posts you might be interested in for more Fall Fun:
Make sure to check out all of our fall-related posts – everything from pumpkin patch reviews, favorite places to view the fall colors, fall recipes & more!
Here are a few of our favorites: