Jubilee Farm Pumpkin Patch Review – Carnation, WA
This post may contain affiliate links and I may be compensated for this post. Please read our disclosure policy here.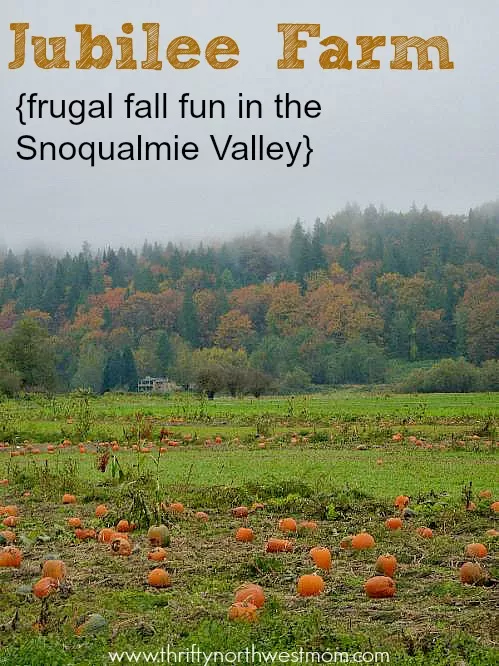 We are featuring a series of pumpkin patch & fall farm activity reviews with you this month from readers as well as our reviews.  If you'd like to share your favorite pumpkin patch or fall farm activity, submit a pumpkin patch review through our form and if we use your review, we will send you a $10 Amazon Gift Card.
We would also love to hear your thoughts and opinions on these pumpkin patches & farms. Please comment below with your review, additional tips, or anything else you want to add.
Jubilee Farm Pumpkin Patch
Jubilee Farm is located in the Snoqualmie Valley in Carnation, WA. This is the perfect farm if you're looking for simple & frugal family fun in the beautiful Snoqualmie Valley area.  There are no entrance fees & hayrides are also free, so this makes for a great day of visiting the farm animals, picking out a pumpkin in the patch & perusing the barn store at the farm.
Highlights of Creek House Farm & Pumpkin Patch: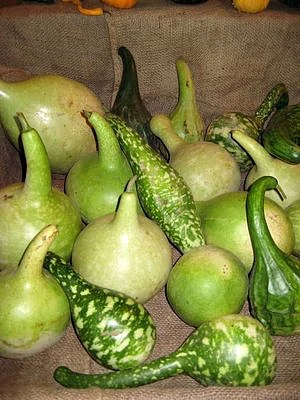 From 10 am to 5 pm every Saturday and Sunday in October, this farm hosts a pumpkin patch event which includes: hayrides to the pumpkin fields, food vendors, u-pick flowers and shopping at the farm's barn store, walking through the hay maze, cooking demos, visiting and feeding farm animals and pumpkin toss.
Recommended Ages for the Pumpkin Patch: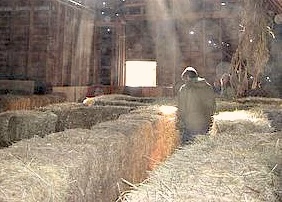 Jubilee's Pumpkin Season festivities are suitable for all ages. Children between the ages of 2 and 7 especially love running around on this farm, visiting the animals and riding the hay wagon
Review of the Pumpkin Patch: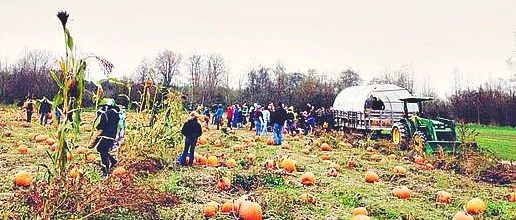 A favorite place to go for a pumpkin patch day trip; Jubilee Farm is  truly a community farm where everyone who visits is made to feel like they are family friends. What's great about this pumpkin patch celebration is that it's free to enter the farm, free to park and hayrides are free. Everything from food to fun is there–we have spent as much as two hours at this pumpkin patch, and could have stayed a little longer. Among our memories of visits to Jubilee are a big haul of pumpkins and gorgeous gourds, sticky hands from the delicious roasted fresh corn, and freshly pressed hot apple cider with doughnuts; muddy feet from running to pick up pieces of pumpkin that have been tossed from the trebuchet up in the air to splat! onto the ground, and the gleeful squeals of kiddos as they feed the pumpkin pieces to the pigs. Live music is also part of the celebration on most days, making the whole experience even more wonderful.
Driving along the back roads of highways 202 & 203 to arrive at the farm offers stunning views of endless landscapes, embraced by mountains and dotted with bursts of autumn color against the open sky. From the trip to the farm to the pumpkin patch party–it all comes together in memorable moments that inspired us to make this pumpkin patch a tradition. Our family has enjoyed 5 pumpkin patch events at Jubilee. And we have met many other families who have been coming to this seasonal celebration for years.
Anything else we should know about this Pumpkin Patch:
While it may seem the perfect outing for a family dog, be advised to not bring pets onto the farm. This is a working farm with an abundance of food crops. Family pets could cause unsanitary conditions for the crops.
There are Sani-Kans on site and places outside to wash hands. The kids will get dirty, but it's all part of the fun of running around free on lots of farmland. If you care about the car seats and floor–bring something to cover them for the ride home.
We'd love to hear from you if you've visited Jubilee Farm & what your experience was like!
You can also find a BIG list of Northwest Fall Festivals and Pumpkin Patches to use as a resource for finding a fun family outing for the fall near you.  If you're on the hunt to check out the beautiful changing of the leaves, here are a few of the best places to view the autumn colors around the Northwest.
Here are more reviews of pumpkin patches for you to check out:
 Thanks to reader Kim for this review. Kim is a Snoqualmie community activist and resident. Check out her website at the Snoqualmie Arts Market.