Submit a Review of your Favorite Pumpkin Patch or Farm
This post may contain affiliate links and I may be compensated for this post. Please read our disclosure policy here.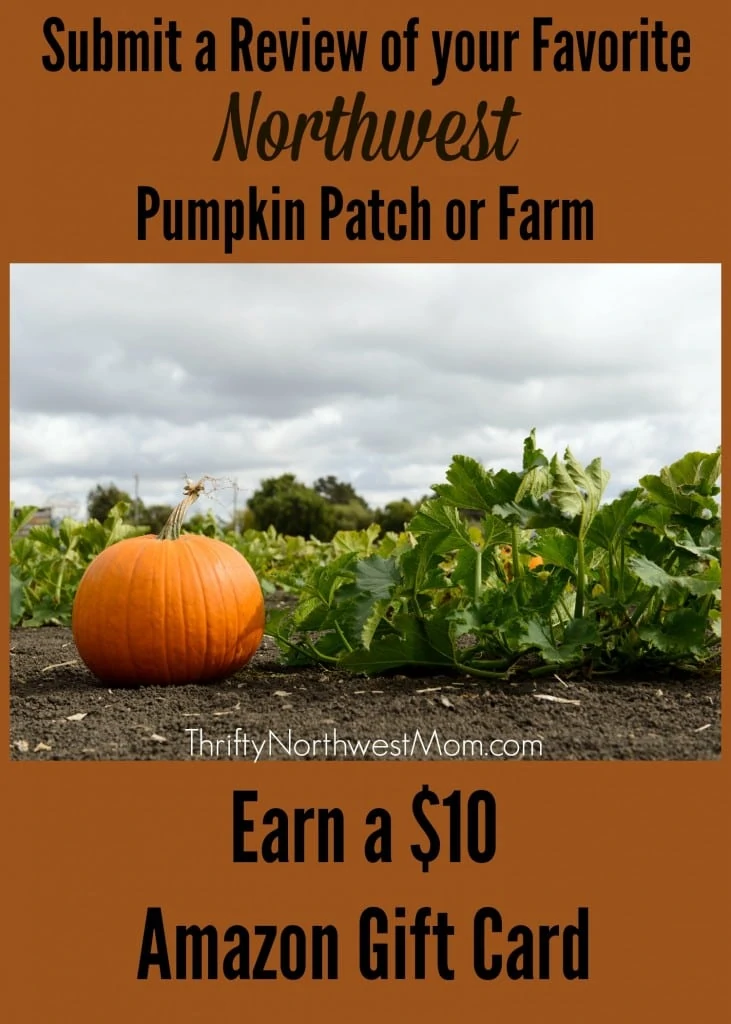 Fall season is upon us which means it's time to check out the local pumpkin patches & participate in other fun fall activities. We would love to hear what are your favorite pumpkin patches or places around the NW with great fall activities (farms for apple picking, cider squeezes, and more).   We are looking for Pumpkin Patches specifically around Washington, Oregon, but we'd also be interested in locations in Idaho & western British Columbia, too.
If we publish your Pumpkin Patch or Farm Review, we will email you a $10 Amazon Gift Card within 2 weeks. There is no limit on how many reviews you can submit, so it might be a nice way to earn some Amazon Gift Cards! We know you all love Amazon! :)  We can't wait to hear about your favorite places to explore in the fall!
Here are some other locations we are also accepting reviews for:
Here are some park reviews you can look at for ideas of what we're looking for. If you have an idea for a different kind of review of a Northwest location you'd like to share, just send us a quick email with your idea – thriftynorthwestmom (at) gmail (dot) com.
Keep in Mind:
Please do not copy/paste any info from the pumpkin patch or farm's website, but share the information about the location in your own words. The more details, the better so that we can all learn more about it.
We need at least 2 good quality pictures, but if you have more pictures, the better! We'd love to have good, quality pictures that give readers an idea of what the location is like.
Pictures need to be taken by you or a friend/family member (with their permission) & not taken from other websites.
We ask that the main image of the pumpkin patch or farm  not include any close-ups of people or family members if possible.
Other pictures can include your family members if needed; we just ask that you not include close-up pictures of people if you do not have permission to use their picture (far away pictures are ok).
We will not be able to use every review submitted, but if we do use your review, we will email you a $10 Amazon Gift Card within 2 weeks.
We reserve the right to make changes to the review and bio as necessary to shorten, add / take out information, etc.
Once you submit the form, you are giving your consent for all the information & pictures you submit to belong to Thrifty Northwest Mom to be used on our website & social media sites.