Disclosure: This post is sponsored on behalf of The Motherhood. All opinions & thoughts about this app are mine.  
I am excited to share with you all about this new FREE app, My Military & Money app, specifically geared to military families to help with staying on top of your finances & work towards financial freedom. As I've shared before, I grew up as a military child with my dad in the Navy for over 30 years and we moved every two years all over the country.  My husband also joined the military fresh out of high school, serving in the Coast Guard & Coast Guard reserves for 8 years during the first few years of our marriage.
I have seen first-hand what life is like for military families & how hard it can be to manage money when there are so many difficult factors that military families face: long deployments with infrequent communication about money, moving frequently to new locations & all the expenses you incur with each move (the military covers some but not nearly all of those expenses), and those who join the military young without any money-management training to help them learn how to budget & have a savings account.
Thankfully, the military does have more resources & support nowadays for military families. In fact, I did several coupon classes a few years ago on our local Joint Base Lewis McChord as part of a Money Management series of classes for Military Saves Week. So, they are definitely working hard to provide classes & resources for families. The problem is that it takes time away from military families' busy schedules & often short & infrequent times to see their spouse to attend these trainings & visit support staff.
I knew I wanted to learn more when I heard about a new FREE app called "My Military & Money App" created by McGraw Hill & BBB Military Line. The app provides resources and tools to help families learn more about managing their money & the process to go thru when making big financial decisions.
This free app is a resource that is available anytime & anywhere for smartphones & tablets (great for deployed military members too), with specific tools that can really help you put together a good financial plan. Spouses can sit down together with the app to go thru the tools & put a plan into place together & then stay connected thru the app, whereever they are, so they are consistent & keeping track of where they're at with their goals.
Details about the My Military & Money App: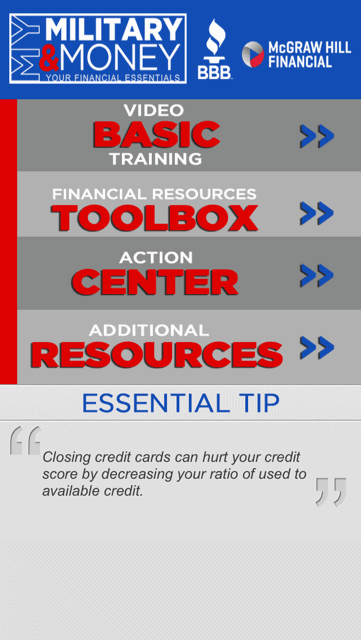 Available in both the iTunes store and the Google Play store for FREE to download & use
Available to anyone to use – not just military families – This app is greated more towards the unique issues that military families can face, but it can be a great money management tool for anyone to use
Introductory Video Training Series – these are some intro videos to help you understand the basics of money management & how the tools in the app can help you better manage your money
Tools to Help you Manage your Money – tools for creating a credit card debt reduction plan, building a balanced budget & how to structure a savings plan. These tools not only show you how to do it, but you actually use the app to track your budget, your credit card reduction, & your savings.
Resources & tips for financial situations such as Retirement, Deployment & Buying a Home
Reminder function to revisit your financial plans each month – this is optional but you can set a calendar to send you alerts on a schedule you determine to help you & your family stay on track on your finances all month long
There is also a website called My Military & Money.com, which you can use in addition to the app as another resource to help you work on your money management plans & get answers to your questions about your financial situation. Between both the website & the new My Military & Money FREE app, hopefully this will provide military families with good resources & tools to start the discussions & put into place plans to help them achieve financial freedom.
Twitter Party on Wednesday October 1st:
If you'd like to learn more about the My Military & Money app & get some of your questions answered, feel free to join the #MyMilitaryMoney Twitter Party on Wednesday 10/1 at 10am pst (1pm est). Just use the hashtag: #MyMilitaryMoney to find the party
There will be 5 winners who will win a $50 Visa Gift Card – but make sure to RSVP on this link to be eligible to win one of the gift cards. {Prizes limited to US participants only.}