DIY School Supplies – How to Customize School Supplies & Save Too!
This post may contain affiliate links and I may be compensated for this post. Please read our disclosure policy here.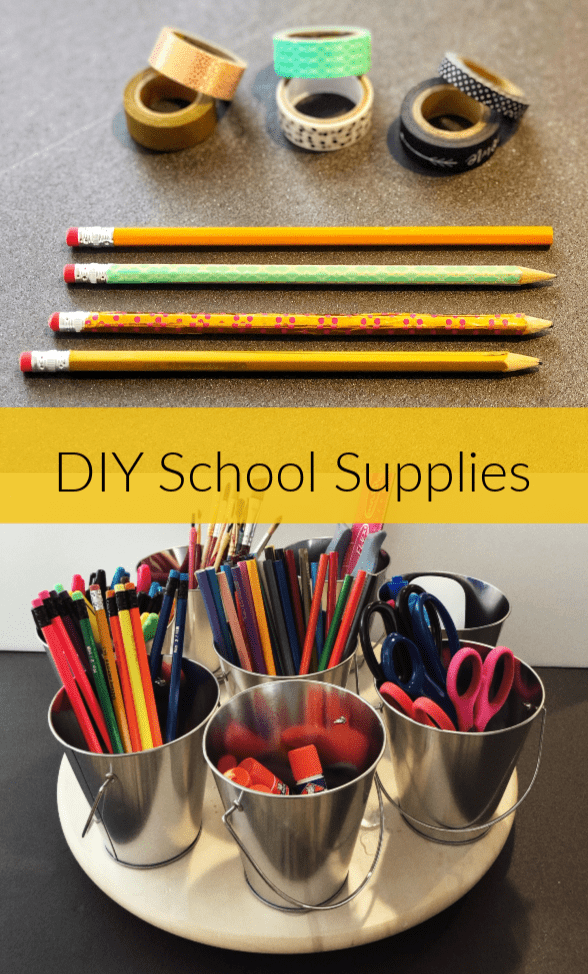 DIY School Supplies – How to Customize School Supplies & Save Too!
We shared previously on how to save on back to school clothing at Goodwill. When we were there shopping, we also saw lots of ideas to both save on school supplies, as well as some fun projects to make your own DIY School Supplies too. They do sell some new school supplies, but my favorite thing about heading to Goodwill for school supplies, is to look for great items that the kids can embellish to transform into their own DIY School Supplies, that are customized to their own taste. This not only saves money, but can also create some fun craft and project time at home with the kids before school starts. This is an even better idea, if your kids have supplies left over from last year. Use some of these tips to make them feel new to your kids, for the coming school year, rather than buying all new supplies.
Here are some of the projects we made to help inspire your ideas for DIY school supplies. Let us know what fun projects you have come up with too.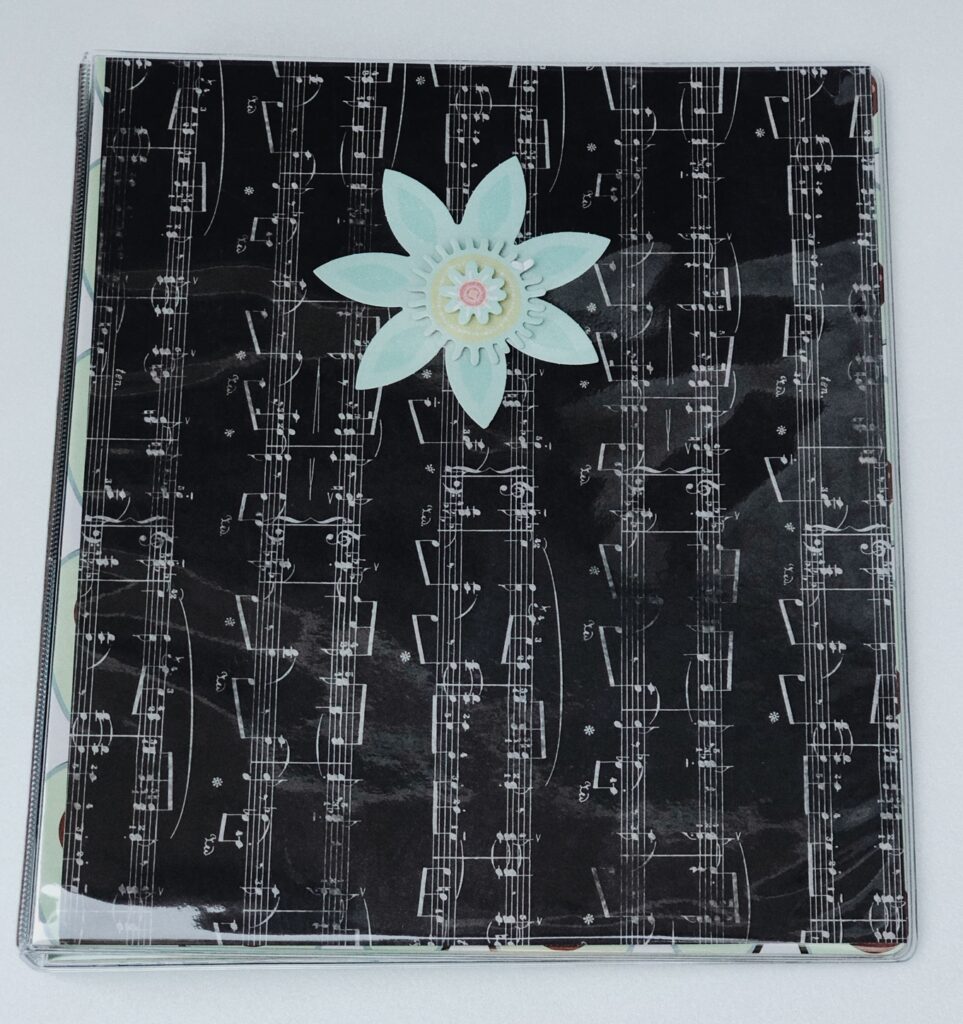 Buy used binders at a discount, and then decorate them so they look brand new!
These are so easy to update. You can use duct tape, or decals from Cricut cut outs, or just let the kids cover them in stickers.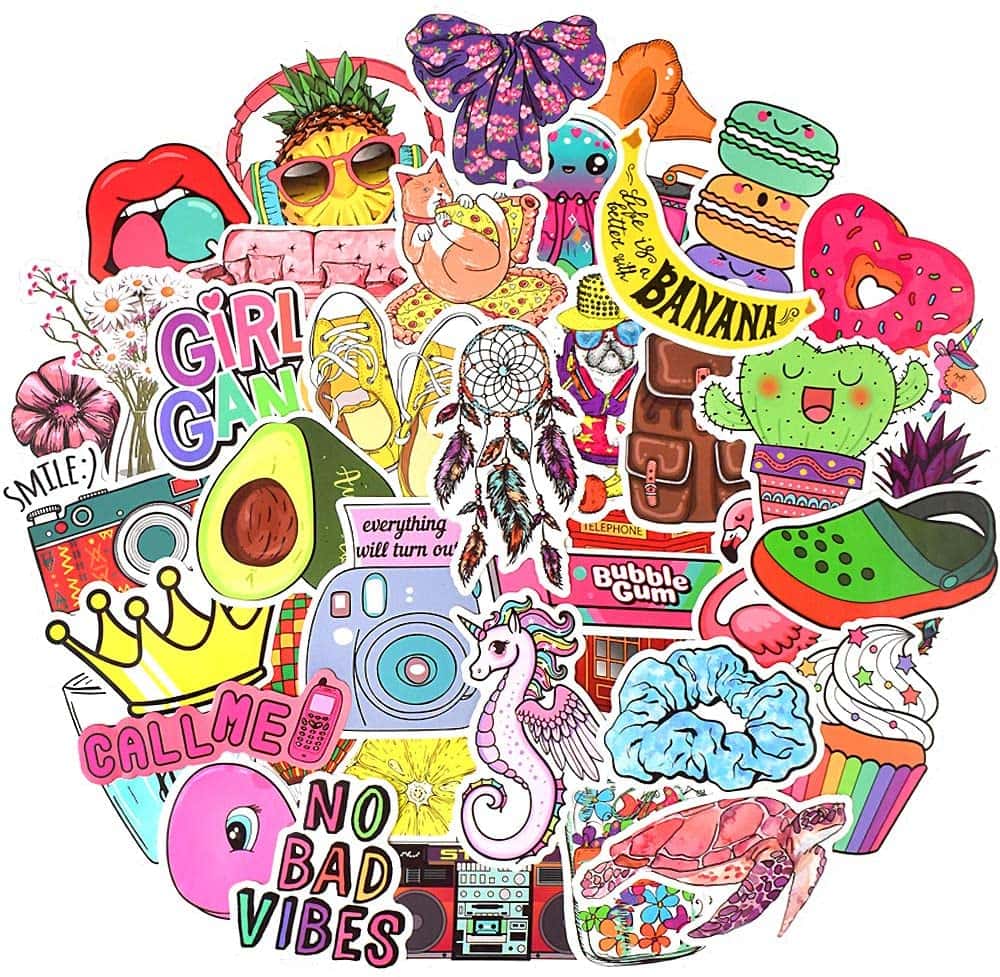 My kids love these large sticker packs you can buy on Amazon for around $5 (this one has 50 stickers in it), then they can go through and pick the ones they love to decorate their binders and other supplies in their own style.
The easiest thing I find though, is to look for the ones with the vinyl covering, and let kids pick out their favorite piece of craft paper at your local crafts store (they are usually like $0.10 cents a sheet) and then just add that in. In a minute, you have a brand new looking binder.
My kids are in orchestra, and always need a music binder. We had this card stock on hand with the music notes, so we slipped this in under the plastic, and added a pretty flower for extra decoration. It took just a few minutes to cut the paper down to size, and she has a like new music binder!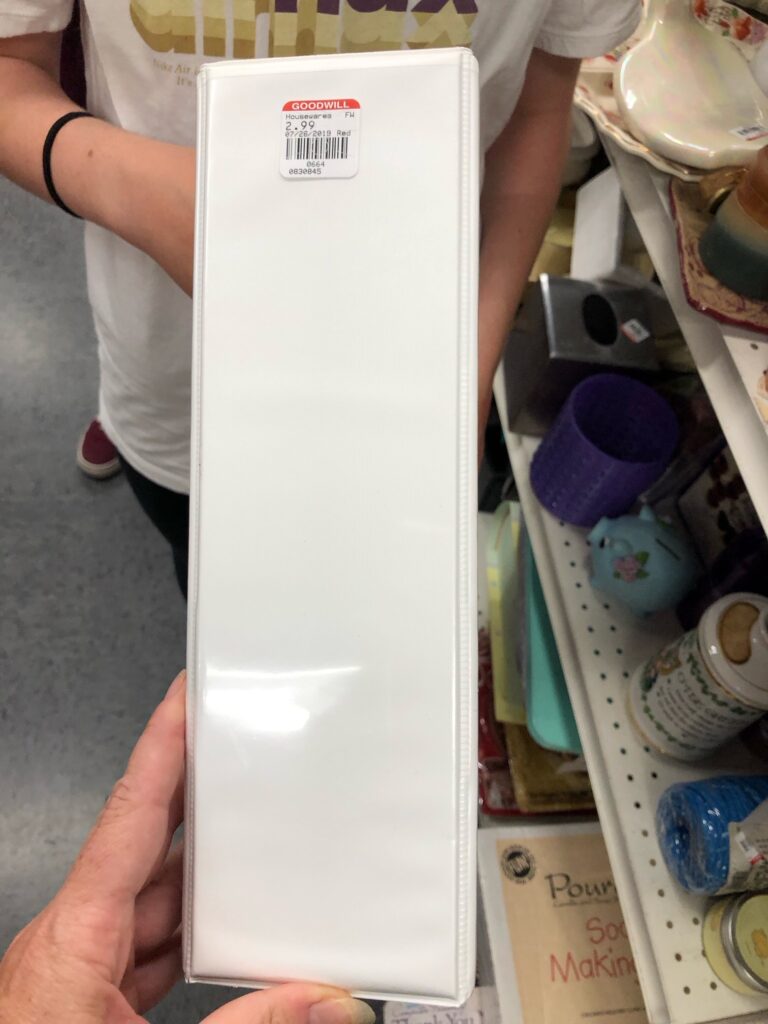 This is an especially great trick to use for the larger 2 and 3 inch binders, which can be pricey and are often required in the older grades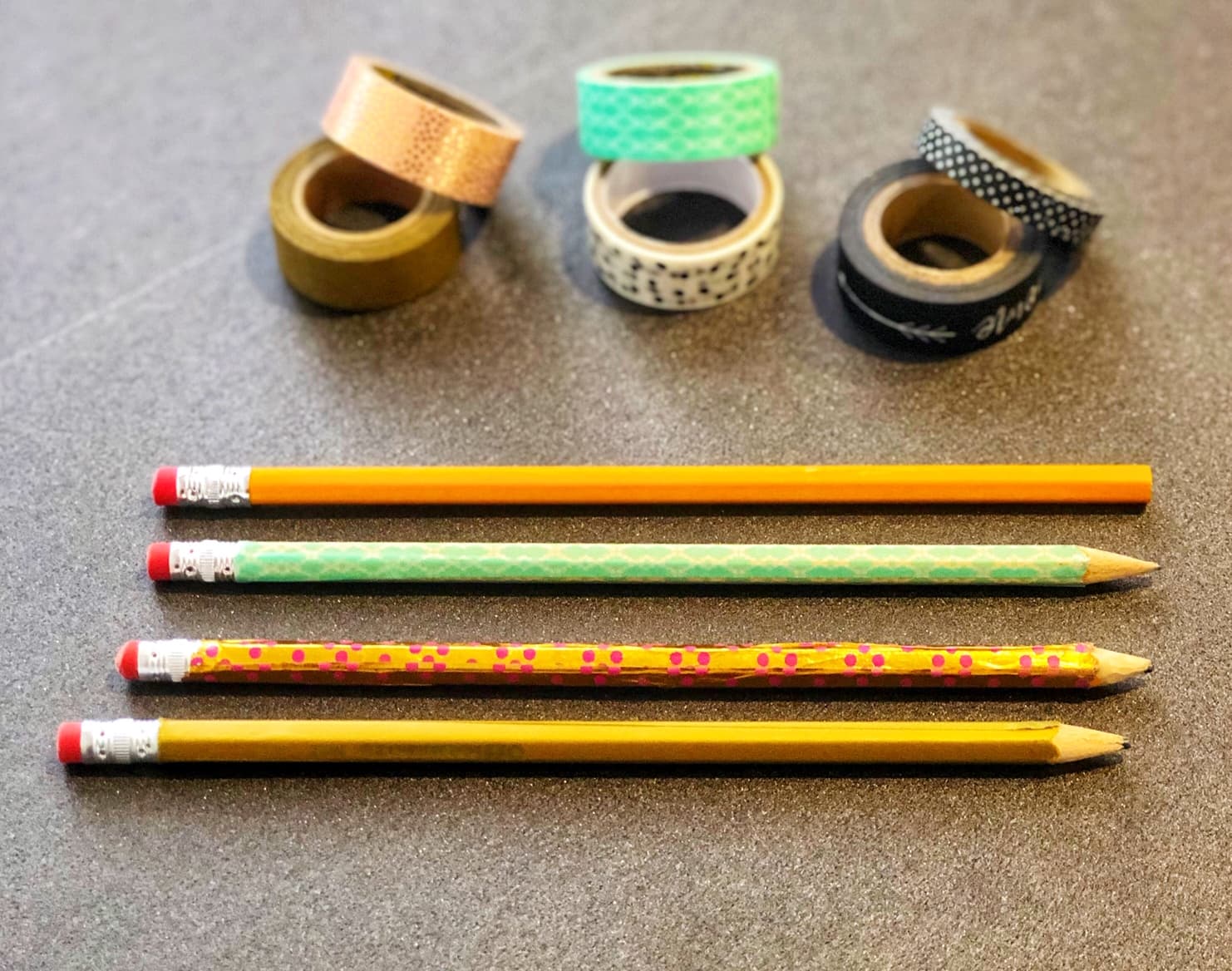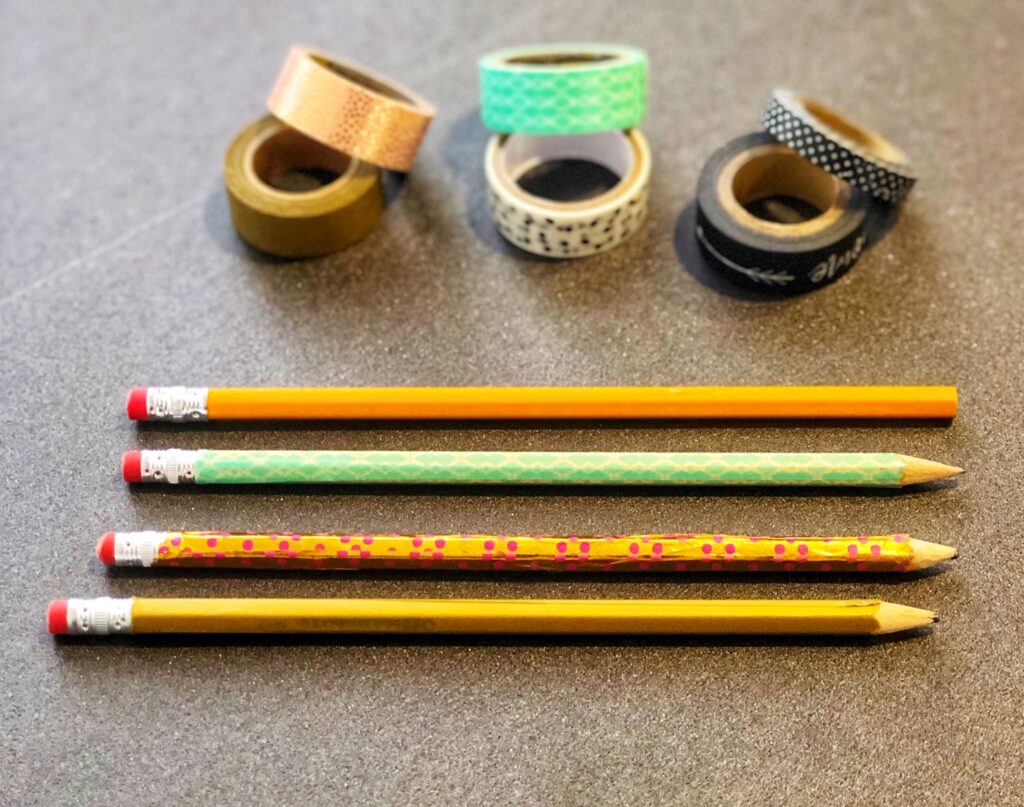 Wrap Pencils and Pens in Washi Tape
This project is so simple, and one of my favorite diy school supply projects as anyone can do it. I love it, as you sharpen the pencils when you are done wrapping in washi tape, so it is the perfect project to make even used pencils fresh and new again!
Simply pick your favorite style of washi tape, and cover the pencil from the eraser end to the point of the pencil. (Amazon or Paper Mart are two great spots to find Washi Tape)
Smooth the tape out, and make sure it is adhered to the pencil well.
Sharpen the pencil (carefully with the tape on it) and you have beautiful, customized pencils all ready for a new school year.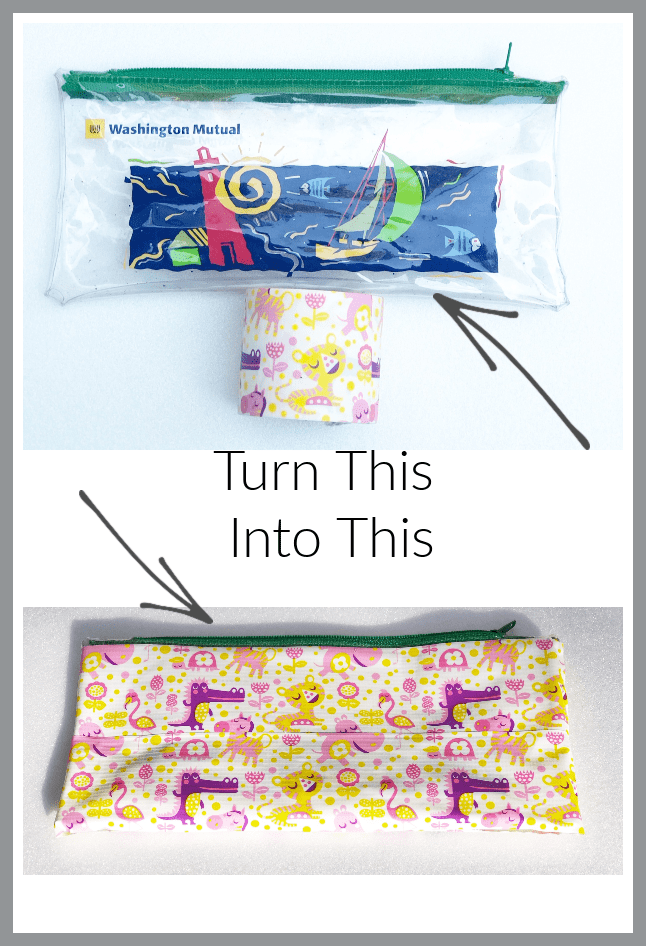 Make your own pencil boxes (or lunch boxes), by looking for unique items and covering in duct tape
This project is so easy, and can be done in a style that suits just about any age range. Look for any kind of zip pouch, that you can then cover in duct tape to make it like new. We made this one shown above in under 5 minutes. You can find rolls of duct tape for $1.44 each at Paper Mart here too.
You can even use the zip lock bags that zip closed for a project like this. Just get the gallon sized bags, fold one in half to make it pencil bag size, and cover in duct tape just the same way as we did with the one above. The duct tape will add strength to the bag to keep it from tearing, and use the zip at the top to open and close. My kids make these yearly, and I use them at home to organize supplies too.
This is also a way you can dress up lunch boxes as well!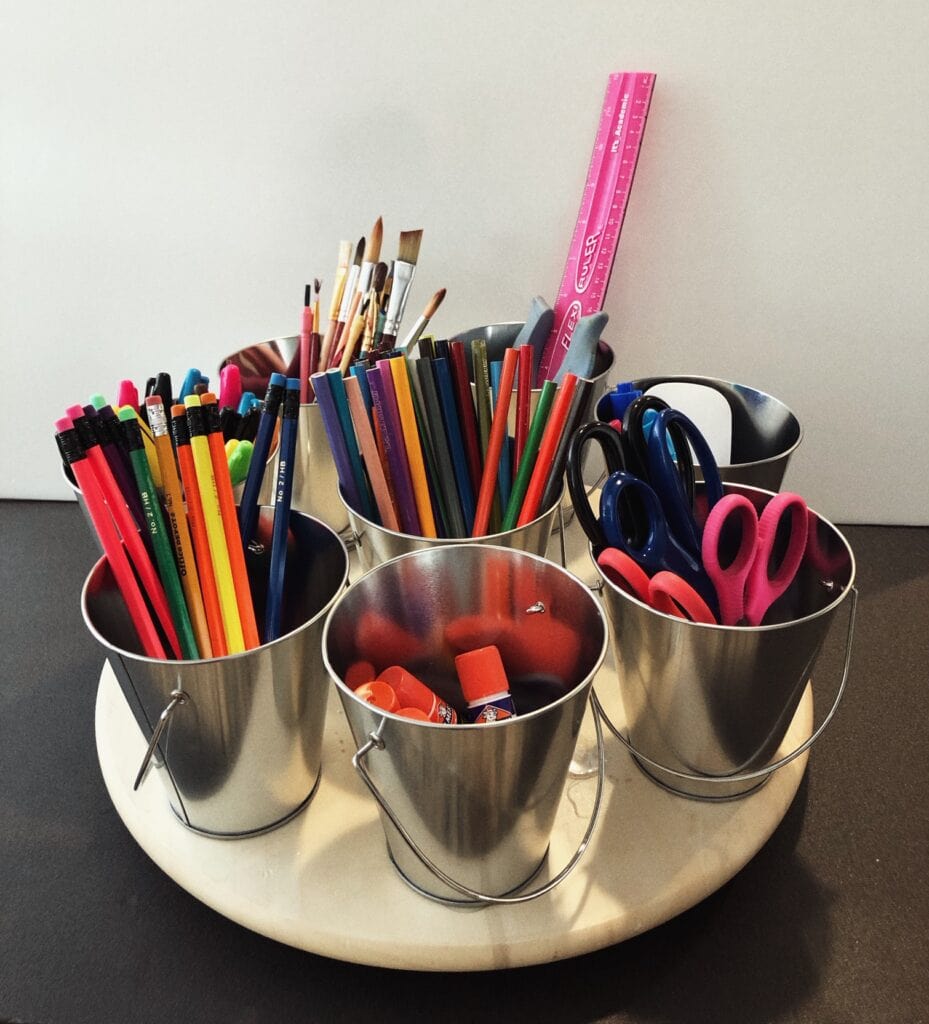 Look for Lazy Susans and containers you can use to organize school supplies at home for homework stations
I love these homework caddies. They work perfect to keep in a table or desk in an office area, so the kids always have easy access to whatever supplies they need for the school year. Whether they are working on book reports, art projects, math homework or most other projects – all the supplies are right here. No more having to listen to "mom, where is a pencil" all school year long!
To make this, look for a lazy susan in the cooking section of your Goodwill. Make sure it is in good spinning order. Next look for a set of small containers that is a good size to hold things like pencils and scissors, etc. (often you can find them in the same area of the store).
Once you have your supplies you can hot glue the containers on to the lazy susan (or use a more permanent solution like Gorilla Glue, or an epoxy). If you use Hot Glue, you generally can peel them back off if you are not sure you want it to be completely permanent yet.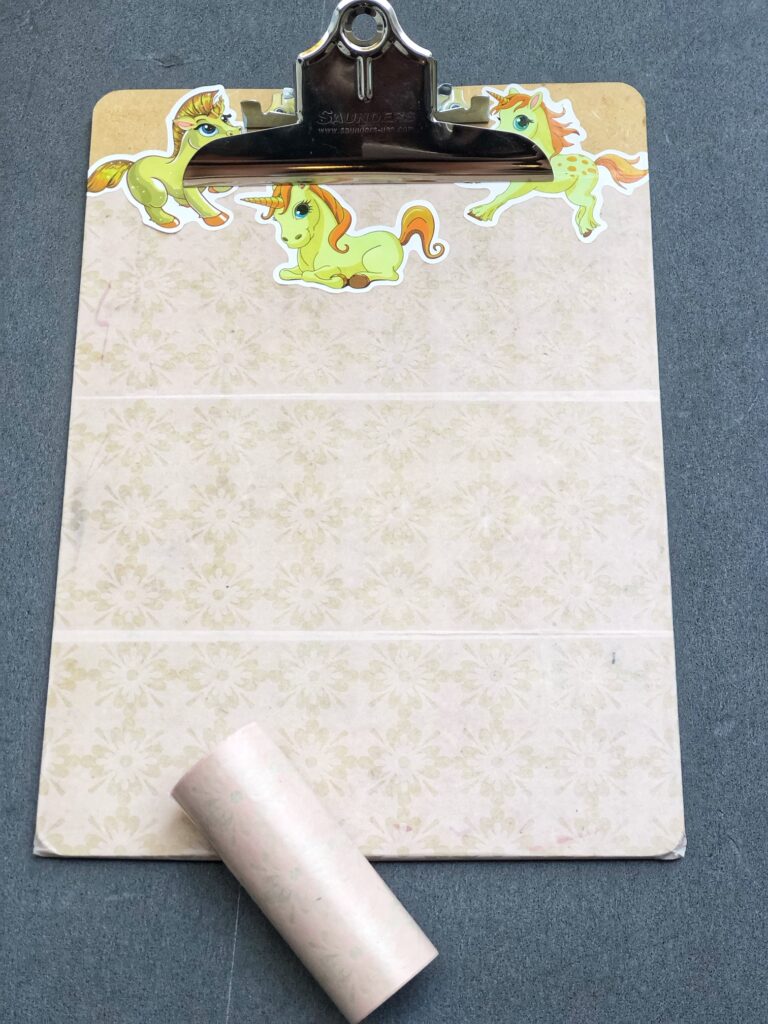 Decorate Used Clip Boards To Make Them New Again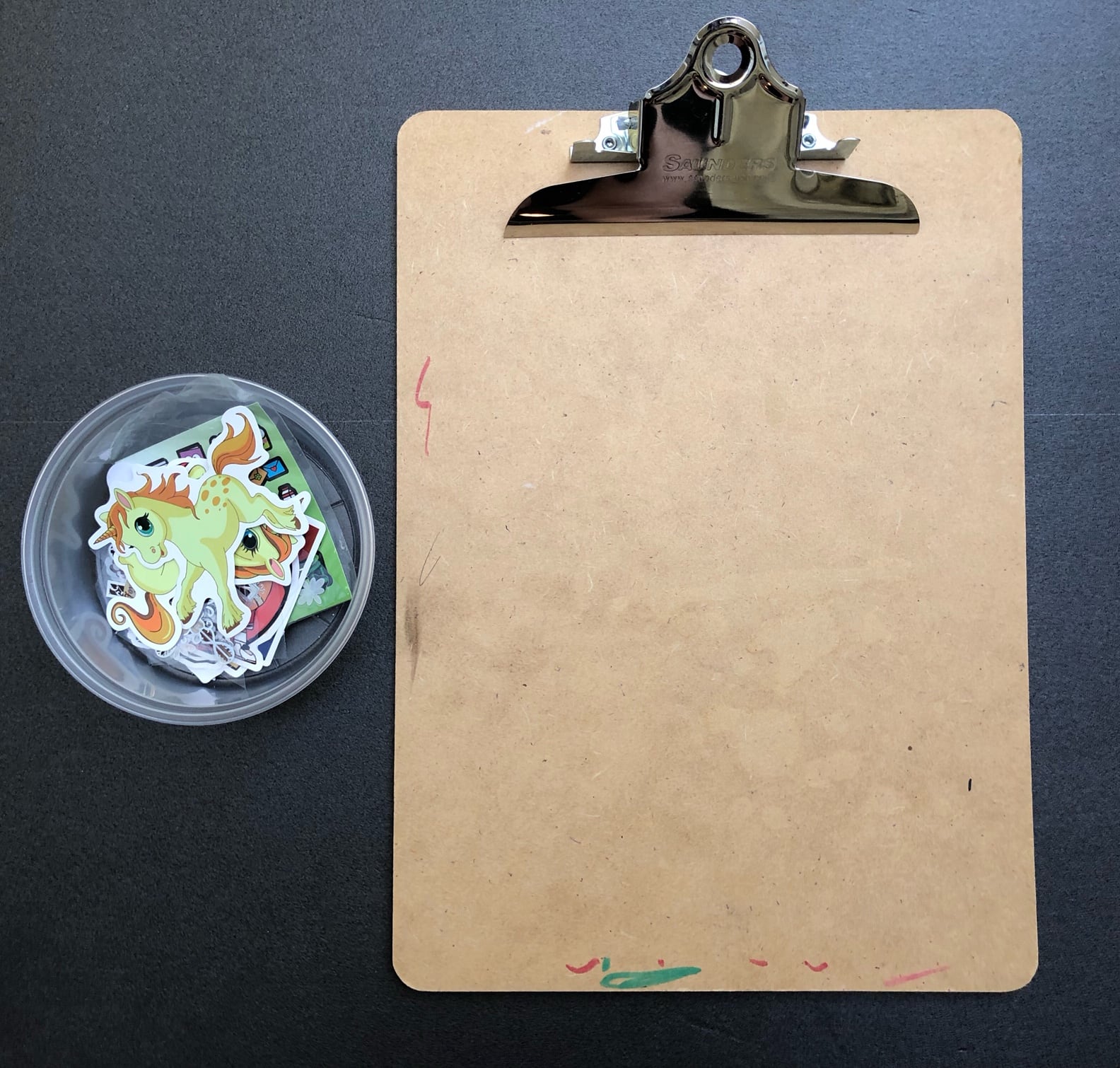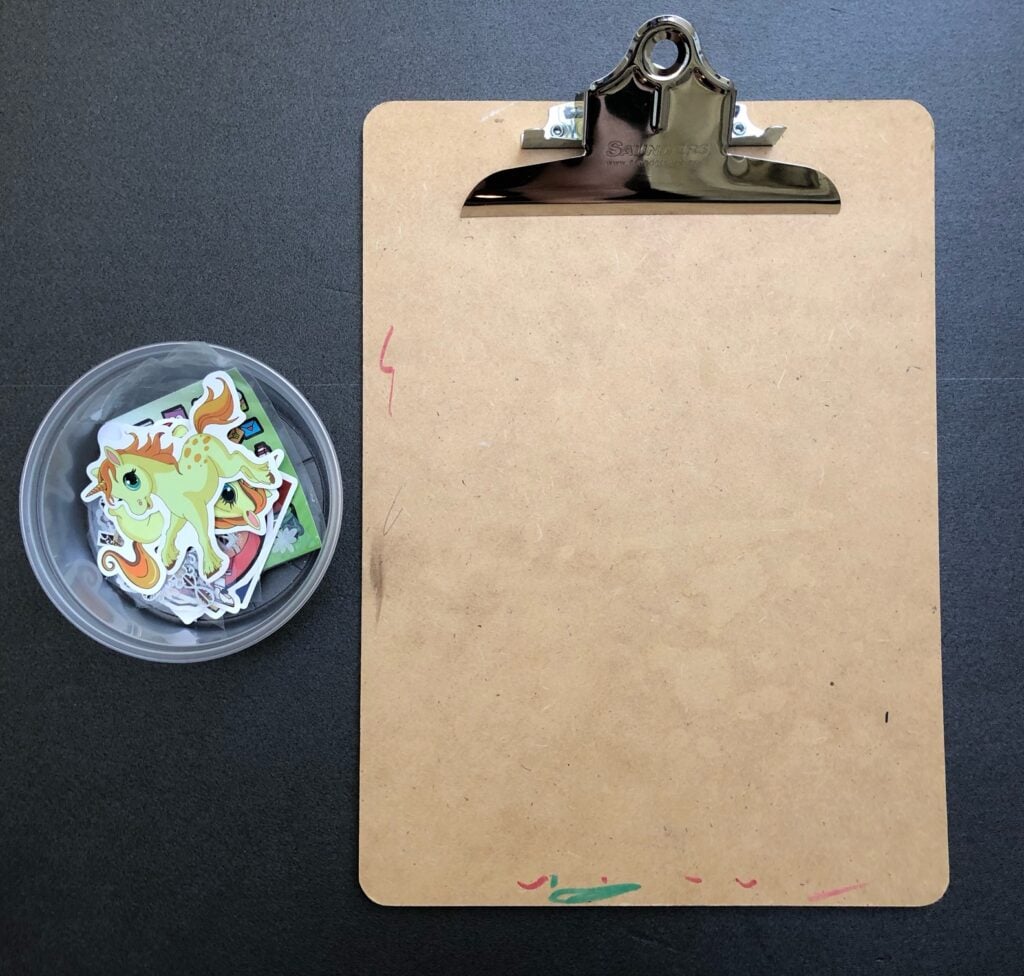 We found this used clip board. My kids told me that all the rage now is just adding favorite stickers to school supplies, like water bottles, or clip boards and binders. This clip board had some sharpie marks on it, so we first covered it in tape and then added some stickers. If you have older kids just give them a pile of stickers and let them have at it to decorate their own clip board.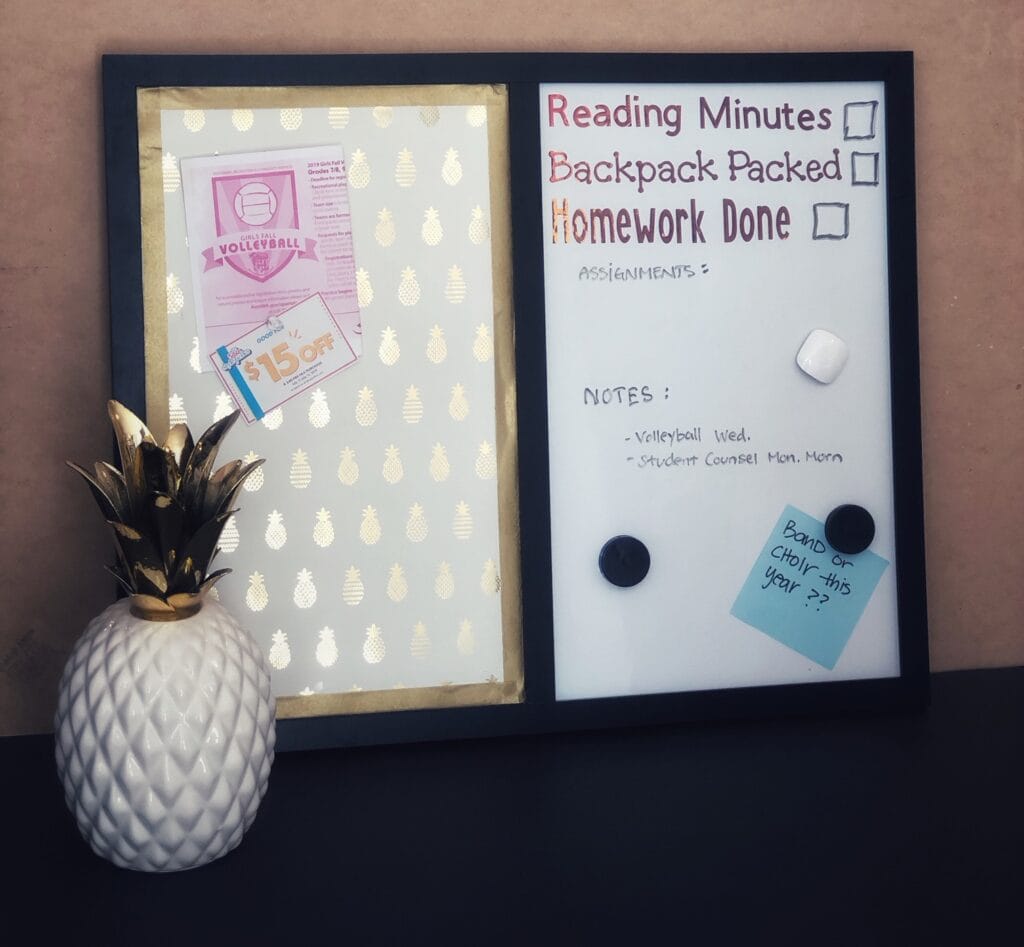 Customize white boards or cork boards, into school schedulers to stay organized
We found a white board combo cork board during our Goodwill trip recently, and grabbed it to customize for my daughters room, and use to keep her organized for the coming school year. She loves pineapples, so we just covered the cork side with pineapple craft paper. We held it in place with some washi tape so we could change it out. You will want to use glue if you want it to be more permanent. I would use a simple glue stick, so that it lays smooth on the underlying cork board.
We then cut the letters on the whiteboard side out of halographic paper on our Cricut. You could buy sticker letters for the same look.
Now she has a spot where she can check off the things she needs to do nightly to get ready for school the next day, as well as a place to keep reminders about before and after school activities, on-going homework assignments and other necessary reminders.
These are some of the projects I love to do with my kids before school starts. What are your favorite DIY School Supply projects, that you like to do each year before school starts?
Other tips for finding school supplies at your local Goodwill: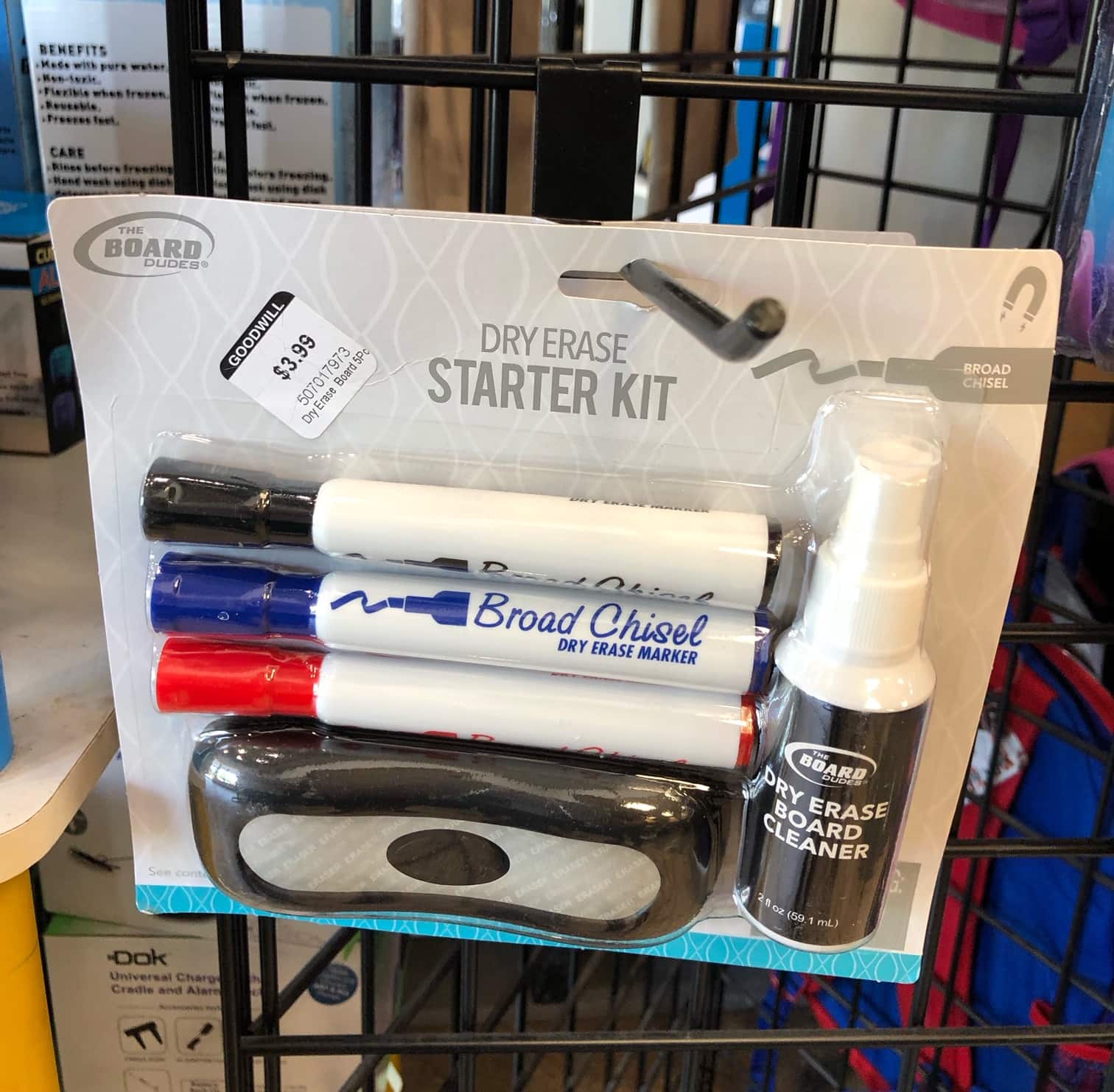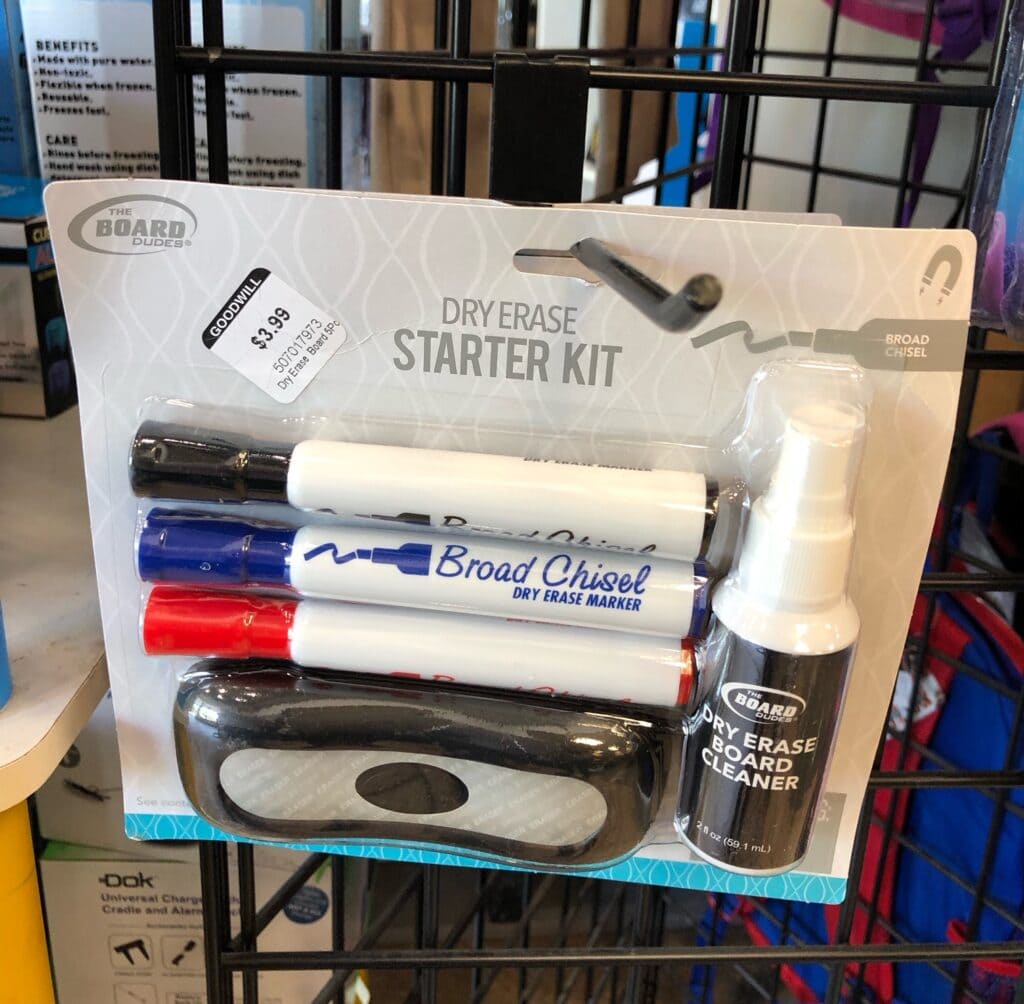 Many of the local Goodwills will have new supplies on hand around this time for back to school. They are generally priced pretty affordably and you will usually find them on special displays towards the front of your stores.
Check back in the craft supply area. This is generally a shelf in the back by the kitchen wares, that will have some things like three ring binders, scrap booking sets, or whatever your store has available. You might have to dig through the shelves a bit, but we found this Justice set for $3.99 that included a couple of notebooks, pencils, erasers and more. Once you take it out of the packaging, you realize it is brand new and so look for finds like that in your store too.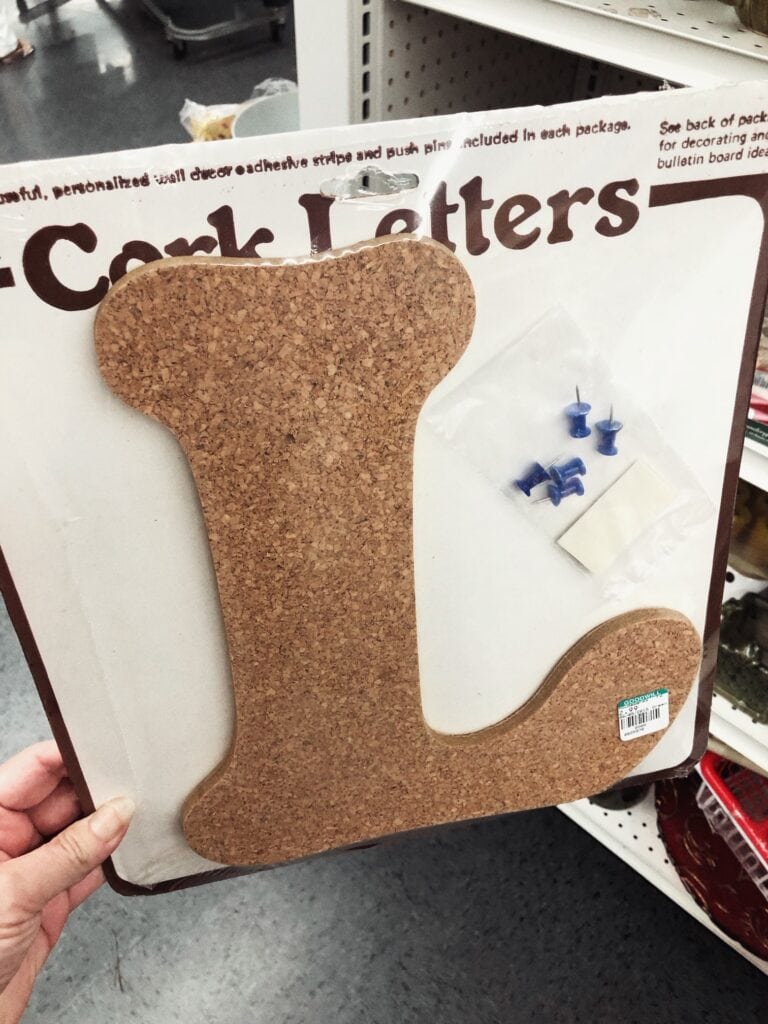 Think outside the box for your DIY School Supplies.
We found this cork board letter for $2.99 (but we were shopping on a 50% off green tag day at our store, so it was really only $1.50). This would make a fun DIY corkboard if this letter meant anything to you. We also saw things like utensil holders that would make great school supply caddies for homework stations at home, and many more things that you could re-purpose for a new back to school use if you think creatively!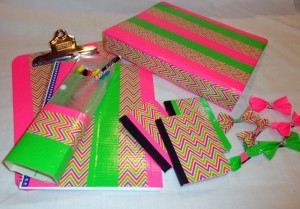 You can also find some fun Duct Tape School Supply ideas in our article here on Duct Tape projects for kids. Really, duct tape can cover just about anything that is the right shape and size, and I have found many colors and styles of this kind of tape at the Dollar store. Look for the right bones for items your kids need for back to school supplies at spots like the Goodwill, and then let your kids put their own touches on it with duct tape.
Other Articles You Might Like:
Shopping Goodwill for Back to School Looks
8 Tips for Shopping Goodwill's Online Auction Site for Treasures