Costco Gift Card – Save on Dining, Entertainment and Gifts
This post may contain affiliate links and I may be compensated for this post. Please read our disclosure policy here.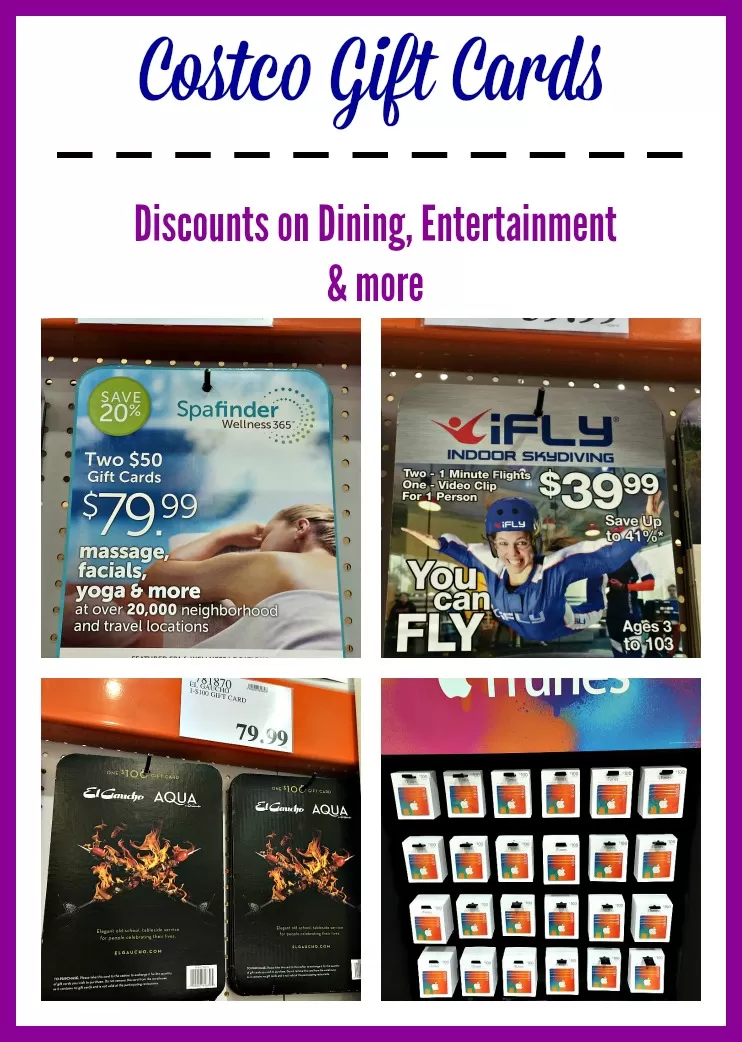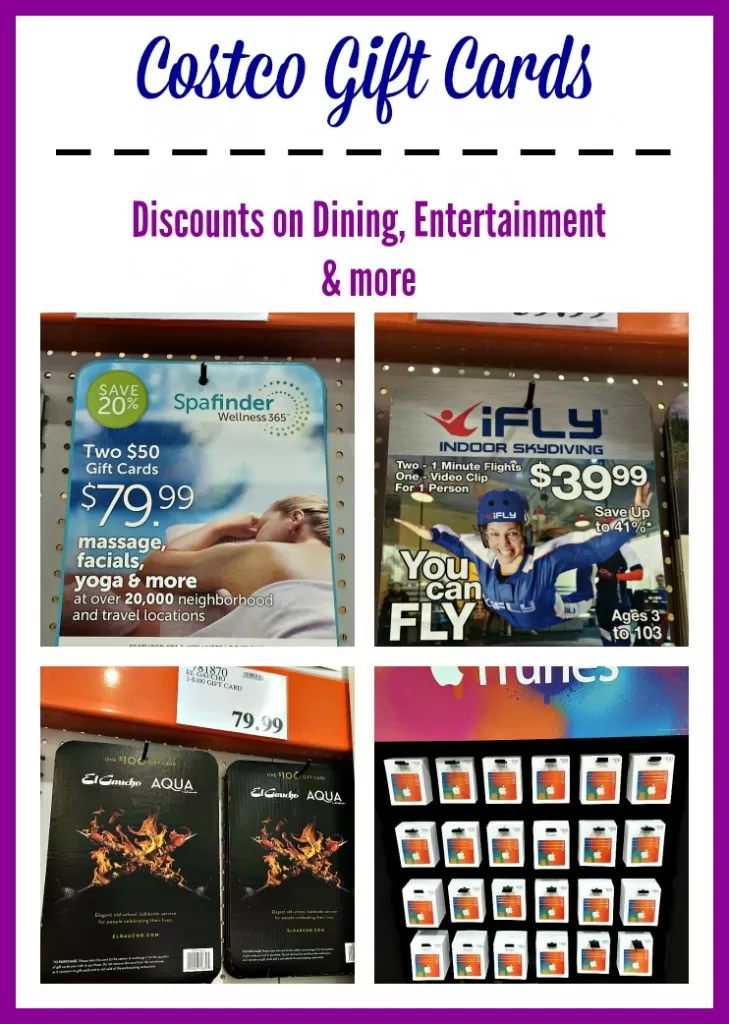 If you're looking for a gift for someone or needing to find ways to cut costs on dining out & entertainment, Costco has a variety of discounted gift cards for restaurants, entertainment options, stores and more.  It's rare to see discounts on gift cards with the exception of gas rewards at stores such as Safeway & Fred Meyer (which is also a great way to save), so we love that Costco is always offering new options for gift card savings.
We are sharing some of the gift card offers we have found at our location to give you an idea of the types of gift cards and savings you might find at your local Costco store.
Note: These gift cards were found at my local South Puget Sound Costco store (Puyallup). They will vary by Costco location, especially for local restaurants & entertainment. 
Discounted Gift Vouchers:
Fanatics Gift Cards – 2 $50 Gift Cards for $79.99 (save 20%) – This would make a wonderful gift for the sports fan in your life, or even better, grab the discounted gift cards and use them to shop the Fanatics Black Friday sale to really save big!
iTunes Multi-Pack Gift Cards – (4) $25 Gift Cards ($100 value) for $85  . I love that these are a multi-pack so you can use them for multiple gifts if you want.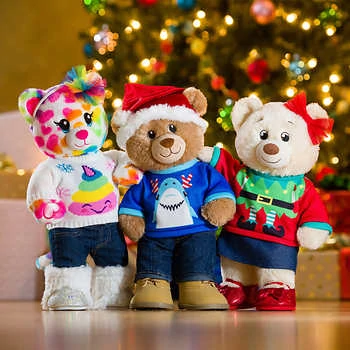 $69.99 for (4) $25 Build-A-Bear eGift Cards (four $25 Gift Cards) after the discount and $10 Instant Savings Offer. They are having a $6 Furry Friends Black Friday Sale, so this would be a great card to grab to do some in store or online shopping with too!
Entertainment Discounts: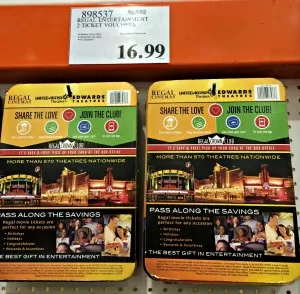 Movie Tickets – AMC, Regal & Cinemark!
Right now you can get 4 AMC Movie Tickets for $35.99 ($9 a ticket!)
or 4 Regal Movie Tickets for $37.99 ($9.50 a ticket)
and they carry deals for Cinemark too.
In the past we have seen the Regal Entertainment Theaters – 2 Discount Movie Tickets for $16.99 too, so you can look for that lower denomination pack too if they carry in your store (the bigger packs work out to a better deal for tickets)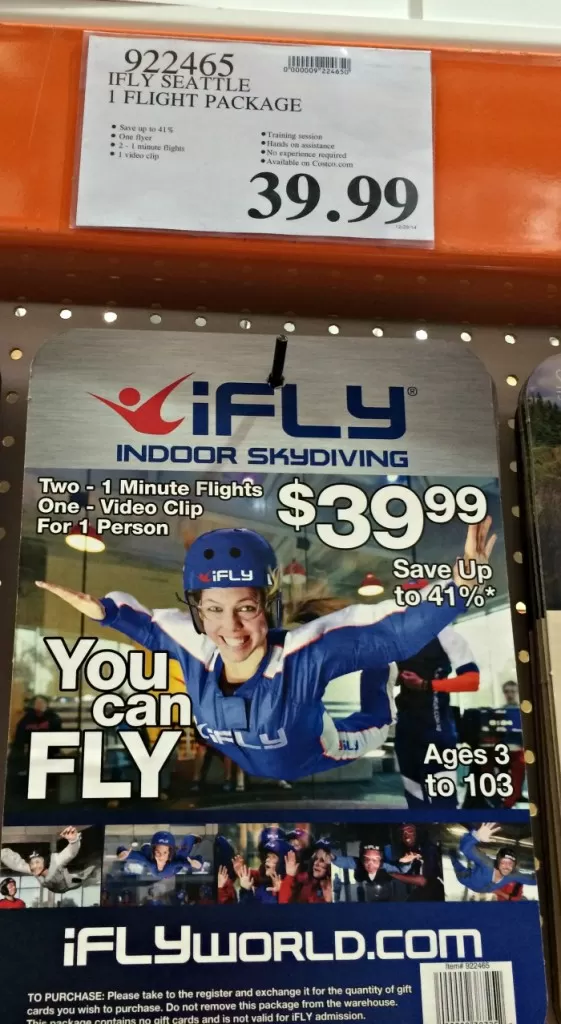 iFly Seattle Gift Card –
Online the deal is for two $50 eGift cards, with a $10 off discount available to members. 
In the past we have found packs for $39.99 in store (so let us know if you see these are your store) that include –  1 Flight Package includes 2 1 minute flights and 1 video clip. This is a savings up to 41% off. iFly Seattle is located near the Southcenter Mall/Tukwila, WA. I think this would be an awesome date idea – pick up 2 of these gift cards at Costco & have a memorable date maybe for a milestone birthday or just wanting to check something off your bucket list. Who knows, it may even give you the confidence to do the real thing sometime, too!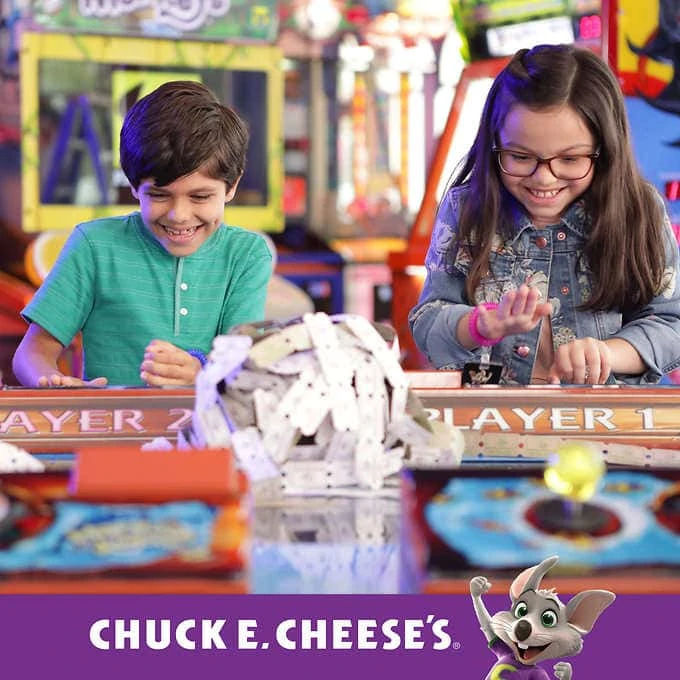 $100 in Chuck E Cheese Gift Cards for $75!
This one could be a fun gift, but also a great one to grab for a birthday party, or to have fun with the kids over Christmas break! (Note you cannot use the gift card for a birthday party package, but you could use it to take some friends and family in to celebrate at the regular tables!).
Also, let us know what local events you find in your local stores. In the past we have seen tickets for Spa Finder, and the Teatro ZinZanni Dinner Show and more!
Restaurant Gift Card Discounts:
You can find lots of restaurant gift card discounts online here.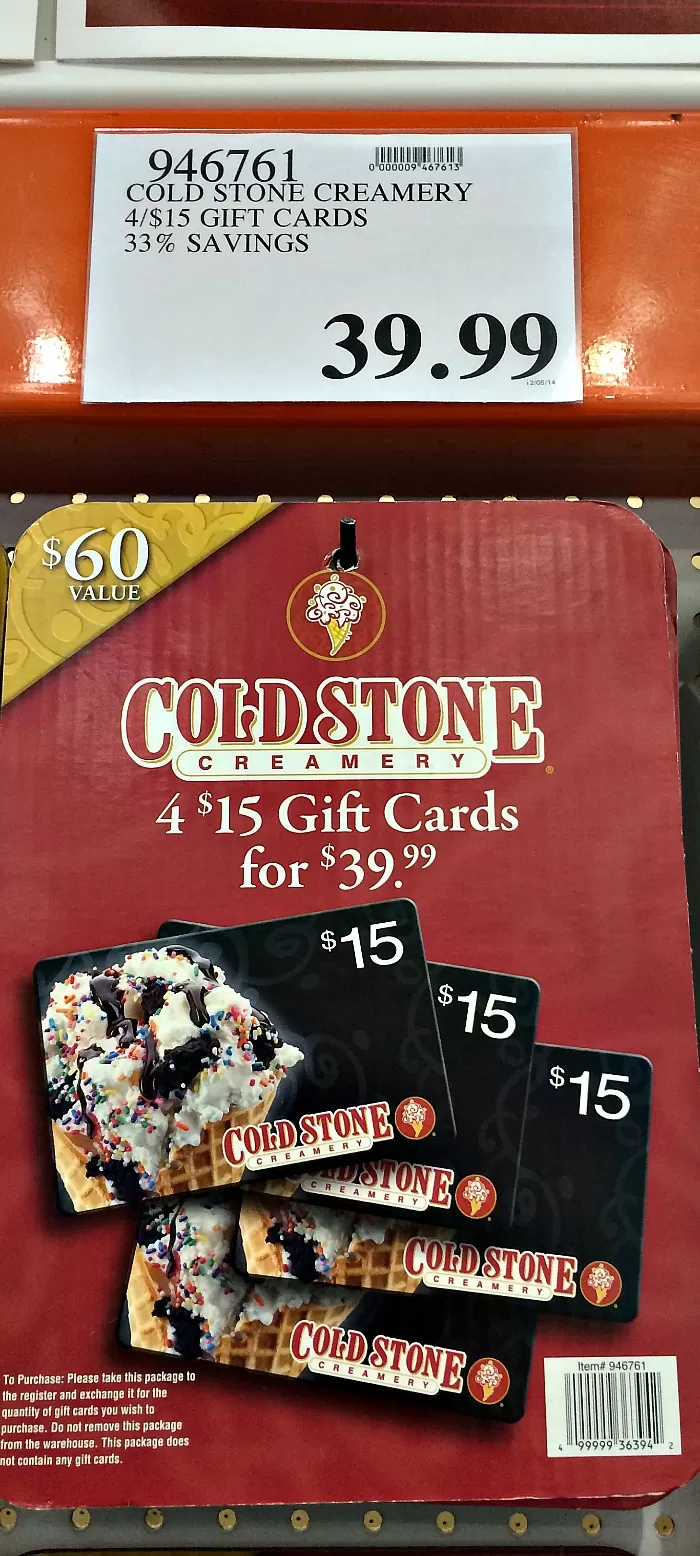 Coldstone Creamery – (4) $25 eGift Cards for $69.99 
In the past we have found (4) $15 Gift Cards for $39.99 (reg $60) in the store, so you can look for those too, and let us know if you are still finding them in the lower denominations.
This is a great discount for Coldstone. Remember you can combine the gift cards with coupons, too, if you find them. A nice treat for a date night out or maybe take the whole family to Coldstone.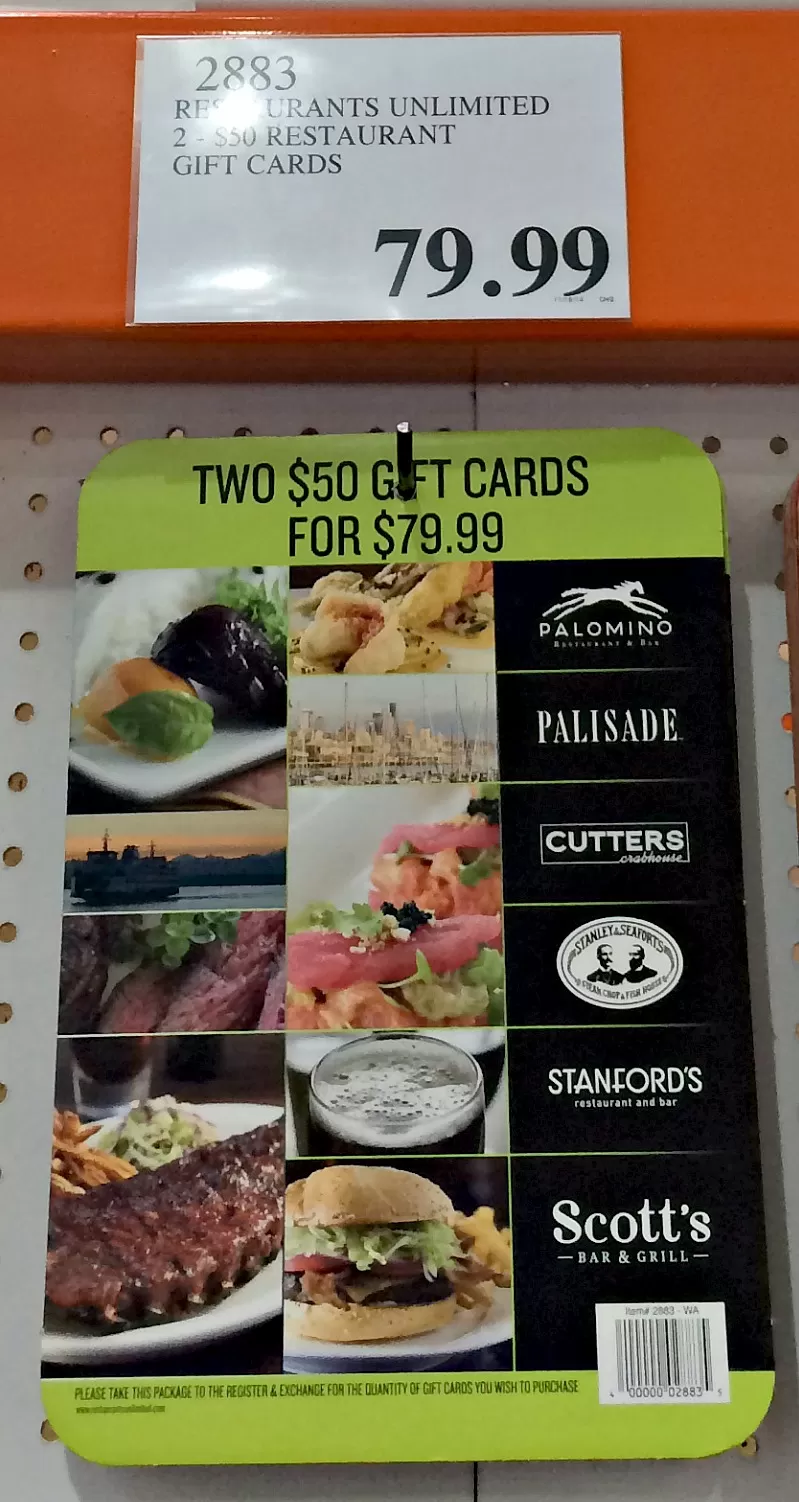 Restaurants Unlimited – 2 $50 Gift Cards for $79.99 (savings of $20) – These gift cards can be used towards the following restaurants: Scott's Bar & Grill, Stanford's Restaurant & Bar, Stanley & Seaforts, Cutters Crabhouse, Palisade, Palomino . I love this gift card set as it's 2 different gift  cards so you could use it either towards 2 different restaurants & 2 date ideas or use one of them & give the other as a gift to someone. Or in some cases, you may want to use both gift cards at 1 location for a really nice dinner.
These are just some of the discounted gift cards that I found at my local Costco store. Every Costco store will be different and vary in the gift cards they offer, so this is just meant to show you the kind of discounts and gift cards you can find. Online we found restaurants like California Pizza Kitchen and PF Changs too!
As you can see, though, these are great discounts on many locations that rarely offer discounts, so it's a great way to save, whether you're buying a gift for someone or wanting to save money on dining or entertainment.
Let us know your favorite discount gift cards at your local Costco store! 
Make sure to check out more Costco posts: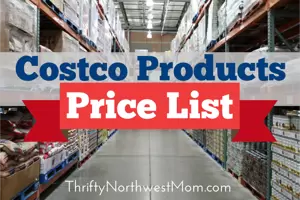 Costco Products Price List – Over 1,000 items broken down into unit prices to compare to other stores' prices
Costco Flowers – Save money buying flowers at significant discounts at Costco
Costco Travel – Ways to Save on Travel by Booking through Costco
Tips to save on Costco membership