7 Ways To Re-purpose Frames & New Value Village Drop Locations!
This post may contain affiliate links and I may be compensated for this post. Please read our disclosure policy here.
Its that time of the year, where I like to decorate my house a bit for the holidays. We end up having company over more this time of the year, and I also like to spruce up the house with a few projects that are simple and affordable. One thing I love to do is to scour thrift stores, like Value Village, for great frames at a great price. There are so many ways to re-purpose them and then re-purpose them again around the house, making them a perfect fit for someone like me who often likes to have a new project to embark on!
A few things I like to look for when I am "thriftying" for frames include: 
Stability. If you are handy and have some tools around the house then you might know how to make a frame stable again, but if not, then pay attention to the bones of the frame. Don't get caught up on colors, but pay attention to whether or not it is a solid piece. A can of spray paint can quickly transform the look of a frame, but what is the point in putting in the extra work if its not going to hold up too much longer.
Size (Scale) and Shape. Just like above, its easy to change the look of a frame, but not the size or shape. If you are wanting a more modern style, look for frames with straight lines and no embellishments. If your like a more romantic style, consider more ornate frames that you can do a paint finish on. Another great tip here is to measure the areas you plan to use the frames, and keep those measurements on hand. That way you will have a better idea about whether a frame you may stumble upon will be a good fit once you get it home.
Look Past What is Currently in the Frame. Sometimes its hard to see the beauty and potential of a frame, if you strongly dislike the picture in the frame. Remember, you are looking for lines, shapes and sizes that you like. The rest can be changed easily.
Know Your Prices. Depending on whether you are looking for a great deal to frame some custom pictures you have, or are wanting to transform frames into other projects, its important to know what you would pay elsewhere, so you know if what you are getting is a good deal. Check out "regular" prices, before hitting the thrift shop. That way if you saw something you loved that was $20, that might seem high in a thrifty shop, but if you had priced it out at $70 elsewhere, you would know it was still a good deal. Keep in mind the other supply costs for the projects you have in mind too (ie paint, etc).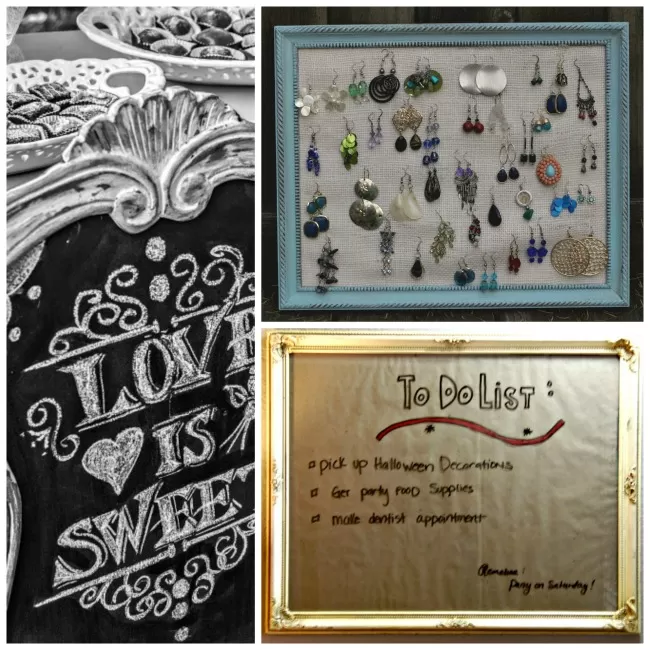 7 Ways to Re-purpose Picture Frames & Breathe New Life Into Them: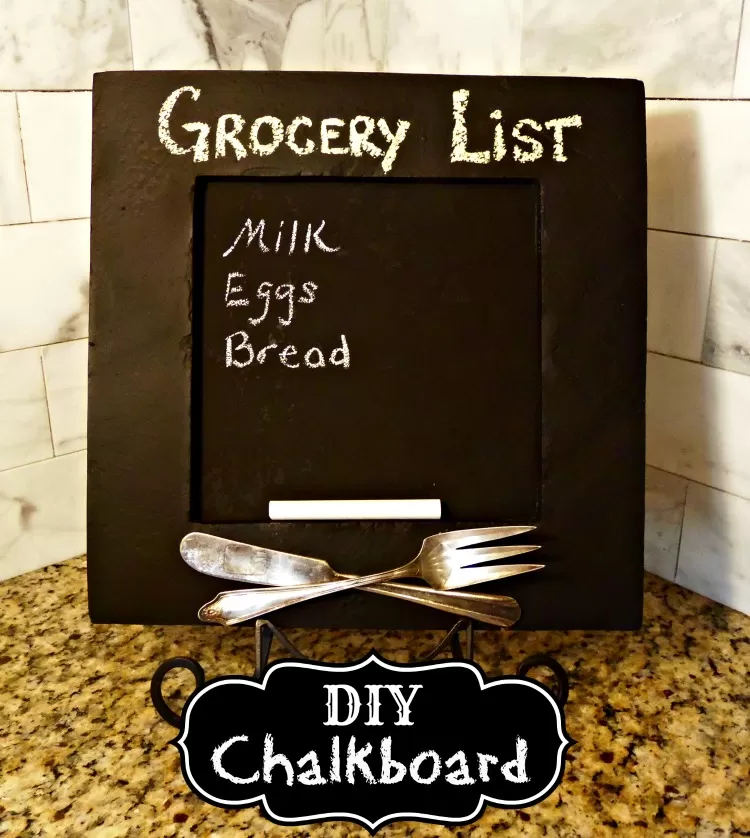 You can use just about any frame to make a DIY Chalkboard, and its so easy (and affordable). We have detailed instructions on how to make DIY Chalkboards here.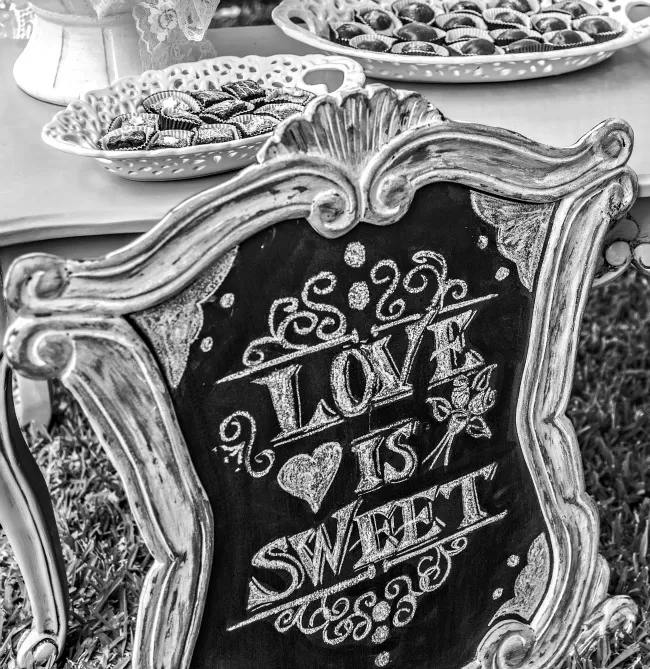 These are fun to make it different sizes, and work well with many designs. They are also great to use for entertaining. You can borrow a frame for a party to display your menu on, and then remove the chalkboard afterwards, and re-frame what you originally had in it, and save on your entertaining costs!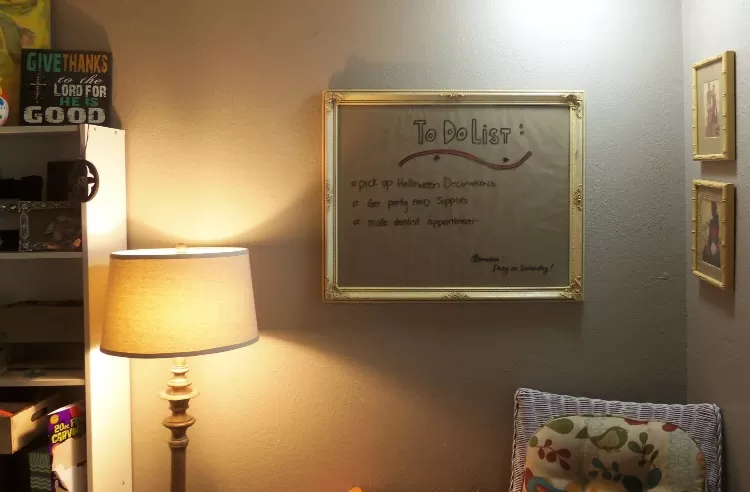 2) DIY Whiteboards
There are a couple of ways you can do a DIY Whiteboard. the simplest, and most affordable way is to find a frame you like, that still has the glass in it, and use the glass to write on. We made this one for my office, just by getting some craft paper from the dollar store and placing that inside the frame (where the picture used to be). We then grabbed some dry erase pens and an eraser, and it works perfectly! Its so easy to write, erase and write again. My kids LOVE playing on this one too. If you are wanting something larger then lap size, white boards can get pricey, so this is a fun way to make it blend into your decor as well as be functional.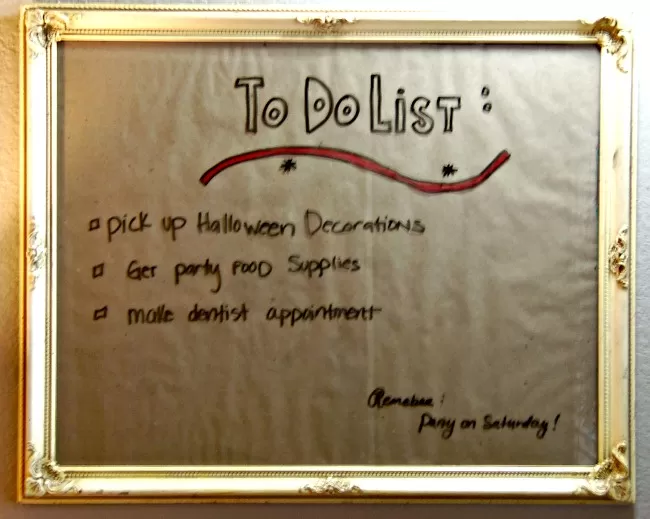 You could add a great burlap material in there or linen, if you want something more refined. You will want to keep it light, so you can easily see your writing, but there are many things you could use here.
Other ideas are to buy White Board paint, and paint the glass for a more traditional whiteboard look, or frame a whiteboard you may have on hand for a more styled look.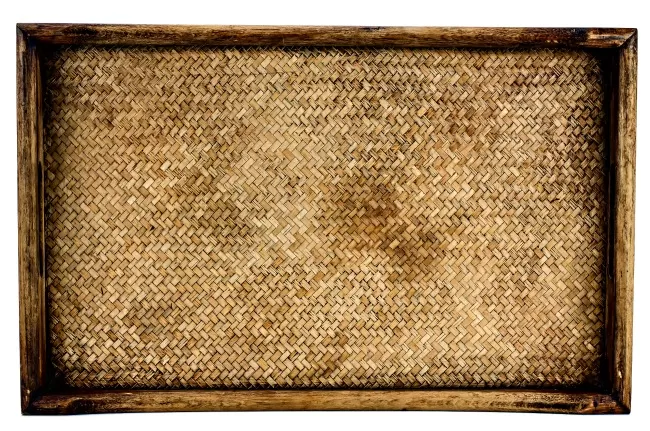 3) Create a Serving Tray out of a Frame
One thing that I love about using frames for decor, is that they can be updated with very affordable options and its an easy way to change your decor for the seasons. Find a frame that is the size of a tray, and its something that you can use to serve drinks, or put on a ottoman to serve food, etc.
For this idea you can leave the glass in the frame or take it out. You will want a frame that has a secure back (or reinforce it) so that it can bear the weight of what you put on top of it.
You can use place-mats, craft paper (if you leave the glass on), material or pictures as some ideas on how to decorate the inside of your tray. I prefer natural looking materials like straw or rattan place mats, for a fun look. Paint the frame the color you want it, cover the picture backing with the material of your choice, and its that simple. You could even add handles to the sides to dress it up.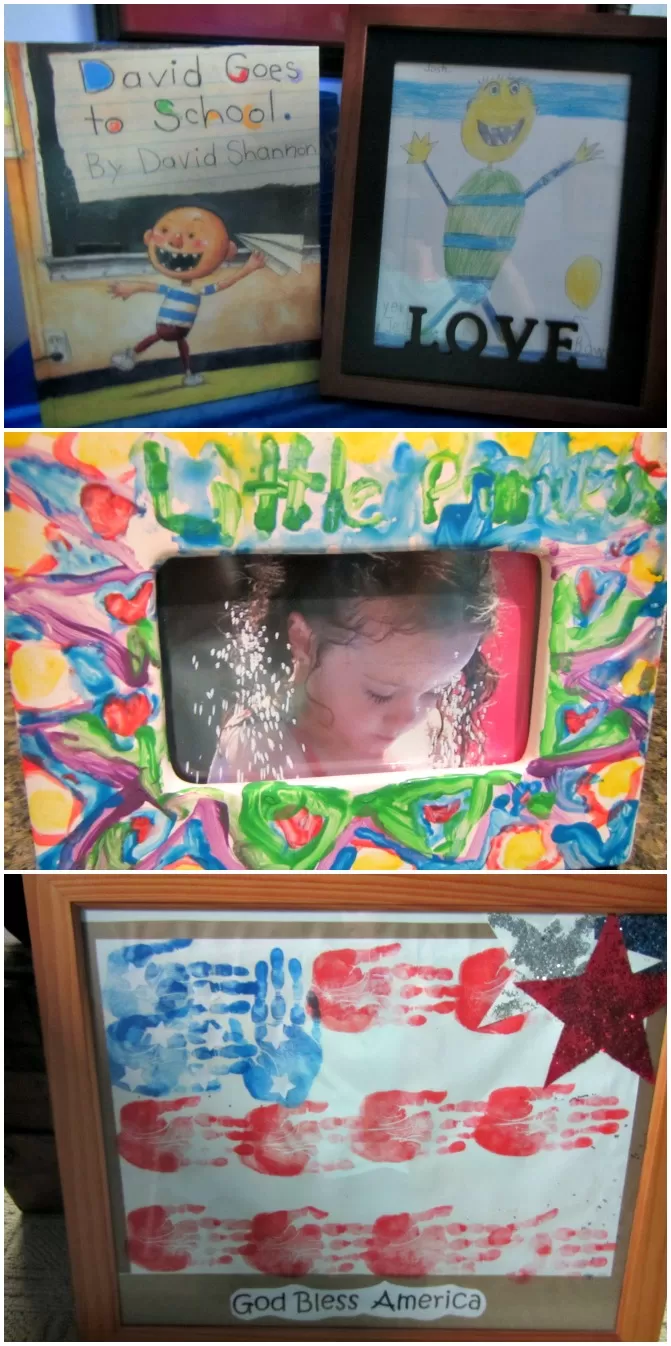 4) Use Frames to Make Gifts for Grandma and Grandpa!
My kids grandparents LOVE to get personalized gifts from the grandkids. The three above are a few they have gotten over the years from the grandbabies, and they use the art to decorate their guest rooms. They enjoy it, and the kids love seeing their work displayed when the go to grandma and grandpas.
There are a couple of things we have done with frames here:
We have found simple frames that we let the kids paint up themselves. We then placed one of grandmas favorite pictures of the grandchild who made the frame in it. Write the child's age and name on the back of the frame, and gift it to the grandparents. My mom loves the one we did for her!
One of my moms favorite books to read to the kids was Little David. One of the kids drew a picture of it, and framed it and bought a hard cover copy of the book, and gifted them together. My mom just loves this set, and its been in her house for years now!
One of the kids grandpas is a Veteran. My son made a US Flag out of hand prints one year, so we found a frame to fit it and gifted it to Grandpa for Veterans Day one year. He was very moved by this gift, and they have it displayed in their house to this day.
This is one that you can do so many things with, depending on your favorite art pieces from your kids. If you could find a shadow box frame at your local Value Village or thrift shop, then you could even display 3-D art projects. This is also a fun one for parents to use in their own homes as well.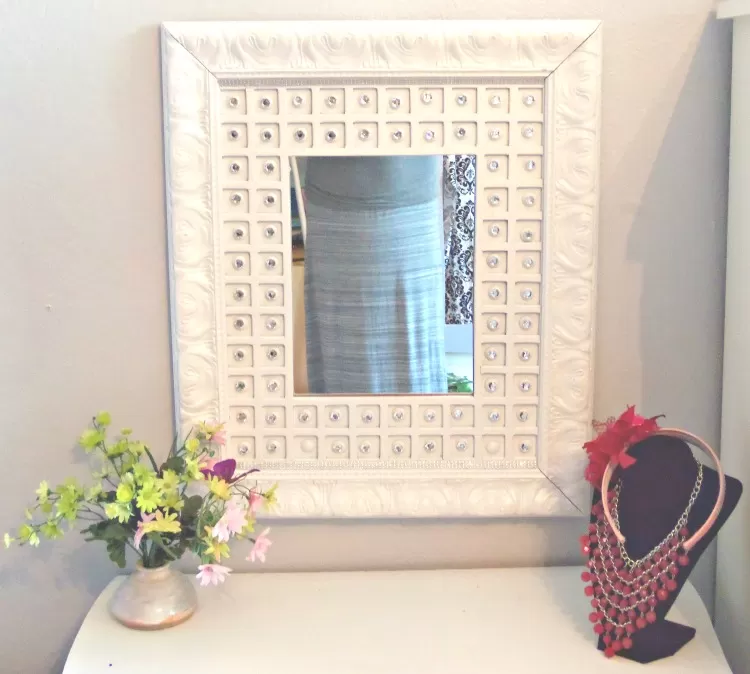 5) Transform a Cheap Mirror into an Expensive Looking One:
Turn your frame into a beautiful mirror, for a fraction of the cost of what you would pay if you just went out to get a mirror this size. I made this one (below) for my girls to have a spot to get ready during the holidays out of a small mirror and a frame I found at Value Village. You could also use $1 mirrors from the Dollar Store, and build around those with larger frames.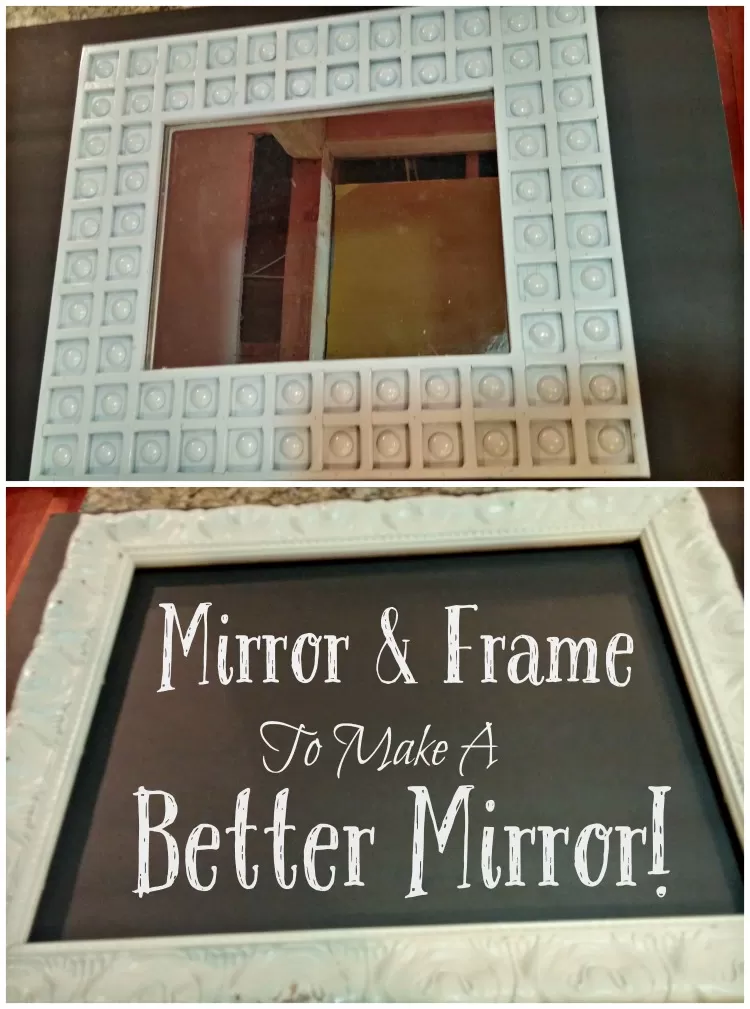 The trick here is to hunt for the right frame that is the big enough to fit around your mirror. You can get away with the frame being a bit bigger, as you can fill in the extra space with ribbon, or small molding pieces. Our frame had some gaps at the top and bottom, so we simply hot glued some rhinestone embellished ribbon to cover the gap and add some more glitz!
We simply removed the picture that came in the frame, and fitted the mirror inside, secured it on the backside, added some picture hanging wire along the back, and gave it all a couple of coats of white spray paint. We finished it off by covering the gaps with the rhinestone ribbon we mention above, and hot gluing on some faux crystals.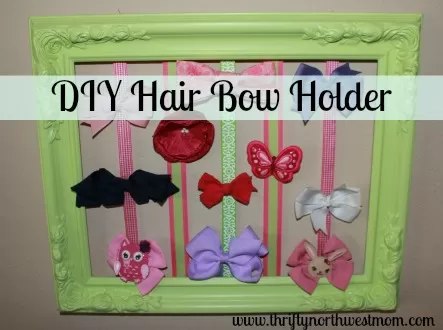 6) Make a Bow and Clip Holder / Organizer:
This is fun for kids rooms especially. Simply find a  frame you like the style of, paint it your favorite color, and add ribbon to secure the bows and clips to. We have instructions on how to make this project here.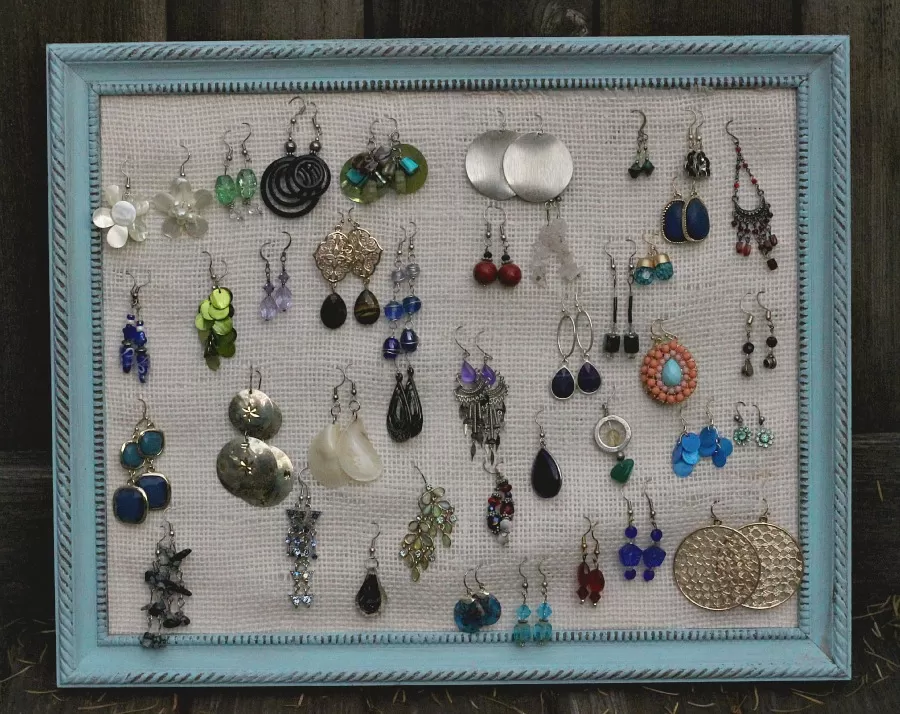 7) Make an Earring Holder:
This project is so simple, yet is such a great way to keep those earrings organized and easily accessible. Just find a frame you like, paint it up like you like, and then cut a piece of burlap to fit, and staple it around the back (so outs pulled taut on the front). Then hang it up, and its ready for you to hang your earrings through the burlap!
Making Room for Your New Frame Projects & Holiday Decor:
Now, before I can really get busy decorating, I need to make some room in my house for my new projects. This time of the year, I also like to make room for holiday decor. Each year around this time, I like to go through the house and do a clean sweep, and donate anything we are no longer using. Value Village has made it really easy to drop off your donations after you have cleared shelves, cupboards and closets.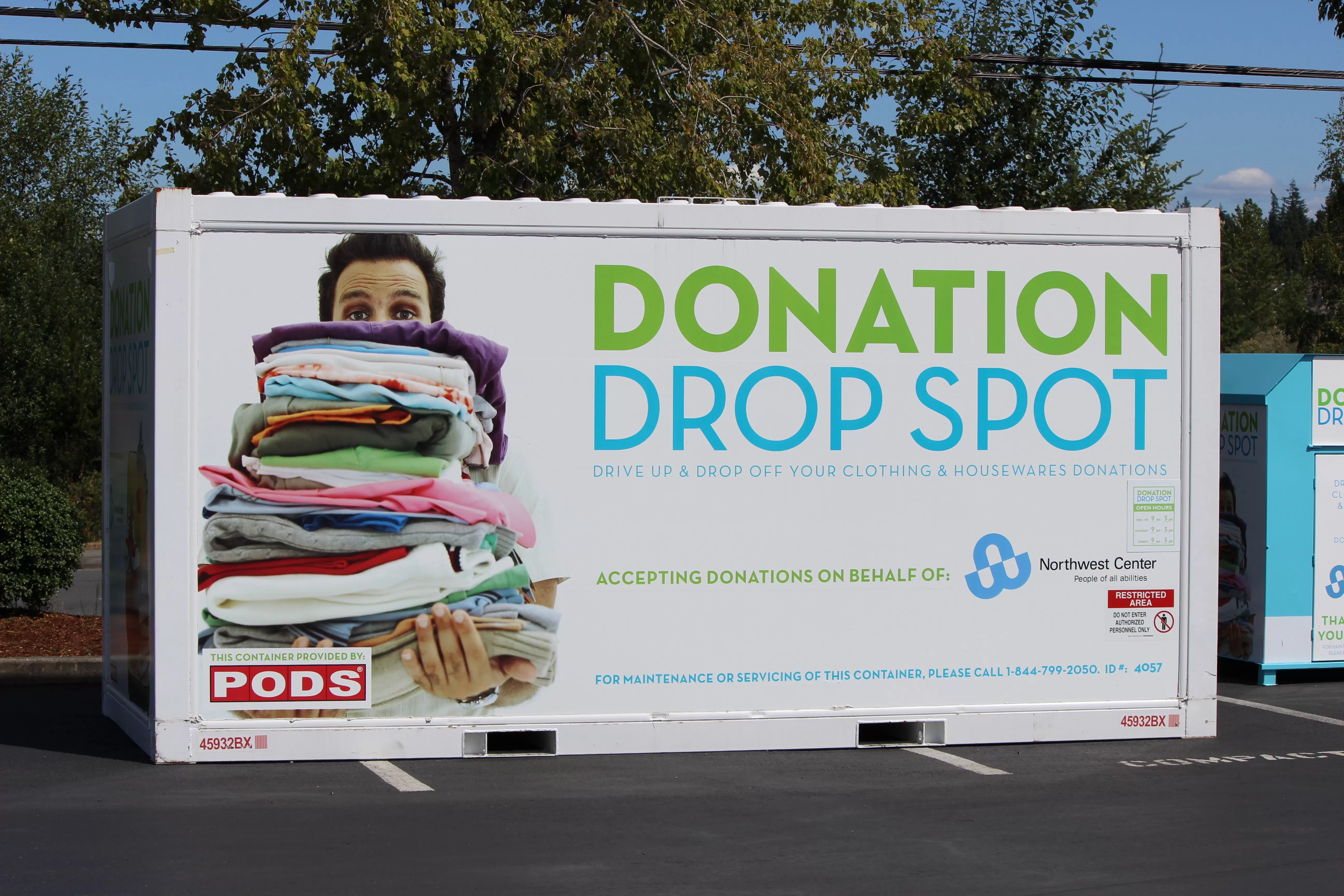 Northwest Center, Big Brothers Big Sisters Puget Sound and Arc of Washington State have partnered with Value Village thrift stores to open eight new Donation Drop Spots in the Puget Sound area that provide convenient locations for community members to donate their used goods.
Value Village pays Northwest Center, Big Brothers Big Sisters Puget Sound and Arc of Washington State when community members donate their goods to those organizations at the Donation Drop Spots, whether the items make it to the sales floor or not. I love that not only can you benefit from cleaning out your house, but you can also pick where you want to contribute and who will benefit!
The new Donation Drop Spots are open from 9 a.m. to 5 p.m. (unless otherwise noted below) and here is a list of current drop locations, where you can leave donations:
Benefit Northwest Center
o   3202 132nd Street SE, Mill Creek, WA 98012
o   1201 North 175th Street, Shoreline, WA 98133
o   17171 Bothell Way NE, Lake Forest Park, WA 98155
o   405 Butler Avenue, Monroe, WA 98272
o   23632 Highway 99, Edmonds, WA 98026
Benefit Big Brother Big Sisters Puget Sound
o   630 – 228th Avenue NE, Sammamish, WA 98074  (opens at 8:30 a.m.)
Benefit Arc of Washington State
o   4141 Martin Way East, Olympia, WA 98516
Value Village is also on a mission to create a better world through reuse by inspiring local communities to donate reusable items to local nonprofits instead of throwing them in the trash. Through its commitment to sustainability, Value Village has become one of the largest recyclers of used goods in the world, keeping more than 650 million pounds of reusable items from landfills each year.
Disclosure: This post was sponsored by Value Village. All opinions are 100% my own. See our Disclosure Policy for more details.