Riverdance in Seattle – Entertaining & Stunning Performance for the whole family!
This post may contain affiliate links and I may be compensated for this post. Please read our disclosure policy here.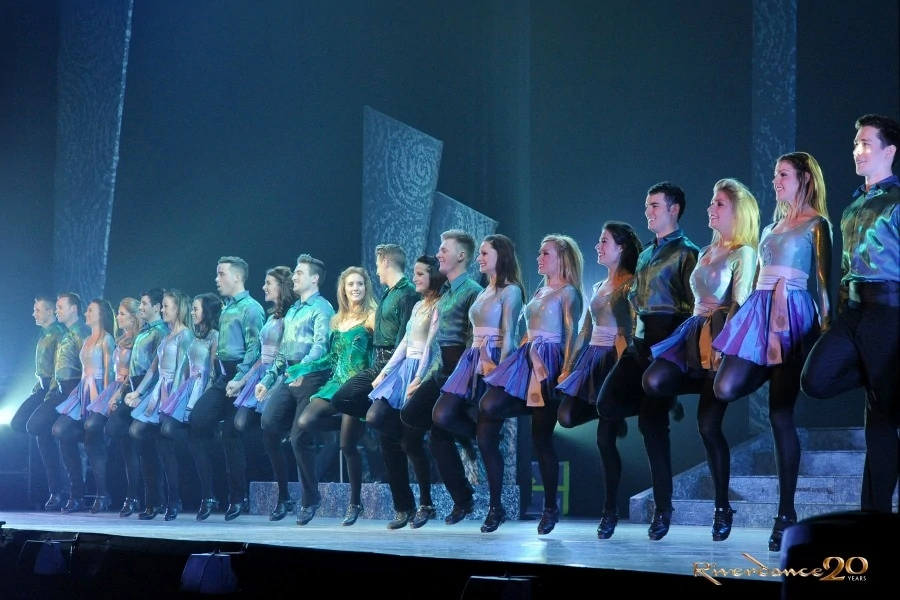 As we mentioned earlier this week, Riverdance is in town in Seattle at the Paramount Theater for just 3 days! This is part of their 20th Anniversary tour. There are 2 shows today, Saturday October 31st,  and then 2 shows, Sunday November 1st.  They have now sold out of the discount tickets we shared earlier on Goldstar, but let me tell you, this show is still a must-see for the whole family!  Whether you have seen it before or you have never seen it, the Riverdance show is simply spectacular!  Plus, there is a dancer from Seattle who is performing in the show – Julia Gats, so that is exciting to have a Seattle dancer in this troupe filled with dancers from around the world.
If you are not as familiar with Riverdance, they are an Irish dancing troupe, who are now in their 20th year, performing their 20th Anniversary World Tour in North America as well as Europe & Asia.  The performance is more than just the incredible Irish dancing that you would expect, but a compilation of incredible music & different styles of dancing to keep you constantly entertained & on the edge of your seat enjoying the show.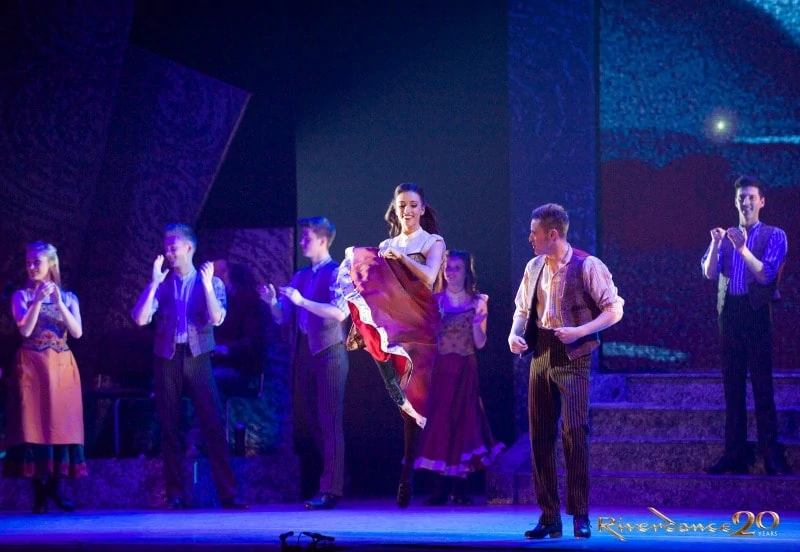 I have always wanted to go to a Riverdance performance, ever since I first heard about the show it's very first year. We have an Irish heritage in my family – my mom's dad is from Ireland (my mom is half Irish/half Swedish), so I have always loved hearing the beautiful Irish music and most of all, seeing the impressive dancing when they are all dancing so quickly in a line – their upper bodies barely moving but their feet moving at incredible speeds . I've seen bits & pieces of their dancing on tv before, but in person, the dramatic show is so much better than you can imagine!  And I had no idea that there would be so much more to it than the Irish dancing that I expected. It was also my first experience ever going to the Paramount Theater, which is an impressive theater to watch this type of performance.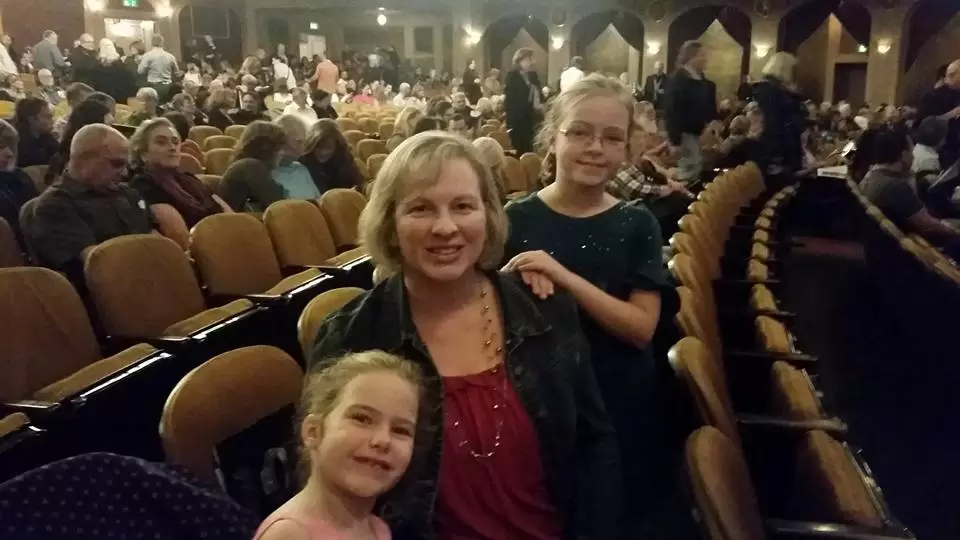 Our night at Riverdance was a family affair with my husband and girls (ages 7 & 9) and it was a hit with every one of us! My husband wasn't sure what he would think of it beforehand, but he thoroughly enjoyed the show as much as we all did.  Even though most of the audience was adults, I think that was just the timing of the show (it did start at 8pm & then was over about 10 – 10:15) -but we felt it was definitely family-friendly and very entertaining for our kids.  It is about an hour and a half long (or a little longer), so it may not be as fun  for kids under 5 just because of the length of the show (at least in the evening shows), but I think school age & teenage kids would love it!  Even though I could have watched the Irish dancing aspect of it for hours because it was so mesmerizing, I loved that they included several different dance styles, too, so we all had different aspects that were our favorites since the show was filled with so many entertaining features.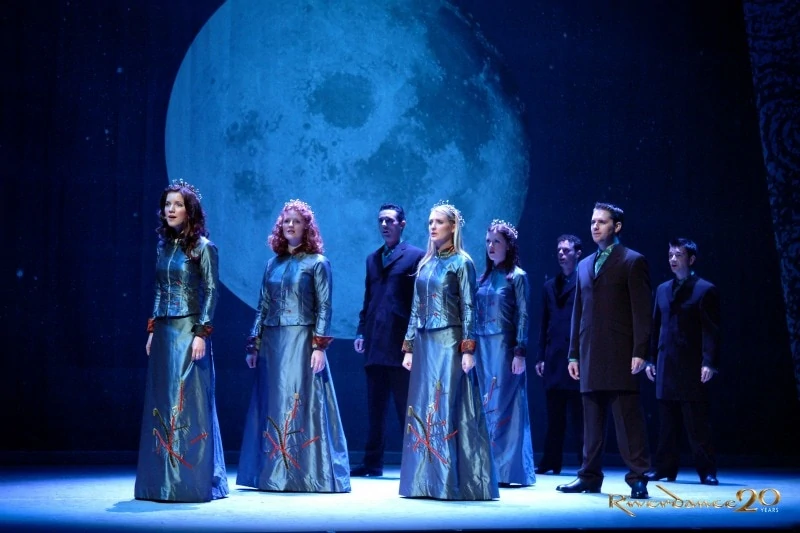 Riverdance was filled with amazing music, both singers & musicians. There are several scenes with just the singers or musicians to fully appreciate their talent. There were 4 musicians – a percussionist (his talent was incredible to watch & he got so into his music – he played so many different kinds of percussion instruments back there), a saxophone player, another man who played the Uilleann Pipes, low whistle & tin whistle (so beautiful to listen to these unique instruments) & the coolest fiddle player ever. This guy could dance around the stage, always with a big smile on his face and play the fiddle at incredible speeds, keeping up with those fast dancers! He did an awesome job getting audience interaction with his music, too…you just couldn't help clapping along & bouncing your feet to the happy music.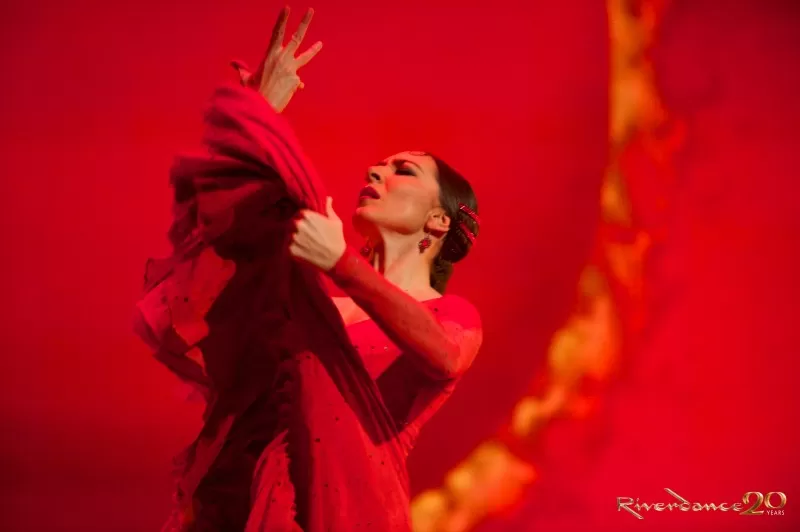 There were also a variety of dance styles to appreciate – of course, plenty of Irish fast dancing (I couldn't get enough of that – I just love watching how fast they can move & so gracefully),  but they also had a beautiful Flamenco dancer who performed several dances as well as a Russian dance troupe, who did some jaw-dropping gymnastics & acrobatic like stunts. The Russian dance troupe were my girls' favorites from the performance as the male dancers were able to swing the girls up off the floor  in fast dips & swings around the dance floor – they'd be going round and round in circles, never touching the floor as they'd all swing in large circles with the men holding them up. So impressive to watch & I wish I had video or pictures of that to remember it! (no camera or video is allowed, of course, during the performance).
What we found so enjoyable about Riverdance was that it really was a truly family-friendly performance, as I mentioned, and it was something that could entertain everyone and we could all enjoy together. Now that our girls are a bit older, it's so nice to go to a performance that is not always just for the kids, but this was something that all of us found so impressive. My girls were also reading the program & bios of the dancers & they thought it was so cool to see how many of them started when they were very young dancing, singing or playing. As they are doing sports & dance now, it was just inspiring to them, I think, to see what can be accomplished with hard work.
Dates for the Riverdance Show::
Saturday October 31st – 2pm & 8pm
Sunday November 1st – 1pm & 6:30pm
Ticket prices range from $35 – $80 if you missed the discount tickets earlier – they are pricier, but this is well worth it if you want an entertaining show!
Parking at the Paramount:
You can find parking quite close to the Paramount Theater, just off Pine Street – if you turn right right at the corner for the Paramount Theater (turn right before it). There was also an open lot just diagonally across the street.  Or we parked at Pacific Place & walked up through the mall & then walked out onto Pine Street to head up that way. It was about  4-5 blocks away but most folks did seem to park there so you had a large group walking back to the parking lot. We ended up only paying $6 for the whole night of parking, too.  There are other parking lots all around that area of Pacific Place & the Convention Center, too, those were just the ones that I noticed in the dark, rainy night as we were searching for parking.
Let us know if you go to see Riverdance & what you think of it! Hope you enjoy it as much as we did!  I think this would be an excellent way to spend a very rainy Northwest weekend, too!  Do a little trick or treating ahead of time & then head over for the 8pm show tonight as a fun way to spend Halloween as a family.
Photo Credits – Riverdance
Disclosure: My family was provided tickets to see Riverdance to review on Thrifty NW Mom so you could have information about what to expect. All opinions are 100% my own.