Ball Park Flame Grilled Jerky #ToughAndTender – Great On-The-Go Snack Option!
This post may contain affiliate links and I may be compensated for this post. Please read our disclosure policy here.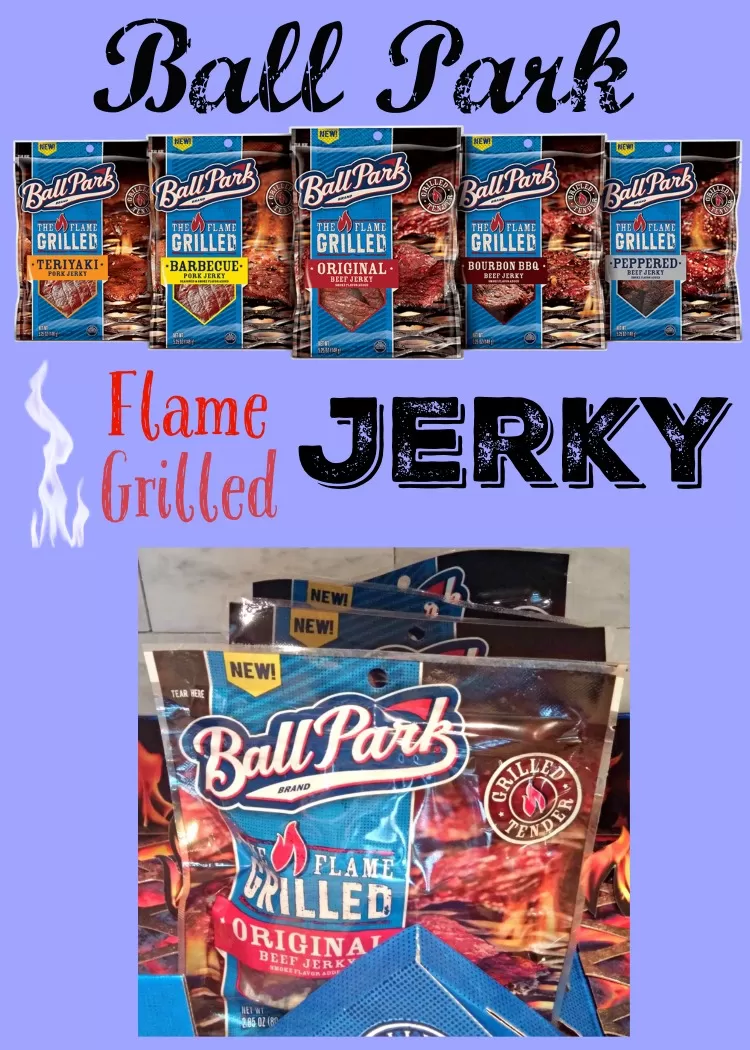 Ball Park Flame Grilled Jerky, #ToughAndTender
Beef Jerky is one food that everyone in my family loves. Its not always easy to come by a single snack that everyone gets excited about, so when Ball Park offered some of their new line of Flame Grilled Jerky to taste, I was excited to try it. Jerky does not last long in my house, and I can confirm that all five bags of the Ball Park Flame Grilled Jerky was gone in less then 24 hours!
Ball Park Flame Grilled Jerky is dried for toughness and then flame grilled for a uniquely tender texture and superior char-grilled flavor. It is made with lean cuts of beef or pork, and Ball Park Flame Grilled Jerky is a good source of protein, with 8g or more per serving, and each variety contains less sodium than other jerky (its also Gluten free with no added MSG).
Initially I was not sure of what to think about this, as jerky is suppose to be tough. I was not sure how "tender" was going to work for jerky. Once I had a chance to try it, I really liked it though. It still had that jerky texture that I have come to expect, it just did not break my teeth to eat it.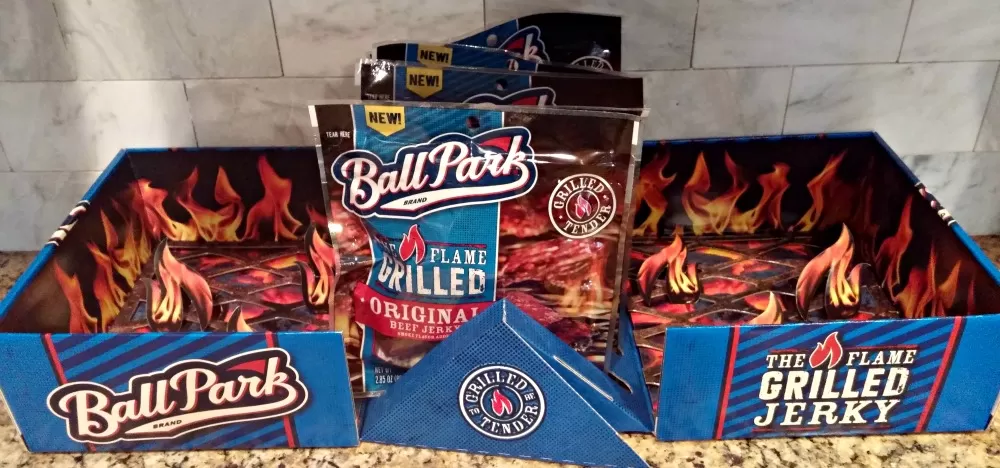 It currently comes in five different flavors, three beef and two pork, and they include:
Original Beef
Bourbon BBQ Beef
Peppered Beef
Barbecue Pork
Teriyaki Pork
You will be able to get the Ball Park Flame Grilled Jerky in grocery stores soon, including Walmart, Kroger stores (Fred Meyer and QFC in the NW) and Safeway.
I mentioned above that Jerky is one of my families favorite snacks. The primary reason is taste. We all simply love the taste of jerky. We may have our favorite flavors, but our favorite thing about jerky is that its just so good!
As a parent, I love it as a snack option that is a good source of protein. Its nice to have an option to give my kids from time to time that is convenient.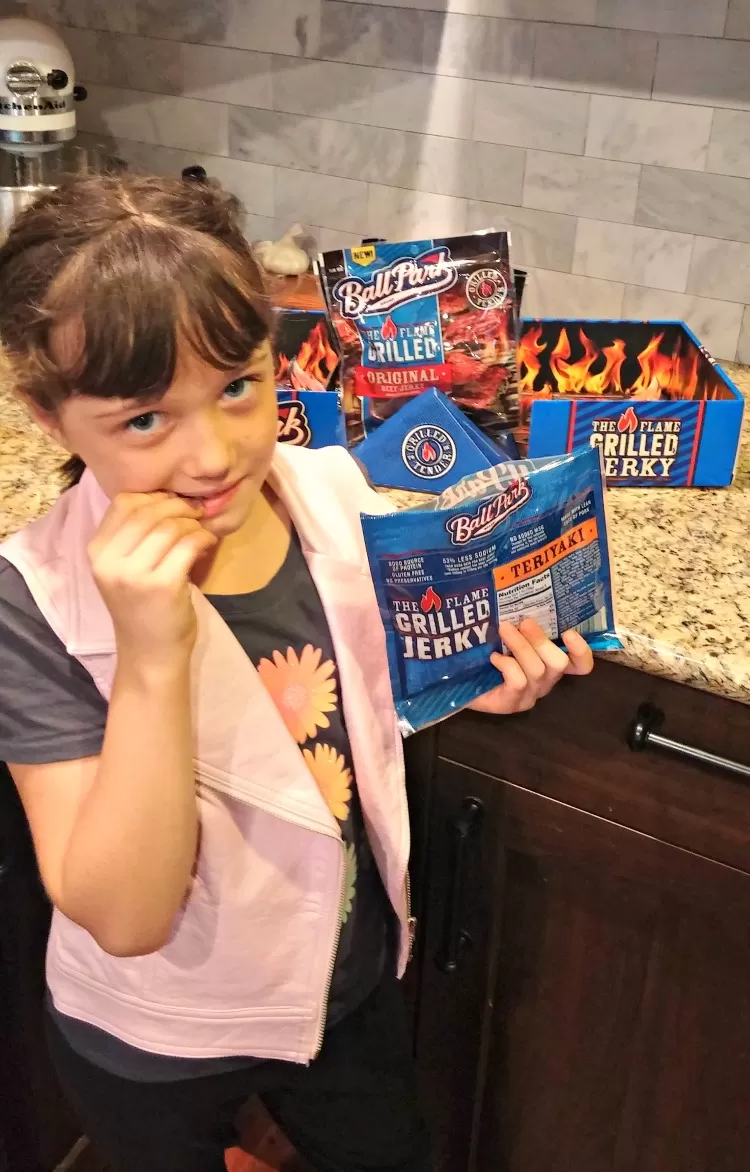 This is my #ToughAndTender girl. She loves to slide tackle the boys in soccer…..in her small heeled boots and faux leather vest – ha! She also happens to be the biggest beef jerky fan in the house.
Here are some of my favorite things to have Jerky on hand for:
After-School Snack Option –
My kids love it as an after school snack! That is my daughter above, and out of all of us, I think she loves jerky the most. She was so excited when she got home from school and saw that I had the house stocked with jerky as an after school snack option. She tried to place her "dibbs" on all of the flavors, but we made her share! It passed the kid test too. She gave the Ball Park Beef Jerky an enthusiastic thumbs up (she loved it!).
It pairs perfectly with some sliced apples too, if your kids come home from school really hungry.
Convenient On-The-Go Snack – 
Its one of my go to snacks for traveling too. Its great to have a protein source in the car that the kids (and mom and dad) they everyone can easily grab, and not need to be kept cold. Plus, I find that my family finds it more filling then most snacks, so it can also act as a great on the go meal for longer road trips or plane travel. I like to give my kids some fruit, pretzels and water with a bag of jerky to eat when hunger pains kick in while traveling.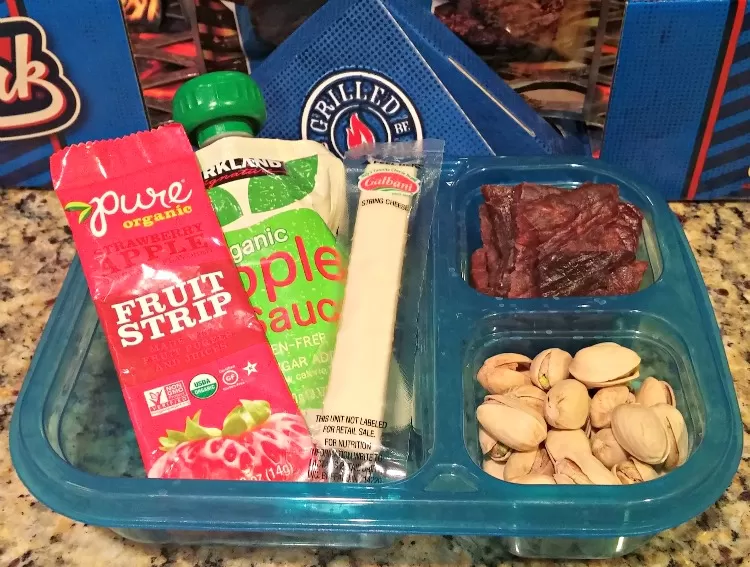 Great for Easy to Put Together Kids School Lunches – 
Do you ever have those mornings where you seem to be running 5 minutes behind before you even get out of bed? I do, and more often then I would like to admit. Just because morning schedules can get hectic, I don't want to skimp on getting my kids out the door with a lunch that I know will fuel them during the day. As much as I love my kids school, their hot lunches are on par with taking the kids out for fast food, so I like to keep lunch options in my cupboard that I can throw together super fast. That way I don't have to use the excuse of running late to let them get hot lunch more often that I want to.
One way that I do this is to keep some pre-packaged snacks I am comfortable putting in the kids lunch in a drawer that I can easily grab from. I also like to use these re-usable plastic lunchable containers, so I can split a bag of jerky up (it makes it stretch further, and is more economical that way). If I make lunches like this I can usually get three lunches out of one bag of jerky. Some of my favorite items to add with it are organic applesauce, nuts, 100% fruit leather and cheese sticks. My kids eat more of their "Lunchables" when I make it like this, then they do when we buy the packaged lunchables.
They are also a great product to put in Blessing Bags or Blessing Bag Meals too!
Share with us your favorite ways to enjoy Jerky at your house, using hashtag #toughandtender!
Disclosure: This post was sponsored by Ball Park. All thoughts are 100% my own. See our disclosure policy for more details.