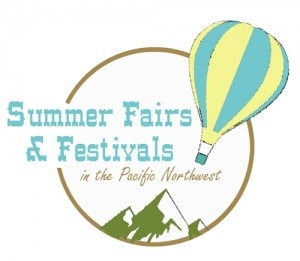 I've teamed up with Angela from Frugal Living NW & Karrie from Happy Moneysaver once again to bring you a roundup  of summer festivals & fairs around the Northwest!  I listed a few of the main 4th of July events, but didn't list all all of them  as pretty much every town seemed to have something going on. Even better, I found this comprehensive list of 4th of July events around the Puget Sound area.
If you see an event that I missed, leave a comment & I'll add it to the post! Let us know what your favorites are, too, and what you like about them!
Here's what you'll find:
Thrifty NW Mom – Festivals & Fairs around the Puget Sound area (from Whatcom County – Lewis County)
Frugal Living NW - Festivals & Fairs  for southwest Washington & western Oregon
Happy Moneysaver – Festivals & Fairs for central/eastern Washington and central/eastern Oregon
Don't forget that you'll find the best free or frugal ($5 or less) family events & activities going on around the Northwest, as well as national events, each Friday morning! Check out the full list of fun & frugal family events from previous weeks.
King County:
Lake Union Wooden Boat Festival - July 2nd – 4th; Lake Union park; Free admission, free boat ride, food, music & more
Fireworks at Emerald Downs - July 3rd; Auburn; Come for the day & enjoy the races (only adults will pay admission) or just come after the races to enjoy the fireworks for free. Thanks Jessie!
Family 4th of July at Lake Union - Seattle; starts at noon with family activities, entertainment, & more. The fireworks show will be at 10pm
King County Fair – July 7th – 10th, Enumclaw
Kent Cornucopia Days - July 7th – 11th; Street fair, Dragon Boat races, Farmers Market & more
West Seattle SummerFest - July 8th – 10th; free 3 day street fair
Redmond Derby Days - July 8th & 9th
Chinatown International District DragonFest - July 9th & 10th; Seattle
Bite of Seattle - July 15th – 17th; Seattle Center
Covington Days - July  15th – 17th; Covington;
Vashon Island Strawberry Festival - July 15th – 17th
White Center Jubilee Days - July 13th – 17th
Enumclaw Street Fair – July 22nd & 23rd; street fair, entertainment, food, carnival
Renton River Days - July 22nd – 24th; Entertainment, Art show & art market, food, kids zone, quilt show & more
Bellevue Festival of the Arts & Sixth Street Fair -   July 29th – 31st;  Bellevue; free admission, outdoor show
Scottish Highland Games - July 29th – 31st; Enumclaw
Seafair - August 3rd – 7th; Blue Angels performance on Fri, Sat & Sun; Airshow, Parade of Ships (Wed) & much more
Lake City Pioneer Days - Saturday August 6th; parade, street fair, salmon bake & more
Festival of Mt Si - August 12th – 14th; North Bend
Auburn Good Ol' Days - August 12th – 14th, Auburn
Snoqualmie Railroad Days - August 19th – 21st; Snoqualmie
Renton Art & Antique Walk - August 20th; Renton
Bumbershoot – Seattle's Music & Arts Festival - September 3rd -5th; Seattle Center
Pierce County:
Snohomish County:
Skagit County:
Island County:
San Juan County:
Whatcom County:
Thurston County:
Lewis County:
Kitsap County:
Grays Harbor County:
Mason County:
Jefferson County:
Clallam County:
Pacific County:
So, what's on your list to check out this year! What are your favorite festivals around the Northwest?