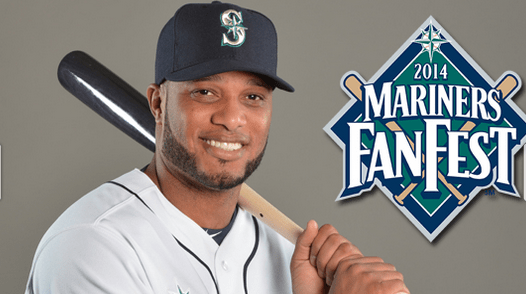 *Just a reminder that this event is happening this weekend!
The Seattle Mariners are holding their Annual Mariners Fan Fest 2014 this weekend on Saturday January 25th and Sunday January 26th from 11am – 4pm. This is a fun family day celebrating the upcoming Mariners season & getting to meet some players & get behind-the-scenes tours. Admission costs are $10 / person and kids 14 and under are free. If you're willing to walk a little bit, you could find free parking, too, on side streets instead of paying the high parking costs.  Make sure to check out my Mariners Fan Fest Tips with information on the best events to go to and tips on navigating Fan Fest!
Here are some of the fun activities you can take part in during Mariners Fan Fest:
Greet current & past Mariner players & get autographs & photos
Tour the Mariners clubhouse
Run the bases
Try to hit against a simulated Felix Hernandez fast pitch
Play catch in the outfield (make sure to bring your glove!)
Ride on a Zipline – a 200 foot ride across the outfield (I'm thinking this will most likely be an extra cost, though)
Mariners Kids Zone – face painters, carnival games, prize wheel & more
Boeing Dugout Dialogue – Question & Answer Time with players & coaches
Throw pitches in the bullpen
Greet the Mariners Moose & get a picture or autograph
We checked the Mariners Fan Fest out last year & it was definitely one of our favorite activities of the year. Our whole family had a blast and if our schedule wasn't so busy the weekend of Fan Fest this year, we'd head there again! It really is a great way to get to experience all that the Mariners have to offer and enjoy the behind the scenes time to see how everything operates and get to know the players better!