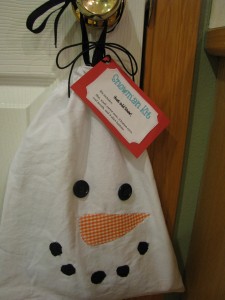 In Washington this year we have already built our first snowman of the season and, according to the weather man, we should get more opportunities!!  This is a snowman accessories kit you can give as a fun, thrifty gift for Christmas or winter.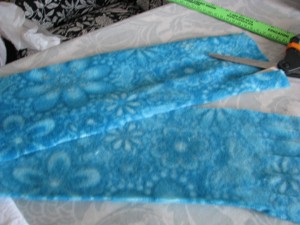 Items you'll need:
A scarf and hat – These are available at our local Dollar Tree store .  Or you could use fleece and cut and glue or sew together.  I found Santa hats since we are using them for Christmas gifts.
7 medium sized stones about 2-3 inches in size – Have your kids paint them black (my boys LOVED this)
Large black buttons – I got mine at Walmart in a large pack for $2
Carrots: You can get fake carrots at Michaels – a 3 pack for $4 (even cheaper if you use a Michael's coupon).  Or you could get a carrot with roots still attached (the roots seem to help extend their life) about a day or so before you deliver your Snowman Kit.
How to put together your Snowman in a Bag Kit: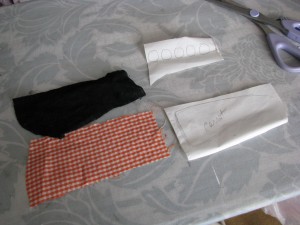 Cutting out shapes for snowman face for bag
Snowman Bag:
I sewed a little snowman draw string bag, but you could make something similar with a white paper gift bag.  For sewing the bag,  I used an old white sheet and used Wonder Under (available at Walmart or fabric store) to applique the "carrot and coal" on.  I then sewed on buttons for the eyes.  Making  the bag took a little more time than I would probably do if I were trying to mass produce them-but I think it will make a fun and unique gift for my niece and nephews so it was worth the extra effort.
You could use a white paper gift sack and do the same sort of concept on that if you don't sew and it would turn out super cute, too!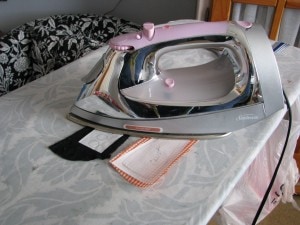 Ironing on the "Wonder Under"
"Snowman in a Bag" Tag: 
You can then make a cute little tag explaining that this is a Snowman in a Bag Kit.
Here's what the tag says:
Snowman Kit: Just add snow! Includes a hat, scarf, button eyes, coal mouth, and carrot
Snowman Soup:
You could also include the ingredients for Snowman Soup inside your kit.
Here's the recipe for "Snowman Soup":
1 packet of hot chocolate
1 mini candy cane
2 Tbsp of mini marshmallows
You can include this cute "Snowman Soup" poem:
I was told you've been real good this year.

Always glad to hear it!

With freezing weather drawing near,

You'll need to warm the spirit.

So here's a little Snowman Soup

Complete with stirring stick.

Add hot water, sip it slow.

It's sure to do the trick!