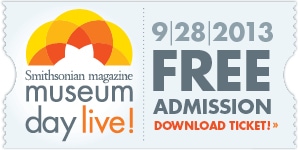 Saturday, September 28th, is the Smithsonian FREE Museum Day!  As part of Museum Day Live!, you can get 2 FREE museum tickets (1 for you & and a guest) into one of MANY participating NW Museums – you just need to sign up while tickets are available and they will email you a link to get your FREE printable coupon to bring with you to the museum.
Details on the Free Museum Days From Smithsonian:
Only an official Museum Day Live! ticket is eligible for free entry. Official tickets can be found here on the Museum Day Live! website soon.
One ticket per household, for two people.
A ticket will gain entry to only one of the participating museums, excluding parking and special events and exhibits.
If museum reaches capacity, museum has the right to limit the number of guests until space becomes available.
Find a participating Museum – there are LOTS of museums in both Oregon & Washington, including some of the Children's Museums as well.  You'll find museums all over the country.  What a great way to check out a new museum together as a family.
There are LOTS of great options for the Washington & Oregon areas. Some ideas include:
And many MORE!!