Fab Fit Fun Box Box Promo Code – Save Big + Our Review
This post may contain affiliate links and I may be compensated for this post. Please read our disclosure policy here.

 FabFitFun Box Promo Code + Review of Boxes
Are you looking for a deal on FabFitFun boxes to save on them, or want to see a review to know what you can expect to find in them? We have all of those details here. We regularly update the information here, with current FabFitFun promo codes too.
Here are some great offers from them for the FabFitFun box that you can use on the purchase of your first box from FabFitFun. Only one promo code can be used, though, so pick the offer you prefer!
New Subscribers can get: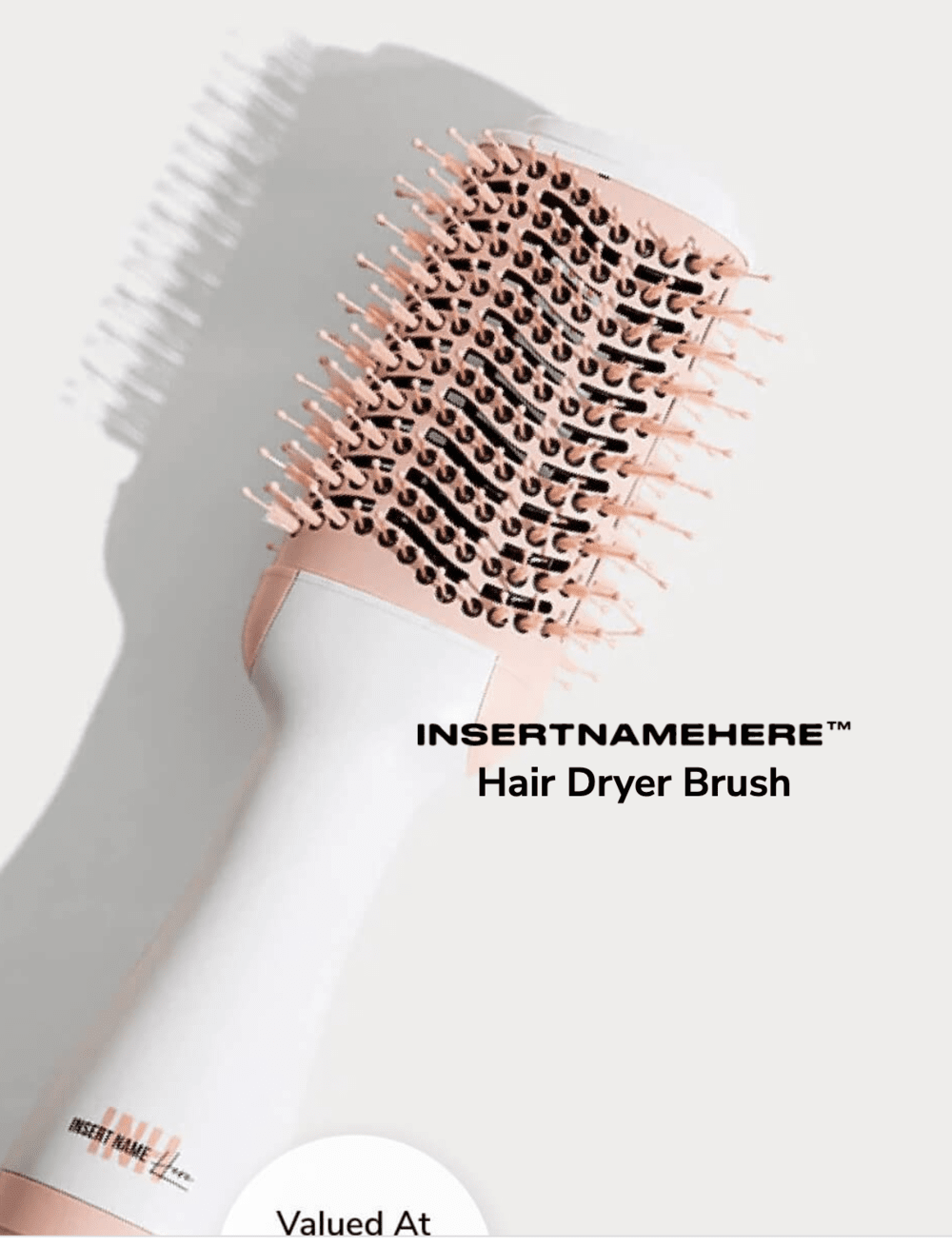 Get a FREE InsertNameHere Blowdryer Brush with promo code: GETITNOW for new members or those who are reactivating their membership (when you sign up for a seasonal membership)
 Here is how this works:
You will need to be a new subscriber to get this offer.
Sign up for Fab Fit Fun subscription box, and select the "Get The Box" seasonal plan or annual plan
Use promo code: FAB10 at checkout to get your first box shipped for $44.99! (reg $54.99)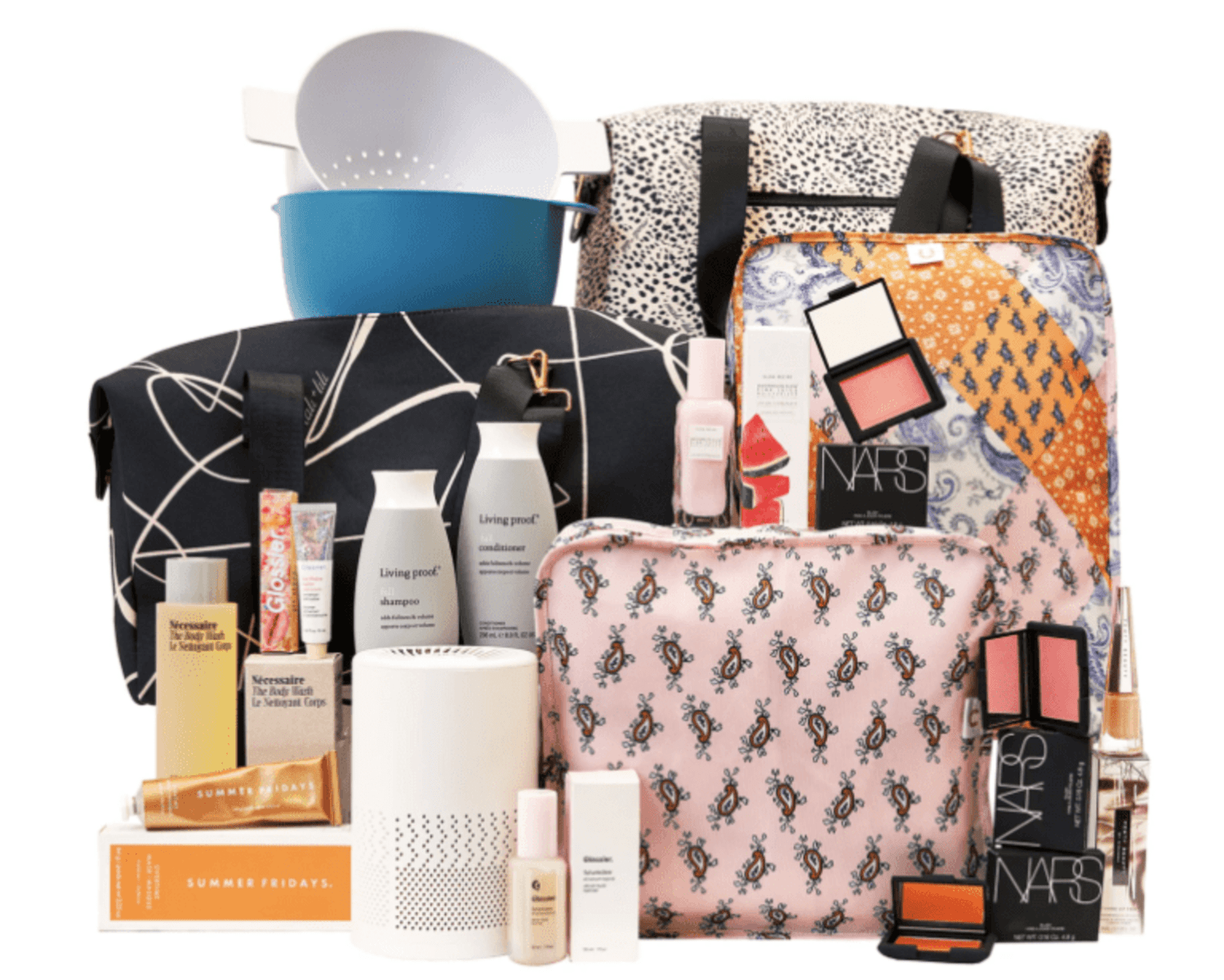 FabFitFun Fall 2022  – A few items you'll find in the FabFitFun Fall 2022 Box:
(Check out this list of FabFitFun Summer 2022 Items. You get to pick the customizations, so not all of these will be in your box, but you will choose a certain number of customizations depending on whether you have a seasonal or annual subscription)
Lilly Pulitzer Lounge Towel

OUAI Scalp & Body Scrub

Summersalt Neoprene Beach Tote

FoxyBae Rose Gold Blowout Dryer Brush Pro

Free People Cara Seamless Bralette

Z Gallerie Multi-Use Storage Duo

TULA Skincare Protect + Glow Daily Sunscreen Gel SPF 30

Draper James Woven Seagrass Tray

Fenty Beauty Full Frontal Volume, Lift & Curl Mascara

IGK Legendary Dream Hair Shampoo & Conditioner Bundle

Samara Shoulder Bag

Lasting Smiles Sea Salt and Citrus Soy Candle
FabFitFun Annual Box Benefits: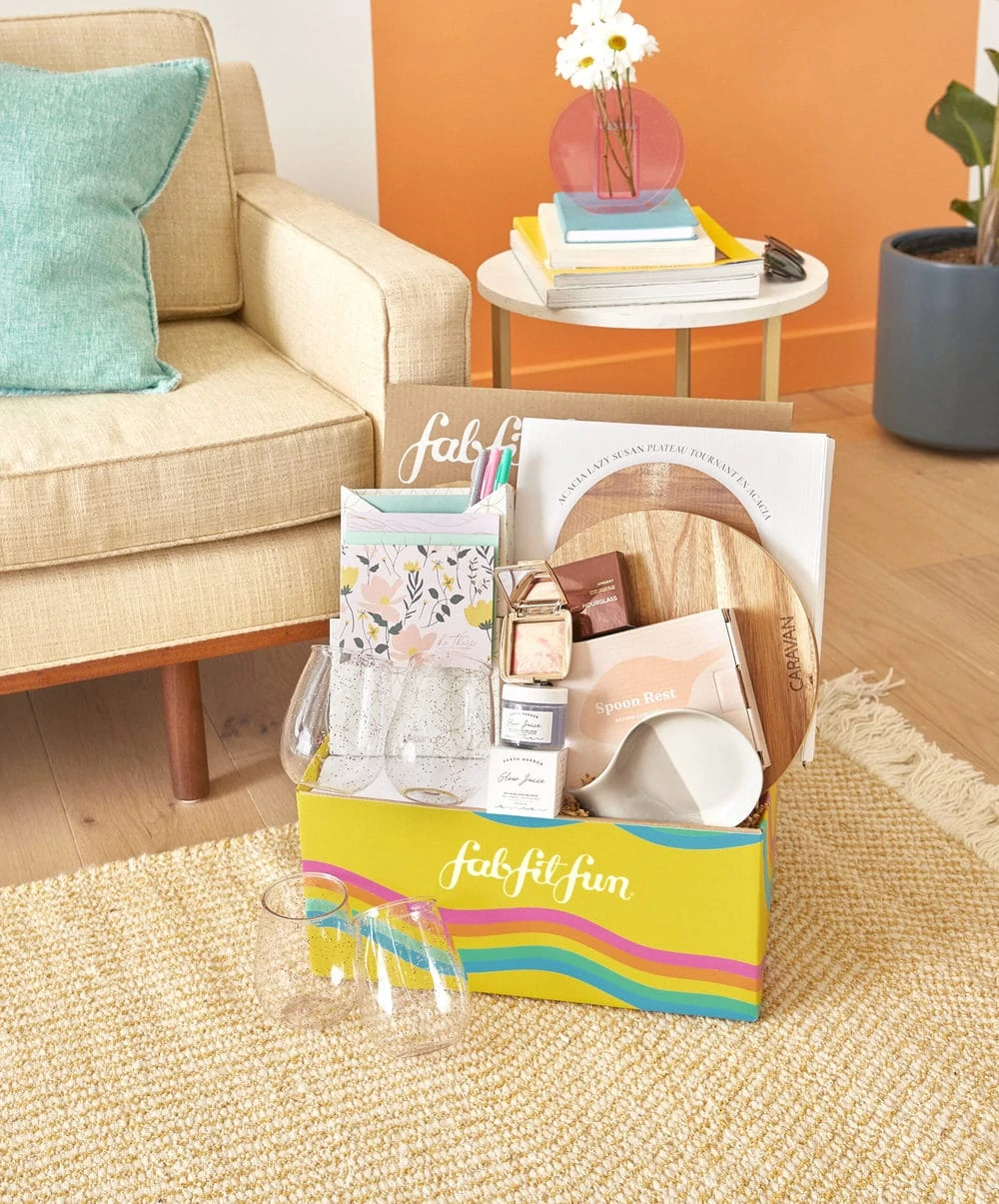 By signing up for an annual subscription, you can save $20 on your year of FabFitFun – that's four boxes as part of the annual subscription.
Benefits for Annual membership include:
*Early and exclusive member customization (more items that you can customize in your box!)
*First access to member sales
*Early shipping of each season's box.
Fab Fit Fun Box Reviews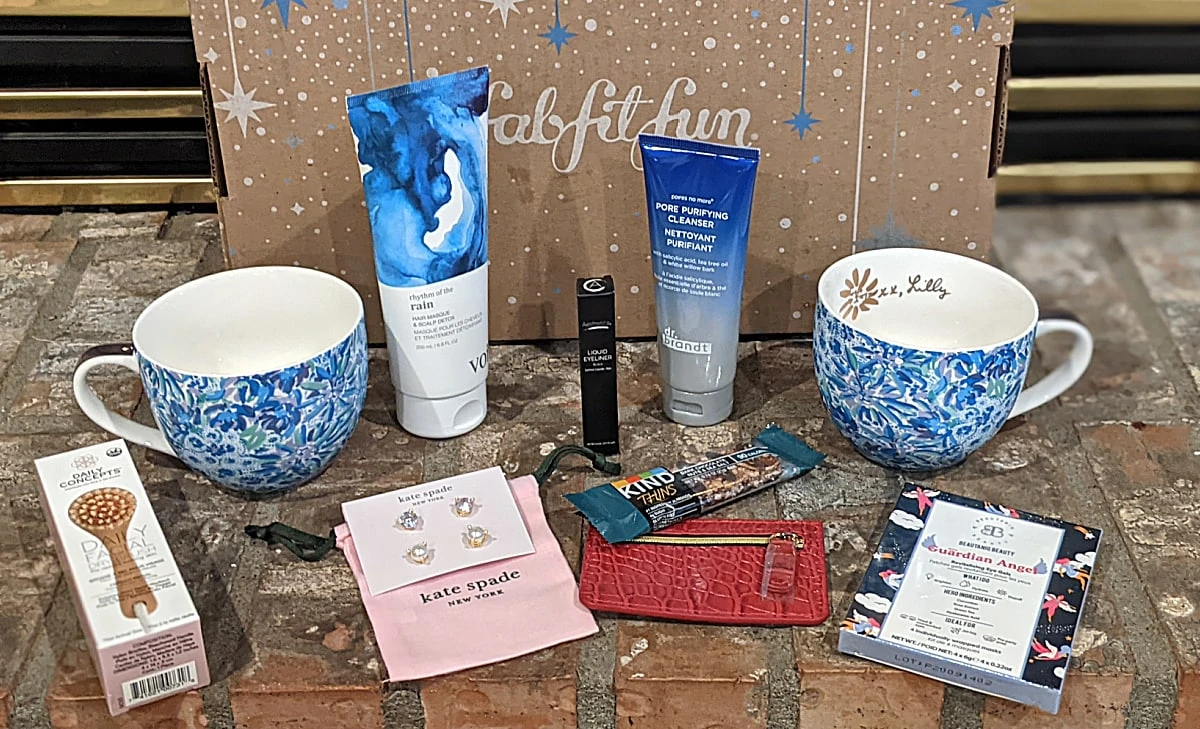 Here are the items I received in my FabFitFun Winter 2021 box! So many great full-size products
The Fab Fit Fun Winter 2021 box was full of fun items (fashion, beauty, and fitness finds ).  I loved these Kate Spade stud earrings. These were perfect for my daughter who loves all things sparkly & small earrings. And Kate Spade are always such good quality.
My favorite item in the whole Winter box, though, are the Lily Pulitzer ceramic mugs – I just adore the print & the blue color! Such a fun addition to my mug collection!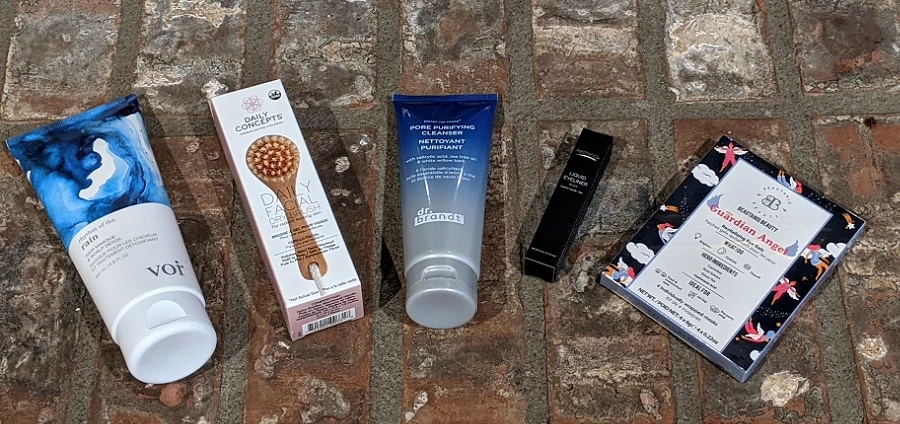 There are more items in the box that will be chosen by FabFitFun, too!
If you have never heard of Fab Fit Fun before, they are seasonal subscription boxes (they are released in Spring, Summer, Fall and Winter), full of really great beauty finds. They typically come with a number of full-size products. You can also have your choice of several of the products from a selection of products & then FabFitFun will choose several of the items for you.
One of my favorite things about these subscription boxes, is that they come with full size items of quality products. I am still using items from previous Summer and Fall boxes. One of my favorite lip pallets that I use daily is one I discovered in the Fab Fit Fun subscription box. You can read our review of one of last year's Fab Fit Fun summer boxes , or watch our video review of last year's Fall box below.
Is FabFitFun worth it? The answer to that question is going to depend on your specific style and tastes. The boxes definitely come packed with more value then you pay, so from that stand point they are worth it. We share a review from a couple of our personal purchases so you can decide whether it is worth it for you or not, depending on what you are looking for.
Review of the Fab Fit Fun Summer box one year – I loved it!
Not only do I love the items for myself (it is such a treat to get all of these great items in one box for that price), but it also is great to give as gifts. You can gift the full box (by either sending the box to their address, or getting them a gift card to send one to themselves) or you can subscribe to the box yourself, and then save some of the items out of it to gift to others. This is why I find it such a great value. With my previous boxes, I have picked out 3 or 4 items I loved for me, and then made various gifts for others out of the other items. I was able to put together such a fun gift bag for my niece in college, by doing that – and she loved it!
The also now allow you to customize boxes. You can select certain items you want in your box, so its not completely curated by them. If you are an annual member, you get to customize your box 3 days earlier then it is open to all.
Here is the customization schedule for 2022:
Spring 2022 –  released on Jan 28, 2022
Summer –  will be released in May 2022
Fall- will be released released in August 2022
Winter 2023 – Released in October 2022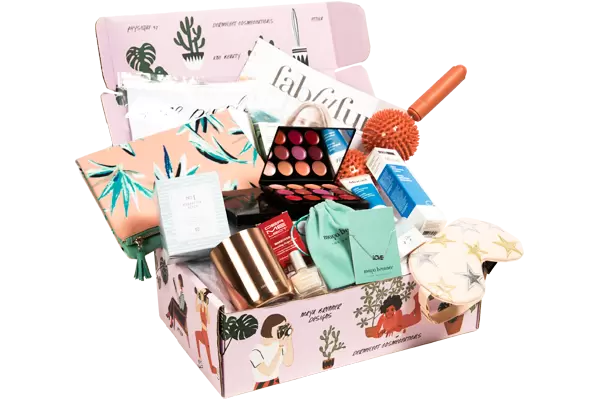 That lip pallet you see on the top of this box is one I got in a previous Summer box, and still use daily to this day. I love it. I was able to stop buying lipstick, because it has all the colors I need, and they stay on great. Just a couple finds like that in the box, more than pay for it, but it comes with so much more.
Fab Fit Fun Fall Box 2020 Review:
Here is the Fab Fit Fun Fall Members' Pick box I received this September. I wanted to show you what type of items you can expect in these FabFitFun boxes. This is probably my favorite FabFitFun box I have received as I truly love almost everything in this box, which usually I have a few favorites & then a few items I love to gift to friends & family. But this box, I am thinking we will use the majority of these items ourselves! Especially with a tween & teen daughters, who will be so into these items, I will have to steal them back!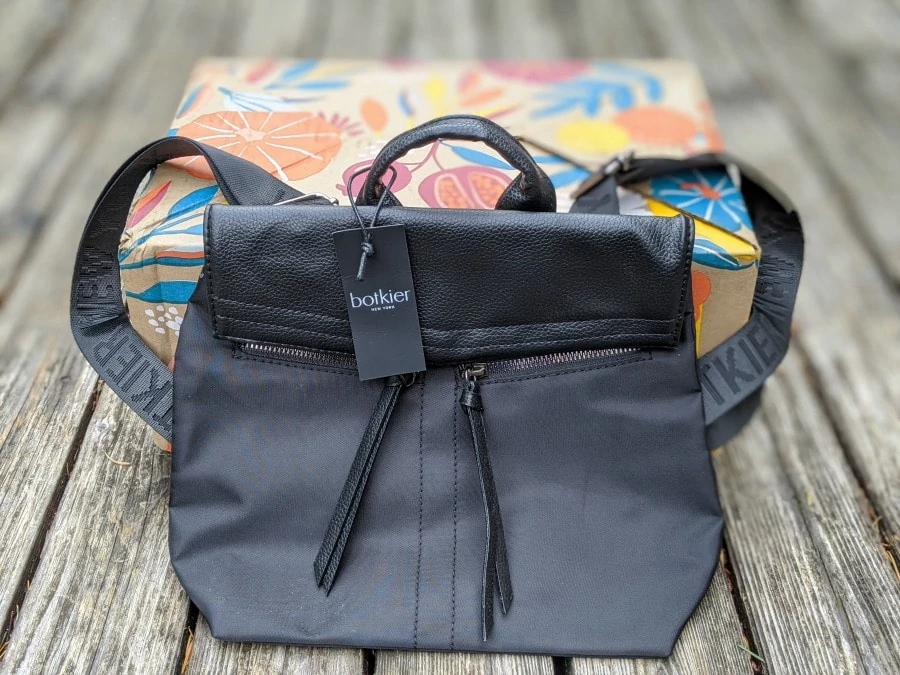 I love this Botkier New York Trigger Backpack – such a great size – perfect to use as a purse & so versatile for fall & winter!
I frequently get headaches & work on the computer a lot 5-6 days a week, so I have been debating blue light glasses for awhile, but never taken the plunge. But they did it for me, so I'm excited to try wearing these regularly to see if they help with my headaches from the screen. These are way cuter than the ones I've been seeing online too.
This is another one of my favorite items in this box & I was so surprised to receive it, especially with some other higher-value type of items. This is a Mason Tops Mason Jar Hydration Kit & it has measurements on the glass bottle inside & a nice sleeve to protect it (as let's be honest, I am not the most careful, so I definitely can use that sleeve). But I love that it's such a fun color & great to move to glass, away from plastic too (if I can keep it safe, ha!)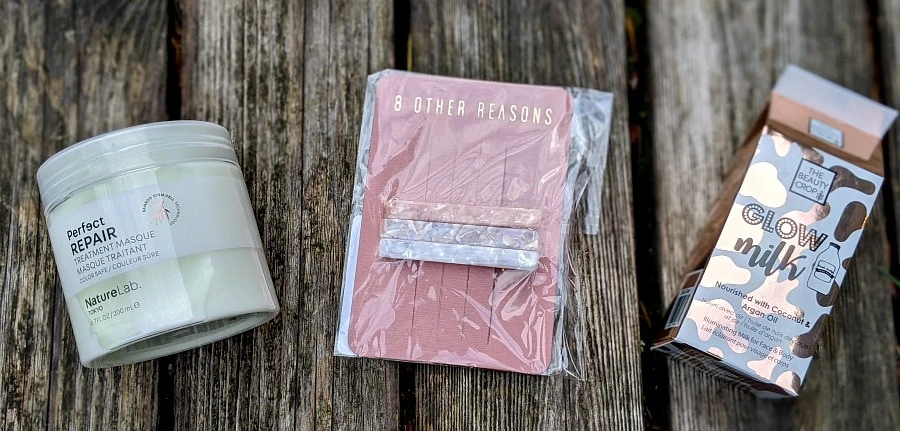 Beyond Yoga Hidden Pocket Infinity Scarf
Nature Lab Perfect Repair Treatment Masque
The Beauty Crop Glow Milk Nourished with Coconut Oil & Argan Oil
8 Other Reasons 3 Barrettes
This box really is an excellent value for all of the items you receive and such a fun thing to get in the mail seasonally.
More Subscription Boxes You Might Be Interested In: