FabFitFun Box Promo Code + Review of Boxes
Limited Time Offer:
Here's a way to get a FabFitFun box for FREE after cash back! PLUS a free mini box! It's a little more complicated but follow these directions:
Sign up for Rakuten with our referral link (this only works for new users to Rakuten, formerly Ebates) – they are offering a $40 cash back bonus if you are new now thru 12/25.
After you create your account, search for FabFitFun in the Rakuten search bar & there is a $15 cash back offer for a limited time for FabFitFun!

3. PLUS – you can use the promo code: YOURMINI to get a free mini box (when you sign up for a seasonal membership) or YOURBONUS to sign up for an annual subscription (where you pay all at once for 4 boxes – see below for benefits to signing up for an annual membership)
4. Click on the red "Shop Now" button & it will take you to the FabFitFun site
5. The total will be $49.95 total shipped. Check out as normal (but do not use a coupon code for this offer as you won't get the $40 bonus unless your order is $40 or more)
6. You will see your $40 cash back bonus + $15.00 FabFitFun cash back bonus in your Rakuten account within a few days. That makes it $55 you get back from this offer.
7. After you factor in the $55 you earn in cash back, you actually make $5 on this deal! And these boxes are worth $200+ in value with all the amazing items in the FabFitFun box! Plus, you'll be getting the extra box full of items too! Woohoo!
(Make sure you do not have cookies disabled on your device or you will not earn the cash back!)
*********************************
Here are some great offers from them for their Winter box for your first box from FabFitFun.Only one promo code can be used, though, so pick the offer you prefer!
New Subscribers can get: 
Here is how this works:
You will need to be a new subscriber to get this offer.
Sign up for Fab Fit Fun subscription box, and select the "Get The Box" seasonal plan or annual plan
Use promo code: FAB10 at checkout to get your first  box for just $39.99 shipped (or use YOURMINI or YOURBONUS for a free mini or bonus box)
This will include the FabFitFun Box ($200+ value)
Cyber Week Offers:
These offers are available from 11/20 – 11/30/20.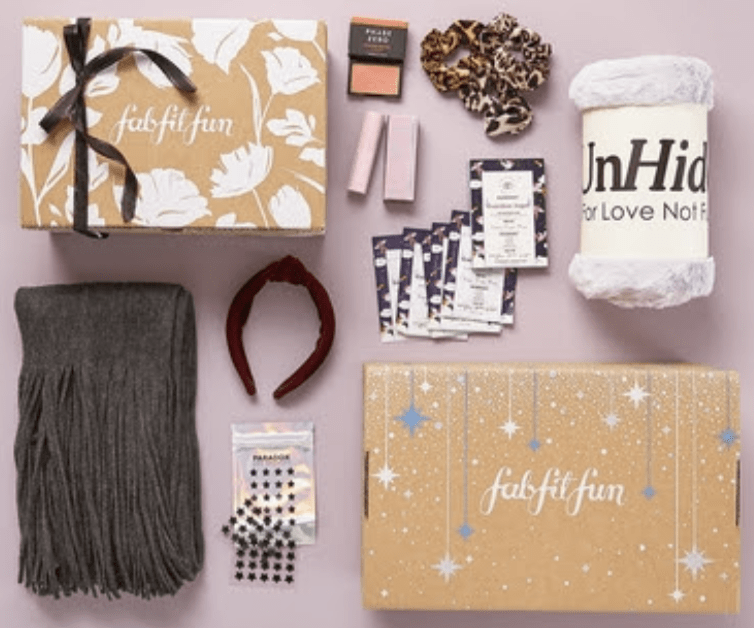 Seasonal Membership Offer: Subscribe to a Seasonal membership & receive a free mini box!  Use the promo code: YOURMINI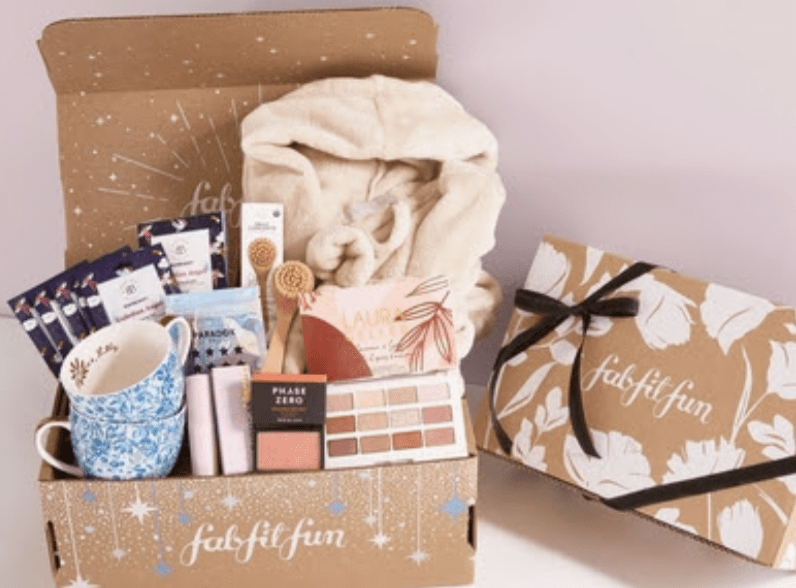 Annual Membership Offer: Subscribe to an Annual membership & receive a free bonus box! Use the promo code: YOURBONUS
FabFitFun Annual Box Benefits:
By signing up for an annual subscription, you can save $20 on your year ofFabFitFun – that's four boxes (that's over $1000+ total value) for only $179.99.
Benefits for Annual membership include:
*Early and exclusive member customization (more items that you can customize in your box!)
*First access to member sales
*Early shipping of each season's box.
Fab Fit Fun Box for Winter
The FabFitFun Winter box  is available to order now, as well as a promo code you can use to save on the Fab Fit Fun Fall Box right now! Get $10 off  off your first box with promo code: FAB10.  These boxes are always filled with full-size products for beauty, fitness & fashion and they make great items to pamper yourself as well as give to friends & family especially for the holiday season.
The Fab Fit Fun Winter 2021 box is full of over $200+ ($215 – $500+ depending on what you choose)  in items (fashion, beauty, and fitness finds ). It is regularly priced at $49.99, so this would be $39.99 after promo code.
Winter 2021 Box Customizations:
Customization #1:
Vera Bradley Compact Organizer
UnHide Lil' Marshmallow Blanket
Bomshbee Sloan Champagne Flutes (set of 4
Summer & Rose Cozy Robe
LOLI Beauty Tea Seed Elixir
kate spade new york Rise & Shine Stud Earrings
Mobile White Advanced Teeth Whitening Kit ($90 value)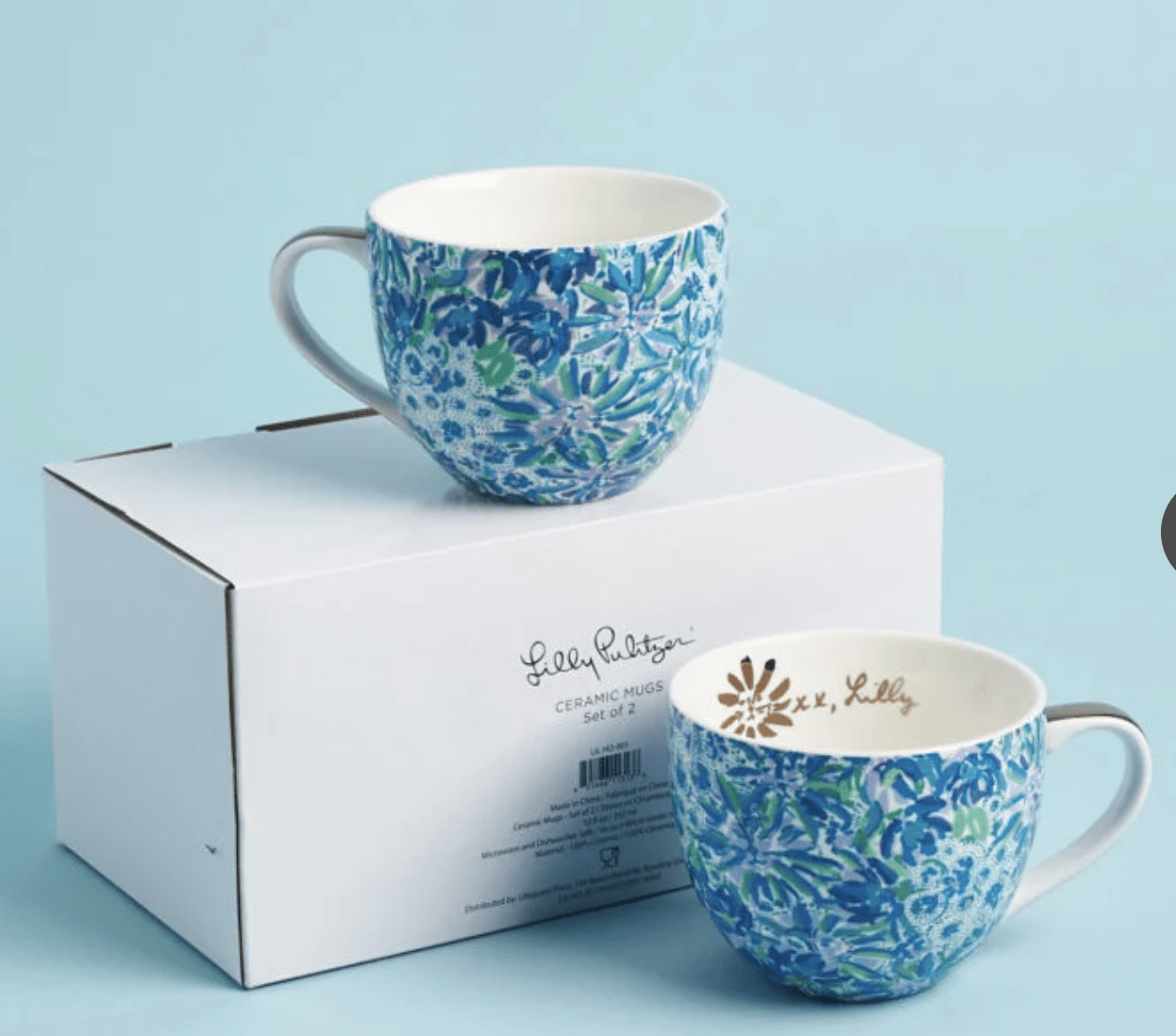 Customization #2:
Lilly Pulitzer Ceramic Mugs (Set of 2)
Caudalie Vinosource Moisturizing Sorbet
Murad Rapid Collagen Infusion
Algenist Complete Renewal Eye Balm
Lucky Brand Solid Brushed Scarf
Impressions Vanity Company LED Vanity Mirror
Customization #3:
ILIA Beauty Limitless Lash Mascara
Laura Geller Cinnamon + Spice Eyeshadow Palette
dr. brandt skincare pores no more Pore Purifying Cleanser
dr. brandt® skincare Poredermabrasion
Lele Sadoughi Maroon Velvet Headband
Customization #4 (for annual subscribers to choose, seasonal subscribers will be surprised):
kate spade new york Workout Socks (Set of 2 Pairs)
Muk Luks Cabin Socks
Voir Haircare Rhythm of the Rain – Hair Masque & Scalp Detox
Tula Skincare Rose Glow & Get It Cooling & Brightening Eye Balm
Flight Mode Skincare High-Altitude Hydration Mask
Customization #5 (for annual subscribers to choose, seasonal subscribers will be surprised):
Beautaniq Beauty Guardian Angel Revitalising Eye Gels
eparé Cutting Board (Set of 4)
dpHUE Apple Cider Vinegar Dry Shampoo Powder
There are more items in the box that will be chosen by FabFitFun!
If you have never heard of Fab Fit Fun before, they are seasonal subscription boxes (they are released in Spring, Summer, Fall and Winter), full of really great beauty finds. They typically come with 8 to 10 items in each box. You can also choose 3-5 of the products from a selection of products.
One of my favorite things about these subscription boxes, is that they come with full size items of quality products. I am still using items from previous Summer and Fall boxes. One of my favorite lip pallets that I use daily is one I discovered in the Fab Fit Fun subscription box. You can read our review of one of last year's Fab Fit Fun summer boxes , or watch our video review of last year's Fall box below.
Review of the Fab Fit Fun Summer box one year – I loved it!
Not only do I love the items for myself (it is such a treat to get all of these great items in one box for that price), but it also is great to give as gifts. You can gift the full box (by either sending the box to their address, or getting them a gift card to send one to themselves) or you can subscribe to the box yourself, and then save some of the items out of it to gift to others. This is why I find it such a great value. With my previous boxes, I have picked out 3 or 4 items I loved for me, and then made various gifts for others out of the other items. I was able to put together such a fun gift bag for my niece in college, by doing that – and she loved it!
The also now allow you to customize boxes. You can select certain items you want in your box, so its not completely curated by them. If you are an annual member, you get to customize your box 3 days earlier then it is open to all.
Here is the customization schedule for 2020:
Winter 2020 : Released in November 2019  & there was a Winter Editor Edition box in January 2020
Spring – was released in February 2020
Summer –  was released first week of May 2020
Fall- was released in August 2020
Winter 2021 – Released in October 2020
That lip pallet you see on the top of this box is one I got in a previous Summer box, and still use daily to this day. I love it. I was able to stop buying lipstick, because it has all the colors I need, and they stay on great. Just a couple finds like that in the box, more than pay for it, but it comes with so much more.
Fab Fit Fun Fall Box 2020 Review: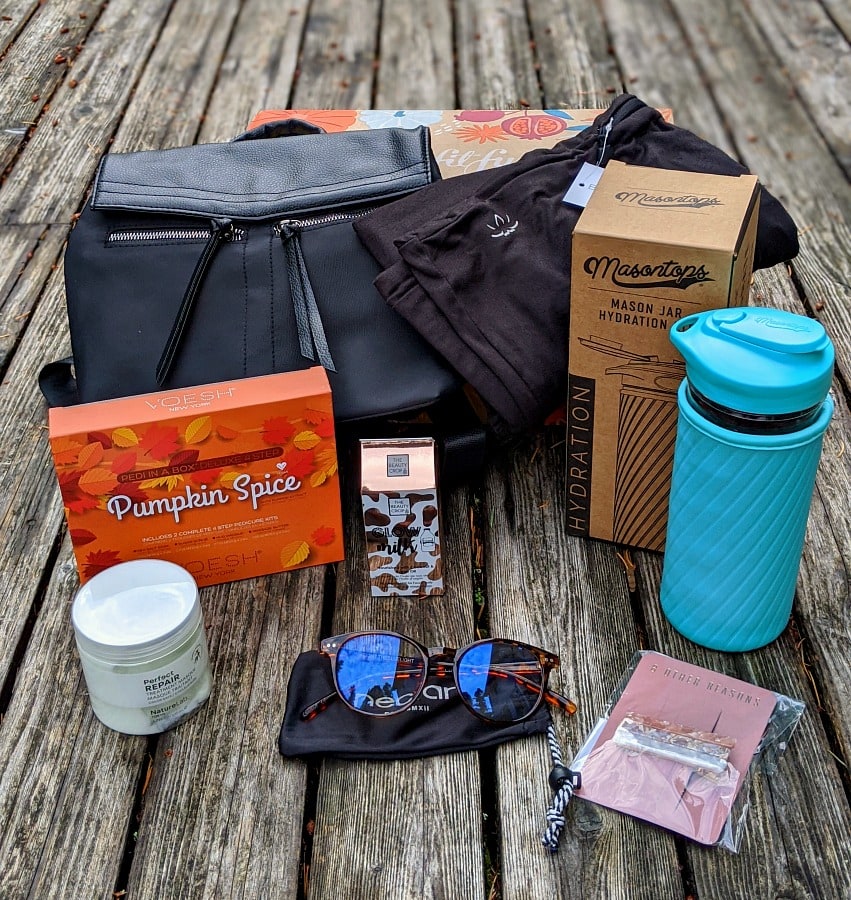 Here is the Fab Fit Fun Fall Members' Pick box I received this September. I wanted to show you what type of items you can expect in these FabFitFun boxes. This is probably my favorite FabFitFun box I have received as I truly love almost everything in this box, which usually I have a few favorites & then a few items I love to gift to friends & family. But this box, I am thinking we will use the majority of these items ourselves! Especially with a tween & teen daughters, who will be so into these items, I will have to steal them back!
I love this Botkier New York Trigger Backpack – such a great size – perfect to use as a purse & so versatile for fall & winter!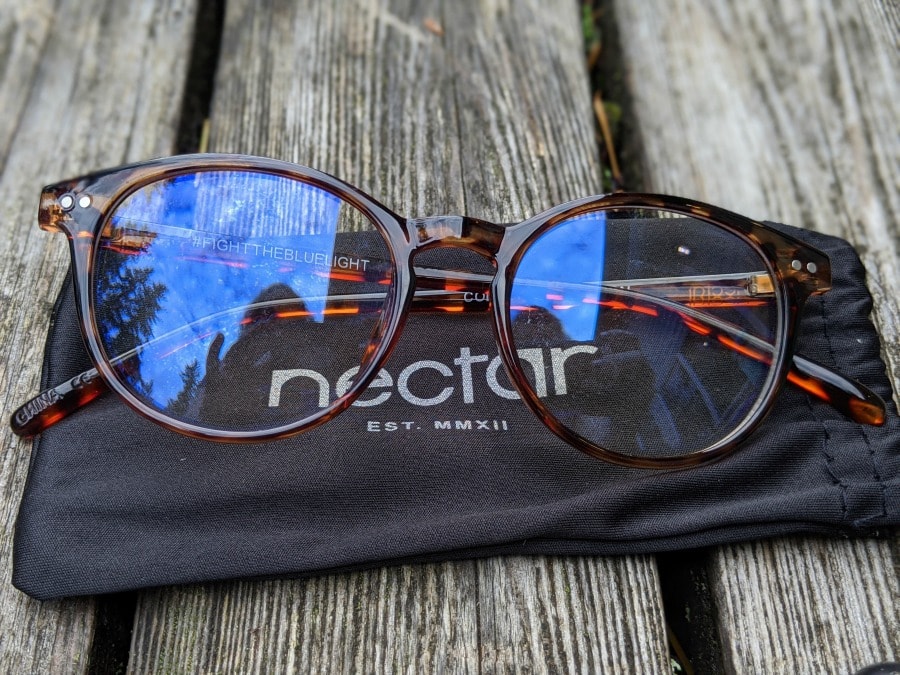 I frequently get headaches & work on the computer a lot 5-6 days a week, so I have been debating blue light glasses for awhile, but never taken the plunge. But they did it for me, so I'm excited to try wearing these regularly to see if they help with my headaches from the screen. These are way cuter than the ones I've been seeing online too.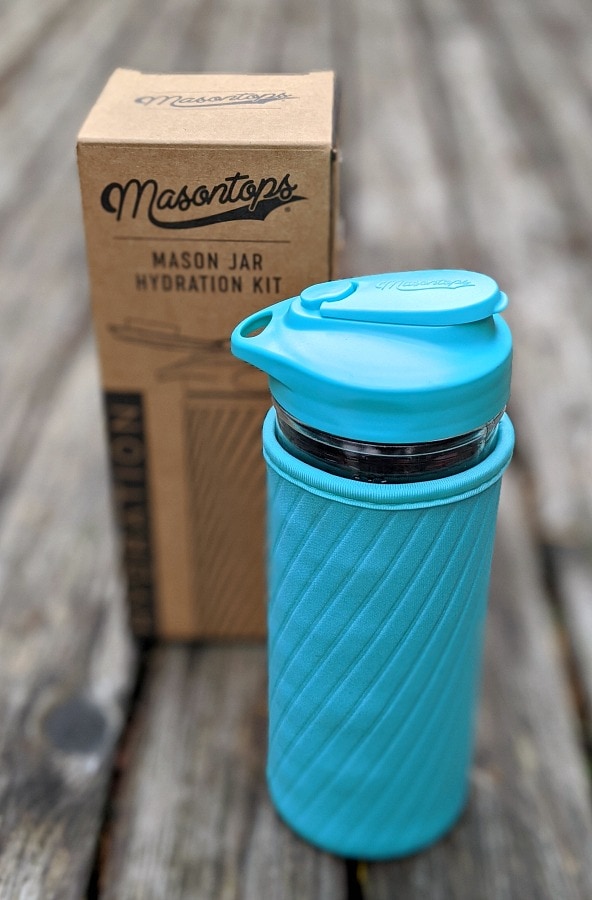 This is another one of my favorite items in this box & I was so surprised to receive it, especially with some other higher-value type of items. This is a Mason Tops Mason Jar Hydration Kit & it has measurements on the glass bottle inside & a nice sleeve to protect it (as let's be honest, I am not the most careful, so I definitely can use that sleeve). But I love that it's such a fun color & great to move to glass, away from plastic too (if I can keep it safe, ha!)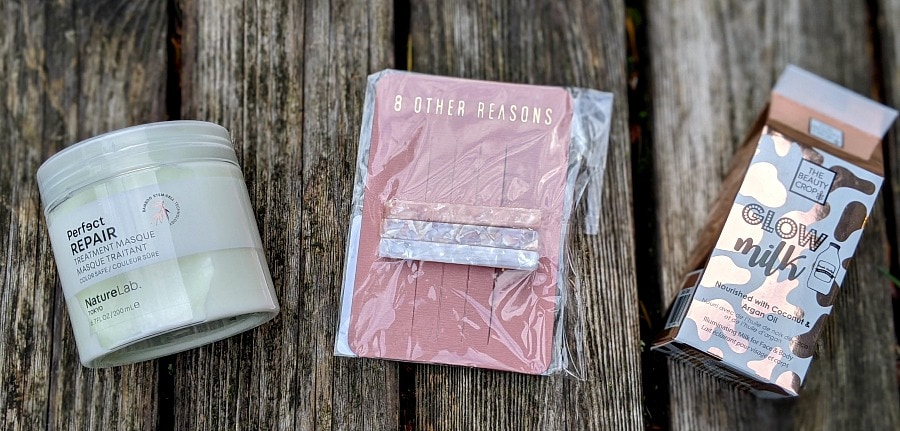 Beyond Yoga Hidden Pocket Infinity Scarf
Nature Lab Perfect Repair Treatment Masque
The Beauty Crop Glow Milk Nourished with Coconut Oil & Argan Oil
8 Other Reasons 3 Barrettes
This box really is an excellent value for all of the items you receive and such a fun thing to get in the mail seasonally.
More Subscription Boxes You Might Be Interested In: