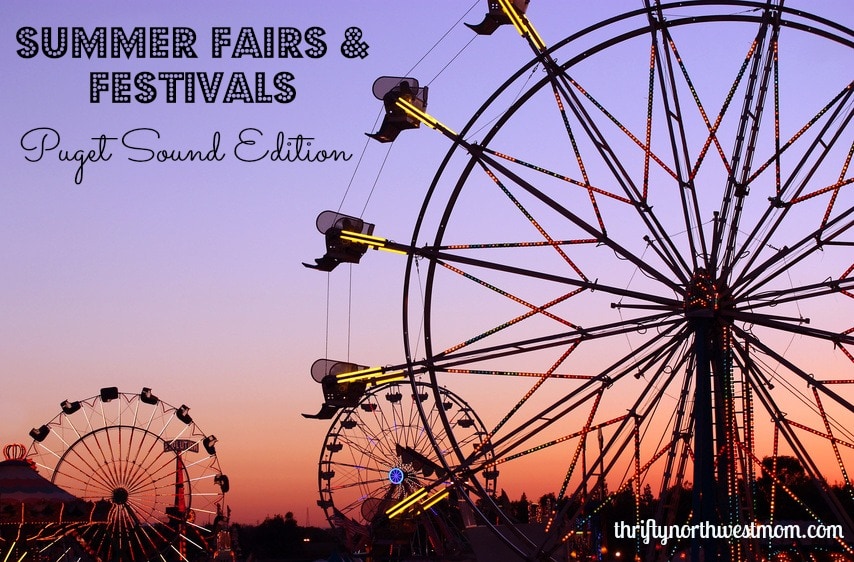 We've teamed up for the 3rd year in a row with local bloggers, Angela from Frugal Living NW & Karrie from Happy Moneysaver to bring you a list of all the summer fairs & festivals for Washington & Oregon for 2013.
There are a number of 4th of July events happening in almost every community & I only listed a few of the larger events, so make sure to check with your own community to see what they have going on.
If you're looking for more ideas for fun family activities around the Northwest , make sure to check out our Summer Page with links to park reviews, vacation spots, frugal family events and more. Plus you'll want to check out our massive Staycation -Things to Do in Seattle post with all sorts of ideas for all around Seattle!
If you see an event that I missed, leave a comment & I'll add it to the post! Let us know what your favorites are, too, and what you like about them!
Here's what you'll find:
Thrifty NW Mom – Festivals & Fairs around the Puget Sound area (from Whatcom County – Lewis County)
Frugal Living NW - Festivals & Fairs  for southwest Washington & western Oregon
Happy Moneysaver – Festivals & Fairs for central/eastern Washington and central/eastern Oregon
Don't forget that you'll find the best frugal family events & activities going on around the Northwest, as well as national events, each Friday morning! 
King County:
Bellevue Strawberry Festival -  Sat 6/22 from 10am – 8pm; Sun 6/23 from 10 am – 5 pm; Crossroads Park in Bellevue; Entertainment, Auto Show, Vendors, Food, & lots of Family Fun
Auburn Kids Day - Friday 6/21 from 11am – 4pm; Les Gove Park; Live entertainment, inflatable rides, arts & crafts, food & much more
Lake Union Wooden Boat Festival - Sat June 30th – Thurs July 4th;  Lake Union park; Free admission, free boat ride, food, music & more
Fireworks at Emerald Downs - July 3rd; Auburn; Come for the day & enjoy the races (only adults will pay admission) or just come after the races to enjoy the fireworks for free. Reservations strongly recommended. Kids activities such as Face Painters, Airbrush Face Painter, Glitter Tattoos, Caricaturist, Wax Hands & Bounce House (weather permitting).
Seattle's Family 4th of July Event - held at Gasworks Park with fireworks viewed over Lake Union. They are still determining events for this day as it was just recently brought back with funding in April, 2013. Keep an eye on this page for the Family 4th to find out their schedule for family-friendly events during the day & the fireworks schedule at night (typically begins around 10pm).
Kent Cornucopia Days - July 12th – 15th; Street fair, Dragon Boat races, Farmers Market & more
West Seattle SummerFest - July 12th – 14th; free 3 day street fair; arts & crafts, shopping, live music, local food, kids play area & more
Pioneer Square Fire Festival - July 13th, Occidental Square, Enjoy antique fire engines, police cars, bagpipes, and kids' activities.
Redmond Derby Days - July 13th – 15th
Chinatown International District DragonFest - July 14th & 15th; Seattle; Includes Japanese drumming, Chinese Martial Arts, Filipino dancing, Lion & Dragon Dances, Live Entertainment, Food, Karaoke & more.
Bite of Seattle - July 19th – 21st; Seattle Center; free admission. A chance to sample 50+ Seattle-area restaurants offerings, celebrity chef cooking demonstrations & more.
White Center Jubilee Days - July 13th – 21st. This includes a street fair, carnival, car show, parade, garden tour, fireworks & more
Seafair - Seafair officially kicks off on June 21st at Westlake Center. The main festival takes place August 2nd – 4th; Boeing Airshow, Hydroplane races & much more. Seafair events start as early as the SeaFair Pirates Landing on July 6th on Alki Beach, though, with events continuing all of July including the Torchlight Parade & Events on Saturday July 27th.
Covington Days - July  20th – 22nd (doesn't show ending date on website, but it was 3 days last year); Covington;
Vashon Island Strawberry Festival - July 20th – 22nd
Enumclaw Street Fair - July  20th & 21st; street fair, entertainment, food, carnival
Renton River Days - July 27th – 29th; Entertainment, Art show & art market, food, kids zone, quilt show & more
Bellevue Festival of the Arts & Sixth Street Fair -   July 27th – 29th;  Bellevue; free admission, outdoor show
Scottish Highland Games - July  27th – 29th; Enumclaw
King County Fair -  August 2nd – 5th, Enumclaw
Lake City Pioneer Days - Saturday August 4th; parade, street fair, salmon bake & more
SLU 2013 Block Party - August 9th- Free, South Lake Union; Beer garden, burger grilling competition, food sampling, children's play area, movies and more.
Festival of Mt Si - August 10th – 12th; North Bend
Auburn Good Ol' Days - August 10th – 12th, Auburn
Snoqualmie Railroad Days - August 17th – 19th; Snoqualmie
Renton Art & Antique Walk - August 25th; Renton
Bumbershoot – Seattle's Music & Arts Festival - August 31st – September 2nd; Seattle Center. This is Seattle's popular music & arts festival over Labor Day weekend, which features the best in music, film, comedy, dance, theater, visual arts & more. They also have a "Youngershoot" Festival  for kids, which is put on by the Children's Museum of Seattle with indoor & outdoor activities for kids ages 10 & under
Pierce County:
Meeker Days Festival – June 21st – 23rd; Puyallup ; Arts & Crafts show, Classi Car Show and Antique Tractor Show, Farmer's Market, children's Zone , Teen Zone & more!
Tacoma Freedom Fair - July 6th – Tacoma Narrows Airport – air show, car show & motorcycle show; 4th of July – Ruston Way – fireworks, air show, vendors, food, entertainment & more.
Art on the Ave Street Festival- July 14th; Tacoma; artists' booths, kids zone, entertainment, & more.
Pacific Days - July 12th – 14th; kids parade Friday night; Grand parade Saturday & more
Gig Harbor Summer Arts Festival - July 20th & 21st
Proctor Arts Fest - August 3rd; Tacoma
Renaissance Faire - August 3-4, 10-11,  17-18; Bonney Lake
Pierce County Fair - August 8th-11th; Graham
Commencement Bay Maritime Fest - August 24th and 25th; Tacoma
Puyallup Fair/Western Washington State Fair – September 6th – 22nd; Puyallup
Snohomish County:
Skagit County:
Island County:
San Juan County:
Whatcom County:
Thurston County:
Lewis County:
Kitsap County:
Grays Harbor County:
Mason County:
Jefferson County:
Clallam County:
Pacific County:
So, what's on your list to check out this year! What are your favorite festivals around the Northwest? Let us know if we missed an awesome festival we should share!