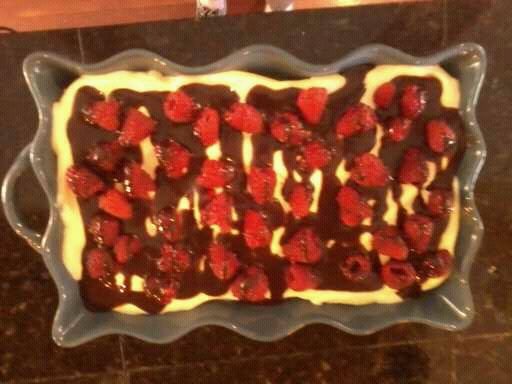 If you need a quick, easy and affordable recipe for a potluck, gathering, or just to have around the house, try this no bake cake. Bet part is that you can use whatever fresh berries or fruit is on sale that week (or even thawed frozen berries). Best part is that you can make this ahead of time (the night before), making it really easy to use for entertaining.
This is an old stand by recipe, that is not exact, and has many variations. Play around with it a little and find out what your family likes best, and add it to your recipe file.
Ingredients Needed:
1 Package Graham Crackers
1 Lrg. Box of Instant Vanilla Pudding
1 Package of Cool Whip
Milk
Chocolate Syrup (you can make it from scratch, use Hersheys syrup, or microwave chocolate frosting for 30 seconds until it has an icing consistency)
Fruit of your choice (I used raspberries in photo above)
Directions:
(Note – its generally best to make this a day ahead so the graham cracker layers can get to a cake consistency. My husband happens to like it when there is still a little crunch to the graham crackers so we sometimes make it just ahead of dinner. I think most people prefer that it sit overnight though).
1) Make instant pudding according to directions on the package (I like to cut back a little on the milk, for a stronger vanilla flavor). Set aside for a few minutes while it thickens.
2) Once pudding has thickened (about 5 minutes), add the tub of cool whip and fold into the pudding (its about a 50/50 mix of pudding to whipped topping).
3) Add a layer of graham crackers to the bottom of an 8×11 cake dish.
4) Add a layer of the pudding/whipped topping mix. Sprinkle fruit of your choice (bananas, strawberries, raspberries, blueberries or other berries would all be good).
5) Repeat layering process two more times (total of three layers).
6) You can do the top layer a couple of different ways: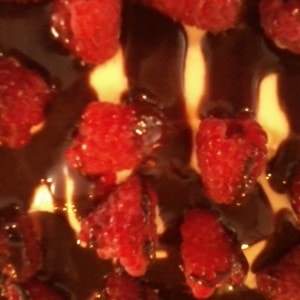 a – Sprinkle a layer of fruit and then drizzle chocolate over that (careful with the chocolate, it will add alot of richness so you may want to go light). This is how I did it in photo above. This version keeps it a little lighter and fluffier.
b – Add a last layer of graham crackers to the top and cover the last layer or graham crackers with chocolate icing (best to use a homemade icing, or buy prepared chocolate frosting and microwave for 30 – 60 seconds to bring to icing consistency – be sure to remove from container with foil covering before microwaving). This way provides more of a cake consistency to your desert.
Remember that it is best to let it sit overnight for a "cake" consistency. If you eat soon after making the graham crackers will still be crunchy, and taste more like a pie with a graham cracker crust.
The last time I made this I used coupons for all of the items needed and bought the berries on sale. I paid well under $5 for the entire dessert, so its a great option for potlucks and more!