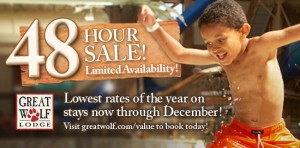 This sale is now live! Rates are as low as $159 for weekdays & $219 -$249 on weekends.
I've received word that Great Wolf Lodge in Grand Mound, WA,  will be holding their biggest sale of the year, starting this Wednesday September 29th at 10am.  This sale will last 48 hours & you will find discounts on stays at the Great Wolf  Lodge from September – December, 2010. When this sale starts at 10am on Wed, you can go to www.greatwolf.com/value to find these deals & you will need to enter the promo code: 48HOUR .
If you're in another location around the country, it looks like they have different start dates for the 48 hour sale for every Great Wolf Lodge.
Here are the locations that will be offering the 48 hour sale this week:
Mason, OH Tuesday September 28th
Grapevine, TX Tuesday September 28th
Grand Mound, WA Wednesday September 29th
Concord, NC Wednesday September 29th
Niagara Falls, ON Thursday September 30th
I can't wait to visit Great Wolf Lodge for the first time with my family & meet so many of you at the Howl-o-ween NW Blogger event coming up in a few weeks!