Ultimate Loaded Chili Dog Recipe !
This post may contain affiliate links and I may be compensated for this post. Please read our disclosure policy here.

Ultimate Loaded Chili Dog Recipe !
This Ultimate Loaded Chili Dog recipes is so delicious and makes a great day recipe, or is delicious comfort food. They are perfect to serve up on a cold night or really any day of the year, where you are craving something packed with tons of flavor. Or set it up as a chili dog bar for a game day party, and let your guests add what they want to the top of theirs. Makes an affordable and easy to serve meal! This is an easy recipe packed full of flavor.
I love starting with BUSH'S® Chili Beans as they come pre-seasoned, making this recipe even easier. But really most beans will work, so use your favorite.
This recipe can be made in any kind of crusty roll (like french rolls), but something about putting them in these pretzel hot dog rolls really kicks the flavor up. The flavors of the pretzel buns, brats and homemade chili blend so nicely. I love to serve it with good old fashioned lemonade in mason jars, to keep with the simple yet tasty theme. Add some grapes on the side, and it makes it a hearty but simple meal.

How to Make the Recipe:

Start by browning up your hamburger and draining it. Then add your BUSH'S® Chili Beans. I like to use these as they already include their original chili sauces, made with a special blend of chilies, spices, garlic and onions, so it requires fewer ingredients for me to buy and add!

Add your tomato sauce, diced tomato's and tomato soup (Note, the tomato soup just adds a touch of sweetness to the chili. Some people add a little sugar to their tomato sauce instead. I don't like an actual sweetness in my chili, so I prefer to use the soup to keep the flavors balanced, but not risk it getting too sweet).

Stir it all together and let it simmer for at least 30 minutes. Ideally, I like to simmer it on low for around an hour. It will thicken as it simmers.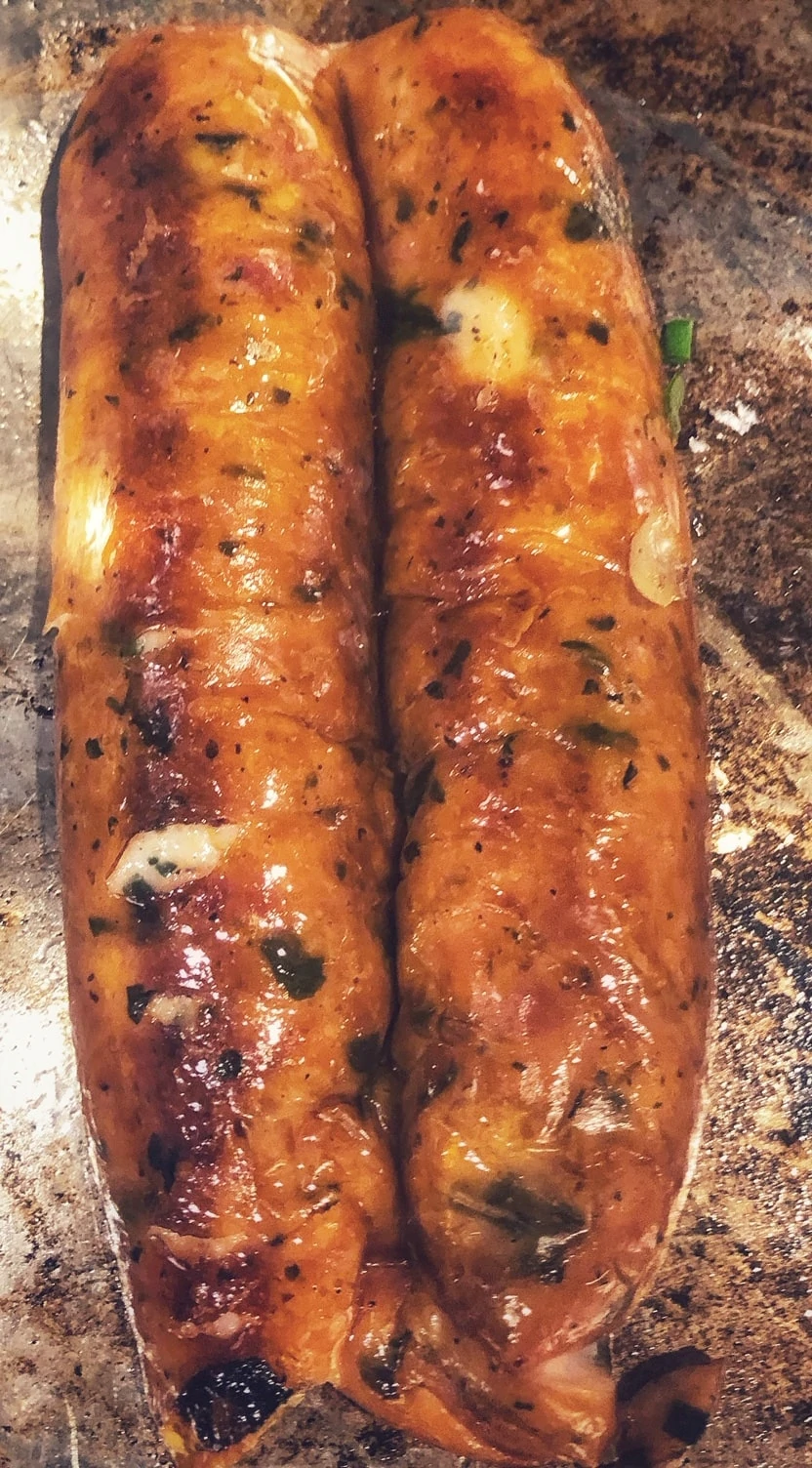 We used this brats recipe to cook up our brats. You could use regular hot dogs too, but I like the brawts as I feel like it takes the dish more flavorful.

You can use any hearty bun, but these pretzel rolls are perfect for this recipe. They go so well with the flavors of the brats and the chili.
Once you have your brawts cooked, butter your buns and put them under the broiler for a few minutes until they are browned up some.
Once you have your chili, brawts and buns ready it is time to add the toppings.

Topping Ideas for these Ultimate Loaded Chili Dogs:
Cheese ( I like to use shredded cheddar, but you could use a cheese sauce too if you prefer)
Onions
Green onions
Crushed Fritos
Sour Cream (I don't use this on mine, but if you are putting it out as a bar it is fun to have for guests who want it).
You can dice your onions up and serve like that, but I love to use caramelized onions on mine. Cut up some onion and caramelize them in some butter in a frying pan, they are delicious this way on this recipe.
I also like to then cut my brat down the middle and add it to the same frying pan I just cooked the onions in. Do this for a couple of minutes to brown it up on the inside and it creates a nice space for the chili.
Now, all that is left is to assemble your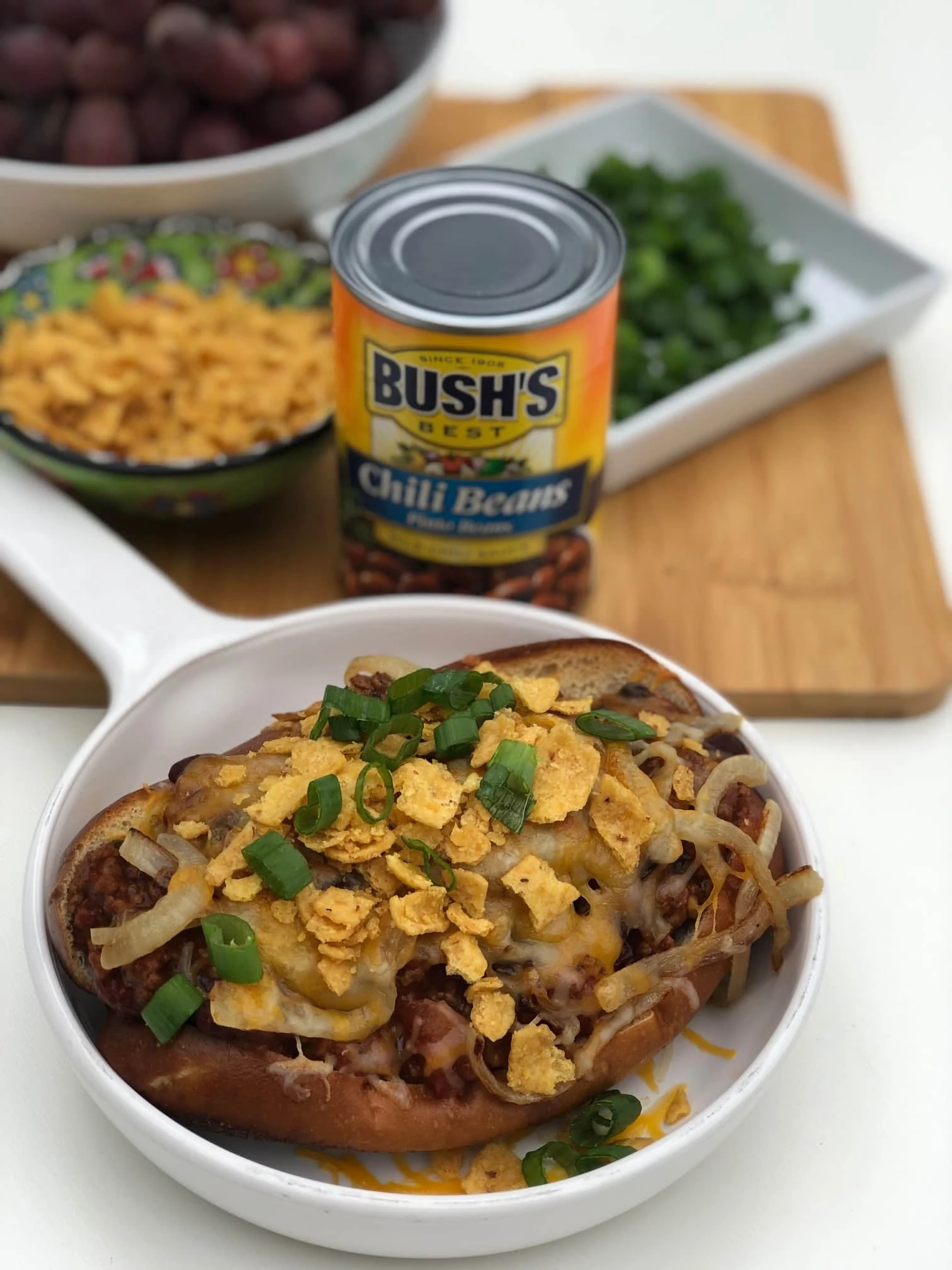 Print the full Ultimate Chili Dog recipe here::
Print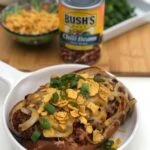 Ultimate Loaded Chili Pretzel Brats #BUSHSChiliBeans
---
Description
This chili recipe is so easy. Use it to top of brats in pretzel buns for delicious comfort food! It is a meal that will satisfy the entire family.
---
Pretzel Hot Dog Rolls
2 cans BUSH'S® Chili Beans
1 lb of hamburger
1 can tomato soup
1 can tomato sauce
1 can diced tomatoes
Chili Powder
1 package Brats of your choice
1/2 White Onion, sliced
Butter
Toppings:
Shredded Cheddar Cheese
Sliced Green Onions
Fritos
---
Instructions
Start by browning the ground beef in a frying pan and drain.
Add cooked ground beef to a stock pot or dutch oven on the stove.
Add two cans of beans.
Add the tomato sauce, tomato soup, and diced tomatoes.
Add chili powder.
Mix well and simmer over medium low heat for at least 30 minutes
Prepare Brats  while chili is simmering. We used this recipe here.
One thing I like to do with the brats, when I am making chili dogs with them is to slice them in half and put them in a frying pan for a couple of minutes to brown the inside up. This just gives you more space to add the chili.
While the brats are cooking slice up a white onion, and add to frying pan with melted butter in it. Cook until golden brown, to caramelize them.
Once chili is done simmering, and brats are done cooking, assemble your ultimate loaded chili brats in the pretzel rolls. To do this:
Add a brat to a pretzel hot dog roll. Scoop chili over the brat, and top with shredded cheese.
Put them under the broiler until cheese is melted and bubbling (around 2-3 minutes)
Serve with sliced green onions and crushed Fritos, for folks to optionally top their mini bowls of chili with.
Recipe Card powered by