Thrifty NW Dad in the Kitchen – Favorite French Toast
This post may contain affiliate links and I may be compensated for this post. Please read our disclosure policy here.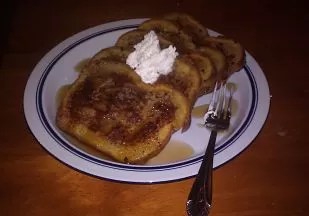 This is my husband Ben's first recipe as part of a new feature called Thrifty NW Dad in the Kitchen! Read more about what he'll be cooking up for the future!
This is a french toast recipe that I came up with and it became an instant favorite. We had this for breakfast this weekend, but it's also a hit for breakfast-for-dinner. I combined a couple other recipes to get this result. Admittedly, it is pretty sweet, but it it was certainly a hit at our place. By the way, day old bread tends to hold together better than  fresh bread once you dip it in the batter (and it's often cheaper!). Of course, regular, thin sliced bread, works well too!
Jen hit up the Oroweat Bakery Outlet on Friday & came away with 11 loaves of bread/bagels for $10 (this particular loaf was $.89 as it was expiring today), so this was a very frugal meal considering we had all the other ingredients on hand. Also, a great way to use up some of that bread – we'll freeze several loafs as well.
Ingredients (for a family of four):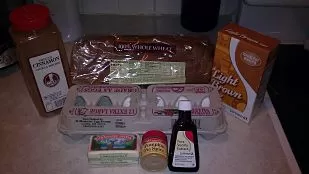 1/2 stick butter (1/4 cup)
2/3 cup brown sugar
4 eggs
1-2 teaspoons ground cinnamon (I use two heaping teaspoons, but you might not like as much!)
1 tablespoon pure vanilla extract
1/2 teaspoon pumpkin pie spice (or  nutmeg)
Loaf of day old french bread cut into 3/4″ slices (we didn't have french bread so just used some bread from the Oroweat Bread Outlet – less than $1 for the loaf)
Directions: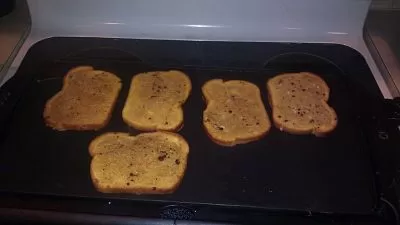 1.Melt butter and brown sugar by placing in microwave for 90 sec (microwave times, may vary, of course). You can also heat in saucepan, combining butter and sugar. Bring to a boil and reduce slightly for best flavor
2. Whisk 4 eggs in a large bowl until smooth, then add sugar/butter mixture and remaining ingredients. Continue to whisk until well blended.
3. Pour mixture into a flat dish (pie pans work well), Then dip each slice into the mixture and place onto a medium-hot griddle.
4. Cook each side for approx. 3-4 min until perfectly golden brown.
5. Serve with a little butter, syrup and a dollop of whipped cream and enjoy!
What is your favorite French Toast recipe?