Project Pinterest – Week 1 – Organizing
This post may contain affiliate links and I may be compensated for this post. Please read our disclosure policy here.

As I mentioned last week, we're starting a new weekly feature here at Thrifty NW Mom – Project Pinterest.  I am a huge Pinterest fan as I'm sure many of you are as well, so I thought it would be fun to highlight some of my favorite finds each week on Pinterest. If you're new to Pinterest, basically it is like a visual bookmarking system or a virtual bulletin board where you can categorize all of your favorite ideas found on the web into one location. Anytime you find a new recipe, DIY idea, craft to do with your kiddos & more , you can add the picture to one of your Pinterest boards. Then, when you're looking for that idea, all you have to do is go back to Pinterest & find the board where you categorized the picture & idea & you'll find the link to the blog post with all the details.
One of my goals that I mentioned at the beginning of the year is to work on organizing our household. Not only will this relieve the stress of not being able to find the items we need last-minute, but it's also a great money-saving strategy.  By keeping track of the items that we do have, then it should eliminate a lot of the unnecessary spending that happens when you can't find where you've stored various items. You can keep a better inventory of the items you're getting low on before you actually run out, so you can keep your eye out for clearance sales & discounts, so you don't have to pay full price by buying items when they're absolutely needed. I've got a few projects started that I'm hoping to finish this week to share with you, but in the meantime, I wanted to share some organizing ideas that have given me inspiration!
Don't forget to check out my Pinterest board  – especially my Organizing Board & Frugal Living boards (lots of great ways to repurpose items)!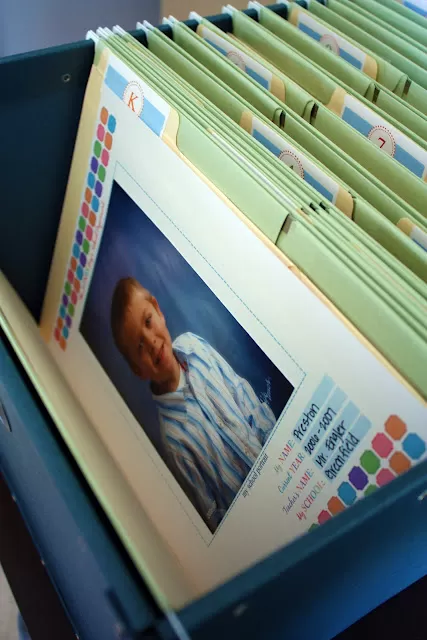 Organizing School Paperwork / Artwork
This idea comes from my absolute favorite organizing blog – I Heart Organizing! I did post this on Facebook awhile back, but  it's just such a great resource, I wanted to share it with you again. This is a great way to keep your favorite art & school work from each year in one box per child. She also has free downloads of the labels & page for each school year! Love it!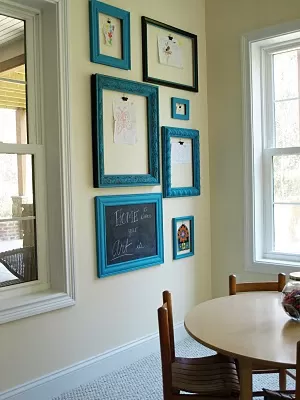 What a fun idea to display your child's artwork with a nice splash of color & you can rotate the artwork whenever you want. Less than Perfect Life of Bliss has such a great idea to use mismatched frames (very frugal when you use frames you already have or find at a garage sale or thrift store) spray-painted with the same color to tie them all in.  Make sure to check out how she puts it all together & then has the clips in the middle to hold various artwork pieces!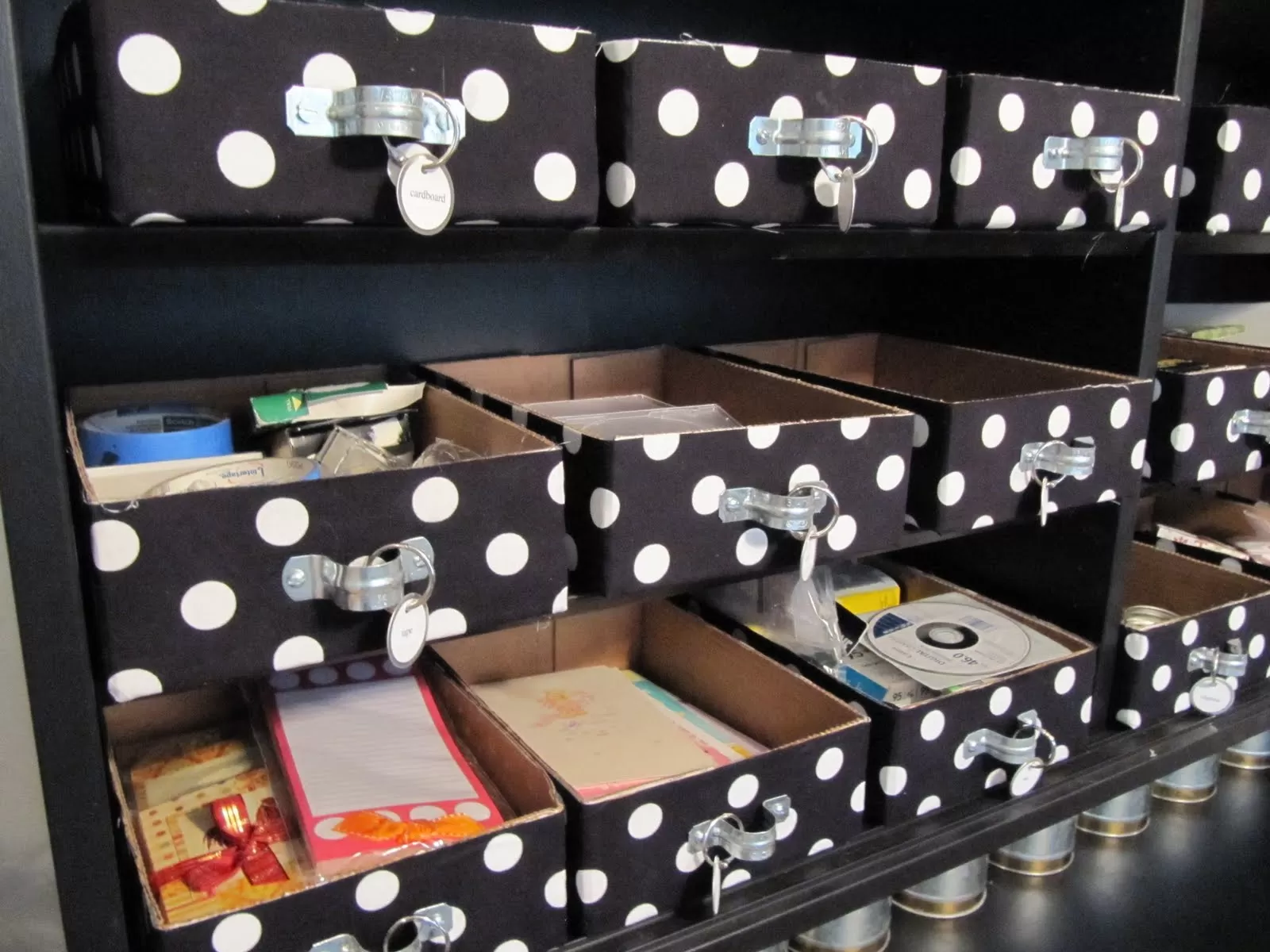 Repurposing Boxes into Storage Baskets
I could get lost in this blog for hours – Sew Many Ways! She has so many fabulous projects she's done but my favorite is her craft room organization. In the picture above, she used Propel drink boxes & covered them in fabric, then added Pipe Straps for handles (found in the electrical section of the hardware store). She also reuses cereal boxes to create magazine holders! You have to head over to see all the amazing storage ideas she implemented into her craft room!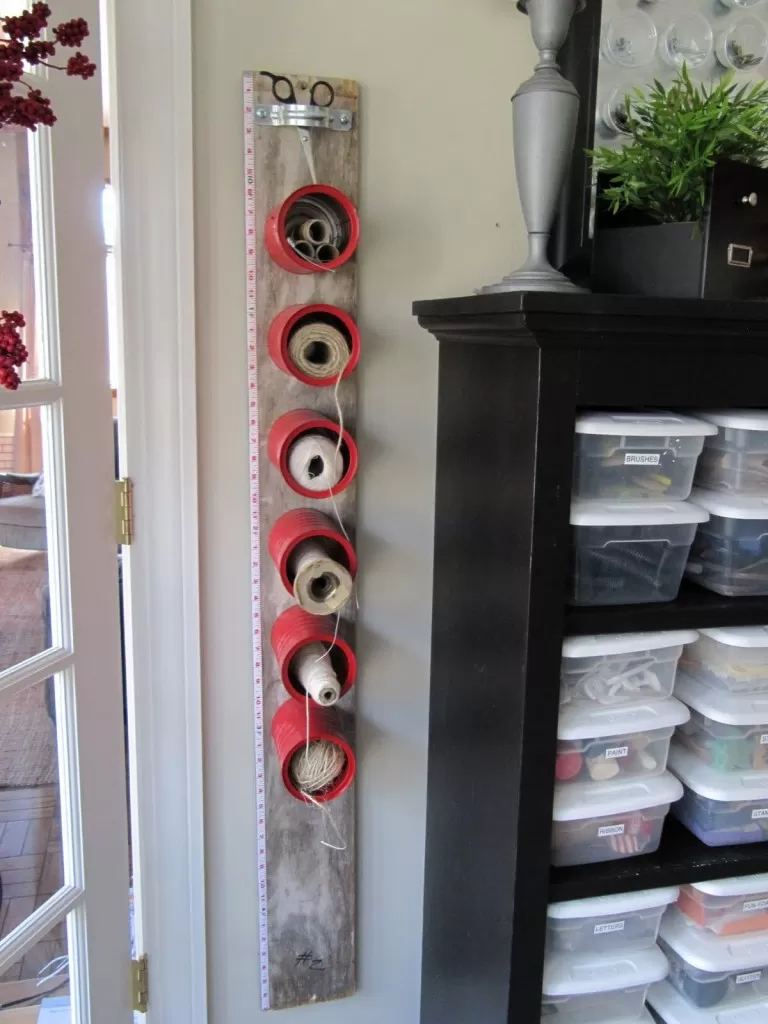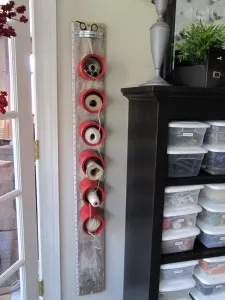 Upcycled Coffee Tins create Twine/String Storage
This idea is also from Sew Many Ways – she reused old coffee tins, spray-painted them in a fun color & hung them sideways as a great storage option for her twine/strings. This way she can access them quickly & easily without digging thru a box to find what she needs.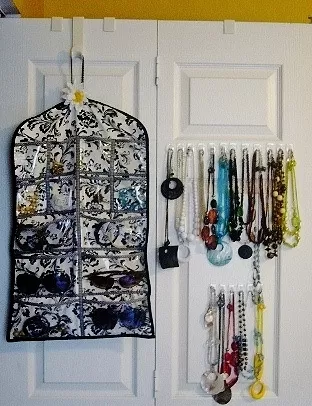 Love this idea from A Proverbs Wife for organizing jewelry so you can better see what you have & wear those items more often. Command hooks for necklaces & a toiletry/hanging pocket organizer for earrings, bracelets & more. I've seen some great prices on these pocket organizers at stores like Ross, Marshall's, & Burlington Coat Factory.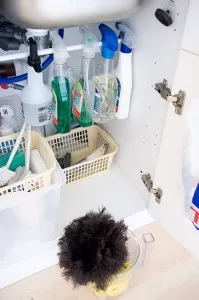 Tension Rod to Organize Spray Bottles Under Sink
This idea from A Thousand Words is so simple yet genius, because  it could really maximize space under your sink – use a tension rod to store spray bottles up high, which creates more room for baskets & other items without getting too cluttered.
What are your favorite organizing blogs or organizing "pins"? Or what is your favorite organizing tip to share?