Simple & Fun Valentine's Party for Kids
This post may contain affiliate links and I may be compensated for this post. Please read our disclosure policy here.
Valentine's Day is one of my favorite holidays and thankfully my girls love it as much as I do! I thought it would be fun to have the gals over from my MOPS table to get to know them better and have some mom chat time while the kiddos had fun with some Valentine's crafting & goodies. This week is a very busy week, though, with several Valentine's parties at school for my kiddos and other activities, so thankfully the food & crafts I planned were very simple & easy for the party.
Here are a few highlights of the party:
Food:
I had some simple snacks for the kids (fruit & cheese sticks plus sugar cookies to decorate) and then for the moms, I made the Heart-Shaped Fruit Pizza and Jam-Filled Nutella Mini Pies that I tried out last week (make sure to check out last week's post for the recipes for both of these goodies).   Both of those recipes used Great Value refrigerated dough products (sugar cookie dough & pie crust dough) and it was a huge time-saver for me after a busy weekend. My husband actually helped me make those recipes Sunday night as I was finishing cleaning & it was so nice to have something so easy to serve the next day. The recipes turned out to be very frugal, too, as there were just a few ingredients in each of them and the Great Value products are inexpensive as well, so it was a budget-friendly way to feed a group of people for a morning playdate and party.
I had extra sugar cookie left from the Sugar Cookie Fruit Pizza, so thought it would be fun for the kids to decorate their own sugar cookies. Let me tell you – the kids had a blast & made full use of all the toppings! This activity is so easy but such a fun idea to have at kid parties as it's always a hit!
Here's what we used for decorating cookies:
2 kinds of frosting so they could choose their favorite (I used coupons to get these inexpensively at Walmart)
Valentine sprinkles (we had some on hand from Valentine's clearance)
Bulk candy from Winco – I found some yummy red, pink & white Valentine candies in the bulk bins at Winco, which was a great way to save money. This way, I only bought what I needed & didn't have to buy large bags of candy to get a variety of options for the kids. We had red/white gummy bears, heart-shaped gummy candies, and more!
My little princess enjoying the cookie she decorated
 Decorations: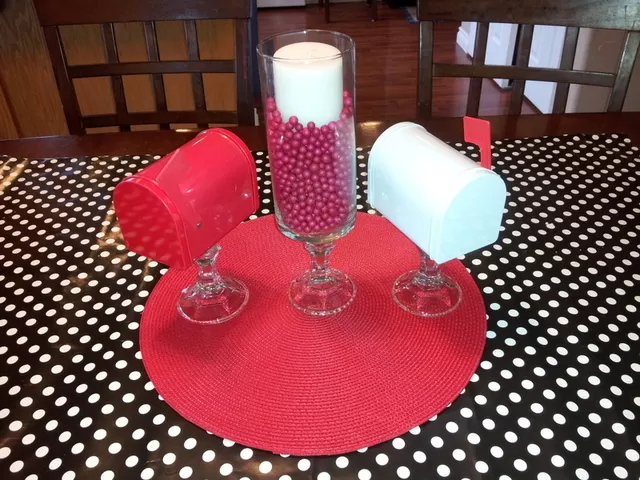 I kept the decorations simple by just using wrapping paper for the table runner to make it a little different and really make the red pop (I also used the same wrapping paper for a Halloween party to have the contrasting black/white & orange). I then found a red placemat for $1.50 at Target and the centerpiece items are each just $2. I found $1 candle sticks at the Dollar Tree store and also found the glass hurricane vase at the Dollar Tree as well.
The little mailboxes were at the Target Dollar spot (I'm going to decorate them a little bit & have some goodies & notes on Valentine's Day). I just glued them together using E-6000 glue & voila, cute & frugal centerpieces. I'll have more details on how that works later, but wanted to show you how I used them for the  Valentine's party.  I also bought Valentine's plates & napkins at the Dollar Tree, so I spent around $10-$12 for all the decorations for the Valentine's party – and ended up with several items that I will use over and over for various parties.
Craft: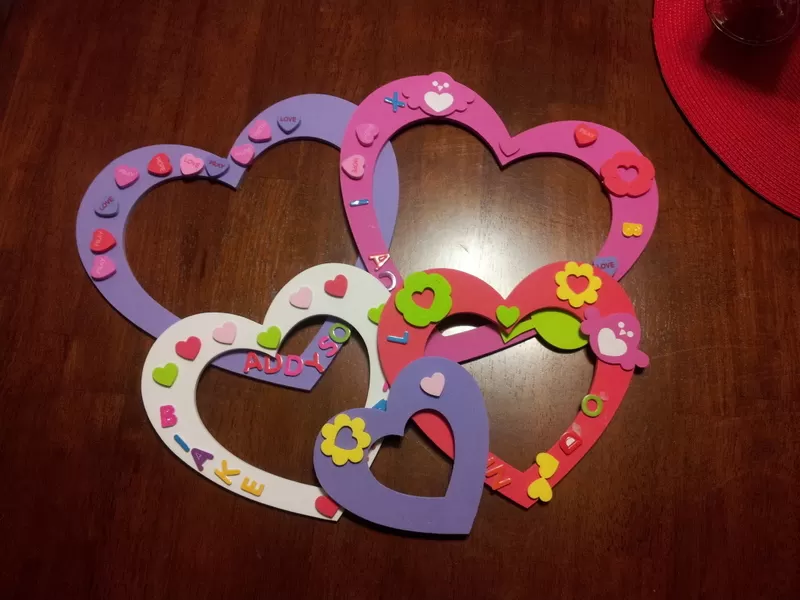 I kept the craft very simple as we had a variety of ages – ages 9 mos – 6 years old at our party. I just found some heart-shaped foam shapes at Walmart & then had a box of Valentine foam shapes – my kids love to decorate with the foam shapes, so I always look for these on clearance. You can frequently find these at Joanns or Michaels on clearance after the holidays.
As you can see, this was an inexpensive party that I put together –  I spent about $30 – 40 on the decorations, food, & crafts for the party.  Even better, the party did not involve a lot of prep work and we moms could just enjoy ourselves and munch on the Valentine goodies as the kids had fun decorating their cookies, crafting & playing hard.  These would also be fun ideas to do with your family on Valentine's Day for a special evening at home together.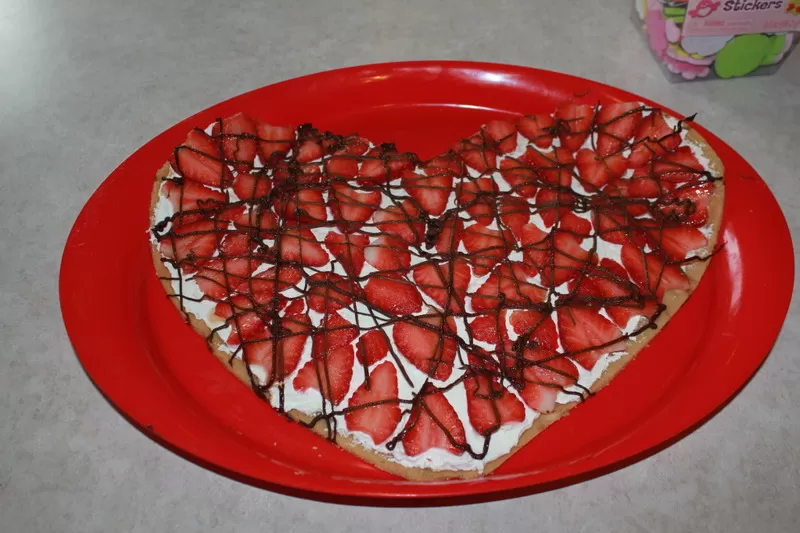 Do you have any fun ideas for a Valentine's Party or special recipes you make for family or friends for Valentine's Day?  We'd love to hear your ideas!