Tomorrow, Saturday February 16th, a number of Pierce County libraries will be offering the very popular event, Read with a Princess. It's the chance for your kids to get up close & get to know this year's Daffodil Princesses! The times will be at 11am or 1pm at 10 different libraries across Pierce County.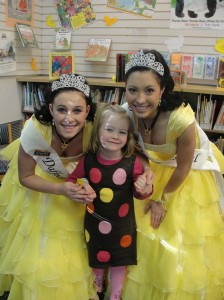 My oldest with 2 of the princesses 2 years ago
We have gone to this event the last two years and my girls just adore the princesses and love the opportunity to visit with them.  The princesses spent close to an hour reading & chatting with our girls and they were so great about getting down on the floor, in their big, poufy dresses & interacting with them.
Here's the schedule of their visits:
11am:
Gig Harbor
Fife
University Place
Eatonville
Parkland/Spanaway
Sumner
Downtown Puyallup Library
1pm:
Buckley
Graham
Steilacoom
Milton/Edgewood
If you can't make this event, you might want to check out the Princess Tea coming up Saturday March 2nd. This event is definitely not frugal, though – it's $20/person. But it might be something you're wanting to splurge on for your little princess.