Parties for Less: How to Plan a Party on a Budget + FREE Party Planning Worksheet!
This post may contain affiliate links and I may be compensated for this post. Please read our disclosure policy here.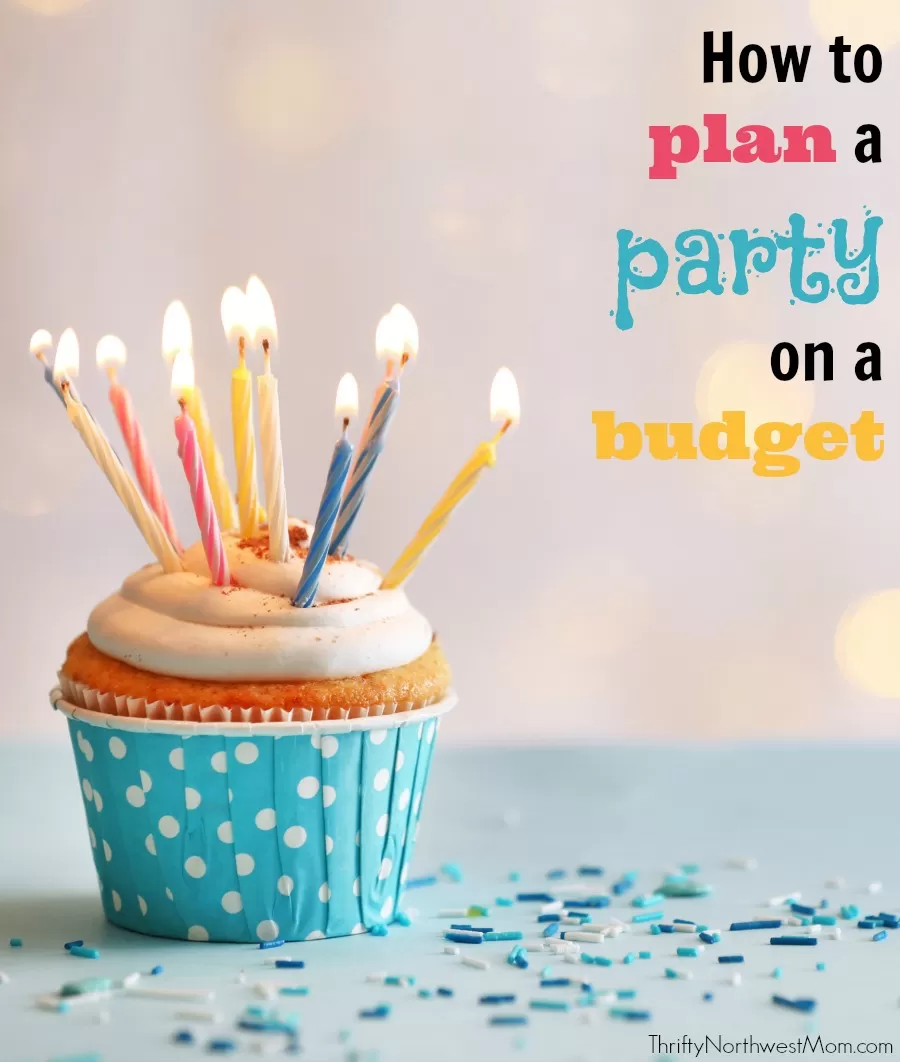 How to Plan a Party on a Budget
I have always loved planning a party!  I don't actually like attending parties as much as I like throwing them!  I love coming up with new creative themes and finding fun and frugal items to make them pretty and enjoyable!
I am often asked how do you plan a party and where do you get the items for the party, so I thought I would share my favorite party tips.  Because of the season of my life right now, most of my parties are kid parties, however I use these same tips for adult parties as well. The key is to coming up with a plan & sticking to it to keep the costs low.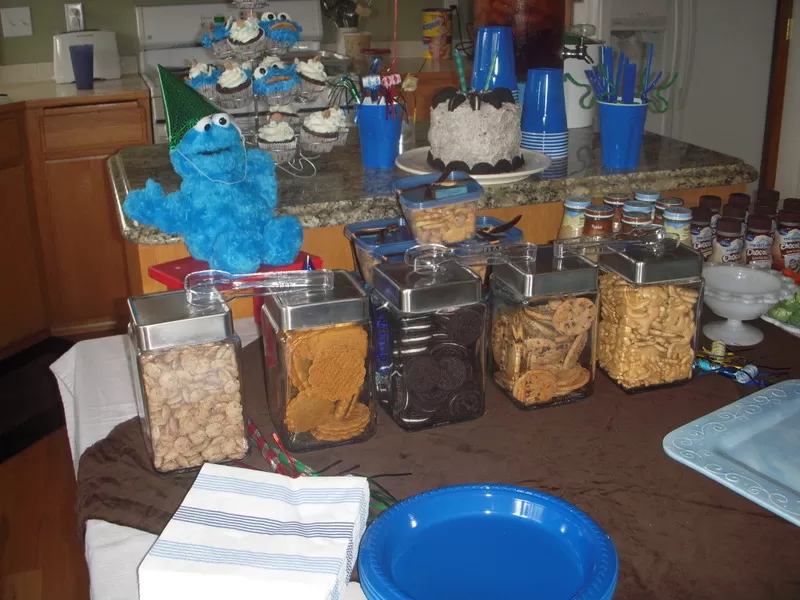 Cookie Monster – Milk & Cookies Birthday Party
Pick a theme:
When picking a theme for your party, this can be as broad or as narrow as you like.  For my boys, I like to do themes of things they are really into.  I am not a big fan of "premade parties" – such as streamers, plates, banners all matchy, matchy.   I like to come up with a theme then choose a color scheme – usually two to three colors and then from there brainstorm further about what  the theme will entail.
Party Themes for Inspiration: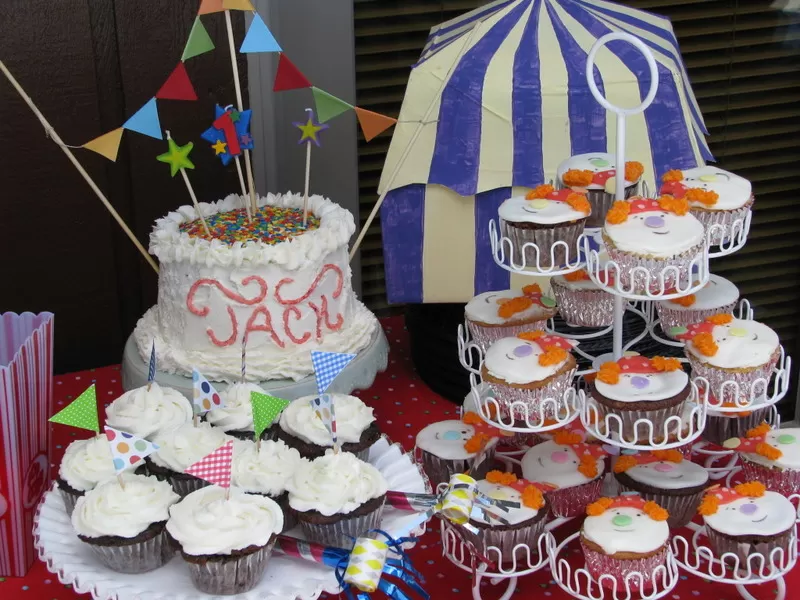 Circus Themed Party – Clown Cupcakes, primary colors, popcorn & more
Spanish Buzz – My son loved the Spanish Buzz scene in Toy Story 3 and was constantly reenacting it!  I decided on the colors: green, blue, purple and white.  To add to the Spanish theme we had a piñata.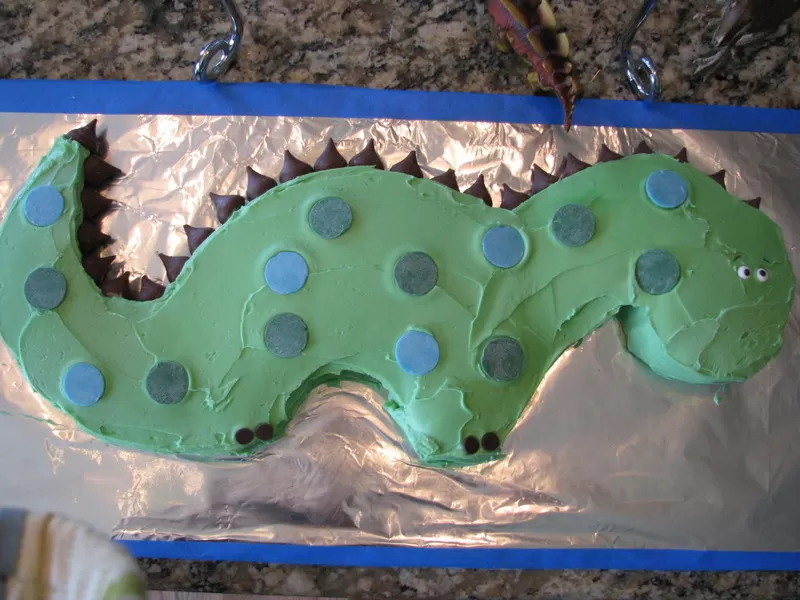 Dinosaur Party – My three year old was obsessed with dinosaurs!  I choose the colors blue, orange, and green to help narrow the party décor.
Elephants on Parade – This was for my cousin's baby shower.  She was having a boy so I went with the colors baby blue, lime, yellow, orange and beige.
Those are just some ideas of parties I've done, but there are so many ideas out there for almost anything you can come up with, especially with Pinterest these days.  In later tips, I will explain in more detail about the individual parties and some of the ideas I've used, but the first step is just brainstorming ideas about the theme you've chosen.  Since there are so many ideas,  narrowing the theme and color scheme can help give your brainstorming some focus and keep the costs down.  There are almost too many ideas out there so having a focus is very important. Pinterest is also a great resource to use to help you brainstorm & keep all your ideas together & focused- check out my Party Ideas Pinterest board.
Party Planning Worksheet:
I created this free printable party planning worksheet that I use when helping others plan parties or when I am planning my own. Print it off & start filling it out to help you as you brainstorm your next party! This will help you to stay on track with your budget, too.
Here is an example of my brainstorming worksheet for my son's upcoming 6th birthday party: 
Occasion: Joey's 6th birthday
Who (guest list):
2 cousins (bowling party)
Grandma & Grandpa,  aunts and uncles
Total of 15 guests
What (theme and colors):
Vintage bowling
Colors-red, black, white, and aqua
Where:
First part –  bowling alley
2nd half – our home
When:
Food and drink:
Cake
Cupcakes
Rice krispy pops
Grapes
Strawberries
Sugar cookies
Izzy sodas
Games/activities:
Bowling with cousins
At home for cake, food and gifts with grandparents, aunts and uncles
Favors:
Bowling trophies
Bowling tattoos
Bowling shirts
Decorations:
Red
Black
Aqua bunting
Vintage bowling ball and pin
Invitations:
Large bowling pin with #6
Order of events/Timeline:
Bowling
Back home for food (family meeting there)
Gifts
Pass out favors and say thank you
*********************************
After filling out the party planning worksheet, I then make a shopping list and to do list:
Here's my to-do list for the upcoming bowling party:
Make and send invitations
Look for bowling pin, ball
Make shirts
Order trophies and tattoos
Make bowling reservations
Buy party plates, napkins, cups
Make banners, cupcake toppers, and birthday sign
Write thank you notes
Favorite Party Websites:
There are so many websites out there that have fabulous party ideas but I thought I'd share just a few of my favorites where I find some inspiration:
What type of fun parties have you planned?
By Contributor Sarah