Papa Murphy's Chicken Raised without Antibiotics Take and Bake Pizza #NothingButChicken
This post may contain affiliate links and I may be compensated for this post. Please read our disclosure policy here.
Disclosure: I was compensated for this review of Papa Murphy's and their launch of RWA Chicken. All opinions and statements remain 100% my own. #NothingButChicken #Ad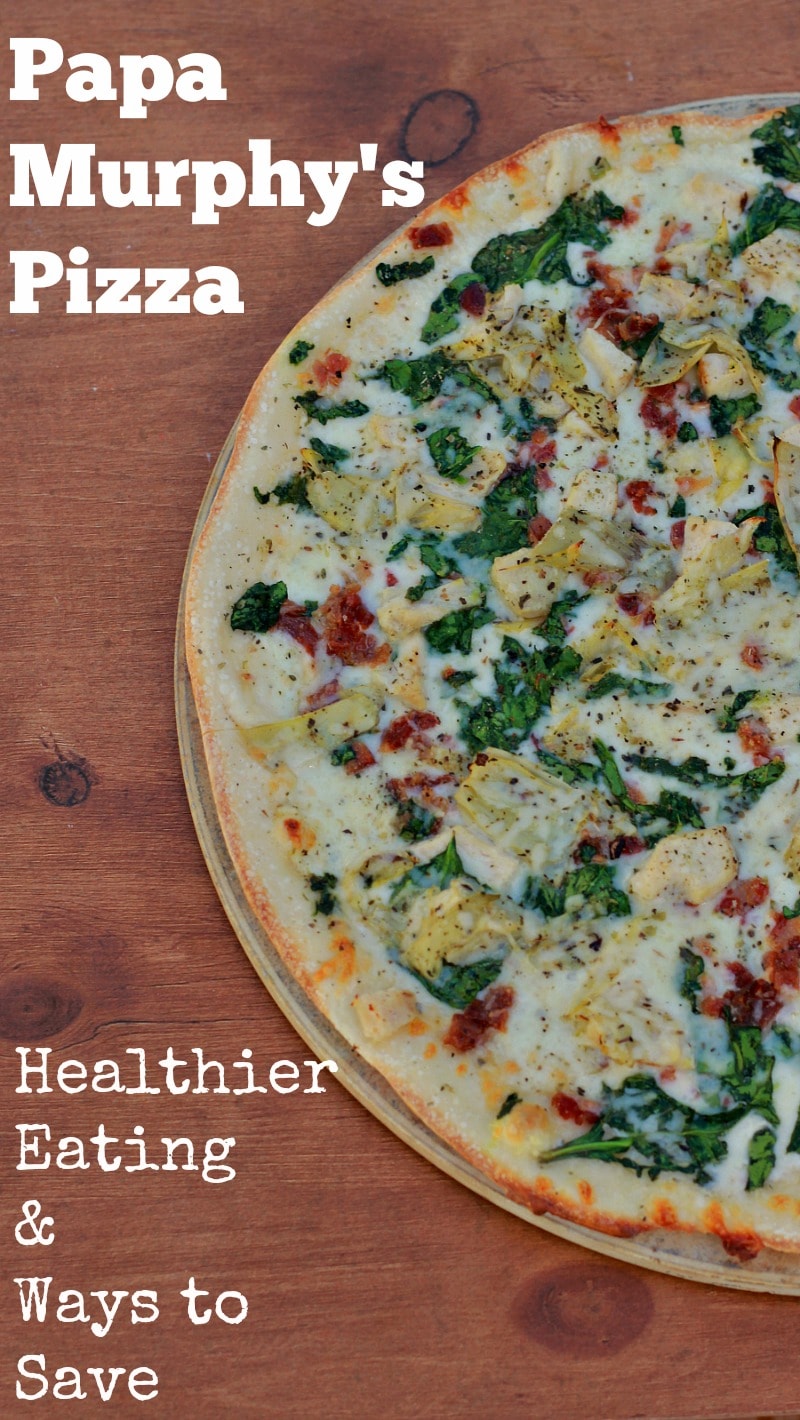 Papa Murphy's Chicken Raised without Antibiotics Take & Bake Pizza
We are big Papa Murphy's fans in our house! 
We have their pizza once a week as our school week routine with a pizza and movie night on Fridays. It's a fun treat for the kids – and a break for mom from cooking after a long week of shuttling kids all over & working from home! Even in the summertime, it's continued to be our treat (although the night can vary) but our whole family loves Papa Murphy pizza nights paired with a movie.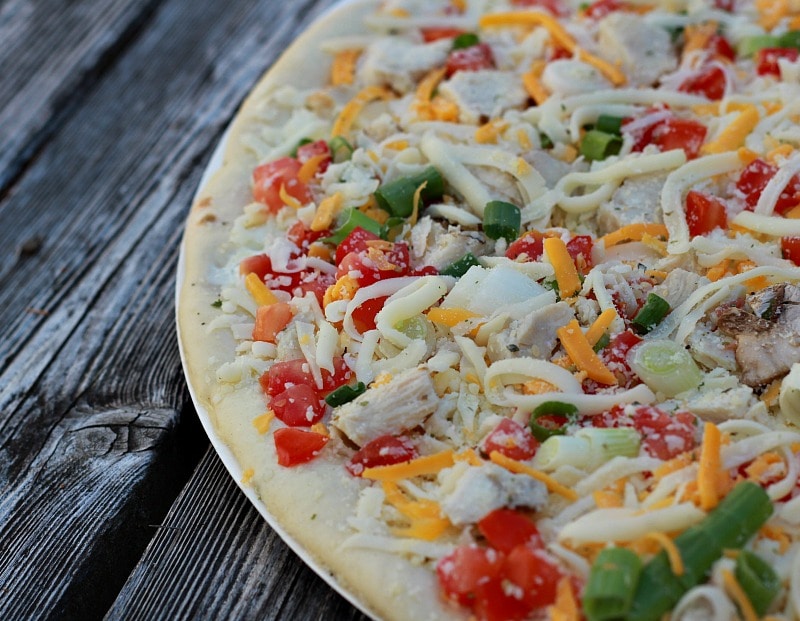 I love how simple Papa Murphy's take and bake pizza is for my husband or I to pick it up on our way home from school without waiting more than a few minutes at the most and then popping it in the oven when we're ready for dinner. The convenience just can't be beat for busy school nights or fun summer nights when you don't want to think about having to cook a big meal. And you can decide when you're ready to start dinner and have it fresh from the oven.  Plus, the affordability of their pizzas and the variety of ways to save even more is what enables us to make this a weekly tradition while still being easy on our budget.
The flavor of Papa Murphy's pizzas is something that we all love, too! Everything is prepared fresh in their stores daily – the dough, freshly grated mozzarella cheese and hand-chopped veggies – and you can tell that it's fresh. We love trying out their different flavors or crusts. Since they are so affordable, you can really personalize the pizzas based on food preferences. Our kids can get their favorite pizza while my husband and I can split a pizza with my favorite & his.  Then we have leftovers to eat over the weekend when we have busy sports events, etc.
Chicken Raised Without Antibiotics in All Pizzas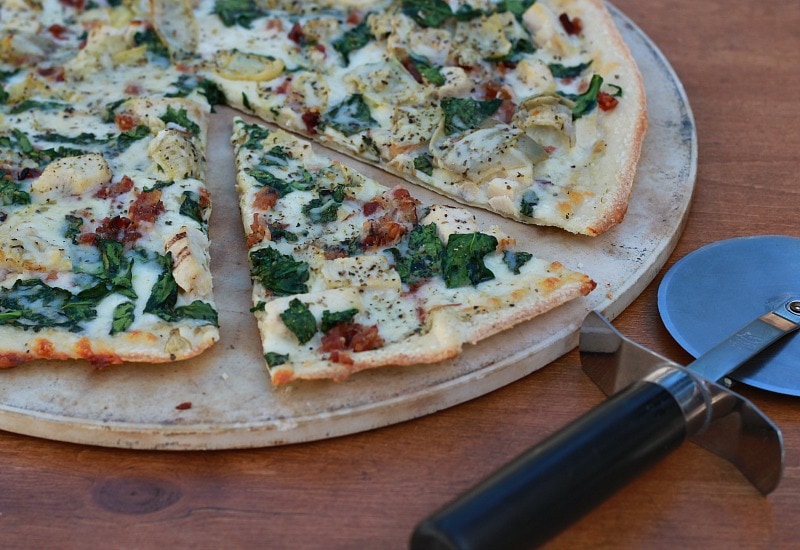 Papa Murphy's Chicken Bacon Artichoke Pizza on Thin Crust
Since Papa Murphy's pizza is such a big part of our family fun night, we were excited to find out that Papa Murphy's is now offering pizza with chicken raised without antibiotics (RWA). This means that the chickens are fed a vegetarian diet. All of Papa Murphy's current pizzas with chicken in the recipe are now replaced with the RWA Chicken. Papa Murphy's is the first pizza brand to introduce Chicken Raised without Antibiotics system-wide, with all of their recipes.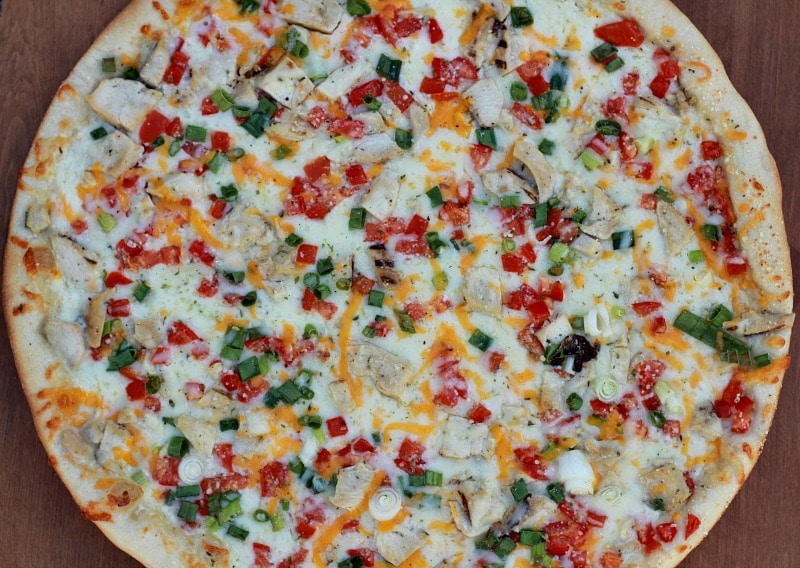 Eating healthier has been something that my husband and I have been really focused on this past year and finding as many ways that we can switch to more natural products and foods without raising our food budget significantly.  So, this is a huge benefit for us to continue to choose Papa Murphy's for pizza, knowing that we don't have to worry about what's in the chicken in our pizza. I definitely feel better offering a healthier choice for my kids with antibiotic-free chicken for our weekly pizza addiction. :)
And the best part – you don't have to pay extra to have the healthier chicken option (which is typically the case with any healthier food option) – the antibiotic free chicken is now in ALL of their pizza recipes with chicken – and at the same, affordable price!
Ways to Save on Papa Murphy's Take and Bake Pizza: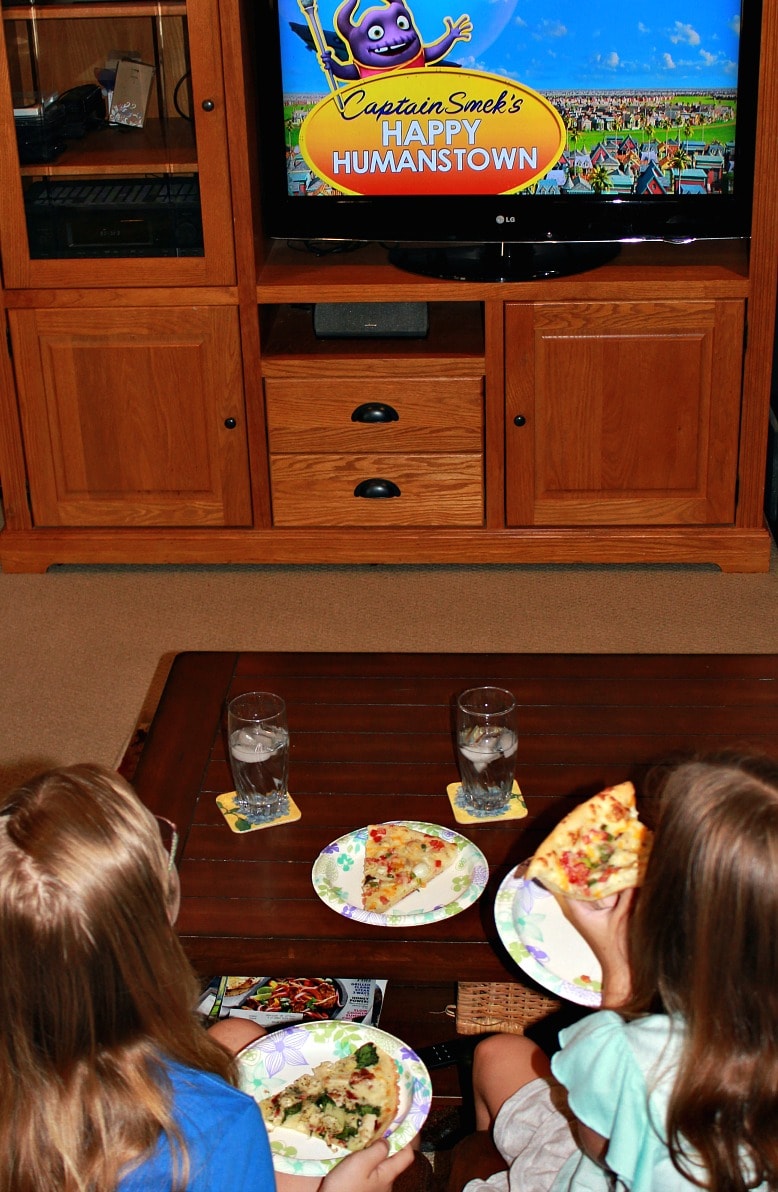 A typical Friday night – Papa Murphy's pizza and a family movie!
Papa Murphy's offers affordable pizzas already, but what I love is that they offer so many different ways to save even more on your order! Here are a few of those ways to save::
Deals Page on PapaMurphys.com – They offer a variety of online coupons you can use when you purchase your pizza online. If you go to this page & click on the offer you want, it will take that discount at checkout. This makes it very convenient as you can order your pizza before you leave work or home, get your discount & then your pizza will be ready for you when you arrive to the store for pick-up.
Here are a few of the current deals::
Chicken Bacon Artichoke Pizza for $9 for a Large & $11 for a family size pizza (expires 8/15/16)
$2 off a large pizza or $3 off a family size pizza (expires 8/31/16)
Sign Up for Email Offers – If you head to the Papa Murphy's website, click on "Sign Up for Offers".  You can sign up for the Dinner Circle which will send you exclusive coupons & promos to your email & you can even have them send them via text, too. I've gotten offers for 50% off online using their promo code, so this is a very good way to save. Make sure you sign up for these offers!
Coupons by Mail – Papa Murphy's always is offering coupons that come in the mail with your grocery store circular. We keep these in the car so we can have these handy when we're heading to the store spur of the moment. I love how many coupons they always offer on their already-affordable pizzas!
$5 Faves Pizzas – This is one way that we often get Papa Murphy's pizzas, especially for the kids, by taking advantage of the $5 Faves pizzas. The Faves pizzas are lighter (less hearty) versions of their regular pizzas. They only offer pepperoni, sausage or cheese, but these are often the  preferred topping for kids so it's perfect & a great value!
$10 Tuesdays – Every Tuesday right now, you can get any large pizza for just $10! This has been super popular! This is at all Papa Murphy's locations. It's a great way to branch out and try a new pizza to see how you like it! Or one of your favorites that is full of all sorts of goodness (my husband loves the Cowboy pizza and he saves $7 by buying it on $10 Tuesdays) The Chicken Bacon Stuffed pizza sounds so yummy – and a chance to try the new RWA Chicken too!
What is your favorite Papa Murphy's Chicken Pizza?