Operation Pantry Makeover – Bin Method
This post may contain affiliate links and I may be compensated for this post. Please read our disclosure policy here.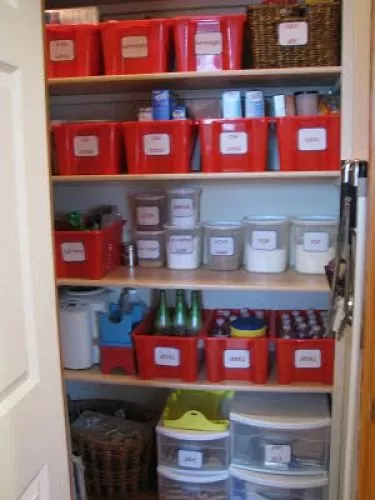 Operation Pantry Makeover – Bin Method
A few years ago when I started really couponing, I realized that my pantry was not working for me.  I was having a hard time finding items I had bought and things were getting lost in the abyss that was my pantry.  After reading some organization blogs and brainstorming with my husband (a master organizer) we decided on a plan.  First we wanted to do something relatively inexpensive and something that would help with the problem of not finding what I had just purchased.
We decided on a "bin method"  for organizing the different types of products.  We came up with a dozen different categories. Some categories such as baking needed more than one bin. You have to determine which bins will work best for your family – these are just the ones that we found worked best for us.
Categories:
Breads
Baking
Pastas
Grains & Rice
Drinks
Breakfasts
Cereal
Snacks (granola bars, fruit snacks, chips)
Paper products
Condiment extras
Canning supplies
Hot drinks (teas, coffee, cocoa)
Produce (potatoes, onions, etc – items  that don't need refrigeration).

Bins:
Next we had to decide on our bins – we wanted something large enough to hold large cereal boxes, but it also had to fit on the shelf with no over hang. I toyed with the idea of making my own covered boxes using a method similar to these covered cardboard storage boxes.  But I didn't have the same enough of the same sized boxes and I worried that pulling them out often might tear the cardboard.
I then thought of pretty baskets to organize the pantry but I needed about 15-20 bins so that was going to be way too expensive.
Finally we decided on Ikea's plastic bins that come in red, white or royal blue.  They were cheap, sturdy and the perfect size. I looked on their website to find them, but they didn't have them there; however we found them located in the store.  The price has gone up from $1.50 when I first purchased them to $1.99 now.  Still a great deal!
We used Rubbermaid bins from Walmart for our baking essentials – sugar, flour, brown sugar, etc.  I also really liked the basket look so we did get a few of those for certain items such as our recycling.  We also use a few drawer bins that we already had around the house for dog treats and our boys' asthma supplies.
Labels:
After we purchased the storage items we needed,  I made labels on the computer – nothing fancy,  just a simple word document. I printed them off on cardstock and cut them out the same size. Using double stick tape we attached them to the bin.  Maybe one day I will make chalkboard tags or something cute like that but for now these work!
It has been two years since we first redid the pantry and I have to say – it is still working! Once a year,  I go through and wipe down the shelves and clean it out. I have changed a few items, added some more bins, replaced some labels, but I am super happy with it!  The best part is I can find the items I have purchased.  Knowing what you have and where it is located is really important when it comes to saving money. This way you can grow your stockpile in a reasonable way and make sure you are providing meals for your family with your stockpile.
************************************************************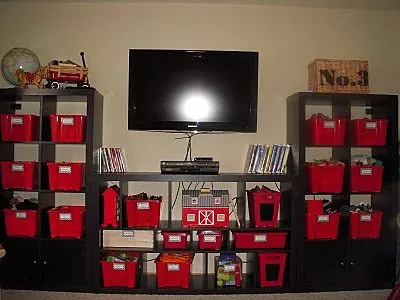 Check out what we did with our toy room using the same Ikea baskets, too!
So, what are your best tips for organizing your pantry & your grocery stockpile? 
By contributor Sarah