Snowman Rice Krispie Treats
This post may contain affiliate links and I may be compensated for this post. Please read our disclosure policy here.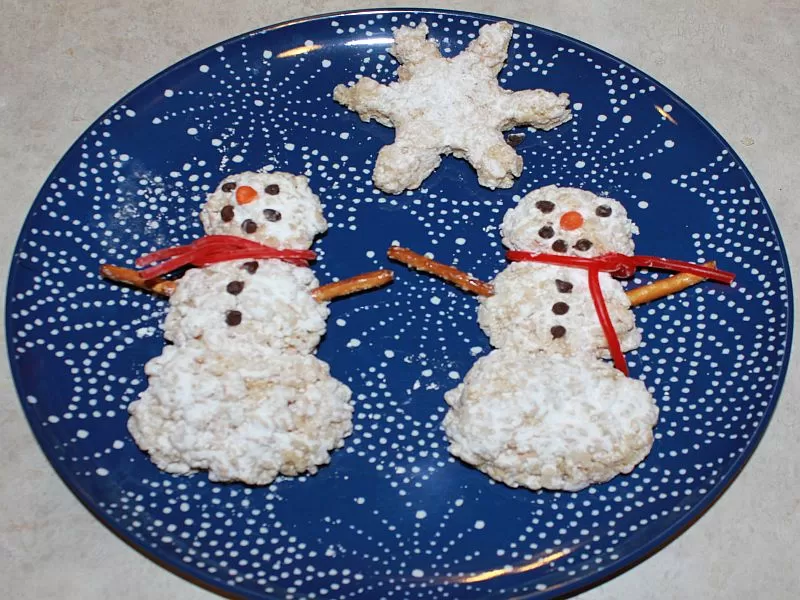 Want to try this out later? Pin it on Pinterest
Pin It
As I mentioned on Facebook yesterday, we had a snow day from school – yet no snow! Everywhere around us was getting snow, but our area only had trace amounts of snow (it was the neighborhoods in the hill that caused the school cancellation). My girls were pretty bummed that we didn't have snow because all they want to do is build a snowman!
Since we didn't have snow to build a snowman, we decided to make Rice Krispie snowmen! We had bought the ingredients a few days ago for Rice Krispie treats and were going to make them with our girls this week, but I thought it would be fun to do something different.
I got my inspiration from Marie at Make and Takes – she had posted a Snowman Rice Krispie idea over at Snackpicks. Ours are a bit different because I wanted my girls to have a smaller serving of the treat, but either way would be fun! You can also check out these Peppermint Rice Krispie Balls or these yummy Rice Krispie Snowmen.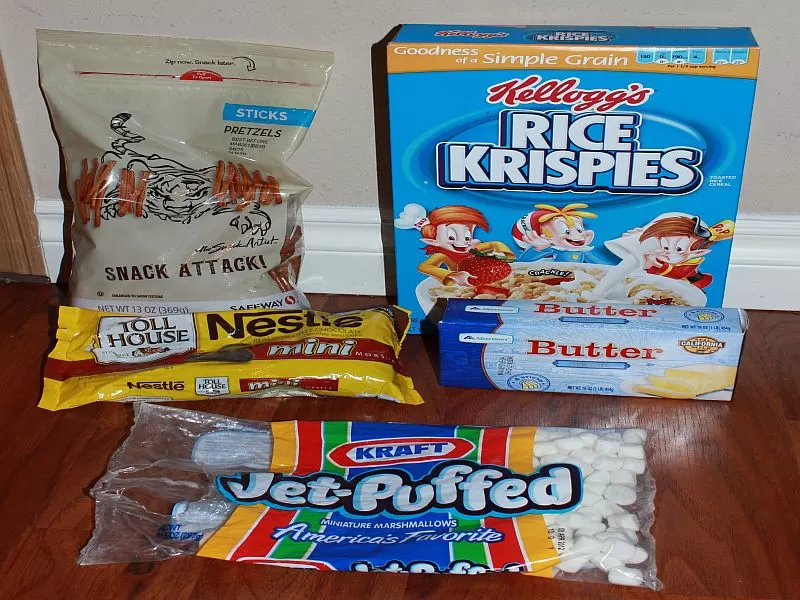 Ingredients:
6 cups of Rice Krispies cereal (or any puffed rice cereal)
4 cups of mini marshmallows (as you can see – I forgot to take pictures of the ingredients until after we made our treats!) *You could also substitute a jar of marshmallow creme for the mini marshmallows (7 oz)
3 tablespoons margarine or butter
Powdered sugar
Mini chocolate chips
Pretzel sticks for arms
Good & Plenty (for the nose)
Pull-apart rope red licorice
(My husband brought the last 2 ingredients after work, so I don't have pictures of those)

Directions:
Melt the butter in a saucepan (or you could do this in the microwave too) over low heat.
Add the marshmallows (or marshmallow creme) & stir until completely melted.
Remove from heat and add the Rice Krispies. Stir until it's fully coated
Once it's all mixed in and cooled, you can start shaping your snowmen. We shaped them into balls, but made them fairly flat so we could decorate them.
Take each ball & roll it in a pan or bowl of powdered sugar
You can then use whatever ingredients you have on hand to decorate your snowmen – we happened to have mini chocolate chips, so they worked perfectly for us, but you could use raisins for the eyes, buttons, etc or even just frosting (the writable kind would work even better). Pretzel sticks were perfect for the arms. We used Good & Plenty candy for the nose & a pull-apart licorice rope for the scarf.
My girls decided to make snowballs for their creations & I also tried out a few snowflakes, although those were a bit harder to shape. Just a fun, little winter treat to enjoy with some hot cocoa on a cold winter day!
What are some of your favorite winter treats to make with kids?